I am human, not a super-hero Koala or even a Koala who has discovered the means to bend space and time. With that said, I really am "my heart wants but my body cannot do" (a Chinese proverb for desiring to do something that you are physically incapable of) with respect to Material Queen. I watched episode 1 of the drama on Friday (like all TW-dramas it has a cute episode naming mechanism tied to its drama title – here episode 1 was called One Carat), and it was love at first sight.
Episode 1 might be the most brilliant first episode of a romance TW-drama I have ever watched. Ever. It's head and shoulders above anything TW-dramas have ever aimed for, and it's sheer visual artistry and use of the Parisian location shoots PWNs every K-drama out there in the same genre. I spent yesterday chewing my finger nails off trying to figure out whether I can recap it or just write a first impressions review. I was that torn.
MQ debuted with a very disappointing 0.77 in ratings, which is what I expected based on its its Friday timeslot and the fact that I don't believe this drama would ever appeal to TW-viewers at all. My comparison of MQ as pushing the boundaries of TW-idol drama is akin to Black & White pushing the boundaries of TW-dramas in general. It is never going to get widepread public acceptance. At most the international audiences and a cult following in Taiwan will appreciate it. I was blown away by the guts of this drama – going for such stark and unflinching dissection of modern beliefs of love and money.
Lynn Xiong is the heart, soul, and anchor of this drama. She *is* Lin Chu Man, a top model who was so coldly thrown away as a child that love is not an emotion she believes exists. It's like asking her if she believes in the Tooth Fairy and Santa Claus. How can you dislike her? She is honest and unfront about who she is – a woman with looks who wants money for security. She will barter herself for that, even if she subconsciously yearns for a human connection based on sincerity that she doesn't even believe in.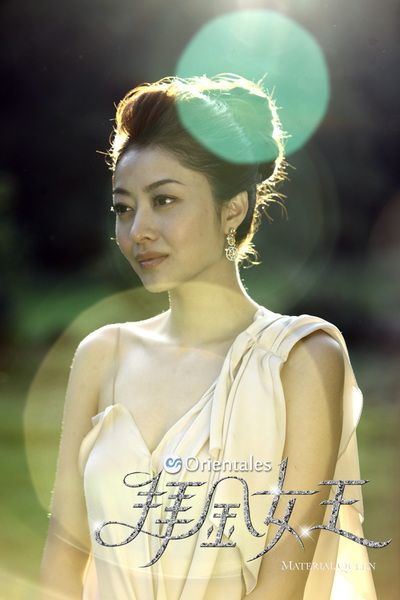 I'm still reeling over how amazing an actress Lynn is for this role. It's like how bad an actress top-model Lin Chi Ling is, Lynn Xiong throws the models-can't-act prejudice out the window. She is inbuing a role within a role (her Chu Man is an actress in the drama, a top model putting on act to land her a rich husband), and you can actually see the subtle shifts between the real Chu Man and when Chu Man is putting on a show for her man in her life. Forget how utterly gorgeous Lynn looks in real life – she's putting herself on the line to play this role and it shows. There is no fear that her character is too shallow, too materialistic, too dirty, she takes it all in stride. This is who I am, and why can't I be true to myself? I love Chu Man already.
Vanness Wu, on the other hand, is just not cut out for this type of nuanced, emotionally rich role. His very limited acting repertoire completely showed in episode 1, and I spent every scene with him wishing that Ethan Ruan had been cast. Ethan would have NAILED the role, it's just one step above his drama pinnacle performance as Lucas in My Queen. The fact that I adore Material Queen regardless of Vanness' bad acting speak volumes about how magnificent this drama is. PD Chen Wei Ling brings tears to my eyes with her talent as a director, and being a woman in a predominently male field to boot. This drama is so beautiful to watch it makes my heart ache. The music cues in the drama is also outstanding, whoever is the sound mixer and OST producer needs to get a raise.
In the end, I am definitely watching this drama. It's just heads and shoulders above anything Taiwan has offered before in the romance genre. Yes, even Drunken to Love You follows the tried and true idol model in script and execution. Material Queen is like watching something that takes you out of your comfort zone, and make you riveted to the screen with the majesty and the challenge. Are you ready for this, it seems to be saying to us all. While I don't have time to recap it for the next few weeks, once my life gets less hectic, if the drama keeps getting better, I may pick up recapping. Until then, rest assured that I'm following MQ and bring updates as I see fit.
PD Chen directed Vanness's MV for the first single of his new album "Is This All" which is also the theme song for MQ: