A good drama friend of mine (who shall remain anonymous), is not watching Lie to Me. But she almost got blinded by the LTM gif header yesterday when strolling by the playground, leading her to toddle off to watch the last scene of episode 16. Afterwards she whispered to me:
"[I] seriously think they must be dating in real life, no? That is NOT acting, that's the rawest passion I've ever seen. Yup, it feels like total foreplay, like they can't wait to tear each other's clothes off. Sizzling is an understatement."
Sometimes it takes a total third party not watching LTM but taking just one scene out-of-context to further confirm for me that I have not been blinded by some sort of astral projection that Kang Ji Hwan and Yoon Eun Hye have never-before-seen onscreen chemistry. I'm here for all you LTM-fans (like I did for PK and M3) to help wean you all off the pain and agony everyone feels now that the drama has ended. Yes, I feel the same way, too. This is probably the worst I've had a drama withdrawal since City Hall. Today I bring you the wrap party picture for the cast and crew.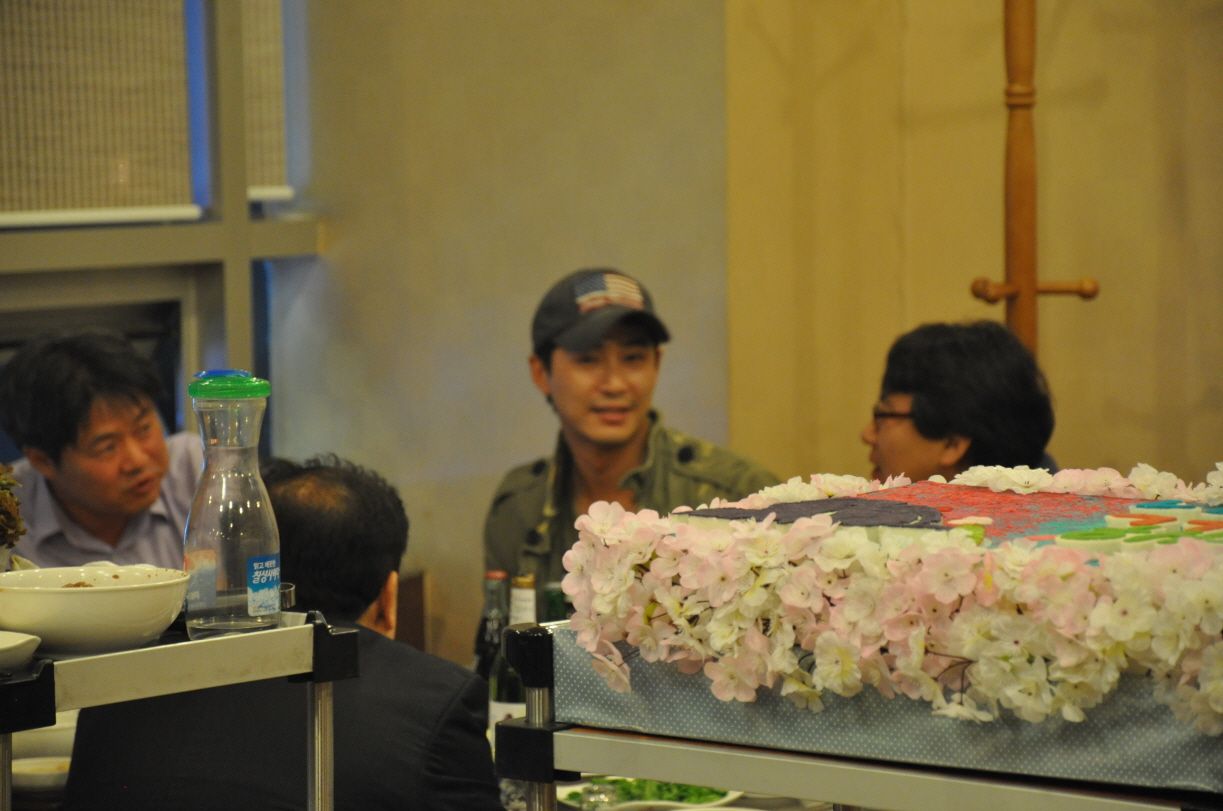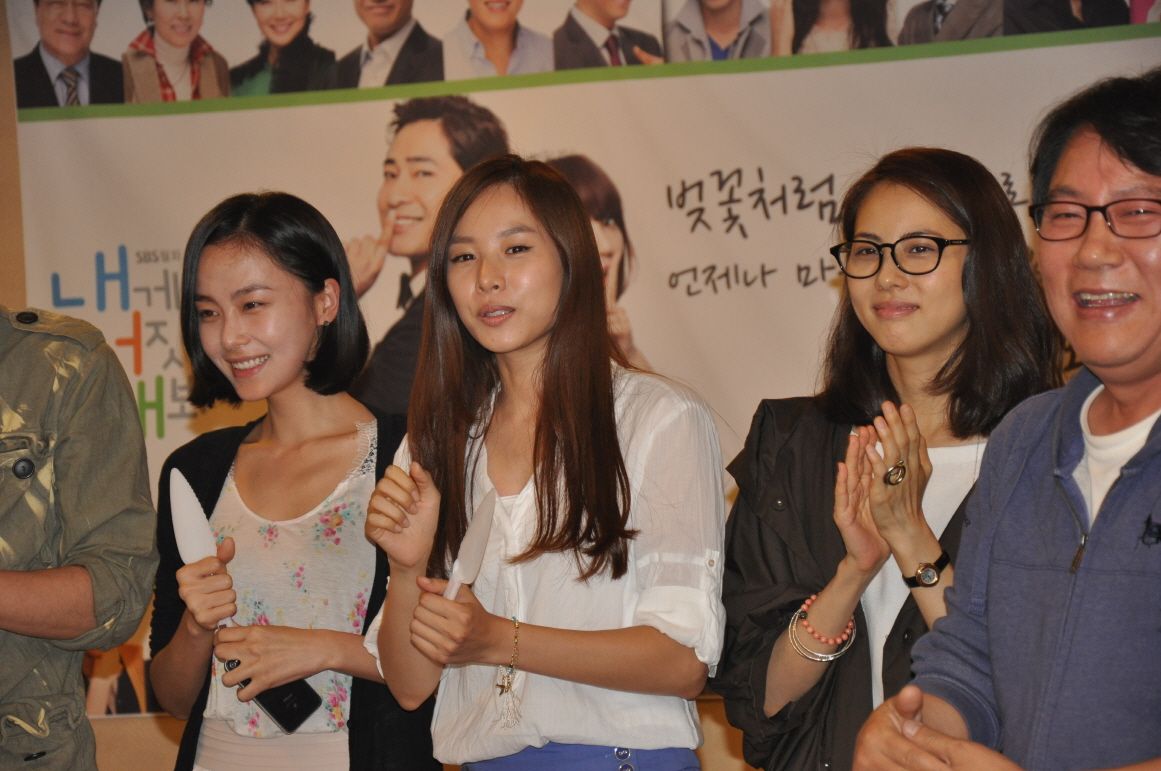 You guys can analyze body language and gestures and proximity to each other to your heart's content. I think both Ji Hwan and Eun Hye were absolutely exhausted by the time this wrap party was held the night the final episode aired. Eun Hye especially looks like she's about to keel over. So both seem very mellow, subdued, and a tad melancholy. No?
Personally, and don't quote me, co-stars that got along great as pals on a drama tend to have tons of fun goofing off at the wrap parties. Conversely, it actually gets more a tad more curious when I see Ji Hwan and Eun Hye making a concerted effort not to be teasing each other, goofing off, and smiling at each other the way they've been in all the BTS footage so far. Anyhoo, just my 2 cents.

I don't have time to translate the wrap party video word for word, except for one very telling scene.
Calls everyone to gather to cut the cake. Congrats on finishing the project. Asks the main cast to say something.
Ji Hwan very awkward, tells everyone the cake is so good they'll die when they eat it, then he passes to Eun Hye.
Eun Hye: blah blah blah, worked hard on project, great experience, everyone remember the great atmosphere, until the next project, learned a lot. Ji Hwan: checks watch, folds arm, fiddles with his cake cutter (which he ended up not even using to cut the cake at the end because he played it with so much during this interlude).
Random dude: next let's have the lawyer say something.
[Start watching at the 2:20 mark of the video] Actor who plays Jae Bum: Me? You all know what I'm going to say, right?
Ji Hwan shoots him a look, and Eun Hye GETS EMBARASSED and turns backwards in the direction of Ji Hwan, but she gives him a quick peek. Eun Hye then plays with her hair in her trademark gesture when she's embarassed. Ji Hwan smiles and bites his cake cutter at that moment. Their arms touch.
[Seriously? Ji Hwan, you are that nervous that you've taken to nibbling on a cake cutter that is about to be used to cut the cake? No wonder he just gestured the caking cutting at the end cuz he realized he can't actually put that germy cake cutter into the cake. LOL. I love my HwanHye adorableness!]
Jae Bum: Uhm, project is finished. Thank you.
So Ran, Yoon Joo, Manager Park, Sang Hee all say nice parting words.
Park Hoon: My biggest regret was that I didn't get to start something with Manager Park in this drama (he meant his character and her character).
So there you have it.
The Baidu EunHwan forum is going beserk analyzing this video with second by second time lapses. Verdict: the forced awkwardness is off the charts.
Some Baiduers have resorted to making random people (like husbands, co-workers, sons) watch the video and got responses that say: the girl likes the guy in the hat, and the guy in the hat definitely has the hots for the girl. Body language and odd tension to third party viewers who don't know who Eun Hye or Ji Hwan are indicate there is something going on and they are making a concerted effort not to show it.
Koala's update for the day.
Lastly, here is a group picture on the cliffs of Jeju with the entire production team. Look at wuri Ji Hwan and Eun Hye in the front. Are they both holding an ice-cream cone?!? My eyes, they need some R&R.
Finally, I've heard rumors on DC Lie that the script for episode 16 actually included after scenes: when Ah Jung and Ki Joon celebrate their baby's 100 day milestone (a big Korean event for infants), and later a time jump to 5 years later at the hotel when their child is 5 years old. If either or both were filmed and not shown due to time constraints (episode 16 already went 6 minutes over the hour mark), then we ought to be getting in the Director's Cut edition of LTM. And there will be a Director's Cut, mark my words.
There was also another scene shown in the preview for episode 16 that didn't make it to air, when Ah Jung and Ki Joon are sitting in a coffee shop and he refuses to agree to what she is asking ands she totally OPW's him. It was cute to see Ah Jung's aegyo power back, especially since she hasn't used it on Ki Joon in too many episodes.
[Credit: all pictures from DC LTM Gallery]