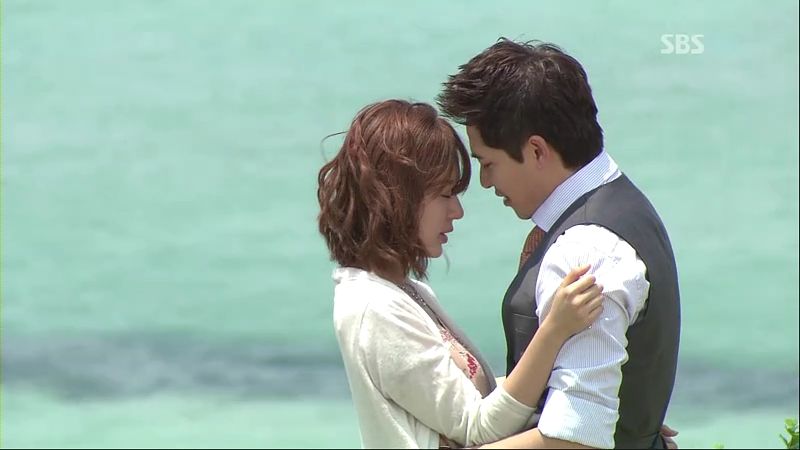 Remember what I said about the Lie to Me having a post-wedding epilogue which was either filmed but cut from the broadcast, or simply not filmed at all. DC Lie has what is supposedly the script for the two cut scenes. I think it sounds real enough (thought it could be fanfiction, but who cares), so I will do a casual translation of the scenes.
Casual cuz it's a long weekend and I rather not have to activate my higher brain functions. I hope these two scenes were filmed, because OMG it sounds so cute. It brings back World Hotel, which was the location for many memorable early interactions between the OTP, and it fulfills everyone's fervent wishes to see happily married and with baby Ki Joon and Ah Jung.
Scene 66 – Epilogue – 100 Days: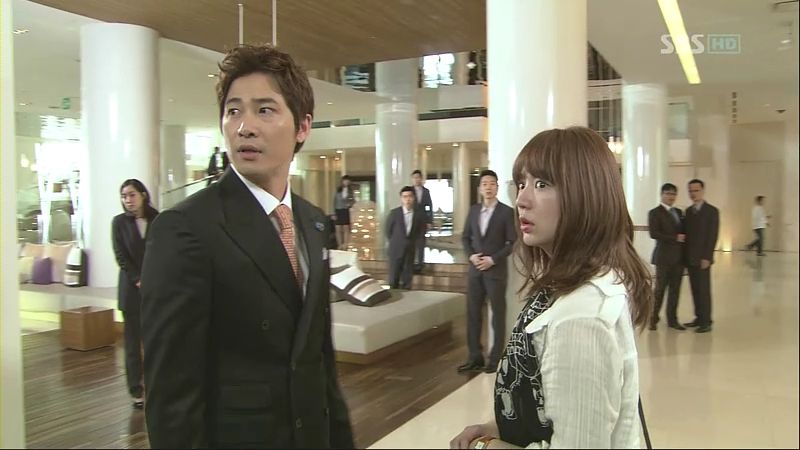 [Scene starts exactly the same way the first scene of episode 1 starts]
At the World Hotel, President Hyun Ki Joon is strolling through the lobby doing inspections. He uses his finger to see if there is any dust.
Ah Jung walks into the lobby and calls out "Yobo!"
Ki Joon smiles and responds back "Hi, Yobo!"
A baby is sleeping in the stroller. On the back of the stroller hangs a banner with some balloons. On it is a picture of Ki Joon, Ah Jung, and their baby. On the banner is written "Congratulations to Hyun Si Woo – 100 Days."
Ah Jung: Is it all prepared?
Ki Joon: Of course. Who am I if not perfectly prepared?
Ah Jung (looks at the baby): Yesterday wuri Si Woo said "Mommy is pretty, daddy is a bad guy."
Ki Joon (suspicious look): That can't be true…..can it?
Ah Jung: It's true!
Ki Joon (strokes his son's face): Son, it's not right to lie to mommy like this…..
Ah Jung (using her best aegyo voice and whispers on Ki Joon's ear): Yobo, when our son is all grown, you can't tell him that we got together because of a lie~"
Ki Joon: Why? The ending turned out for the best, no?
Ah Jung (has a cute expression): Is that so?
Ah Jung looks towards the entrance: Oh, the guests are arriving!
Guests start trickling in: So Ran, Jae Bum, Ae Kyung, Ah Jung's dad, Sang Hee, Suk Bong, et. al.
The lobby is filled with a joyous atmosphere.
Ah Jung and Ki Joon kiss, looking at each other.
The scene closes on their expression of happiness.
Scene 67 – Epilogue – In the Office:
The door to the World Hotel President's office is opened and the sound of high heels clicking on the floor echoes. Ah Jung, smartly dressed in a skirt suit, her hair tied back and wearing a pair of glasses, walks inside. She sits down with a very haughty flourish.
Manager Park and Park Hoon are both there, and they give a 90 degree bow of courtesy to Ah Jung. Park Hoon, with a frozen expression, put the file on the table. Ah Jung pushes the file towards the President, staring at him intently and taking off her glasses.
Ah Jung: Other than this, can't the World Hotel do anything else?
Ki Joon, who was sitting comfortably on the sofa, immediately sits upright.
Ah Jung: Applying for a new hotel management license through the normal channels? Humph!
Park Hoon (standing next to Ki Joon): President, discussing this with a 4th level civil servant, maybe it ought to be avoided. We don't want people discussing how the husband and wife are fighting first thing in the morning at the hotel?
Ki Joon (gives a pointed look): Get out.
Manager Park: President-nim.
Ki Joon: I said "get out."
Park Hoon and Manager Park both leave.
Ki Joon stands up suddenly: No matter what, I am the President here. Aren't you giving the impression that you are abusing your authority in front of my subordinates?
Ah Jung: (raises her eyebrows) What…..?
Ki Joon: No…what I mean to say was…… (Ki Joon gets closer to Ah Jung and hugs her from behind (BACK HUG!, the only thing missing from wuri OTP's skinship scenes) Yobo (using a very aegyo voice), it's fine if you don't approve the license. Can you just relax, hhmmm?
Ah Jung: Liar! I can really refuse to approve it?
Ki Joon: That….that is….it's no big deal.
Ah Jung: Really?
Ki Joon: Yes….. (leans in and kisses Ah Jung).
After a few moments, BANG the door to the office opens: Omma~! (a five year old boy comes running inside).
His voice shocks the two people kissing.
Ah Jung: Si Woo-ah~!
Si Woo: Omma, tell appa to stop being mean. Omma said she would play with me and its all lies.
Ki Joon and Ah Jung hurriedly picks up their son. Ki Joon holds Si Woo and kisses him on the cheek.
Both of them gaze at their adorable son and smile contently.
My Thoughts:
These two scenes are the cutest, sweetest things ever. Completely satisfying the LTM-fan in me. This would have given me so much closure to watch it onscreen. Praying to the drama gods that this was filmed, so we can potentially get it in the Director's Cut. I'm sure Kang Ji Hwan and Yoon Eun Hye would have added a lot of their ad libbed flourishes to these scenes. But this is exactly how I picture the married life of Ki Joon and Ah Jung to be like – both successful yet still playful with each other, ending up blissfully happy together. Anyhoo, remember that this could be the real script or some fanfiction, but I honestly don't care. More LTM goodies is better than none.
[Credit: DC Lie Gallery]