Latest news from Weibo states that casting of the Yang's brothers have been finalized. I posted here about the actors playing one of the seven brothers in the upcoming epic HK/C movie Saving General Yang (一门忠烈之杨家将), but it hadn't yet been finalized which actor played which brother (with the exception of Wu Zun getting Liu Lang Sixth brother, and Louis Koo getting Da Lang First brother).
In addition to Wu Zun and Louis, the rest of the cast will go like this: Ekin Cheng as Er Lang Second brother, Feng Shao Feng as San Lang Third brother, Vic Zhou as Si Lang Fourth brother (booyah, just like I predicted), Raymond Lam as Wu Lang Fifth brother, and newcomer Fu Xin Bo as Ci Lang Seventh brother.
This is me here crying tears of joy. My Zai Zai as Si Lang? There is a drama god up there who loves me. Below I have character descriptions for those who are not familiar with this folktale. Oh, and the picture above is not the official poster, just fans having fun with photoshop.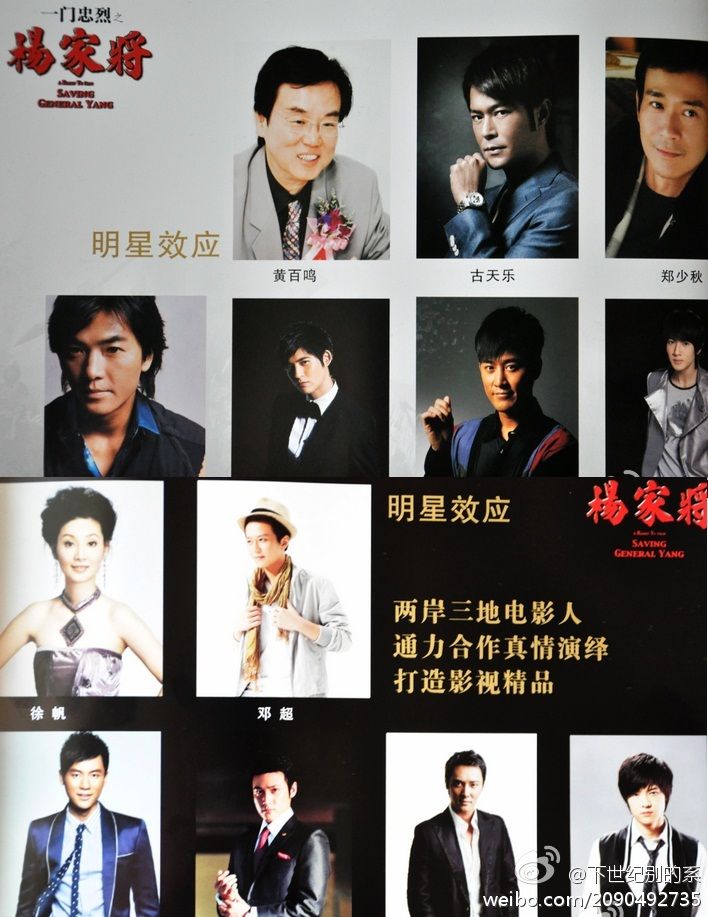 1. Da Lang – Both patriotic and tactically brilliant.
2. Er Lang – Thoughtful and precise, a master at the study of stragetic text.
3. San Lang – Impetuous yet always willing to assist others.
4. Si Lang – Handsome yet born with a weaker constitution, has a rebellious personality.
5. Wu Lang – Not interest in war, obsessed with studying martial arts.
6. Liu Lang – Not very talkative, but very concerned with war matters. All the rewards he earns in battle he gives away to his troops, lives very simply.
7. Ci Lang – The most spoiled, happy and outgoing, always looking for interesting and fun things.
Wuxia veteran Adam Cheng will be playing Daddy Yang. Apparently the movie is purely focused on the brothers going to war to save Daddy Yang, so I'm not sure if we'll get any Yang wives in it. Boo, I do love the love stories in the Yang's clan. The director for this movie will be HK-director Ronny Yu, who directed The Bride With White Hair with Leslie Cheung and Bridgette Lin, Jet Li's Fearless, and even did the Hollywood movie Freddy v. Jason.
Since this movie is about the rescue of Daddy Yang and not the Battle at Golden Beach (where we get the famed saying that 7 brothers went to war and 1 came home), I'm expecting everyone to live and hopefully gimme a sequel or more. There is so much story to tell, and with such a star-studded cast I'm totally fangirling for more already.
[Credit: Baike Baidu Yang's Clan]