Why? For the sanity of Koala, why? WHY? I can keep typing the same word over and over for the rest of the post. Seriously. Why? Doramas, you are officially on my shit list this Summer. Sometimes the lack of knowledge is a blessing, because I just discovered that Fuji TV is remaking its own blockbuster drama just four years out. Four years isn't long enough for a fashion trend to die, much less have the need to remake a drama when the original is just as good, fresh, and neigh impossible to top.
This weekend will be the premiere of Hanazakari no Kimitachi e 2011 (otherwise known as HanaKimi), the remake of the the original girl-crossing-dressing-as-a-boy-and-living-in-a-dorm drama adapted from the manga of the same name. The original HanaKimi starred Horikita Maki (my favorite J-actress), Oguri Shun (intense oddball thespian), and Ikuta Toma (a Johnny who can act and my Pi's BFF). Korea's SM Entertainment bought the rights to remake this earlier this year, and some have correctly pointed out that You're Beautiful had shades of HanaKimi.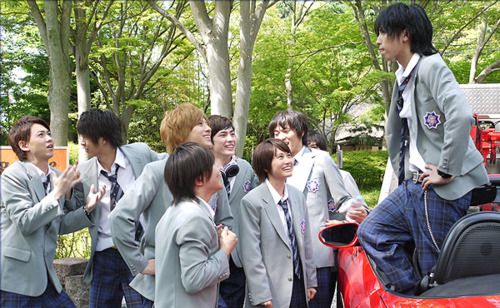 The HanaKimi 2011 remake stars a bunch of relative newbies: AKB48's Maeda Atsuko as Ashiya Mizuki, actor Nakamura Aoi as Sano Izumi, and Miura Shohei as Nakatsu Shuichi. Have a look at some pictures in comparison with the original. Below I've also linked to the trailer for the 2011 remake.
As much as the original HanaKimi is no masterpiece and might just be the wackiest thing I haz ever saw, it was addicting and cute and perfectly cast. Even if Maki looks as much like a boy as any NFL football player can pass for a girl. But the chemistry between the three leads was off-the-charts amazing.
Have a look at the hotness that was the original HanaKimi cast. Yeah, 'nuff said.
Trailer for HanaKimi 2011:
http://www.youtube.com/watch?v=ShsxGxRsQn8