Next Monday sees the premiere of Thousand Day Promise on SBS, starring Su Ae, Kim Rae Won, Lee Sang Woo, and Jung Yumi. My interest in this drama has been on a bell curve, ramping up as the cast was finalized with actors I love, and then gradually decreasing with each new trailer that made it appear this drama might be so overwrought it would fry my brains. Sad I can handle, but the amount of screaming, pushing, slapping, wailing, and shouting in the long trailer officially makes me worried. I was expecting lyrical and sad, but instead it looks makjang and weepy. At least everyone looks decent at the press conference.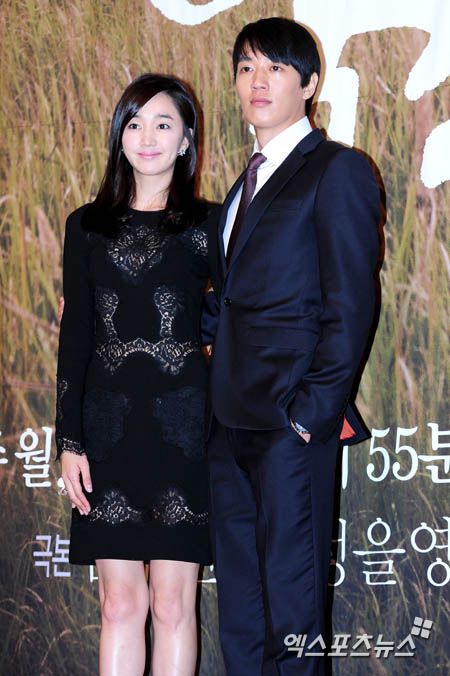 Kim Rae Won and Su Ae look stunning together, which was a given, but couldn't he smile a little bit more? He's looking really dour, which might be an attempt to stay in character.
Jung Yumi is adorable and I love her entire look, and finally Kim Rae Won is smiling.
Looks like there will be bromance in this drama. I'm always good with some well cooked up bromance.
The two leading ladies appear to get along in real life, which is good considering they fight over Kim Rae Won in the drama.
The Mon-Tues drama competition is currently very soft and a great place for TDP to slip right in. It's predecessor Warrior Baek Dong Soo led the ratings, and Gye Bak hasn't proven to be a powerful sageuk rating king ala Queen Seon Deok type popularity. Poseidon is barely treading water in ratings and plot, so it's a clean shot for TDP to premiere in the solid teens and build up its viewers from there. Check out the long preview and decide if the drama interests you. I'm still going to watch it, but I don't have this burning urge anymore.
Three-minute preview for Thousand Day Promise: