In Time With You may not be close to winning the ratings crown in the Sunday night battle with Office Girls, but it's gotten very solid ratings along with exceptional critical acclaim. The cast and crew should feel very proud. My own personal problems with ITWY stem purely from the writing and I'm thrilled to see Ariel Lin and Bolin Chen getting such rave reviews for their performance, and for newcomer Sunny Wang to burst into the scene and make quite an impression. While his Ding Li Wei is sometimes a douchebag but most often then not just a direct guy with a controlling tendency, I'm totally googly-eyed over Sunny.
His acting feels raw but with lots of potential. He reminds me of a less brutish Blue Lan, with some of my cutie pie Chris Wu (from Autumn's Concerto) thrown in. Sunny is a bona fide second generation chaebol, as his family owns one of the largest marine transport companies in the world based in Taiwan. The company is actually called Yang Ming Marine Transport, and Sunny's Chinese name is Wang Yang Ming. Talk about having a company named after you. Back to ITWY, the cast (sans Ariel) held an open media celebratory bowling party this week hosted by Director Winnie. The two leading men had no choice but to pose with a cardboard cut out of lovely Ariel, which I'm not even going to snark about. I'll save that for Bolin's outfit, as usual.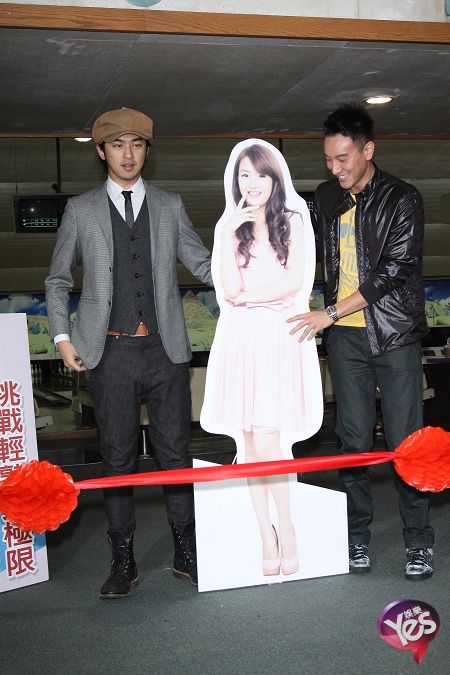 Seriously? Did Bolin wander off the set of a C-remake of Newsies? Does he actually own clothes like this in his closet? How does he manage to consistently dress in the most hideous outfits?
Okay, Sunny is cute. And hot. But really really cute when he smiles like that. With his looks and background, I figure he's probably the biggest player in all of Taiwan. His ex-girlfriend songstress Elva Hsiao probably agrees with my assessment. But since I'm not in the market, I can enjoy him purely as eye candy. His body tattoos are quite disconcerting, and I'm only finding it funny that he has the tattoos and not fellow actor Baron Chen, who is well known in the industry for being the son of the biggest triad leader in Taiwan. Daddy wants Baron cast in every drama, you all hear! LOL, I'm just kidding.
Okay Bolin, posing next to a cardboard is fine, but I draw the line at kissing it. Even for the cameras.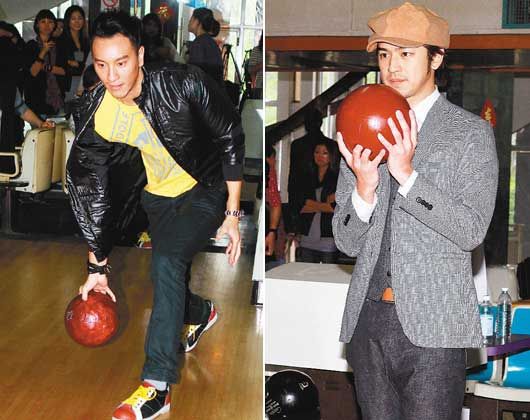 Now I'm curious: who is the better bowler? The guy dressed comfy and sporty to go bowling, or the guy who wants to sell you a newspaper for 10 cents?