It's round two of Full House 2 versus Koala's eyes. My corneas put up a valiant battle, but the eyesore was so powerful I was ultimately vanquished. More new stills have trickled out from the set of FH2 starring No Min Woo, Hwang Jung Eum, and Park Ki Woong. If I concentrate on the very pretty faces of all three actors it's fine, but venturing beyond that makes me shake my head in befuddlement. I can't even make heads or tails of the need to make everyone look ridiculous. I have made fun of the stylings for two K-dramas in advance of its premiere and ended up loving the insane but rather apropos looks in You're Beautiful and Mary Stayed Out All Night. But I think the extenuating circumstance in both of those dramas was Jang Geun Seok, and sadly he's not around in FH2.
Angora? Why angora? And how did they manage to find two equally atrocious angora sweaters to slap on poor Hwang Jung Eum. She looks like Big Bird's pretty cousin in these pictures. If cashmere is my best friend, angora is my hated foe, all faux-soft but really itchy and sheds like the dickens. I think with the sartorial failures that have befallen Hwang Jung Eum in two straight dramas, her next role ought to be that of a Parisian supermodel with a walk in closet crammed full of couture. She's owed something big time.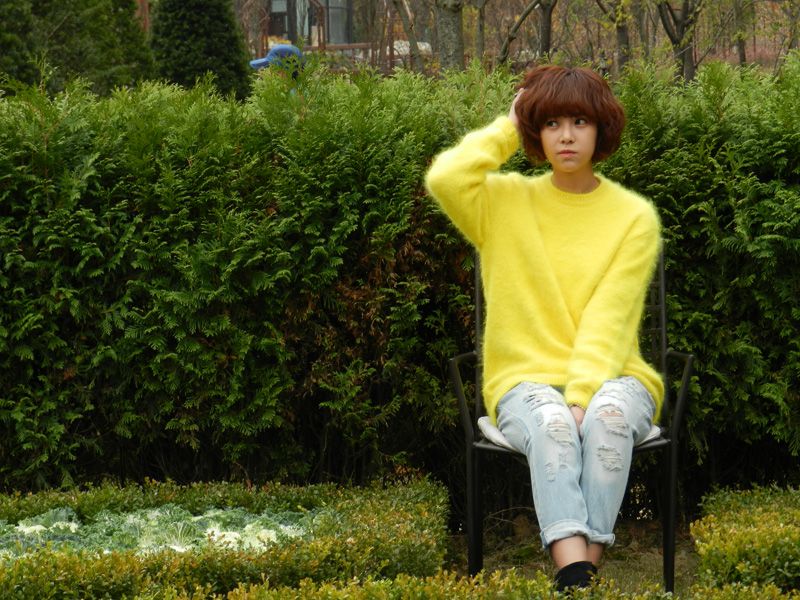 Below are the very pretty scripts for FH2. Obviously the characters drawn on the cover do not in any way resemble the characters onscreen.