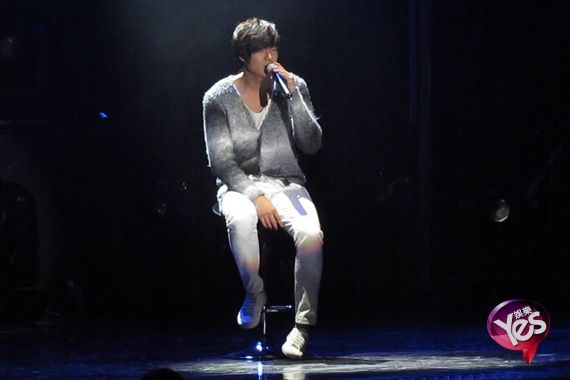 Lee Min Ho, whose popularity shot up even more this year in China thanks to City Hunter, held a fan meeting in Shanghai this week that reportedly caused a traffic jams from the moment he arrived in the city and his fans started stalking him from the airport to the hotel and to the arena. Sometimes I wonder if I should get over my CH-drama aversion and just finish watching it since I know folks who loved it. But it's a hurdle I can't bridge after checking out two episodes and realizing it had nothing whatsoever to do with the CH manga of my youth by Tsukasa Hojo. I'll just let everyone else love CH the K-drama while I happily enjoy rereading CH the manga, which was all sorts of horny sexy kickass goodness. As for Min Ho-shhi? He's looking mighty fine for his fan meeting, which went by the playbook of all K-star fan meetings. Dance, sing, maybe play an instrument, interview, and play games with the audience. Bringing you pictures from his just completed Shanghai FM, but the other ones to be held shortly will be guaranteed to look the same.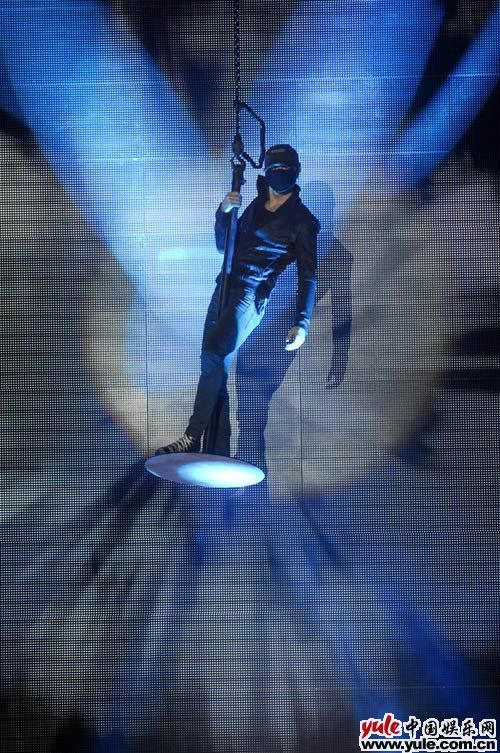 Min Ho, descending from the Heavens to greet his faithful. Dressed inexplicably like a mugger or a new-age bicycle delivery boy.
Min Ho borrowing a page from the Michael Jackson dance manual.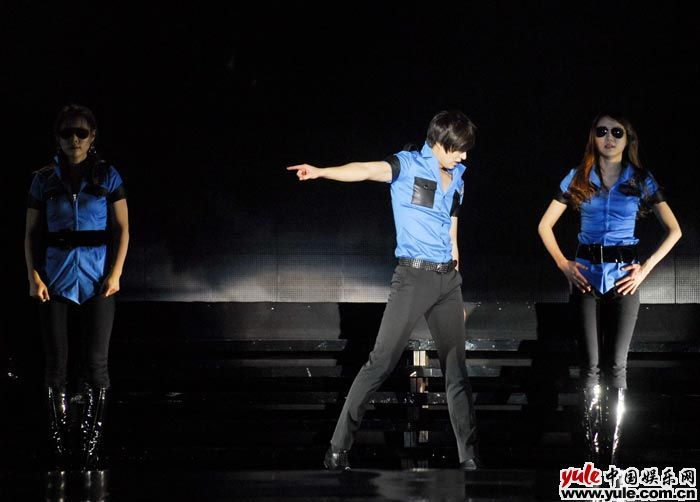 Min Ho borrowing a page from the SNSD dance manual, which appears more up his alley. Do the pop thang, Min Ho! But please burn that outfit once these fan meetings are completed. I never ever want to see you dressed like a cross-dressing cop. Pants that tight is not good for your circulation.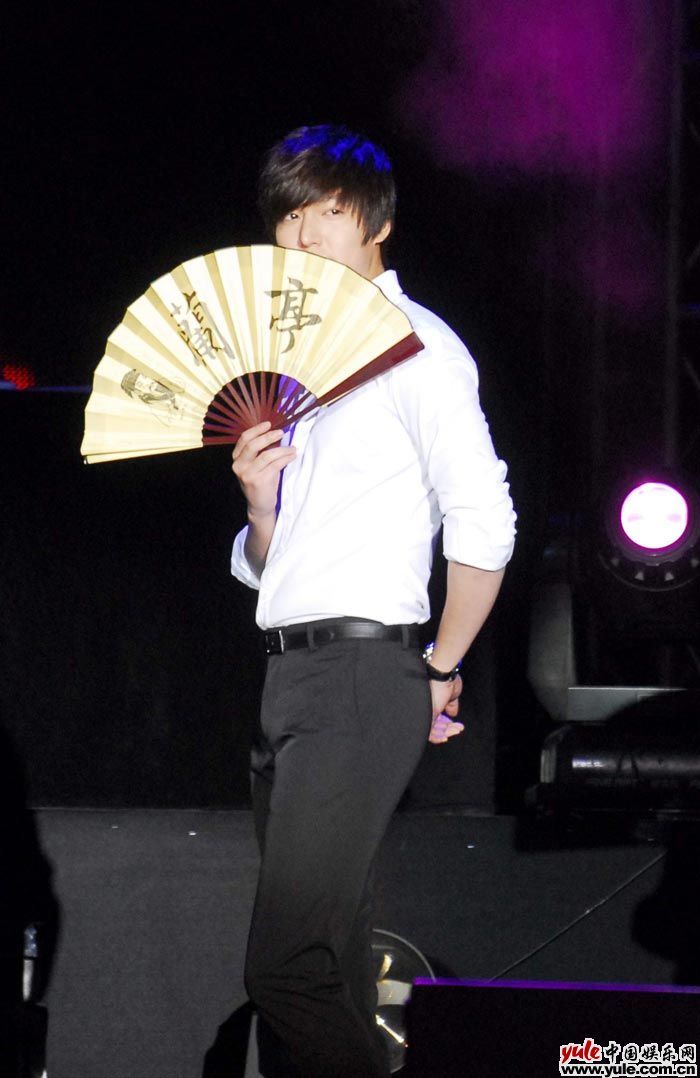 When in China, do as the Chinese and…..carry a big fan? I'm already picturing Min Ho in a period C-drama where he plays a gentleman scholar. Yummy scholarly goodness.
Min Ho playing the piano. Always a heartfelt display whenever someone sits before the ivories.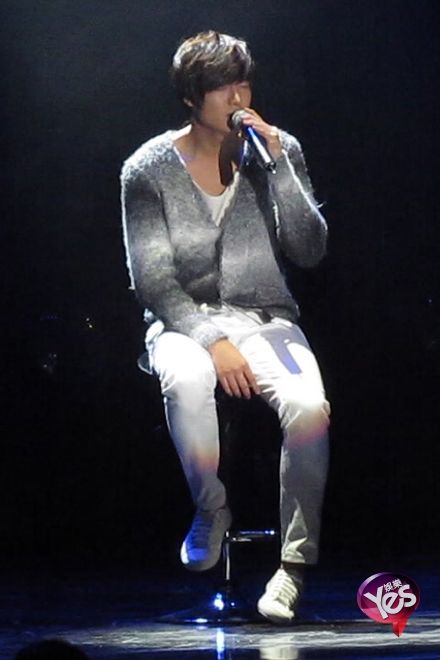 Min Ho singing. I'm sure every screaming fan present was thinking to herself "he's singing to ME…….swoon." Hate to break it to those ladies, but he was probably singing to his girlfriend, and mentally sending her reminders to picture him when she's getting kissed by PIE.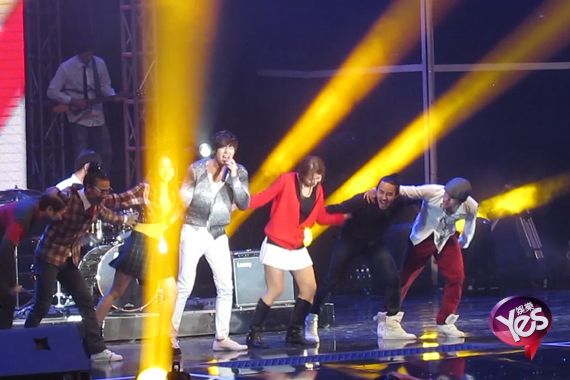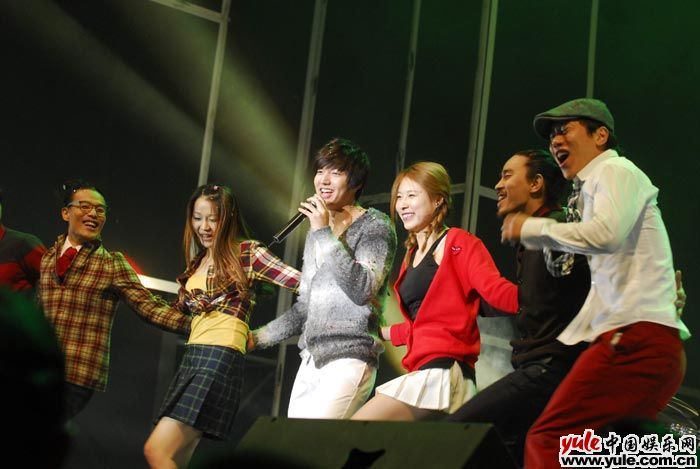 Min Ho doing some sort of GLEE-esque performance mixed with a jitterbug. It makes no sense but everyone appears to be having fun. Hurray for some joie de vivre on stage!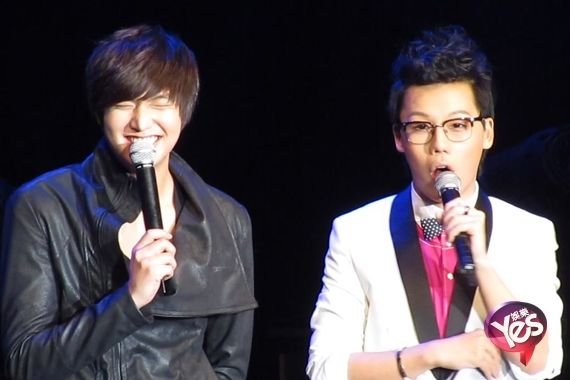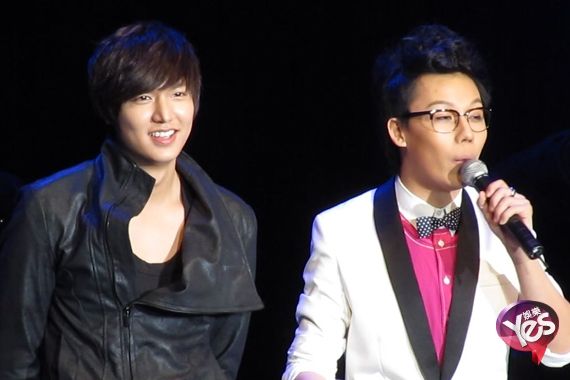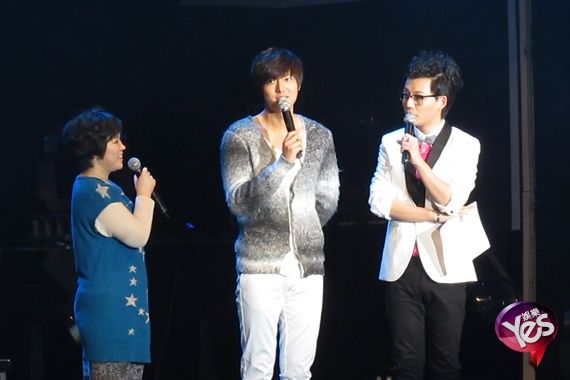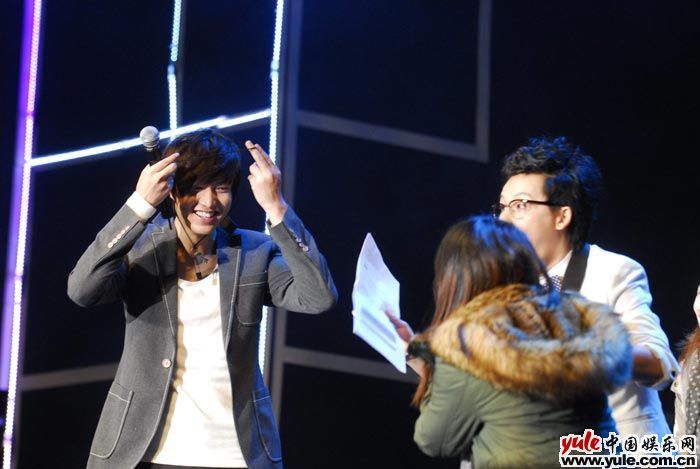 The remainder of the pictures are Min Ho getting interviewed and interacting with his audience. I LOVE his smile in the first interview picture above. I'm glad to see he's been keeping busy with other activities since wrapping CH, which turned out to be a fabulous drama choice for him and a positive boost for his career. I'm looking forward to his next project, and I'm wondering if perhaps he's ready for a Chungmuro offering instead of staying in Yeouido? I'm sure China is also enticing him. Right now the entertainment world is his oyster, and I hope he continues making savvy career moves.
[Credit: all pictures of the respective news agency as marked via Baidu Lee Min Ho bar]