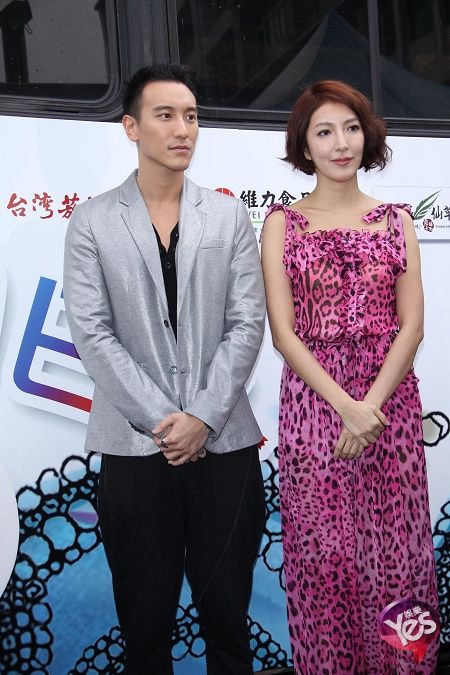 Another TW-drama starting filming today and the cast attended a media event since it's never too early to drum up interest. Co-starring as the leads are Cheryl Yang and Sunny Wang, the latter having shot to stardom with a supporting role in In Time With You with Ariel Lin. This drama is called Sweet Magic Bus (甜蜜魔幻巴士) which is a literal translation that I hope will not be used since the title is beyond stupid. Also, Sunny needs to go home and burn those hammer pants he's wearing. Or he can burn them on the spot and go pantsless.
The press bothered Sunny about his purported romance with Rainie Yang (he replied curtly that they are just friends), and then bothered Cheryl about what it feels like to work with the ex-boyfriend of her best friend Elva Hsiao. Okay, even I'm curious on this one, considering the rumor was Elva left the entertainment world for a year to move to the US to be with Sunny, only to have him dump her in the end. All rumors, of course. Cheryl said Elva told them both to work hard, and Cheryl complimented Sunny on having grown up in the few years they haven't seen each other.
Not much is known about the story other than Sunny plays an American-educated designer while Cheryl is a young mother with a ten-year old son. Doesn't anyone learn from the mess that is Ring Ring Bell and stop it with the single mother stories intending to milk the hardships of raising a child alone and then the miracle of finding a hot guy who loves you AND loves your kid. Sigh. GTV is producing this drama so I'm hoping it'll be more realistic than RRB and have a coherent and logical story to tell. Playing the second leads are Matt Wu and Reen Yu (she played Pi Zi's first love Xiao Mei in Black & White and was also the lead in Love Buffet with Aaron Yan). Magic Bus Thingie will likely air sometime in mid-2012.