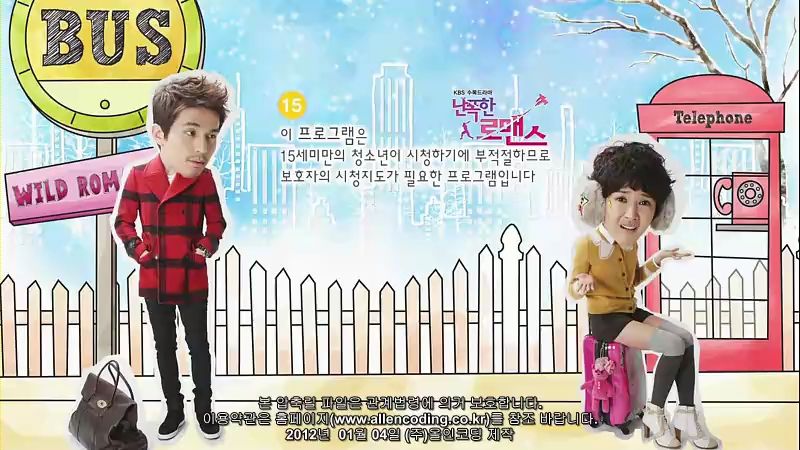 As a sports fan there are just teams you effing hate. The greatest sports rivalries in history spawn the best fan wars, which begets the central conceit of Wild Romance. What if a die hard fan of one team were to become the bodyguard for the star player of the rival team? Who just singlehandedly ensured your team lost the most recent championship game. For Yoo Eun Jae, female bodyguard and lifelong Blue Seagulls fan, it's a fate worse than death to guard Park Moo Yul, asshole and star player of the rival Red Dreamers.
I watched episode 1 of WR today and thoroughly enjoyed it. It was deftly presented and at times hilariously sidesplitting. The drama has shades of a buddy story blended with a rom-com, in which two characters who loathe each other are forced to spend time together, potentially resolve some matters, and in the rom-com way, eventually fall in love. It's not fresh or innovative, but what makes WR work is how thoroughly the drama sets up the two characters and commits to its premise. This drama doesn't feel cobbled together or half-baked. It wants to tell a specific story in a unique way, and succeeds so far in doing so.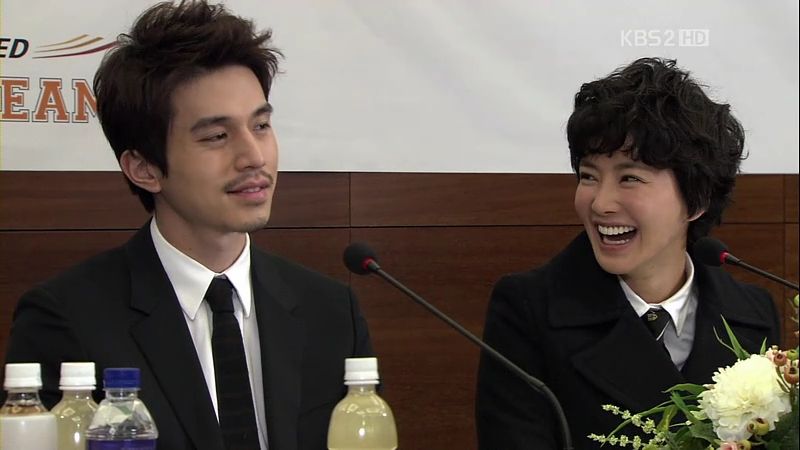 I don't think I've ever enjoyed watching Lee Dong Wook this much before in any of his previous dramas. It's like he's consumed a few Red Bulls and is suddenly awake and alive. I've liked Lee Shi Young since her steady and sure performance in Playful Kiss (in a thankless role), but here she is firing on all cylinders and nailing the character more than I thought possible. If anyone is even remotely a fan of either actor, this drama is worth watching for them alone. Their comic timing is delightful and impeccable, plus they have fabulous chemistry that goes beyond the sexual or romantic genre. They actually nail the "I hate you" element of their relationship with such believable gusto I almost don't want them to fall in love.
The drama starts off with a viral video unleashed on Korea which shows ace baseball player Park Moo Yul of the Red Dragons getting back flipped by a girl who we see is Yoo Eun Jae. When confronted by their respective handlers, Moo Yul by his manager and Eun Jae by her boss at the bodyguard agency, both confess it was a random run in at the local noraebang.
Turns out Eun Jae, plus her father and brother, are die hard true blue fans of the baseball team Blue Seagulls. It also turns out that the Blue Seagulls recently lost the baseball championship to the Red Dreamers, mostly on account of Moo Yul tossing a bat at the pitcher and starting a dug out clearing brawl that ends with both Moo Yul and that pitcher getting tossed. Ergo the Blue Seagulls lose the game without their star pitcher. Back to the night of the noraebang, Eun Jae thinks Moo Yul is beating up her dad, plus she's drunk as a bat, so she rushes Moo Yul and tosses the poor sucker flat on his back.
The video is recorded by the noraebang guy and posted online immediately. To salvage what little is left of Moo Yul's reputation (which is already bottom dwelling what with his terrible personality and string of scandals on and off the field), his manager hires Eun Jae to be his bodyguard. They concoct a story that a crazed anti-fan is out to get Moo Yul, so a bodyguard was hired to protect him. And said bodyguard happened to be teaching him fighting techniques at the noraebang that night. The media reluctantly buys into this hogwash explanation.
Poor Eun Jae is forced to guard Moo Yul otherwise her bodyguard agency might go under for the lack of clients if the world knew she beat someone up. The ensuing hijinks of episode 1 involve Moo Yul and Eun Jae genuinely hating the guts out of each other but forced to endure each other's company. Both end up doing things that exacerbate their already volatile relationship. Turns out Moo Yul might be fooling around with the wife of his teammate Jin Dong Soo (Oh Man Seok), and in one rendezvous with her, he dumps Eun Jae on a mountain top and she's forced to walk home and suffer the bitter cold. Score one for Moo Yul.
At an autograph signing session, Eun Jae's temper grows increasingly short when she sees fans fawning over Moo Yul and criticizing her beloved Blue Seagulls. To make matters worse, Moo Yul is loving it and encouraging the fans to keep ridiculing her team, so Eun Jae lets a flying egg whiz past her head and land right on a laughing Moo Yul's face. Score one for Eun Jae, though minus one for intentionally shirking her bodyguard duties.
The directing is very solid and fun, with lots of quick cuts and fluid camera angles. I enjoy how the PD splices scenes together so there are very few track shots but the quick cuts are not jarring and instead feel energetic. There are times the directing reminds me of the work done when a drama is a manga adaptation, with a bit of exaggeration and more cuteness than realism. The final scene in episode 1 has Eun Jae and Moo Yul at an online chat room at their respective computers. Eun Jae mocks Moo Yul, while Moo Yul anonymously speaks up for himself. Their words literally go flying at each other, and both of them use their hands, feet, and head to slap and kick those verbal jabs away.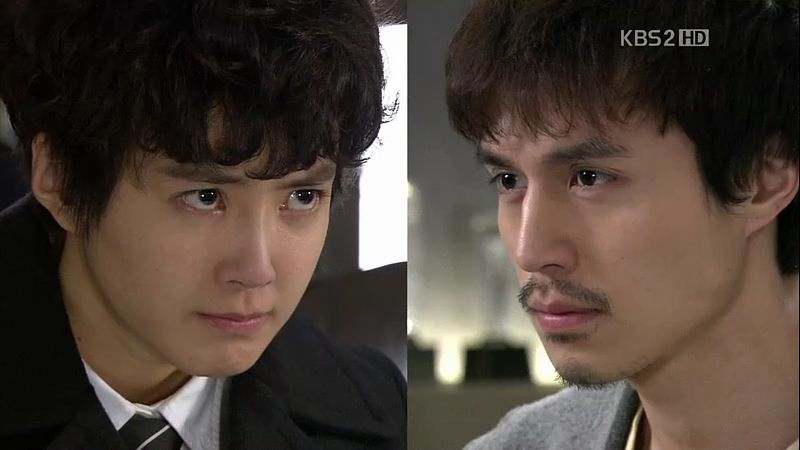 It was splendidly entertaining. Even moreso when online Eun Jae calls Moo Yul the same crass phrase she uses to refer to him, which alerts Moo Yul as to the identity of his online opponent. Both of them have zero respect in addressing each other, which makes their sparring more fun to watch since it's always gloves off.
What I enjoyed about episode 1 is how strong Eun Jae is, both physically and mentally. She takes as good as she gives with Moo Yul, never one being missish or falling on her gender as a crutch. Doesn't hurt that Lee Shi Young is really suitable for this role, making herself very androgynous and downplaying her prettiness. She's not afraid to look dowdy or manly, and the result is that Eun Jae looks cute to me, with her quick temper and insane love of the Blue Seagulls. Lee Shi Young's hair doesn't bother me at all because her character is so charming to watch my attention is never on any detail of her attire or hair.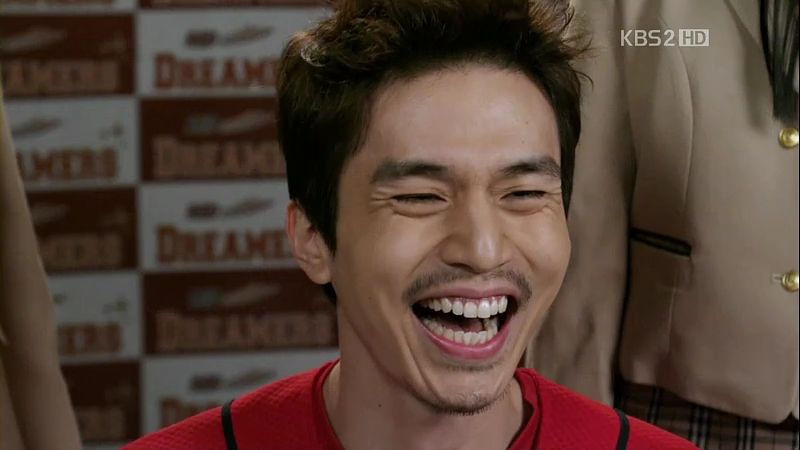 Same goes for Lee Dong Wook as Moo Yul, who comes across as genuinely dim and boorish. He's like the stereotype of the thuggish ballplayer, but having the hot looks of Lee Dong Wook. That works for me! Honestly, the two leads are great in their respective roles and even better when they have scenes together. I'm loving Lee Dong Wook's entire character portrayal, and his sleazy pornstache is totally a winning addition to complete his overall loutish look.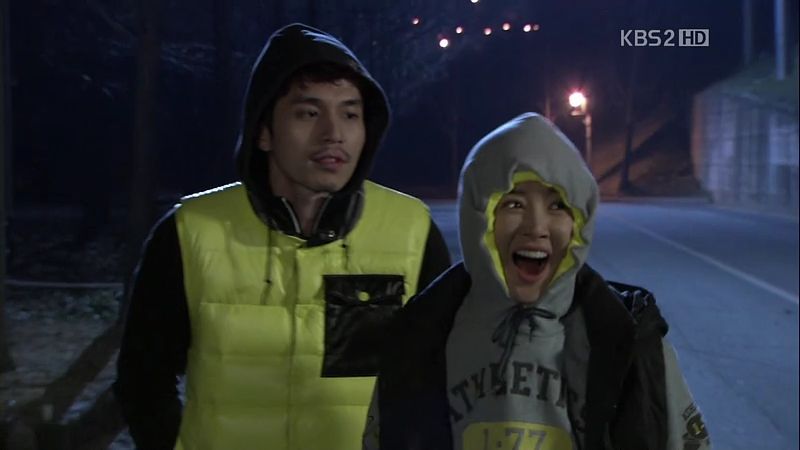 The supporting cast is just alright, and none of the other characters stand out at all. Not even Oh Man Seok. And especially not Hwang Sung Hee as his wife Oh Soo Young. I'm hoping that Moo Yul isn't fooling around with his hyung's wife, because that's a really crappy thing to do. There is a hint that the fabricated anti-fan story might actually be the truth, so Eun Jae guarding Moo Yul might ending up being necessary rather than to salvage his reputation. I would love if this story went so far as to have Eun Jae repeatedly saving Moo Yul's hide from his anti-fan, because I love me a kick ass heroine who saves the hero. Rather like the possibility inherent in Spy Myung Wol before that drama went to the wolves.
Thus far the drama doesn't try to create likeable characters, with the two leads currently tied for having equally bad personality issues. That makes the character's fighting feel less fake and contrived, since it's possible these two bad tempered folks with diametrically opposite aligned interest would rub each other the wrong way. It's like two scrappy street dogs fighting, as opposed to so many rom-coms which try to make two very genteel normal characters act like they hate each other and engage in poodle fights to simulate conflict.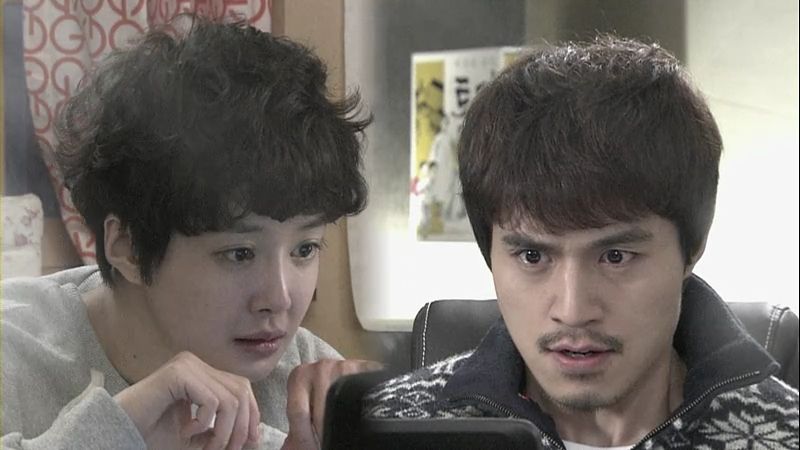 WR doesn't have much of a premise aside from bodyguard assigned to protect most hated baseball player. Not sure this drama actually needs a premise, as it's coasting by quite fine on funny scenarios alone. I suppose the drama can drum up believable emotional angst later down the line. I hope the story sticks with the baseball setting AND doesn't pull a girly makeover on Eun Jae. I want her to stay an accomplished bodyguard with great skills who doesn't care about her looks. Same goes with Moo Yul, who I want to see grow some empathy and maturity, but not have a complete personality transplant and become some do-gooder. Right now the two leads are well-matched to ignite the sparks of their hate-hate relationship, so that means I'm along for the fun ride.