I'm going to be so sad when Office Girls. This drama has been my steady companion for months now, always good for a laugh and some swooning once a week. It'll likely end at episode 23, though TTV will preempt one episode this month since it's Lunar New Year that week. Part of me thinks Kai Er has been wreaking way too much havoc, but then I realize she's done no real damage since Zi Qi and Xing Ren's sincere feelings for each other has helped them resolve every little misunderstanding. I cannot wait to see Kai Er get her just rewards, and I hope it comes via Stallone looking out for his precious Le Le. I do think the truth about Zi Qi's identity is a major issue, and I hope the drama allots time for the couple to deal with it, and what it means going forward. I don't think it means anything, since Zi Qi's dad wants his son to earn the right to run the department store. OG would be a truly worthwhile drama if it finds a way to not just deliver great emotional catharsis for the OTP, but also provide a fitting conclusion for the work place issues.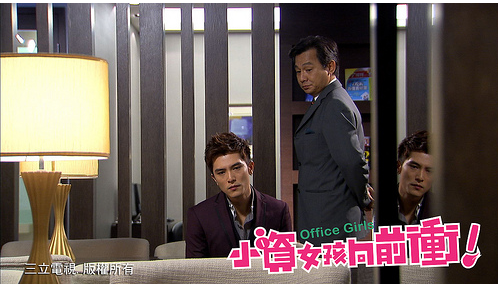 Written preview for episode 21:
The things that can never change, means it will change. Zi Qi's sincere attitude shows his dad that he has changed. Zi Qi's dad agrees to help Xing Ren's mom, and their father-son relationship takes a big step forward. Who knew an despoiler would appear midway. What will happen to Zi Qi's dad's promise? Zi Qi's intentional distance from Kai Er leaves her unhappy, so she plots to send Zi Qi and Xing Ren's relationship into an impasse. Will Zi Qi discover Kai Er's evil plan, and will Xing Ren's misunderstanding of Zi Qi be erased?
The snowball that is Zi Qi's real identity grows ever bigger. Zi Qi's mom calls Xing Ren out to talk. This leaves Zi Qi backed into a corner, and even Le Le steps up to help them resolve the situation by encouraging Zi Qi to tell Xing Ren the truth. Will Zi Qi tell Xing Ren who he really is?
Preview for episode 21:
http://www.youtube.com/watch?v=bj3rocmhz3M
Zi Qi's mom tells Xing Ren the truth, that she is Zi Qi's mom. She tells Xing Ren to break up with Zi Qi, because Zi Qi needs a woman by his side who can help him. All Xing Ren can do is drag him down. Since her mom got sick, she's had Zi Qi go ask his mom to borrow money. Xing Ren tells Zi Qi that the lady rich Lady Yeh came to speak with her.