Finally! SETTV has confirmed the start date for Love Forward with Amber Kuo and Tammy Chen as February 12th, 2012. Which means that Office Girls will end at 24 episodes (taking into account one episode will be preempted for Lunar New Year), making it as long as Fated to Love You and The Fierce Wife, all ratings bonanzas for the network. I can handle 24 episodes (and will probably miss my Zi Qi and Xing Ren dearly), but 30 episodes would be a nail in the coffin for this adorable drama. With only three more episodes left, now totally curious how the drama will resolve everything since it's dragged the Zi QI identity secret out for this long. For once I want my leading lady to have a sudden and inexplicable personality change, and totally just let go of all her insecurities and worries and just love Zi Qi with abandon, which is how he's been loving her all along.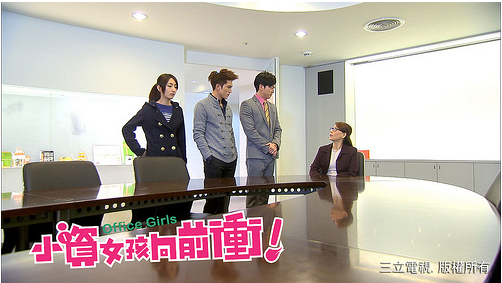 Written preview for episode 22:
The mess caused by Xing Ren, Zi Qi takes the blame alongside her. Even Stallone can't help himself and jumps in to try and help. An anonymous tip arises again that creates more ripples. Who is orchestrating this situation behind the scenes? President Qin sees how earnest and hardworking Xing Ren is. But with Mama Shen's surgery imminent, Xing Ren finally collapses of exhaustion. Faced with the double dose of emotional and physical toil, how can Xing Ren manage?
The secrets Zi Qi cannot tell are so numerous it threatens to spill over, causing Xing Ren and Zi Qi's relationship to fall into danger. Zi Qi decides to come clean to Xing Ren. Except Zi Qi's mom decides to butt in. Will Zi Qi's identity finally be revealed?
Previews for episode 22:
Zi Qi lies that he was the one who ran into the pregnant lady. Stallone tries to help but Xing Ren butts in and confesses that she did it. The pregnant lady's husband threatens to sue Jing Shi Department Store for his wife's accident.
Xing Ren collapses. Zi Qi wants to take turns taking care of Mama Shen to take a load of Xing Ren. She thanks him but doesn't want to drag him down with her. Zi Qi tells BFF Bao Luo that he intends to come clean with Xing Ren about everything – who his mom is, who his dad is, and why he's been lying this entire time.