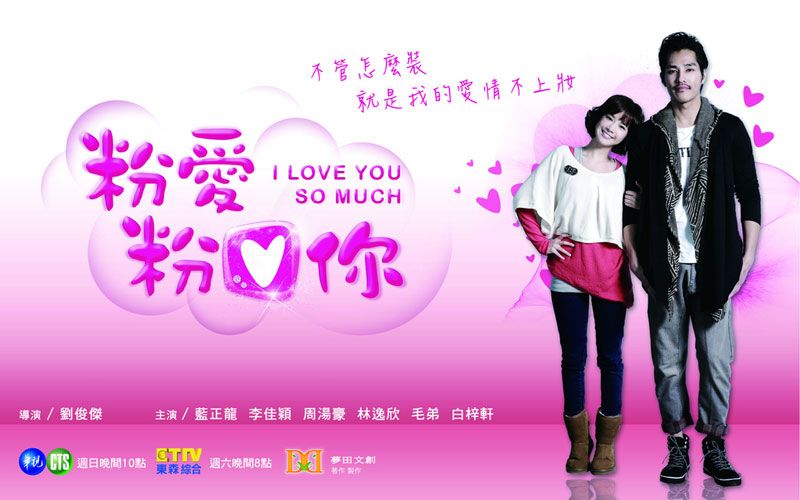 It's been a miserable two years for CTS, which hasn't had a hit drama since 2010's Hi, My Sweetheart, which was terrible but drew the crowds because of Rainie Yang and Show Luo's popularity and great onscreen chemistry. The last CTS drama I watched was Ring Ring Bell, which started off promising enough but quickly went batshit insane and down the drain. Poor Janine Chang and Peter Ho, so wasted but utterly winning together. RRB's follow up drama premieres this Sunday, the punny-named 粉愛粉愛你 (English title I Love You So Much), starring Blue Lan, Ivelyn Lee, and singer-and-rookie-actor Nick Chou.
With a decent support cast of Shara Lin, Tom Price, and Modi, this drama has managed to hook my interest by being really pretty to look at. I also hear my cutie pie Chris Wu has a cameo in episode 1 (as a jerk guy who breaks Ivelyn's heart). Have a look at the lovely opening credits with a title song by Show Luo, plus an few new teasers. Judging by the teasers alone, I'm already won over by the swooning Nick as the second lead. My prediction is that the ratings might not even break 1, but if the drama has substance and quality, it can earn it's viewers along the way. 
Opening credits for I Love You So Much:
First Look at I Love You So Much:
Second Look at I Love You So Much:
Third teaser for I Love You So Much:
I give this drama a 50/50 chance of turning out alright. But I like what I've seen of leading lady Ivelyn's performance and her character seems spunky and interesting enough. Blue is predictably playing a cad again, but one who has a decent heart. With Office Girls ending soon, I really need a TW-drama to become the next crack for me, and I'll give this a shot and see if it wins me over.