I've got such low standards for J-doramas these days, because the favorite genre I grew up with has become a beast nearing extinction while the landscape is littered with depressing dramas about the meaning of life or cop/doctor/serial killer shows up the truckload. I long for my diehard romances, Japan! But occasionally I do enjoy the other stuff as well, if it's done right. Last Season I adored Nazotoki wa Dinner no Ato de with Kitagawa Keiko and Sakurai Sho (which is scheduled to come back as an SP this Spring), a kooky cheeky detective mystery.
This season I've found my go-to weekly dorama fix, the wonderfully casted misfit detective trifle Lucky 7, starring another Arashi member Matsumoto Jun, Eita, Naka Riisa, Oizumi Yo, and Matsushima Nanako. Only two episodes have aired so far, but both are excellent and start this dorama off with a ton of energy, humor, and quirky spirit. It doesn't try too hard, and in doing so straddles the right balance between making a story fun and full of heart. But my biggest takeaway so far is that Eita is running away with the show, both in terms of having the best character to play and knocking it out of the park with his effortless performance. LOVE.
The members of a detective agency are staking out a hotel to catch a cheating wife with her latest boy toy, an aimless young man named Tokita Shuntaro (MatsuJun). Shuntaro not terribly interested in doing anything meaningful with his life, but he happens to be a world class ladies man who doesn't even need to try to unleash his charm.
Team Looks-Hapless-But-Is-Surprisingly-Effective Ragtag Detectives include – the elder leader of sorts Asahi Junpei (a droll and witty Oizumi Yo) coordinating the outing, a sarcastic and sassy lone female ace Mizuno Asuka (terrifically played by Naka Riisa but so far underused), and team's effective hands on guy Nitta Teru (Eita, who is just PERFECT in this role). The three detective grouch about being kept waiting for the trysting cheaters to exit that darn hotel room already, how long can they stay holed up inside doing the horizontal mambo.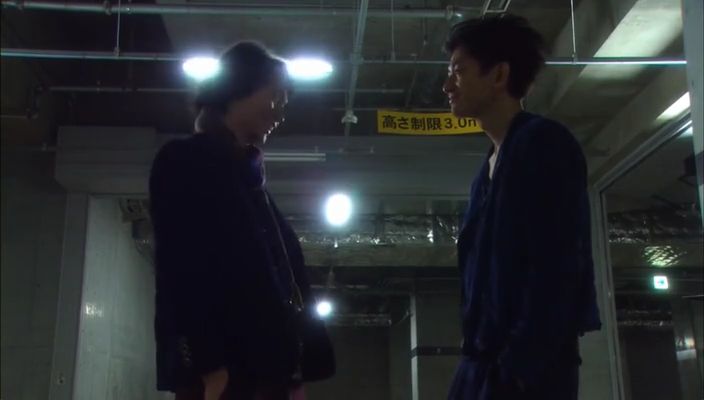 Finally, Shuntaro and his rich lady love walk down to the lobby and proceed to split up immediately. The team almost loses their money shot until Nitta improvises and Junpei swoops in to get the incriminating evidence for their client.
Shuntaro calls his lady love only to be told she is breaking it off because her hubby caught her. Our loverboy turns out to be surprisingly perceptive, as he noticed Nitta at the hotel and later spots him on the street, leading to the first of many confrontations between these two guys. Shuntaro makes the correct guess that Nitta is responsible for the loss of his sugar mommy.
Nitta easily ducks Shuntaro's punches and then appears to lose the guy because Nitta can run like a gazelle. Turns out Shuntaro isn't all that hapless or useless, as he not only kept up with Nitta, he follows the man back to his detective agency. Roh roh.
Before Shuntaro can cause a ruckus (or more likely, get his ass kicked by Nitta six-ways to Sunday), head detective Fujisaki Touko (Matsushima Nanako turning in a Mita-lite cameo performance of sorts) walks out to check out the new blood.
Shuntaro immediately starts flirting with her. A leopard doesn't change his spots. Instead of kicking him out on his arse, Touko hires him on the spot. Because he's got something she senses would make him a good detective, and a good addition to the team. Now we've got our Lucky 7, once you add in the elder office manager Tsukushi Masayoshi and the resident IT genius nerd girl Kirihara Yuki.
First day on the job, Junpei is saddled with mentoring Shuntaro. Junpei makes the laddie prepare flyers to be handed out on the street corner to drum up clients. Junpei doesn't have much use for pretty boys like Shuntaro.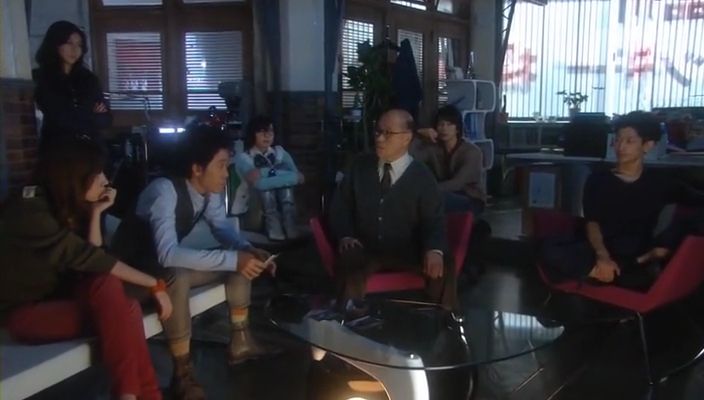 A new client arrives just then, a young lady who needs the detectives to find her brother. He was a former firefighter who lost a colleague in a deadly fire, and after that he quit his job and just vanished. The police won't expend resources to search for a man who doesn't want to be found. The team sits down to discuss their plan of action.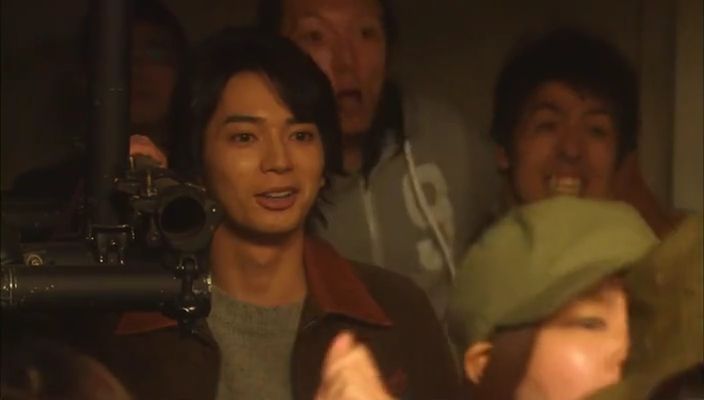 The detectives quickly find the MIA firefighter and track him to an underground fight club. I firmly believe this plot point exists for the sake of getting Nitta and Shuntaro shirtless later on. The man is engaging in underground fights solely to get beat up, as he's still feeling immense guilt for not being able to save his colleague. Shuntaro is a mite taken with the whole fight club ethos.
Touko orders the man's whereabouts reported to the client and then it's the end of this case, since they did their sole job which was to locate the man. Shuntaro doesn't feel right about that, especially after he talks with the client privately afterwards and hears how she's so worried her brother will get himself beaten to death one of these days. Nitta and Shuntaro butt heads over what their detective job entails.
Shuntaro heads back to the fight club, where he runs into Nitta, both guys with the same idea of helping out the beaten up firefighter. In a series of misunderstandings, the two men end up shirtless in the ring fighting each other.
In a well choreographed fight, with jabs, kicks, and punches thrown left and right, Shuntaro manages to hold his own against the trained fighter that is Nitta. Until Nitta finally lays Shuntaro low, right around the time the cops storm the ring and break up the club, after an anonymous (Junpei) call goes in to tip them off.
The man is reunited with his sister (who has been brought to the scene by Masayoshi), who has a chance to help him return to living a normal life.
Nitta and Shuntaro admit they still can't stand each other, but there is a good chance they can co-exist without trying to kill each other.
The episode ends with Team Ragtag bickering in the office.
What I loved about this drama is how fun it is. It doesn't aspire to be realistic, nor dig deep into societal issues and try to be a moral of the week type of story. It focuses on one particular frayed relationship and then tries to resolve it properly on a micro level. The cast is having tons of fun in their roles, and it shows in the all-around great chemistry and a feeling of loose and easy-going delivery of their lines. There is a rat-a-tat tempo in the bickering between all the characters. The writer chooses not to tell us the personality and back story of the main characters, instead allowing it to trickle out through conversations and interactions. The drama is filmed in a very pretty color saturated way, with the brightly lit scenes appearing gloriously hazy and the darkened scenes with a sense of visual mystery. So far Lucky 7 is a lucky win, combining a great cast firing on all cylinders with a cheery-toned detective-of-the-week story mixed with some bickering buddy hijinks. I initially watched it for MatsuJun, but am totally staying for Eita.