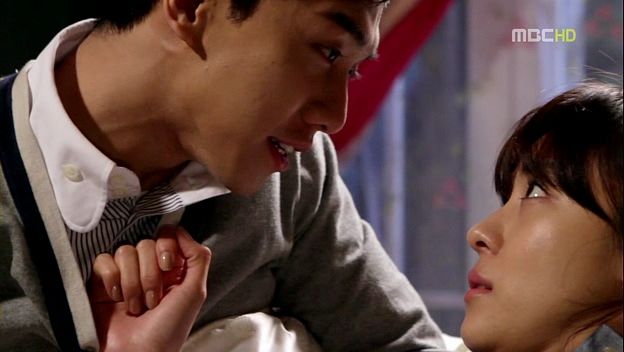 Who's cried today? You can't have watched today's episode 7 and 8 of The King 2 Hearts without crying at some point. I really lost it during the moment when Jae Ha was taking off his tux and thinking back to his moments with Jae Kang. I so wanted to hug my all grown up puppy at that moment, but I'm glad he has Hang Ah by his side to do just that later on in the episode. How quickly things change in TK2H-land, when an episode ago things were rainbows and puppies and a bickering North-South Korean engaged couple.
In the blink of an eye, the stakes are raised for everyone, whether they are ready or not. If you're not yet on the TK2H train (why ever not?), now is the right time to climb aboard. Soon Jae Ha will indeed become the titular King with 2 hearts, his love for his country and for Hang Ah. If those two loves become at odds with each other, who will he choose? Boy, I will be hurting big time if it comes to that point. These last two recaps came at the expense of bathroom breaks, lunch, and rescheduling conference calls. I hope you all enjoy reading it as much as I enjoyed writing it.
Episode 8 recap:
The car carrying Jae Ha returns to the Palace and he gets out of the car. He looks up and on the roof of the Palace are shamans who are chanting and saying a prayer for the deceased King and Queen and summoning their souls back. Everyone looks up at this ritual for the deceased, and Jae Ha continues to be dry-eyed.
Jae Ha goes to his room and grabs a suit to change into out of his tux. As he pulls his bow tie off, he starts to remember his happy moments with Jae Kang, such as when he finished military service, teasing Jae Kang, and their general banter with each other.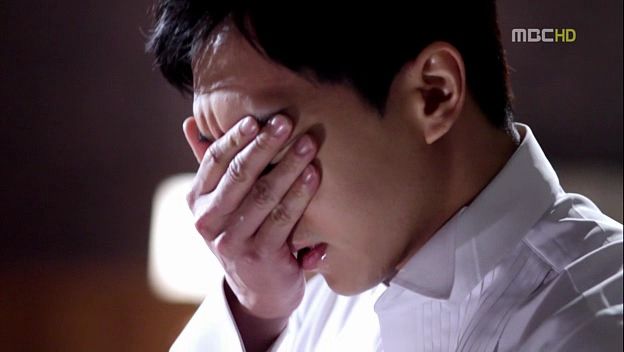 Jae Ha starts to cry as a silent tear falls from one eye. It's like he's afraid to let his emotions out, but he's not strong enough to control it completely, especially when he's alone and vulnerable.
Hang Ah is on the phone with her dad, who asks if she's fine with the shocking state of affair in South Korea. He only entrusted her to the care of the King because he trusted him, but Hang Ah doesn't have time to discuss this with her dad and apologizes before hanging up.
She goes to try and find Jae Ha, walking through the hall of royal portraits where she runs into him there. He's wearing a black suit and headed somewhere. He's subdued and has red puffy eyes, but is calm. Secretary Eun reminds him by calling him "Your majesty" and saying he is late already.
Hang Ah startles, and then calls him "Your majesty" as well. Jae Ha stops besides her and says that he wishes she didn't call him that as well. Jae Ha continues on his way and Hang Ah just watches him.
Jae Ha changes into the official red formal attire of the King. He stands before the portraits of Jae Kang and the Queen, and he's handed the Imperial Seal. He's greeted by all the government officials in a formal line as they bow. He walks past them and into the King's office.
Jae Ha sets the Imperial Seal down on the table and turns around, where all the Imperial guards kneel before their new King. Hang Ah is in her room and tells her serving lady that she wants to help, so what can she do?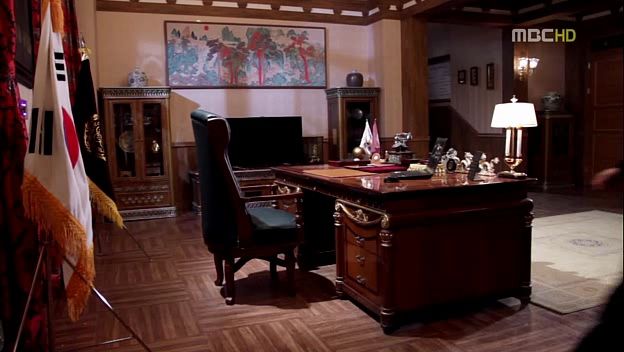 Jae Ha sits down at the desk of the King, pausing for a moment before sitting down. Jae Ha is told by Secretary Eun told that from now on, he needs to write a diary. Every King writes in the diary every day about the political matters he has dealt with, what he read, what he felt. The diary is an electronic one, so he faces the monitor and the portrait of the previous King as he recites his diary.
Jae Ha is alone in the office and he turns his chair around to stare at the framed portrait of Jae Kang. He pushes a button and the electronic diary appears, asking him to reset the password. He just stares at the portrait of Jae Kang and doesn't say anything.
Afterwards Jae Ha is handed a stack of documents for him to review and understand what Jae Kang was working on in the recent days. Jae Ha asks why there are so many pending matters when it's the national mourning period. Jae Ha criticizes some of the political matters that are pending, wondering what government had been doing these days. Secretary Eun says the government has been doing quite a lot, and what what Jae Ha doing ten months ago?
Jae Ha settles in to do his new kingly duties, not forgetting to tell Secretary Eun that he has an IQ of 187. Secretary Eun peeks in at Jae Ha diligently reviewing the documents and looks pleased to see him working so hard.
Secretary Eun meets with an official who informs him that the vents were plugged up in the vacation compound and the windows were only opened a crack. Plus there were a lot of wood in the fireplace. All of this caused the carbon monoxide poisoning. But there is nothing to indicate that it was anything but a tragic accident. Hhhmm, I think the death of a King and Queen warrant a LOT more investigation than this, but I'm sure it'll all be dug up later when the baddie is apprehended.
Secretary Eun thinks back to his conversation with Danial Craig and how he revealed that Anmyeondo was a great place for a vacation. He gets a text from Danial Craig "thanking him" for his help. Clearly Secretary Eun knows what he did to cause the death of the King and Queen.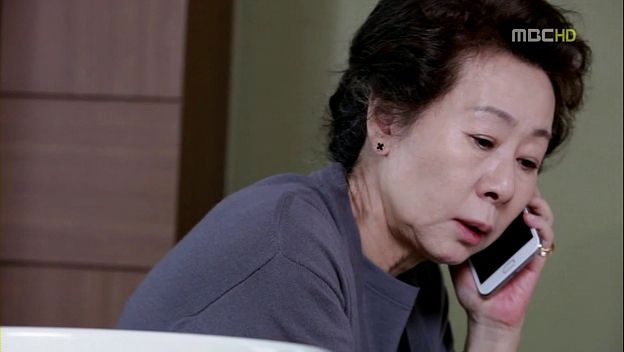 The Queen Mother is in the hospital with the Princess, who is still unconscious. She's on the phone continuing to plan a lot of events and doing her regular duties. When the serving ladies offer to take care of the Princess, the Queen Mother declines since she is a very proud girl and wouldn't want people to see her like this. The doctors say her brain functions haven't been injured.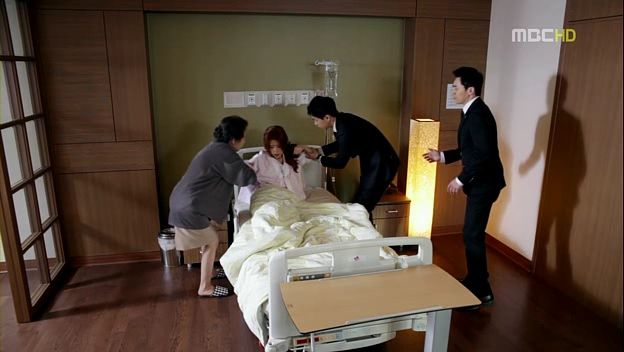 The Princess wakes up and all she remembers was talking on the phone with Jae Ha and then dropping off groceries for Jae Kang. After that she doesn't remember what happened. When she reaches for her phone to check her phone log, she is further shocked to realize her legs are paralyzed.
Secretary Eun is sitting in his room and gets a text asking if he's not feeling well because the King wants to see him right away. Jae Ha talks with Secretary Eun, reveals his concerns about whether his brother and sister-in-law died by accident, and how strange that Jae Shin also got into an accident on the same night. There was nothing wrong with her car, and she doesn't remember the events leading up to the accident.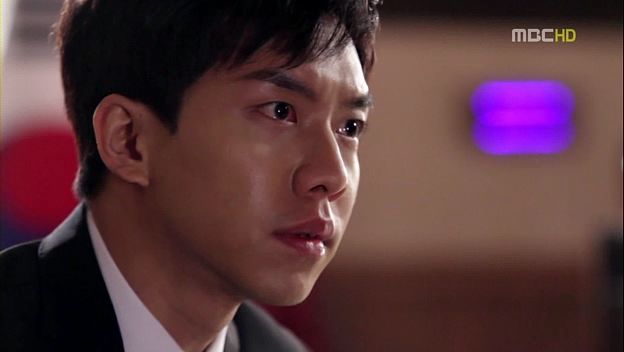 Secretary Eun stares at the portrait of Jae Kang, and then takes the responsibility. He says it's his fault that the King and Queen died, because he didn't inspect the house properly. Jae Ha asks if the furnace, chimney, and windows were not inspected properly? Secretary Eun confirms it, and Jae Ha kicks the table aside in his frustration.
Jae Ha asks if Secretary Eun is trying to quit because he believes his failed in his duty to the previous King, or because he doesn't like Jae Ha and doesn't want to assist him? Secretary Eun says it's both reasons. Jae Ha tells him that his punishment is to stay by Jae Ha's side and turn a guy who is a piece of trash like him into a King. Secretary Eun agrees and leaves.
As Secretary Eun walks out of his meeting with Jae Ha, he gets a call from Bong Goo, who is there to dig the dagger of guilt even deeper. Bong Goo knew Secretary Eun must've tried to resign, but there is nothing he can do to assuage his guilt. He accepted a bribe from them and revealed confidential information, and now he hasn't come clean about it. So he is that kind of person as well, going to the new King and taking some responsibility and wanting to quit, but not telling the whole truth. Secretary Eun replies that he's not such a fake person.
Bong Goo says that the current King is a piece of trash and cannot lead the country. He will destroy the country if he rules it. He wants Secretary Eun to not oppose him in what he is planning to do, since it's for the good of the country. The female assassin is at the airport and reads the news that the King and Queen's deaths have been called an accident. She leaves the country.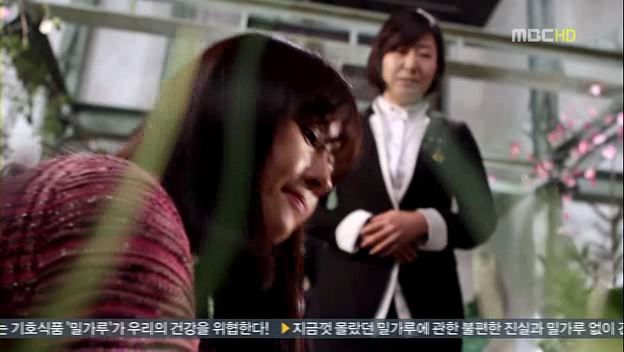 Hang Ah is in the hot house tending to plants, which was something we've seen the Queen Mother do in an earlier episode. The serving lady tries to stop her, saying the Queen Mother doesn't want her to do anything. But Hang Ah has a lot of free time, plus she's not officially a member of the royal family yet. She says it's just plucking some plants, it can't be that a Northerner touches the plants and it'll all turn commie red.
Jae Ha is walking and sees Hang Ah in the hot house. He smiles, and it's a smile that seems like he found some relief at last. He walks inside to talk with her. He tells everyone to leave so he can talk to her privately. Jae Ha teases that she's suitable for doing physical work, which causes Hang Ah to gripe that the first thing he says to her is to make fun of her.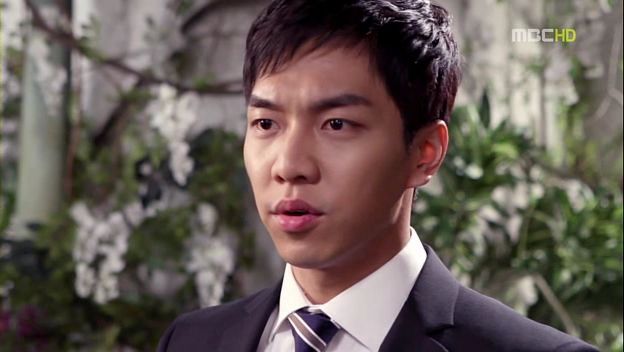 Hang Ah affects a sageuk accent and bows to Jae Ha, and he leans down and teases her, asking if she's pretending that she's acting in a sageuk? Hang Ah asks how he's doing, if he's in a lot of pain and tired. He's more worried about his mother collapsing. Jae Ha asks Hang Ah to help him take care of Jae Shin.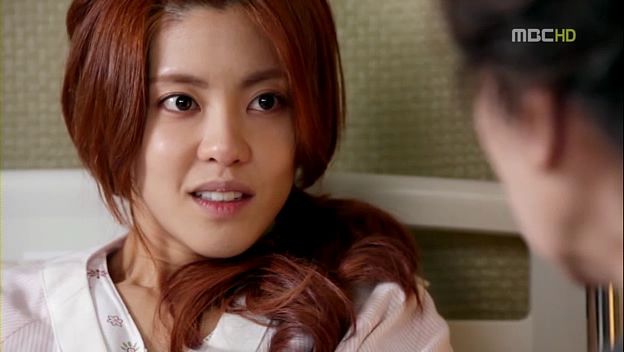 The Queen Mother is taking care of Jae Shin, who sits there and then calmly stabs herself in the thigh with the bottom of sharp brush. Her mother is horrified, but Jae Shin wanted to confirm that she has lost all sensation in her legs.
Shi Kyung arrives but the Princess doesn't want to see him. Hang Ah goes to the hospital to see Jae Shin but is kept at the door. When the serving lady tells the Queen Mother that his majesty asked Hang Ah to come visit Jae Shin, she allows Hang Ah inside before leaving.
Jae Shin is listening to music when she smells something. She looks around and then is so devastated to realize that she has defecated without realizing it since she has no control over her bowel movements anymore. She tries to crawl to the bathroom to clean herself, and when Shi Kyung hears noise and wants to come in, she screams for him not to come in.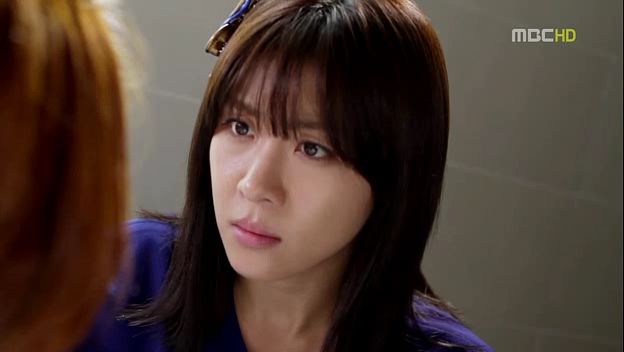 Jae Shin says she will commit suicide if anyone came in, but Hang Ah walks in regardless. Hang Ah comes in and immediately sees the situation. She calmly locks the door and walks over to the bed to pull the sheets and blankets off, tossing it aside. She goes to draw a bath and then fairly drags Jae Shin over and dumps her in the tub. Jae Shin tries to struggle and calls Hang Ah a Communist as she rages over her impotent state.
Hang Ah remains calm and firm with her, telling Jae Shin that all she did was crap, which every human being does. It's not a big deal, so she needs to get over it. Right now the Queen Mother is so busy and overwhelmed, so does Jae Shin want to make her mother worry more? When Jae Shin tries to hit Hang Ah, she endures it, only telling Jae Shin not to keep hitting the same spot. She undresss Jae Shin and then gives her a bath.
Hang Ah compliments Jae Shin on having such beautiful skin, to which Jae Shin replies that she was born with it. They discuss skin care routines and exfoliation. When the Queen Mother returns, Hang Ah has cleaned Jae Shin up and is putting lotion on her legs. Jae Shin orders Hang Ah around, telling her the right lotions to use for her legs and her feet. Jae Shin tells her mom that she had a bowel movement but unni cleaned her up already, though the room still smells bad. The Queen Mother looks touched and saddened.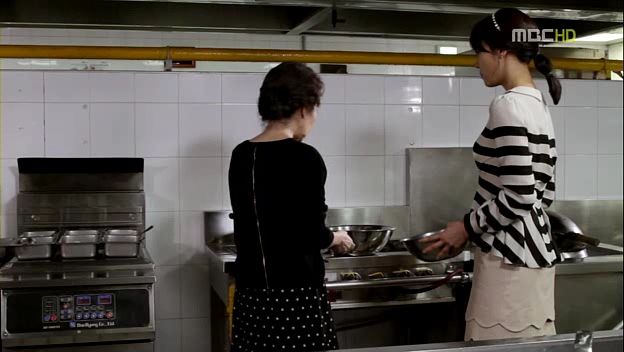 The Queen Mother is personally cooking and brings Hang Ah along to the kitchen. The Queen Mother shows Hang Ah how to make clam soup the way the family likes to eat it. I love this mother-in-law/future daughter-in-law bonding moment, despite how gruff the Queen Mother still remains when she speaks with Hang Ah. When Hang Ah still talks with her North Korean accent, the Queen Mother asks her to stop and Hang Ah promises to try. They smile at each other.
During dinner that night at the hospital, so sad with only the four of them sitting around the table, without Jae Kang and the Queen, everyone eats the clam soup Hang Ah made. The Queen Mother tells Jae Ha and Jae Shin that Hang Ah made the dish and they sample it. Jae Shin says it's good but a little salty, and Jae Ha takes a bite but has to drink some water. The conversation turns to something in the past that brings up Jae Kang and everyone grows silent. They move the topic along and the mood relaxes again.
After dinner, Jae Shin waves at her mother from the window of her hospital room. The Queen Mother is in the car heading back when she finally breaks down and starts gasping and crying, with Shi Kyung sitting up front and hearing this. Jae Shin sits in bed and flips through pictures of Jae Kang and cries over losing her oldest brother.
The day of the funeral arrives and Jae Ha, wearing his formal kingly attire, walks to the service. The Queen Mother cries but Jae Ha remains stoic as the country says goodbye to the King and Queen.
Jae Ha is secretly crying in his office when Hang Ah arrives and he hides it from her. She can tell, and after making the excuse that she is here to return something to him, she asks him to cry out loud. If he keeps going like this he'll get sick. And nothing is more important than taking care of himself. Jae Ha tells Hang Ah that she's overstepped her bounds this time.
Hang Ah goes to see Secretary Eun and asks him to clear Jae Ha calendar for three, no two, hours. Just let him rest a bit. Jae Ha is in his office, he's crouched on the ground with his head resting against the corner of the table. He gets up when the door opens and Shi Kyung comes in. He's told that his upcoming schedule has been canceled.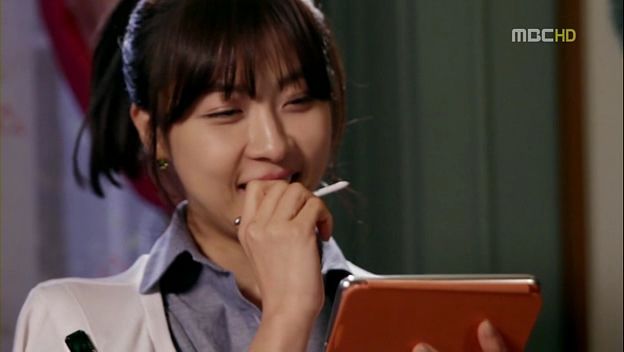 Hang Ah sits in her room with snacks prepared, all of foods Jae Ha likes. She practices saying "oppa" by watching dramas, remembering Jae Ha telling her what all men like to hear from woman. She tries it and almost makes herself barf at how sickening it is. But she is so cute practicing saying "oppa".
Jae Ha arrives, asking if she wanted to see him? She confirms that she wants him to rest for a bit but he says he can't, he has work to do. He sees the food and reminds her that he can't eat meat during this period. Hang Ah tells him to try it, this has all been approved, as she stammers out an "….op….pa…" Jae Ha looks stunned and asks if she just called him "oppa"?
She looks embarrassed and he teases her, asking how old she is that she is calling him oppa. Hang Ah says she is not his fan, she is learning from the famous actresses in North Korea. He teases her, saying that to him, she is like Jeon Do Yeon and Kim Tae Hee. Hang Ah pouts, not wanting to do this anymore. Jae Ha moves over to sit next to Hang Ah and asks her to continue, he finds this very entertaining.
Hang Ah says she wasn't trying to entertain him, she wanted to cheer him up. He says he is cheered up, that despite her lack of acting talents, she's quite good at making him laugh. He whines, asking her to show him what else she learned for him. Hang Ah makes him promise that he won't laugh, and he promises.
Hang Ah gets up and does T-ara's Bo Beep dance. She's adorable and Jae Ha watches but can't help but bust out laughing. He asks why she's got bear paw gloves on her hands, is she intending to box with someone. He compliments her on being cute.
Later on, Jae Ha lays down on the bed, feeling relaxed since he hasn't drank in awhile. Hang Ah reminds him that he has thirty minutes left before he has to go back to work. But she offers to let him sleep and wake him up later.
Jae Ha suddenly grabs Hang Ah and pulls her down on the bed. RAWR. He teases her, reminding her that he's her fiancée and he's also the King. Hang Ah quickly gets up, reminding him that the royal family is a stickler for etiquette since the Joseon era. Jae Ha grouses that he's going to get a harem then, if she's like this. Hahaha, she'll totally break your legs if you dare, Jae Ha.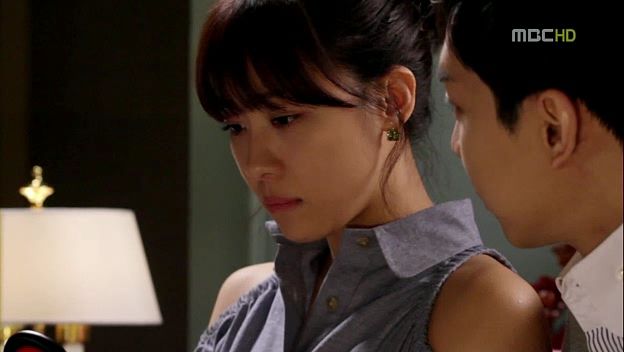 Jae Ha changes the subject, pulling her to sit down and suggesting that she needs to take better care of her skin. Hang Ah takes out her mirror and says she's been doing a lot of masks lately, plus Jae Kang complimented her on her pretty skin. Jae Ha wonders when that happened, also asking why Hang Ah believes what Jae Kang said?
Jae Ha teases that his brother is full of honey lies, and his sister-in-law totally got hoodwinked to agree to marry Jae Kang. Hang Ah says that isn't the case, and there is a picture to prove it. On the day of the accident, Jae Kang said he would email a picture to both of them. Jae Ha says he deleted that picture, but Hang Ah says its fine, he can look at the picture on her phone.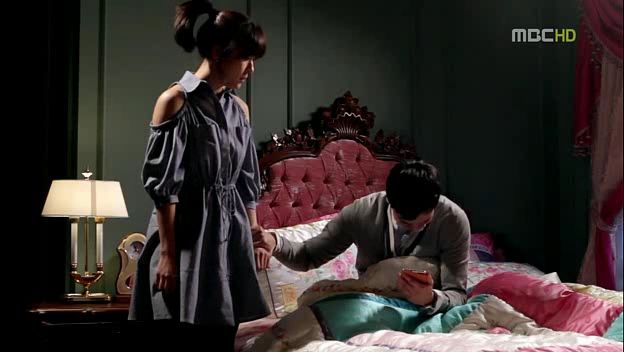 Hang Ah takes out her phone and shows Jae Ha the picture. Jae Ha teases that his brother totally doesn't match up to his sister-in-law. Hang Ah gets up to leave and give him some space, but Jae Ha reaches out and stops her. He reveals that he hung up on his brother that night, as he starts to sob out loud. Hang Ah sits back down on the bed and looks at Jae Ha.
He apologizes, he never knew things would turn out this way. Hang Ah pulls him into her embrace, letting him cry in her arms.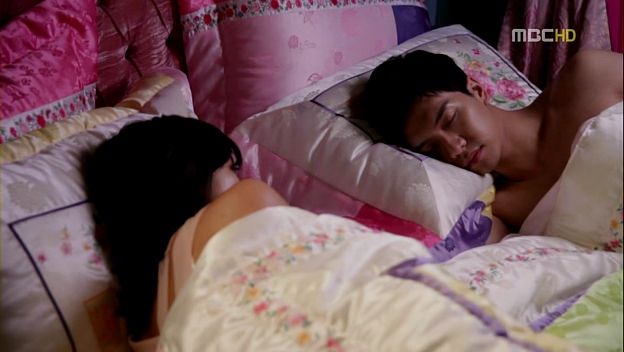 The scene goes dark, and the next scene is our King and future Queen in bed. Uhm, okay…..I'm just too exhausted to complain about how the bed scene was completely swept under the bed. All signs point to them having slept together, so I'll go with that assumption.
Secretary Eun is informed that the King spent the night in Hang Ah's chambers. He tells the servants to keep this under wraps and then rushes over to get Jae Ha. He chastises Hang Ah for not sending him back earlier. Jae Ha is now the King and they can't behave like they used to. During this time, even if the King wants to, they shouldn't have done this. Hang Ah apologizes but says that it was her who wanted to, and she doesn't look chastened.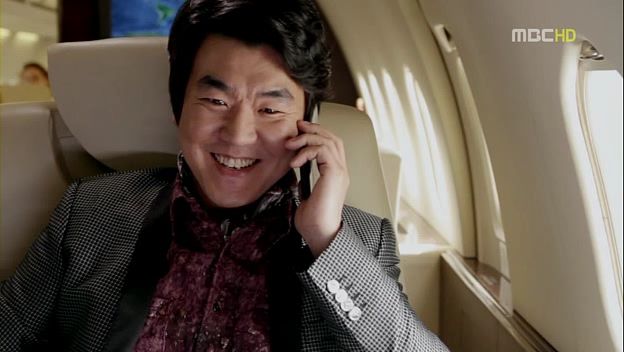 Secretary Eun gets a call from Bong Goo, who is on the plane headed for South Korea. Bong Goo steps out of the plane and complains that every time he comes back, he's overwhelmed by the smell of kimchee in the air.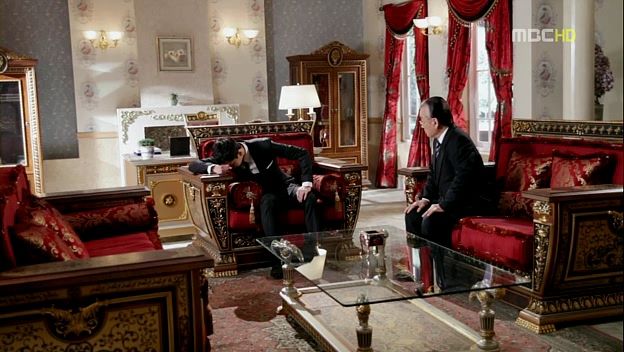 Jae Ha and Bong Goo get ready to meet John Mayer, with Secretary Eun telling Jae Ha that the man is the head of Club M. Jae Ha thinks the guy is just a regular businessman but Secretary Eun tells him it's not that simple. Bong Goo pulls up to the Palace and is brought in to meet Jae Ha.
When Bong Goo sees Jae Ha, he stares a bit before bowing. Jae Ha offers him a hand and Bong Goo accepts the hand, but says he's very happy to see Jae Ha………..again. Jae Ha asks what he means by "again"? Bong Goo asks if he doesn't remember?
Thoughts of Mine:
I tend to dish out superlatives like candy bon bons. Let's just say I'm not stingy with the praise when I love something. By the end of episode 8 of TK2H, this drama has exceeded my expectation in every way, and then taken my expectation for drives to new sights I never even knew existed. This drama isn't perfect, but it's damn perfect for me. We've now finished with the set up part of the drama, getting the characters to the point where all the stakes are raised, and now its time for the big baddie to step up and wreak his havoc all around. While I don't think Bong Goo plotted everything, he seems to be able to roll with the punches and switch up his plan to continue towards his ultimate goal.
I liked the discovery that Secretary Eun is a flawed individual, neither evil and in cahoots with Club M, nor is he snow white and upstanding. He was definitely a factor in the King and Queen's deaths, but I think his role was really not as critical in the greater scheme of things. Bong Goo is clearly rich and connected enough to find ways to assassinate Jae Kang if this particular opportunity didn't pan out. However, I like this twist, having Shi Kyung and Secretary Eun having some stake in the harm that has befallen the various royal family members. I hope this only makes Secretary Eun wanting to help and protect Jae Ha more, because if my boy even loses a hair on his head, imma go nuclear on his ass. And so will Hang Ah.
This episode continued to break my heart about Jae Kang's death, with every little thing Jae Ha does just a reminder that his brother is gone. It's not just losing a beloved sibling, which is devastating enough, but it's being asked to take over his job so that the reminder of his death hovers every second of the day. No wonder Jae Ha always has this split second pause when he sees Hang Ah, because only Hang Ah isn't tied to his previous life as a Prince and now his duties as a King. She's just Kim Hang Ah, this odd kick-ass girl from the North that has wormed her way into his heart and become his shelter from the storm.
Poor Jae Shin's paralysis is also gutwrenching to see, this fiercely independent and proud girl being forced to rely on others and have her freedom constrained. When she lost control of her bowels, I cried not because it was something shameful, but because of how desperately she tried to clean herself up and hide the accident. The way Hang Ah barged in and didn't make a big deal and just told Jae Shin to deal with it was the perfect reaction, and confirms for me what a good addition to the family Hang Ah will be. Even the Queen Mother, who has been such a bed rock of strength in dealing with the death of her son and daughter-in-law and the paralysis of her daughter, could see Hang Ah's positive traits and good fit for her family.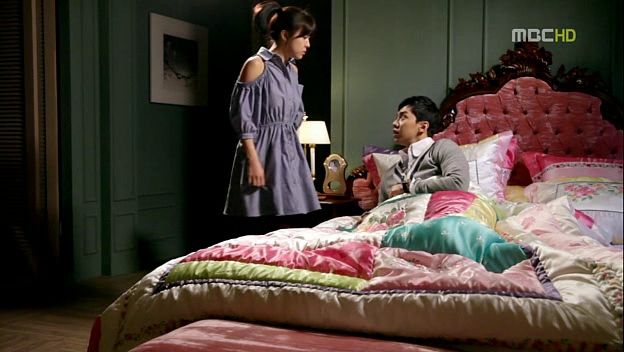 What more can I say about my beloved Hang Ah and Jae Ha, who individually and collectively continue to make me love them more and more. Some miracle from drama Heaven will have to occur for any couple to dethrone them as my OTP of 2012. At this point, whenever Jae Ha and Hang Ah have a scene together, I simply can't see or hear anything else. They capture my full attention, whether they are being cute or teasing with each other ("oppa", the Bo Beep dance with bear gloves) or just having a face-to-face conversation (such as when Hang Ah told Jae Ha to cry). I knew Jae Ha would finally sob out his despair over losing Jae Kang, and that it would be with Hang Ah. He's now the King and can't just let his emotions out, but only with Hang Ah does he have the space to be Jae Ha, the guy who always has a quip ready to tease Hang Ah.
Let me finish this recap by discussing the big "did-they-or-didn't-they" question in this episode? I blame it on the poor editing (and possible cutting of the scene), which showed Jae Ha and Hang Ah went from hugging and crying to laying in bed in the dark, all without any juicy moments. I think the drama is saying they slept together, which is no big deal since they are 30 years old and engaged. No one is a prude here. But why the PD chose to present it in such an odd and low key way eludes me. Maybe because the important catharsis was Jae Ha revealing his sorrow about losing Jae Kang, and the sleeping together afterwards was just a natural progression of the moment between two engaged adults who happened to be alone and sitting on a bed. Whatever the reason, this drama doesn't hammer home the usual trope of romantic scenes, always using it for emotional impact in other ways. I'll stake my money now that we'll get a proper really heated bed scene further down the now when it's supposed to happen. For now, TH2K continues to be daebak to the nth degree.