I'm sorta speechless at the doozy of an ending to episode 10 of The King 2 Hearts. I can't believe the writers went there, and expect me to be all verklempt at how it's going to create all this emotional angst. I'm all for emotional angst, and I think Jae Ha and Hang Ah have tons of organic angst to mine without needing to deal with completely obvious plot twists for the sake of being a plot twist. I loved how this episode was Jae Ha-centric as he deals with trying to solve the mystery of Club M and stepping up against his known adversary Bong Goo. Jae Ha continues to be that odd combination of smart but slightly immature, so he's better equipped to deal with crazy Bong Goo than straight-laced Jae Kang.
It's no longer a question that Jae Ha and Hang Ah love each other, but right now each feels like their love can't transcend the greater political divide between them. If they can't even weather one bad patch caused by Hang Ah being doubted, how can they deal with a lifetime of bumps and bruises? I want them to work through obstacles and tribulations, but not ones that are purposely planted. Unlike a bomb going off out of the blue, shocking and thrilling to behold, I felt like the final plot twist at the end was the writers planting a very obvious landmine and then having neon signs leading up to it. I dislike being led by the nose, but what I love about TK2H remains stellar and I'll just have to swallow this and move on.
Episode 10 recap:
Jae Ha informs Secretary Eun, with other officials present, that Kim Hang Ah is returning to North Korea. He looks upset still, but doesn't offer any reasons. Dude, Jae Ha-ya, she's not a fish you can just throw back in the ocean.
Queen Mother and Jae Shin hear the startling new that Hang Ah is returning to North Korea. Mother is shocked while Jae Shin is furious and wants to go talk to her brother. LOL, I love their incredulous expressions. It totally screams "Oh shit, what did he do NOW?"
Secretary Eun sits down with Hang Ah to discuss this matter. He candidly says that he was against this marriage in the first place, and doesn't think its possible now for Hang Ah to ever be the Queen. But if Hang Ah has confidence in making it work, he'll help her. Hang Ah replies that she's just an ordinary girl (no no honey, you are an extraordinarily awesome woman, don't sell yourself short) who wants to spend her life with the man she loves.
Right now she finds South Korea frightening to her, and the position of the fiancée to the King equally frightening. She thinks Jae Ha resents her now as well. Secretary Eun confirms that Hang Ah does want to go home as well, and he agrees to contact the North to arrange for her return.
When Hang Ah is leaving the Palace, Jae Shin sends her off outside. Hang Ah tells Jae Shin that when she was in Jeju with Jae Ha, she once told him that if their two hearts are as one, they can overcome anything. But now she doesn't think that is the case, and her previous misconception was merely her arrogance. Jae Shin tells Hang Ah to come back when North-South relations improve. Hang Ah apologizes to her and leaves.
Jae Ha walks through a portrait gallery with the Prime Minister and other officials. He looks at pictures of Jae Kang, and then pauses to stare at a picture of a smiling Hang Ah. Afterwards, when Jae Ha is in the car going somewhere, he looks out the window and stares at a cloth banner hanging on the side of a building with him and Hang Ah on it.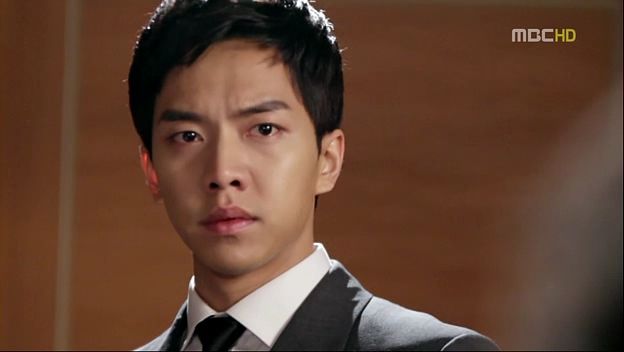 Jae Ha gets chewed out by his mother. Queen Mother tells him that Hang Ah has left, so does he feel better that his life has returned to normal? Why does he do this? Jae Ha retorts that he's just following his mother's advice not to trust people too much. The Queen Mother shares her own marital arguments with Jae Ha, telling him that couples fight and finds ways to hurt each other. But they never say break up, because that's the final line of defense, the point of no return. So who asked to break up? Was it Hang Ah, because if its her, then mom won't forgive her either. Jae Ha's face clearly shows that he was the one who initiated the break up.
His mother tells him that he cannot give up like this. She asks if Jae Ha sent Hang Ah away because she hurt him? Mom calls Jae Ha trash for behaving this way, and Jae Ha's reaction to the word "trash" makes clear to his mom what happened. How can he send her away just because she called him trash? Everyone around here already knows he's trash the way he used to live his life. If he does this, then he really is still trash. OUCH, but you go Mommy! In that case, even the most yucky trash is definitely better than Jae Ha at this point. Mom finishes by pointing out that Hang Ah would not be calling Jae Ha names when she spent that very day testifying at a public hearing and saying nice things about Jae Ha. When Jae Ha asks what she said, mom's shocked he didn't even watch it all, and tells him to watch it himself.
Hang Ah is told that she needs to leave behind all the South Korean items given to her. Oh no no no. If the guy ends the relationship, the girl gets to keep all the baubles. It's a cardinal rule of break-up 101. Hang Ah goes to a room to change, and she sits down and slowly takes off all her jewelry, which she leaves on the table. We see her slip out of her shoes as well.
She changes back into her pretty pink hanbok that she wore when she first came to South Korea. How fitting. Hang Ah hands her passport to the custom's agent, who stamps it to show she's officially left South Korea. Her dad comes with a coterie of North Korean officials to pick her up. When she sees him, she pulls him aside and then cries on his shoulder. They are simply a perfect pair of father-daughter.
Jae Ha watches Hang Ah's public hearing, the parts he missed. Hang Ah is asked if she considers herself a North or South Korean at this time. Hang Ah doesn't answer this question but reveals that she's always fighting with Jae Ha. When they first met, he told Hang Ah that she wasn't a woman in his eyes. They fight and make up, and each time she falls deeper for him. Even now, he makes her heartbeat faster. She jokes that this probably means she likes bad boys.
Even though there are times when she gets angry, but none of that is important. Through their bickering, they've gotten to know each other, and they can even anticipate what retort the other person is going to come up with. Sometimes its hurts when she considers that she likes him more than he likes her, but ultimately that's not important. This love is what's important, and if she can stay by the side of the man she loves, then she's very happy. If they are asking about her identity, her political alliances, then she has no answer for that. She is simply a woman who has a man in her heart. Jae Ha's eyes are red after he watches this, and he puts his head in his hand. If you miss her, then don't let her go you numbskull.
Jae Ha sits in front of the computer and continues trying to crack Jae Kang's password. He tries a string of food items and gets nowhere. He grows frustrated and starts yelling at his brother, He knows he's messed up and it's all his fault. Jae Shin goes to chew out her brother some more. It's so cute that she has a perch on her wheelchair for her bird. Jae Shin asks isn't he the King now? Doesn't he know he has great power? What he needs to do now is find the real culprit. Otherwise Hang Ah will be an old halmoni by the time she comes back. Jae Ha retorts that he's the King now and he needs to place his royal duties first above all else.
Jae Ha goes to a meeting for South Korean sports, which triggers a memory. Jae Ha thinks back to the past when he and Jae Kang watched the South Korea football team play in the World Cup. They are so cute together, and sniffles I miss Jae Kang and the bromance. Jae Kang has faith that their team can still score in the five minutes remaining. Jae Kang cheers on their team with the standard South Korean cheer "Dae Han Min Guk" and then clap three times.
Jae Ha tries out this password, which finally works when Jae Ha does the cheer and claps three times. Jae Ha begins to watch Jae Kang's video diaries, which are all filmed as if Jae Kang to speaking to his deceased father. The first entry has Jae Kang excited that he's gotten the North and South together to cooperate for the WOC. Such a momentous achievement and he's really proud to tell his dad.
Jae Ha watches the video diaries late into the night. In the subsequent video, Jae Kang rails at Jae Ha's bad attitude in not wanting to do the WOC, followed by hearing that Jae Ha used SNSD to play a prank on a North Korean soldier. The following entry has Jae Kang all proud and excited that Jae Ha completed the WOC 8 hour hour run and has come back. Now all that is left is to get him married. Jae Kang shows pictures of candidates to the camera, but then he grabs Hang Ah's picture and says she's his favorite choice. She's from the special ops team so that must mean she endured a lot of difficulty to get there.
Jae Kang then tells his dad about the objection to the engagement from the public, and having to deal with Club M. Didn't his dad say that someone without basic concepts of common sense shouldn't even be considered an opponent. But now this crazy person has caused a bombing. He has no principles, no rules of engagement, and has now threatened Jae Kang. He's said that he is the real King, and for Jae Kang to worry about his safety. But Jae Kang cannot let this person scare him.
Jae Ha goes to pull up files on Club M and confirms that the entity is in truth trafficking in illegal arms trade. He tells Secretary Eun to arrange a meeting with Bong Goo. Jae Ha looks at a pen and finally remembers the stabbing incident from childhood, and Bong Goo writing "I am KING" on the frosted window pane.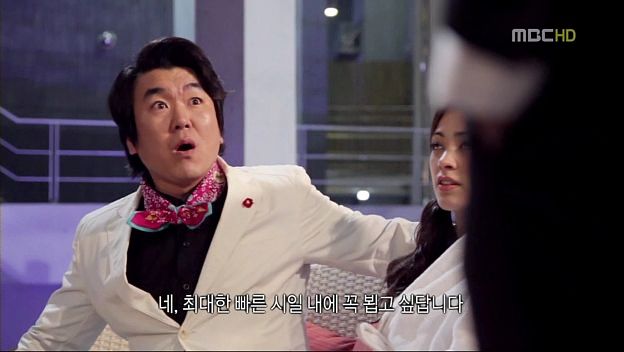 When Bong Goo is told that the King wants to see him, he gets all giddy, asking of Jae Ha finally remembers him? He's so crazy he laughs that this is making his heart beat faster. He jokes that perhaps he's in love with Jae Ha? OMG, ewwwwww.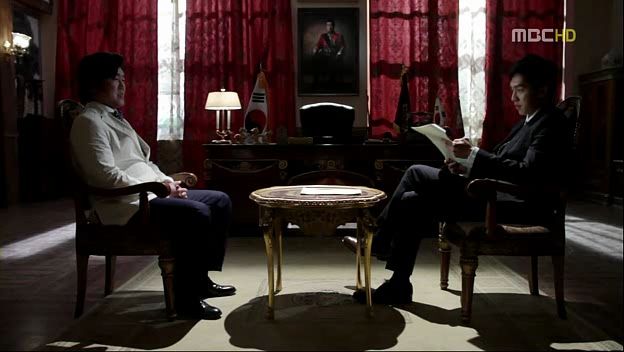 Bong Goo meets with Jae Ha and starts with pleasantries. Jae Ha cuts to the chase, saying that there are rumors that Club M is involved in King Jae Kang's death. Jae Ha then plays coy, saying that it can't be, Club M is just a insignificant little company. He continues downplaying Club M's ability and clout, until he succeeds in ruffling Bong Joo's feathers.
Bong Goo then tells Jae Ha everything. Okay, he takes stupid villain to whole new levels of stupidity, though it makes sense because his motive is to make Jae Ha remember and fear him. He tells Jae Ha that he orchestrating the carbon monoxide poisoning ("I took care of Anmyungdo" are his exact words). That makes him very powerful, and completely different than a puppet like Jae Ha who needs to join the WOC and have a North-South alliance marriage. Bong Goo's reason for killing Jae Kang was his refusal to let Bong Goo into South Korea.
Bong Goo derides Jae Ha as a fool, drinking and living pointlessly his entire life. Jae Ha isn't cowed and tells Bong Goo that he remembers now. Didn't Bong Goo write something on the window? I am Tom? I am John? Jae Ha corrects himself and confirms that its his Korean name Bong Goo. So did he write his Korean name then? I am Bong Goo? Jae Ha dismisses Bong Goo having written that he was the king, which further pisses him off. Props to Jae Ha mentally playing Bong Goo, but damn if I'm not worried he's just poking a rabid dog and more danger is ahead.
Jae Ha places a call to Shi Kyung and tells him to go to the front of the Palace. There is a lunatic there that they need to immediately capture or kill. Shi Kyung and Dong Ha go running to apprehend Bong Goo, who is spitting man and raging at Jae Ha still. He leaves on a helicopter. Secretary Eun calls Shi Kyung and says not to do anything.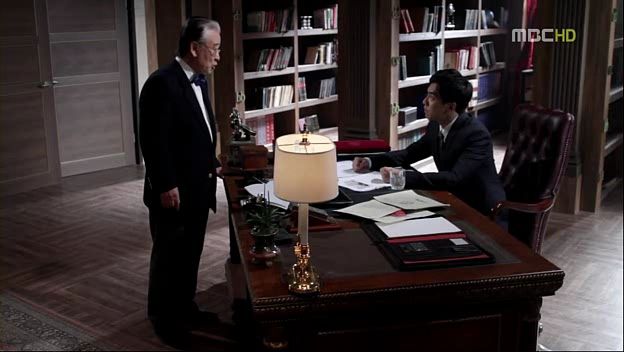 Jae Ha tells Secretary Eun that Bong Goo has confessed to him that he was responsible for killing the King. Secretary Eun reminds Jae Ha that he is now the King. Secretary Eun tells Jae Ha that Club M is so rich and powerful that it's not easy to rattle them. Jae Ha asks if he has to stay put and do nothing them? Secretary Eun tells Jae Ha there is a way. The joint WOC team and the North-South marriage alliance is what prompted Club M to act. Which means that the strengthening of ties between the North-South is what upsets Club M.
Right now there is nothing to do about the WOC, and Jae Ha has personally wrecked the changes of a marriage with a Northerner. Secretary Eun apologizes for what he's about to say, which is that he doesn't believe Jae Ha has the power to avenge what happened. Jae Ha always just talks but has never taken concrete action. When Jae Ha has the confidence that he can handle the WOC and the North-South marriage alliance, then Secretary Eun will be waiting to assist him.
Shi Kyung hears this and asks his dad afterwards what is Club M, and it caused the death of King Jae Kang? Secretary Eun tells his son to just do his job. Shi Kyung stands up for Jae Ha, saying that his dad shouldn't dismiss Jae Ha as someone without ability. He simply does things differently than his father, the late King. Shi Kyung lived with Jae Ha before and knows his true nature.
Jae Ha asks Jae Kang if he is really useless and has no ability? Shi Kyung finds Jae Ha, who wonders if he's here to say the same things as his dad. Shi Kyung says no, he's here to unconditionally support whatever the King weants to do. Shi Kyung believes in Jae Ha, and tells him not to be shaken by what others say or be too sensitive to what he hears. He knows that Jae Ha choose to live a easy life because he knew the reality that he won't be the King. Shi Kyung encourages Jae Ha top step out of the shadow of his former life. He knows there is a lot of pressure on Jae Ha, but to Shi Kyung, Jae Ha is already the most capable King in the world.
Secretary Eun sits in his office and writes down his meeting with Daniel Craig. I hope he's keeping track of all the shit he's not telling everyone so it all gets revealed even if he bites the dust later on down the road. Bong Goo calls Secretary Eun to tell him to keep helping them since he's already taken a bribe before. Secretary Eun hangs up on Bong Goo, which pisses him off.
Jae Ha drinks with Shi Kyung, and I'm loving every moment of their developing bromance. MOAR please. Jae Ha wonders what to do about Club M. The first thing is to find out as much about their operations as possible. Jae Ha and Shi Kyung set up a code name for this project called "Bong Goo." Shi Kyung asks Jae Ha to please understand where his dad is coming from. Jae Ha does understand, its not easy assisting the royal family for the past 30 years. Then conversation changes to Hang Ah, with Jae Ha wondering what to do about the situation with her. I dunno, get your ass North and grovel at her feet?
Hang Ah's dad is picking Hang Ah up, and it turns out that daddy got Hang Ah's old friend/crush from episode 2 to take her out to cheer her up. Hang Ah doesn't look cheered up and just gets into the car, telling him to hurry up, she wants to go home now.
She grumbles at her dad doing this, since there are plenty of people who would want her. Does he think she's an embarrassment now? Her dad quickly apologizes and says this is not what he meant. Her dad reminds Hang Ah that she wasn't officially engaged, so she didn't lose a fiancée, she just lost a royal family from South Korea. Hang Ah isn't feeling well and just wants to go home.
Dong Ha is now in charge of Jae Shin's security detail as Shi Kyung is now investigating Club M for Jae Ha. Jae Shin needs to be moved from the hospital but outside there are swarms of reporters. She refuses to leave unless the media is sent away. Dong Ha asks Shi Kyung for help getting her out under a disguise.
Shi Kyung and Dong Ha managed to smuggle the Princess out, but along the way two black cars have an accident right in front of them and they are forced to stop. Dong Ha and Shi Kyung get out to check the situation, leaving Jae Shin alone in the car. Suddenly a shadow appears behind her in the rear window, and Jae Shin turns around to see Bong Goo's skanky assassin staring at her through the window. Jae Shin looks scared.
Hang Ah's starts to have stomach pains. She takes some pain medication but collapses in the kitchen, but she manages to call her dad. At the hospital, her dad is waiting anxiously for news. The doctors come out and say that Hang Ah is fine, but she's lost the baby. It's a very early term pregnancy, with the baby at just one month gestation period.
Jae Ha is giving his mother a massage and watching K-dramas when Secretary Eun comes rushing in to change the channel. It's an English news report that Kim Hang Ah, the fiancée to the South Korea King Lee Jae Ha, has suffered a miscarriage. Cut to the official North Korean report on the miscarriage, theatrically chastising the King of South Korea for abandoning his woman and not even knowing that a baby has been lost. The North Korean announcer says this is a grave insult to the daughter of the North Kim Hang Ah, and that the King of South Korea is lower than a pig or a dog for his callous treatment of Hang Ah. The Queen Mother is stunned, wondering how this could be since the couple had separate rooms. Jae Ha just stares in silent shock as he processes this news.
Thoughts of Mine:
I hate it when pregnancy plots are used to generate angst. I disliked the evidence planting plot in episode 9 because it was clunkily executed, but it made sense and was part of the narrative as to what Bong Goo was planning in terms of keeping North and South apart. This pregnancy humdinger feels so manufactured. We don't need a lost baby between Hang Ah and Jae Ha to intensify their feelings for each other or give him an impetus to bring her back. Jae Ha would get there regardless.
I thought them sleeping together in episode 8 felt natural, but once again the execution was all wonky. He's hurt, he desires her, she loves him, she's there for him + two consenting thirty year old adults = natural bedsheet tumbling. But now it feels like it was done just to get a baby in Hang Ah so that she can lose it. I feel unnecessarily manipulated. Perhaps this is the K-drama dictate that all episodes must end on some HUGE plot moment. In which case, I miss the sincere narrative fluidity of the earlier episodes, and hope it comes back.
I continue to love TK2H, and the few plot blips I'm noticed haven't lessened my interest in this drama. I'm fine with Hang Ah and Jae Ha spending most of this episode apart, though less Secretary Eun and Bong Goo would have been much appreciated. I'm glad most of the secrets are out in the open, though Bong Goo's sheer lunacy in confessing he offed Jae Kang to Jae Ha was really out of left field. It's a cool plot twist, and I prefer it rather than some sort of mystery solving mission being undertaken. Now Jae Ha, with Shi Kyung's support, will need to find out all he can about Club M so that he can prepare to take it down.
Hang Ah did turn a tad weepy and morose in this episode, but I can't blame her since her guy just pushed her far far away from him. Coupled with the stress of being a Northerner in South Korea, she's clearly emotionally battered. While I miss the warrior Hang Ah from the WOC training days, at least the drama establish early on that she is girly when off duty and innocently desiring love despite being a love moron when it comes to guys. So her reaction now at falling for Jae Ha but believing this relationship has failed does ring true. Emotionally she's not as strong as she is physically or mentally.
I'm glad the awesome side characters continue to get solid screen time. Hang Ah's dad is just a great father and I'm glad she has his unwavering love and support. I wanted to high five the Queen Mother for chewing out Jae Ha for his knee jerk reaction to send Hang Ah away just because she said something hurtful that was nevertheless true. Jae Shin also gets props for being a voice of reason to her brother, and for her ability to deal with her paralysis with such inner strength. Finally Shi Kyung is pulled into the center of things, and being Jae Ha's right hand man in investigating Club M will surely mean more opportunities to interact in the future. While I dislike the pregnancy-miscarriage plot device, I'm definitely looking forward to seeing how Jae Ha responds to that in the next episode.