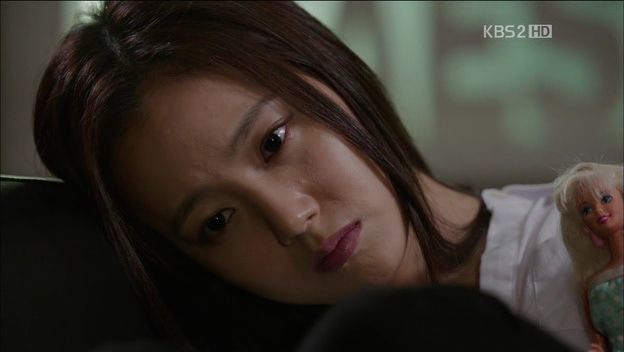 I find myself watching in wonder and amazement at how Nice Guy (The Innocent Man) builds its story. Like the bible song says, the wise man builds his house upon the rocks while the foolish man builds his house upon the sand, and here Lee Kyung Hee is setting down boulders to build this story upon. I'm feeling ever more confident that this story has got the legs for a marathon run to the end, taking Maru and Eun Gi from a starting point of hopelessness to a possible happy ending, all the while taking down Jae Hee and burying her soulless ass six feet under. Even within the narrative, you see every step Jae Hee takes is building her future upon a pile of sand that she tries so desperately to add water to keep it stable. But the water will evaporate and the sand will never hold, and this is something she knows but cannot stop herself from grasping at a world that is empty and vicious.
I want Maru to stop caring about her, but part of me realizes that if he does, then he has really lost even the tiny bit of his old self that is the caregiver and the protector. Part of what's genuinely affecting Maru when he interacts with Eun Gi is seeing how broken she is. I even go so far to say that it's a parallel path Maru is traveling, one where he actually wants to see Eun Gi, but he's also using it to thwart Jae Hee's grasping ambitions. It's a little unreal how quickly Eun Gi is falling for Maru, but it makes so much sense that this socially fragile girl could buck convention and form an attachment quickly with a strange man because he pierces through her thorns. Every scene with Eun Gi and Maru is pure 24-carat gold, and damn if I won't be rewatching this week's two episodes on continuously loop this weekend while waiting for next week to arrive.
Episode 4 recap:
Maru jogs through the neighborhood and stops to catch his breath. He flashes back to the interrogation, and then to witnessing Jae Hee kissing lawyer Ahn. It's sad how Jae Hee's user-nature still rattles him even though he should know by now she's no good.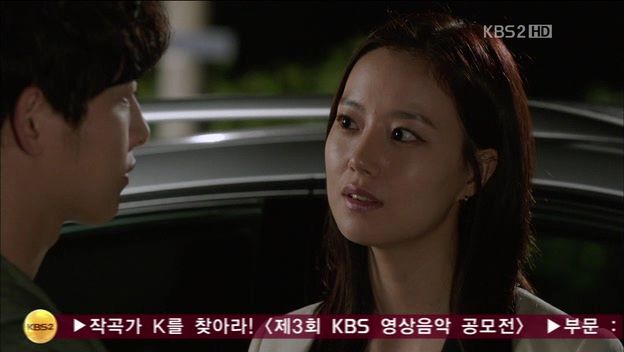 Back to last night we go. Maru wakes Eun Gi up and she gets out of the car to go inside her house. Eun Gi thanks him (for taking her home), asking if this is acceptable, since she wasn't able to say a simple thank you when he saved her life before. She speaks up and asks Maru if she can see him again, candidly expressing her growing interest in him. She wants to see him tomorrow, and the day after tomorrow. Maru smirks and asks when? He asks what time tomorrow then, should they start right away? Jae Hee watches this with a look of horror on her face. It's disgusting that she's not upset because she's jealous, as if Maru still matters to her, but because she's worried for her own position at the Seo family.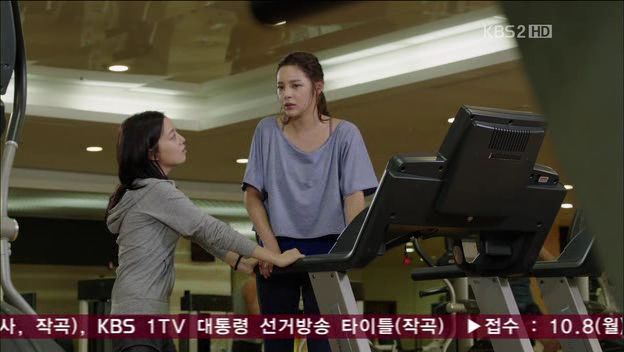 Jae Hee is jogging but she's so out of it that she almost slips off the treadmill. If she face planted I would be right there clapping like a trained seal and making all sorts of happy noises. Eun Gi grabs the emergency string and helps stabilize Jae Hee. Eun Gi asks why Jae Hee is so out of it? Eun Gi snarks that if Jae Hee got hurt the wedding would be ruined, and that would be such a shame. Eun Gi points out that Jae Hee must think she's succeeded in her life to marry the Chairman, but reminds Jae Hee that things aren't that easy in this world.
Jae Hee and Eun Gi have showered and are getting dressed. Jae Hee asks Eun Gi who that guy was that drove her home last night? What is Eun Gi's relationship to him and how did she meet him? Eun Gi brushes off Jae Hee's questions since when did Jae Hee get so interested in Eun Gi's personal life?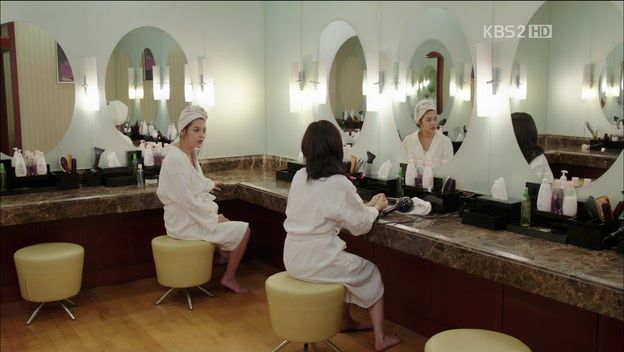 Eun Gi says everything is just as Jae Hee saw last night, Eun Gi is currently pursuing him. Jae Hee presses on, reminding Eun Gi that she doesn't know that man well. Eun Gi turns the tables and asks if Jae Hee knows him well then? Is it because Jae Hee knows him well that she's so frantic? Is Jae Hee interested in him as a woman? Jae Hee stresses that the man is getting close to Eun Gi because of who she is. Eun Gi assures Jae Hee that she's well aware of people like that and can handle it. In fact, that kind of person is just like the old Han Jae Hee, no? Hahaha, I love how bitchy Eun Gi is towards Jae Hee. Ahh, the little verbal victories. Eun Gi says she doesn't care if that man is getting close to her because of her wealth. Eun Gi has already experienced Jae Hee before, she's not scared of this now. Jae Hee warns that Eun Gi will be hurt. Jae Hee needs to shut up and get off my screen. NOW.
Maru is getting dressed to go out and Choco comes inside to apologize for what happened. She only went to that woman because she was Choco's birth mom but Choco had no idea what would happen. It appears Choco is the act before she thinks type, so I'm foreseeing even more messes coming along for Maru to clean up. Can we ship Choco off to boarding school? A nunnery? She's worried that her oppa got hurt. She's even sorrier that her oppa takes care of her but she's not been any help to his life. Choco says she can cook and clean for her oppa, and then remembers that back in high school, she saved him once. Maru smiles and thanks Kang Choco for allowing oppa to keep living well.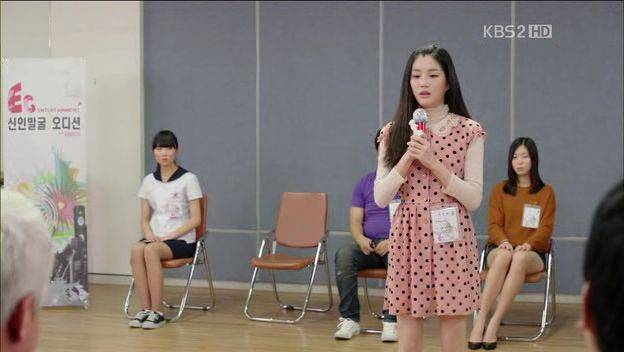 There is an audition going on and of course a guy is seen performing "Gangnam Style". We see Choco sitting nervously through all the other auditions, her hands clenching her kiddie microphone tightly. When its Choco's turn, she freezes up and fumbles, asking for another chance but is brushed off since other folks are waiting for their turn to audition.
Choco goes to the bathroom and sees a little girl there. She asks if the little girl will listen to her sing? Choco can't sing in front of others but if they could hear her really sing, they would be blown away. The little girl leaves so Choco takes out her cell phone and sings a really lovely rendition of an IU song to the Jae Gil picture that is her phone background. Looks like Choco has got a crush on Jae Gil. The little girl was watching her this entire time so Choco explains that she's not a crazy unni.
Joon Ha goes to Maru and Jae Hee's neighborhood digging for info. He asks an ahjumma if she's seen this woman, showing her a picture of Jae Hee. We see recognition flash in the ahjumma's face before she lies and says no, this woman never lived her. The camera pulls back and we see the shady investigator following Joon Ha. He calls back to lawyer Ahn and assures him that despite Joon Ha digging around, he's made sure already that no one in the neighborhood will reveal Jae Hee's past connection.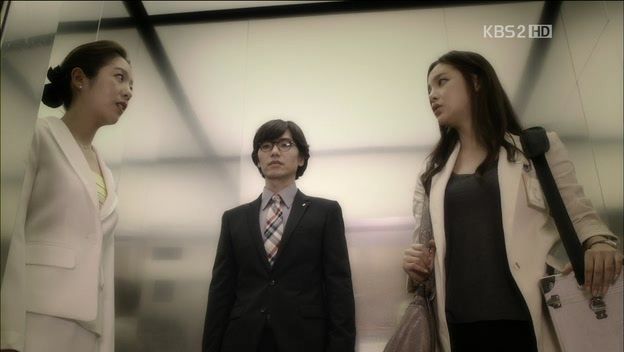 Lawyer Ahn flashes back to his kiss with Jae Hee the night before, and then flashes even further back to when he first met her and how he fells for her. He was getting on an elevator at the Tae San Group headquarters when Jae Hee darts in. She's told this elevator is just for employees and Jae Hee introduces herself as a reporter and is all outspoken and sassy. She's here to interview the Chairman and seeing this elevator being reserved for people shows her the true nature of Tae San Group. This is why lawyer Ahn fell for Jae Hee? Dude, you have no taste and you're shallow.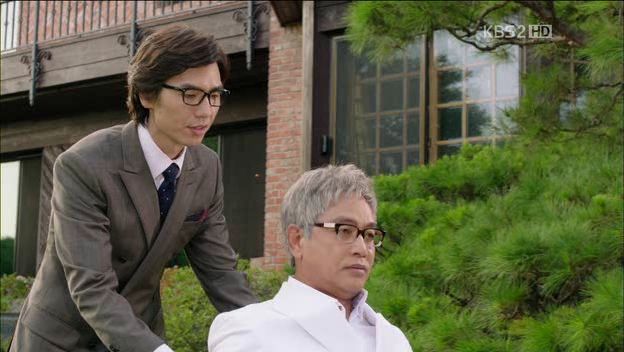 Lawyer Ahn pushes the Chairman in his wheelchair and the Chairman asks if Han Jae Hee can be trusted. The Chairman doesn't trust women, not even a little bit, but could Jae Hee be different? Awww, you no trusty the ladies of the opposite sex, Chairman-sshi? I'm sure your MOM would be thrilled to hear that from her grave. Lawyer Ahn says that Jae Hee is loyal to this family and will never betray the Chairman. Thought bubble over lawyer Ahn's head says "she'll only be doing the horizontal mambo with me soon, but other than that, she's totally never going to betray you!"
Eun Gi walks through the office lobby and Jae Hee stops her, solicitously fixing Eun Gi's hair. Eun Gi's eyes spot someone and Jae Hee turns around to see Maru standing there. Maru walks up to Eun Gi with a smile and asks if she slept well. Eun Gi can't quite believe he really came, so Maru reminds her that she wanted to meet.
Eun Gi is happy to see him, asking if he waited long? Maru says just two hours. Maru turns to Jae Hee and says they saw each other last night outside the house. Eun Gi reluctantly introduces Jae Hee and Maru, describing Jae Hee as the woman her dad is planning to marry. Maru smiles and says he recognizes her, she's formerly a reporter on TV.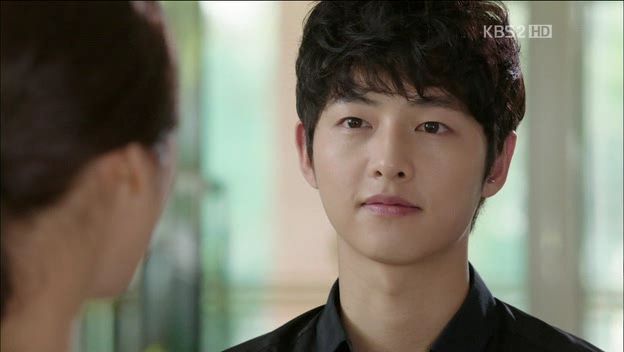 Eun Gi is surprised Maru recognizes a mere television reporter, to which Maru adds that he was a fan of reporter Han Jae Hee who used to report on exposing societal wrongdoings. Jae Hee thanks him for being a fan but Maru says no need because he's not a fan anymore, what a shame. Score!
Lawyer Ahn pushes the Chairman in a wheelchair and they also arrive in the office lobby. Eun Gi is the first to walk forward and greet him respectfully. The Chairman checks out Maru and asks who he is? Eun Gi says its someone she knows, and when pressed further, says he's someone she is dating. There is a round of everyone staring at everyone else with all these unspoken looks. Maru is introduced to the Chairman who asks Maru to dine with them. Oh my, this is going to be deliciously awkward.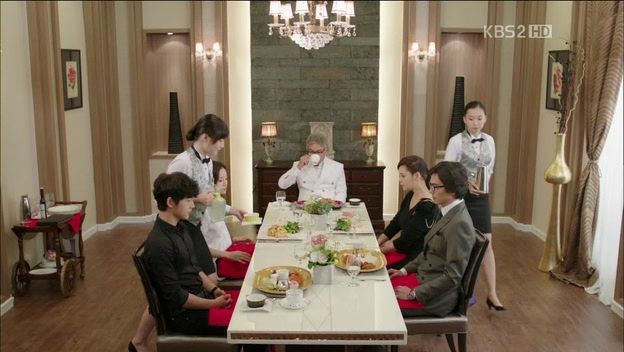 The group of five sit down at a restaurant which the Chairman explains that he dines at once week. This meal doesn't yet have the potential to be as awkward as the meal in Bad Love where Kwan Sang Woo brought Lee Yo Won to dinner with the family only for her to realize that her ex-lover and father of her miscarried baby is her new boyfriend's brother-in-law. Ah, good ole makjang.
The Chairman says this is the first time Eun Gi has introduced a boyfriend to him, he didn't think he'd live to see this day. The Chairman starts on the Maru grilling, beginning with his family and onto his education and career. Maru says his parents died when he was young and his dad was just as small business owner in a outdoor marketplace. The Chairman says it must've been hard to be orphaned at a young age. He went to college but quit in the middle, and now he's just a bartender.
The Chairman digs deeper and asks why Maru quit college, was it because he couldn't pay the tuition? Or he didn't want to study anymore? During this line of questioning, Jae Hee grips her hand tightly under the table, and so does lawyer Ahn as he reaches over to grab her hand. Maru says he didn't leave school, he was kicked out. The Chairman wants to know why but Maru says he's done answering questions unless the Chairman is conducting a census survey.
The Chairman turns to Eun Gi and demands that she answer. Why did Maru quit college, or is this something she doesn't know? Eun Gi doesn't anwer so the Chairman berates her for concealing a boyfriend she knows nothing about. Eun Gi blows up and says none of that is important. She only cares about the present when it comes to the man she wants to be with. His past, what college he attended, none of that matters to her.
Eun Gi asks her dad what matters to him? Obviously he's someone who can marry a woman young enough to be his own daughter. What does the Chairman know about the woman who did her best to seduce him so she could marry him. The Chairman tosses a glass of water in Eun Gi's face and tells lawyer Ahn to wheel him away, angrily saying that he can't think about handing Tae San Group to a girl like this. The Chairman tells Jae Hee to pay off Maru, and if he won't take money, then threaten to have him locked up in prison, anything to get him away from Eun Gi. He tells Jae Hee to do her job as Eun Gi's mom and make sure she's not around bad people. Eun Gi glares at her father before leaving the table to chase after him.
During this entire exchange, Maru and Jae Hee have been silent, and once they are alone in the dining room, Maru asks if Jae Hee lives like this? He asks if she wants to start negotiating, how much to get him to leave Eun Gi? Jae Hee accuses him of wanting something, asking if its money or revenge? Maru asks what she thinks he wants? If its money, she can give him as much as he wants. She keeps throwing ever higher amounts at him but he doesn't respond. If its revenge because he thinks she ruined his life, then it's a childish reason to get back at her.
Jae Hee points out that Maru is no better than her. He also sells himself to the highest bidder to make money to pay Choco's medical bills. She tells him to take the money and go show it off and live well. Maru's hand shakes on the water glass in his hand and he puts it down and asks Jae Hee if she's gone insane. Seeing her like this, it's made him want to hold onto her again. He wants to take her away from this world that is completely without hope, because this is not the kind of world a woman like his noona ought to live in. When she was a reporter, this was what she raged against. He says that if Jae Hee doesn't come back down to his world, he'll climb up to her world and bring her back. He tells her to pack her bags and be ready. Jae Hee asks which world she needs to live in, that poor neighborhood? Maru tells her that even that world is too good for her now.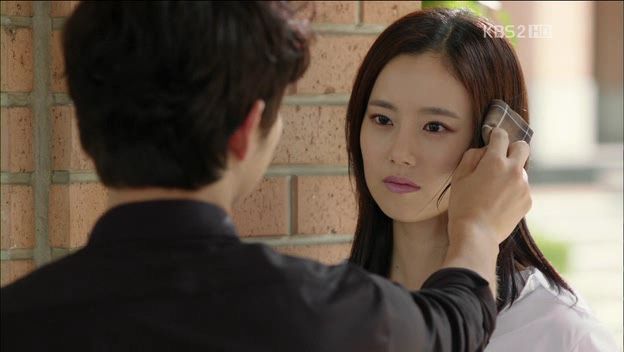 Maru walks outside and sees the still wet Eun Gi standing in the hallway. All the tension seems to seep right out of him. He takes out a handkerchief and wipes her face. OMFG I'm totally melting here and this is just the tiniest physical contact between them. He asks if he did anything wrong but says she did well. He tells her there is no need to apologize, the Chairman didn't hurt his pride. Maru says her family is as dysfunctional as his family.
Maru asks Eun Gi if she's giving up now? He didn't take any money from her family, and he's not scared of being locked up. He may be pretty but he can take a beating. Eun Gi says she was happy with him during this time. Maru teasingly reminds her that during this time is a scant 12 hours between them. It might be 12 hours but for her it feels like 12 months. Eun Gi confesses that she's falling for him and that's embarrassing and hurts her pride.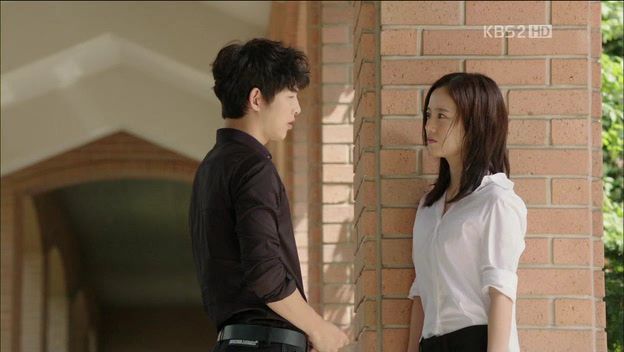 Eun Gi reaches out her hand for a shake and Maru asks if this is a farewell handshake? Eun Gi tells Maru to take care. Maru extends his hand before taking it back. Maru says this farewell is so inexplicable that they might as well do a farewell kiss. It's been so long since he's met a girl that grabs his attention. Maru tells Eun Gi to pick where she wants to be kissed and he'll do it coolly. He grabs her hand for a shake and tells her to take care. He tells her its better if they met earlier, but if they met later, then their farewell will be later and that's good a well.
Choco is working at a café when Jae Gil's girlfriend walks up holding a t-shirt printed with a picture of her and Jae Gil, where Choco has drawn all over her face, writing that she's all plastic. LOL, so Choco. The two ladies bicker, with the girlfriend accusing Choco of liking Jae Gil. The girlfriend shows off her cellphone background which is a picture of Jae Gil puckering up. She puts the phone picture to Choco's lips and the two kiss.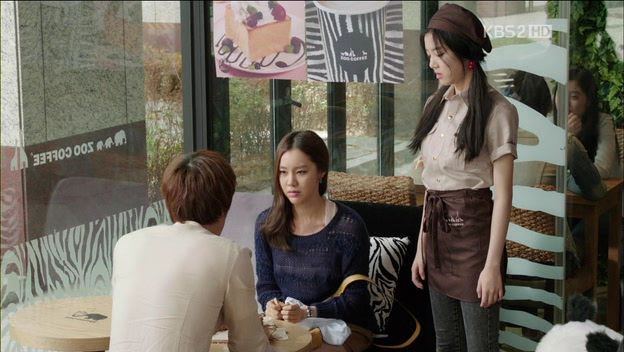 Choco freaks out and kneels down behind the counter to hide. The girlfriend uses her own fingers to poke her eyes and starts crying. Jae Gil comes and takes his girlfriend aside and the skank lies that Choco hit her. Choco walks over and Jae Gil bops her on the head and tells her to apologize to the girlfriend.
Choco apologizes for defacing the t-shirt but says she never hit the girlfriend. Jae Gil warns that if something were to happen to the girlfriend, he'd die along with her. Choco keeps insisting she didn't do anything so the girlfriend changes tactics and says she'll let it go.
Jae Gil is singing at a bar while his girlfriend sits at the table and watches him with moon eyes. His singing gets all the ladies to swoon over his voice, which is indeed lovely. Maru stands behind the bar and chips away at a block of ice. Jae Hee sits in the dark and drinks by herself. Maru keeps chipping away at the block of ice to make it into a sphere.
Eun Gi sits in her darkened office cradling her Barbie doll, and lordy she just breaks my heart. Maru wipes a glass and puts the completely round ice ball inside before pouring a tumbler of whiskey into the glass. He pushes the glass forward and we see that lawyer Ahn is sitting there. The two men stare at each other.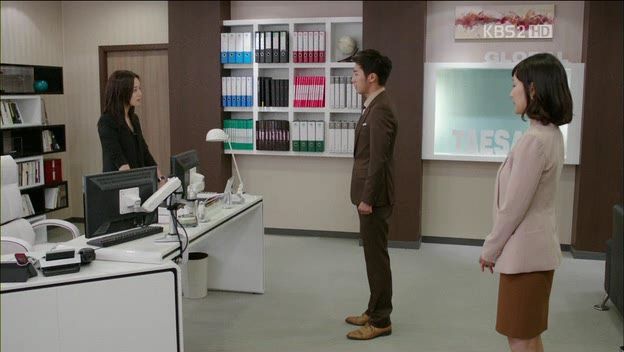 Joon Ha is the bearer of bad news, telling Eun Gi at work that she's been told not to do any work for the time being. Eun Gi asks if she's been fired for introducing a not suitable boyfriend to the Chairman? Joon Ha tells Eun Gi to lay low until the Chairman's anger passes, but Eun Gi cannot just set her work aside.
Eun Gi says she isn't going to just take the Chairman's orders because the company doesn't belong to just him. Eun Gi rushes to attend today's meeting and finds the door locked. She orders the door unlocked and enters the meeting room, apologizing to everyone for being late.
The meeting is to discuss the company finances and how they are in need of liquidity. The Chairman orders that the company owned resort in Aomori, Japan be sold to generate some cash flow. Eun Gi speaks up and says that was where her mother and father……before her mother died…….. The Chairman tells her to stop embarrassing herself and orders the project launched. He hands the project to Jae Hee to handle.
Jae Hee sits at her make up table and gets a call that she's being handed the Aomori project. She smiles happily with relief. God I want to punch her face in.
Maru is home and he takes out a box and opens it up to reveal that it contains all his items from his med school days. He opens a medical textbook and finds an old picture of him and Jae Hee celebrating a birthday together. He takes out the picture and stares at it before turning it over and putting it back inside the book.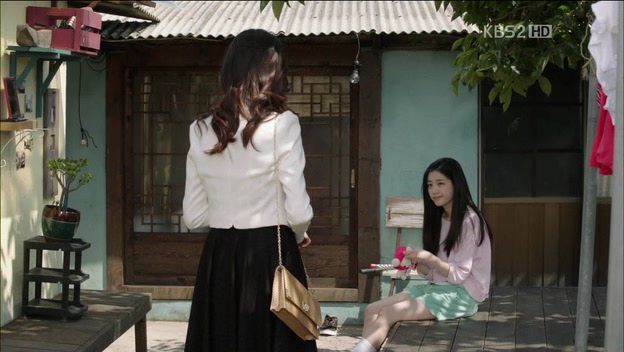 Maru hears voice and he looks towards the door. Outside in the courtyard, Choco is speaking with a well-dressed older woman here looking for Maru. Choco says her oppa isn't home and the woman asks Choco to have Maru call her. Choco tells the woman that her oppa is a womanizer and she tells all the women who come looking for her oppa the same thing. She suggests that her oppa is just seeing the woman to help pay for her medical bills.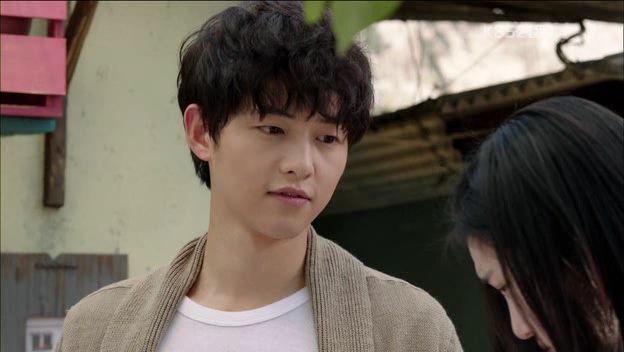 The woman leaves and Maru walks out, surprising Choco that her oppa was home and heard all of that. Choco asks if oppa wants to slay her but Maru teases that after all he's done to raise her, he's not going to slay her before he gets something in return from her first. Choco tells her oppa to go find a woman he really loves and to forget Jae Hee. He hasn't been able to truly be with a woman because he hasn't forgotten her.
Maru leaves the house and gets a call from an unknown number, and when he answers its Eun Gi. He asks if she's calling to ask for that kiss? Eun Gi asks where he is and Maru says he's outside his house going out. Eun Gi misses him so Maru offers to go to where she's at. Eun Gi reveals she's in Aomori, at the place where her mother died. This was a place where she visited with her mom and contains all her happy memories with her mom.
Maru asks if she's on vacation there? Eun Gi sasses back that, thank to him, she's got a lot of free time lately. Eun Gi asks Maru to name ten people who've given up everything to be with a lover. Maru throws out a few fictional or famous characters that have thrown caution to the wind for love. Eun Gi says if she becomes butt poor, which is when Maru says he'll accept her. Maru says if she's been kicked out of the house, she can come stay with him. He's got extra rooms and blankets. Eun Gi says she'll believe him and give up when the time comes.
Eun Gi says this place is about to be sold and if she can't protect this place, maybe she'll be the next thing to get discarded from this family. Eun Gi shares that she's looking for a way to generate available cash for the company without selling this resort. In the middle of the conversation, Jae Hee arrives and starts talking to Eun Gi. She puts the phone down and we see Maru's eyes harden on the other end when he hears Jae Hee's voice.
Eun Gi says thanks to Jae Hee she has a lot of free time on her hands so she's here to ruin Jae Hee's project. Jae Hee tells Eun Gi that she's not a capable opponent who can stop her. Eun Gi warns Jae Hee that she won't succeed that easily. With her son she's already halfway there. Jae Hee laughs, saying that if she wants something, she will attain it. Eun Gi has no idea what Jae Hee did to get here. If anything stands in her way, she will not let that person off so easily. Jae Hee repeats the warning that Eun Gi is no match for her. We see Eun Gi has not ended the call so Maru listens to this entire conversation.
Eun Gi sits back down and betrays her former cool composure by looking stricken. She ends the call and Maru stands there staring at the phone.
Eun Gi walks through the resort and sees a wooden plate with words carved on it from 1983. It's next to a swing and Eun Gi sits down before taking out her Barbie doll and placing the door on the swing. Talks out loud that she will protect this resort. She tells her mom that she is Seo Eun Gi and she won't get the resort get taken away that easily. Eun Gi stares at the doll swinging.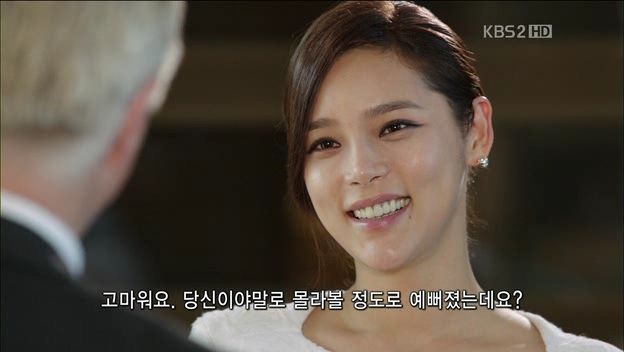 A car pulls up to the resort and Jae Hee welcomes the potential buyers to the resort. They trade pleasantries before going inside.
Eun Gi sits in her hotel room hard at work looking through piles of documents trying to come up with the free cash flow. She gets frustrated and hits her head against the table, but then keeps on going. Later she tosses some papers aside and walks outside.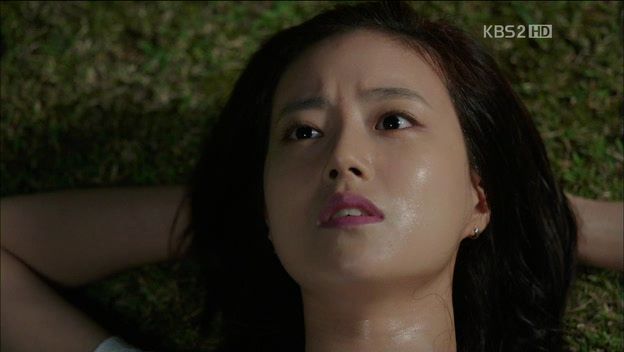 Eun Gi splashes water on her face on the spigot in the yard before laying down on the grass. She tells herself not to give up. Eun Gi ends up sleeping on the grass all night.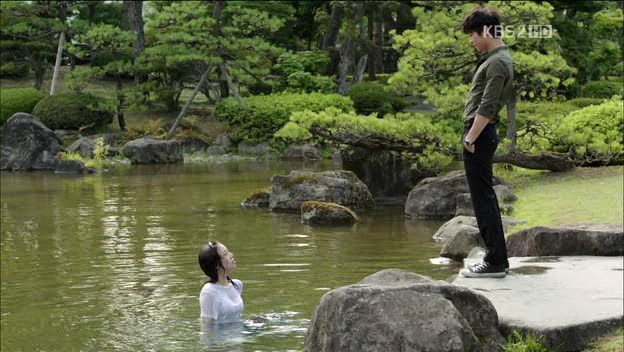 It's morning time and we see a pair of legs walking up to the sleeping Eun Gi. She's picked up and unceremoniously dumped into the pond. Eun Gi wakes up and before she can start yelling, she's stunned into silence to see Maru standing there.
Maru smirks at her and asks if she thinks she has the time to be sleeping. He tells her to wake herself up and she can come kill him. Eun Gi gapes at him in shock.
Thoughts of Mine:
I love NG for how fantastic the entire package is so far, but I freaking super love it for how complicated and complex it all is. Everyone has multiple motivations and no one is all evil, even that greedy skank Jae Hee. This means that people don't always act in ways that are easy to predict, and even if they do, the motivations might not be what we expect. Right now I split the characters up into various categories: Maru, Eun Gi, and Joon Ha are precious and I want to protect them, Choco, Jae Gil and his girlfriend can vanish into thin air and I won't even blink an eye or miss them, and I want to boil Jae Hee, the Chairman, and lawyer Ahn in a vat of hot oil. But in truth all the characters have nefarious plus redeeming qualities, and the drama is taking its time to reveal it little by little either through their actions now or judiciously dropped flashbacks into the past. The directing continues to be ahhhhmazing, so much so I actually want to spend time just observing the fantastic use of camera angles and scene cuts for the skill factor.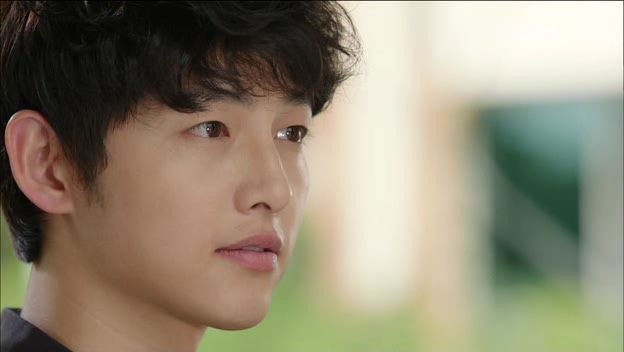 Who's with me in wanting Maru and Eun Gi to fall madly desperately in love with each other. Like, RIGHT NOW. Watching them together makes me quiver in anticipation, their every conversation brimming with tentative discovery and hesitation. You can see in Maru's eyes that he's not using Eun Gi's emotions, he's not trying to play HER, even if he's taking advantage of her relationship and proximity to Jae Hee. Right now he's still placing Jae Hee's situation above Eun Gi, getting frustrated for Jae Hee seeking wealth in a world that is sure to chew her up. Once again his caretaker side rears its head and he wants to take Jae Hee away to help her. But with Eun Gi, every little thing he learns about her shows her that she's just as much in need of protecting as Jae Hee used to be. That is really the trigger that brings Maru slowly back to the person he was, finding that his heart can be genuinely moved again to care for another woman without any ulterior motive. What might have started out as a deliberate plot to get close to Eun Gi is clearly quickly becoming something much more between them.
It's so exciting to see how Lee Kyung Hee doles out the goodies so carefully, letting us into the current lives of Maru, Eun Gi, and Jae Hee slowly. We only learn now that Maru actually has a real job as a bartender, and his womanizing is sorta a side gig to supplement the income. What's sad is that even little Choco knows how far her oppa has sunk, but she also knows it's a combination of needing to earn more money and an inability to love another woman after losing Jae Hee. The synopsis for this drama really just skimmed the surface when it discussed revenge and betrayal, because ultimately its more about people falling into despair finding a way to claw back into the light. Eun Gi has been in mental and emotional hell since her mother left, and maybe even before that, and Maru has awakened a part of her that never functioned before. She misses him. She wants to see him. This is real, and Maru can see Eun Gi is not like normal girls. Maru is a beaten down man who is going through the motions, but if his revenge plot to stop Jae Hee means he opens himself up to Eun Gi unwittingly, then it's not revenge that this story is about, but a chance for rebirth. Maru and Eun Gi meeting gives both an opportunity to release their souls from the prison of their hearts.