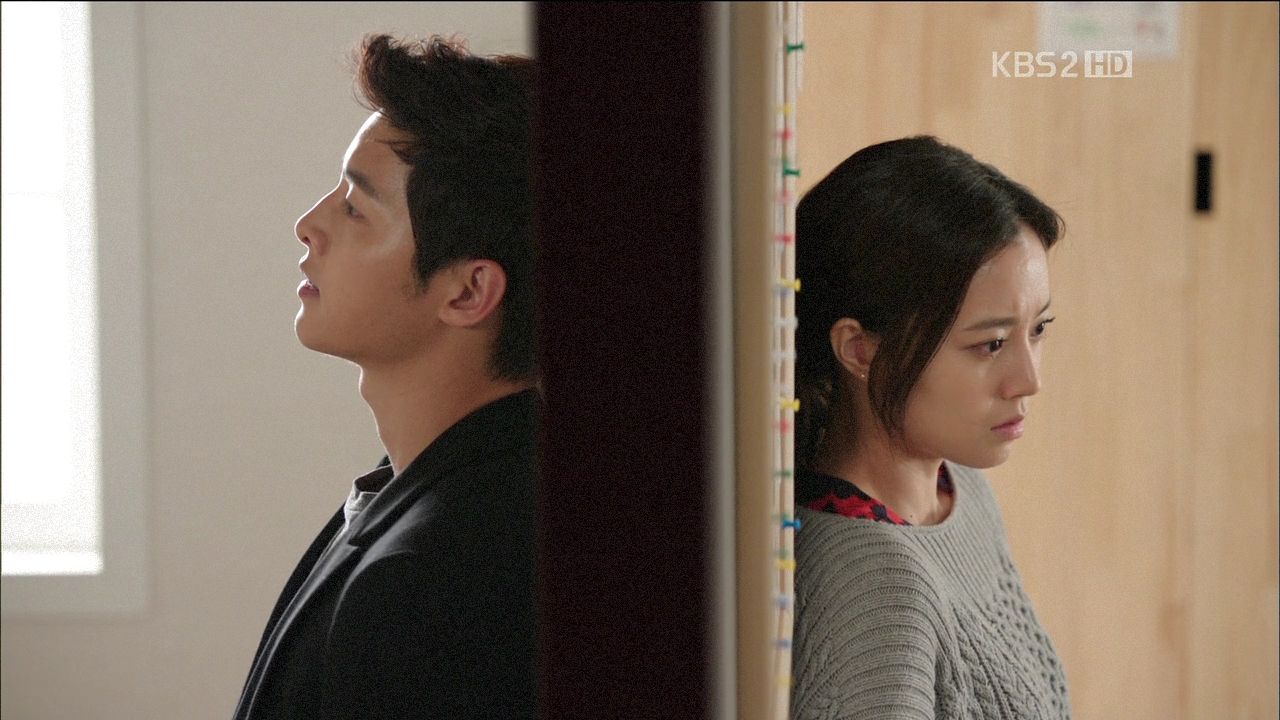 Nice Guy, I love you. You are unbelievably, incredibly, satisfyingly awesome. If you keep getting more awesome, other dramas might commit seppuku for the shame of paling in comparison. You take a tired old trope like amnesia and actually use the tabula rasa to fascinating advantage. I bow to your greatness and revel in your continued excellent directing prowess. Last week we had the game changer, which actually unfolded slowly and uneventfully much to my surprise. This week the drama continues to elicit more affection from me by injecting a shot of adrenaline into the proceedings and declaring to one and all that we better buckle our seat belts for the second half wild ride. This is a drama where the stakes continue to change, feelings evolve and motivations transform, where nothing stays stagnant even if truths emerge. This is the hallmark of a stellar melodrama, where it doesn't necessarily matter what specifically happens, what is important is how the characters react and take the next step.
I'm thrilled that amnesiac Eun Gi has retained that kernel of spitfire in her, that pride and stubborn grit that made me fall for her spirit despite it being wrapped in a shall of somewhat clueless self-absorption and prickly shards of anger. I'm even more thrilled that Maru is starting to show hand as to what he is feeling. Watching him lose his temper towards Eun Gi because he's torn between caring about her well being and wanting to protect her by staying the hell away from her, Maru takes that first step towards Eun Gi that isn't rooted in ulterior motives. Yes, he's ended things definitively with Jae Hee a year ago, but emotionally he's remained a closed-off tightly wounded animal. He's not lashing out anymore, but he's also not ready to open himself up to emotional connections again. But in the face of Eun Gi, he is forced to acknowledge that he cares about her and her future matters to him. Does it mean he accepts that he loves her and hopes for a future together? Not necessarily (yet), but it's a giant step forward that he takes in this episode, and I spent most of it clapping like a happy seal at the screen watching it unfold.
Episode 11 recap:
Maru finds out from Secretary Hyun that Eun Gi is missing and his quick brain suspects Jae Shik is behind it. Jae Shik drives Eun Gi into the countryside but Maru is hot on his trail using the GPS function on Eun Gi's phone to track them. Maru spots their car and manages to cut Jae Shik off using his own car, which is a very risky move especially considering he's been involved in a serious car accident not too long ago.
Maru gets out of his car and storms over to Jae Shik's car door. He drags Jae Shik out and slams him against the car, demanding to know who ordered him to kidnap Eun Gi. Jae Shik tries to squirm away from Angry Maru and Eun Gi comes out and asks Maru to stop being so disrespectful to his hyung. Jae Shik runs off and Maru turns his frustration towards Eun Gi.
Maru calls Eun Gi brain damaged for not being able to have an ounce of sense and running off with a stranger. Eun Gi explains Jae Shik said he was Maru's hyung and Maru wanted to see her. Maru retorts that there is no such thing and her brain is clearly made of bricks. Even if she's lost her memories, she couldn't have lost her common sense as well!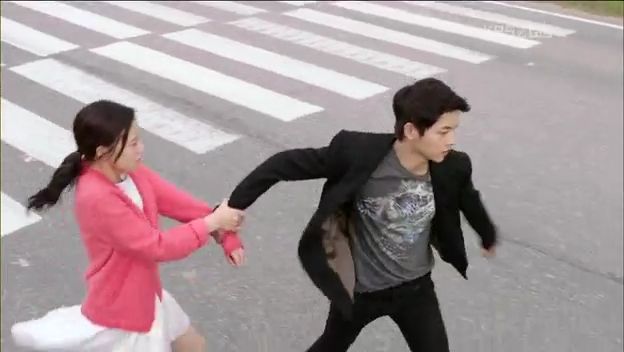 Eun Gi is hurt and misunderstands his boiling anger as directed towards her. She asks if he really dislikes her that much? Maru grabs her wrist and tries to get her in his car to take her home but she struggles out of his grasp and refuses to go with him.
She didn't realize he disliked her so, if she did then she wouldn't have come to see him. She apologizes and promise not to be this way in the future. She promise not to keep bothering him, and tells him that no one else did anything wrong, she is the only one to blame. Eun Gi admits her brain is broken and turns to walk away.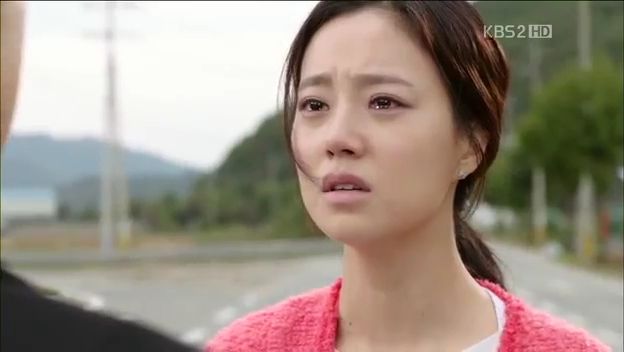 Maru yells at her, demanding to know where she is going? He grabs her again (ooooh, I love grabby Maru) but she once again breaks free of his grasp. Eun Gi asks if she is really that laughable and pathetic, that easy to mess around with? She knows she's become an idiot but this is the end for her. She doesn't want Maru to confuse her anymore, especially since she's embarrassed enough that she's lost her memory.
Eun Gi walks away and Maru just stares after her. Later they sit in their respective cars and brood, because nothing says OTP like simultaneous brooding over each other. I love how Maru just look so stricken when he absorbs the extent of Eun Gi current mental state (that she is so helpless that she would walk off with a stranger who claimed to be taking her to Maru) and her frustration and hopelessness about it. Maru thinks to himself "After how I let you go, how could you return like this? Seo Eun Gi, you little idiot."
Jae Hee is at home and flashing back to earlier in the day. Turns out after she spoke with lawyer Ahn, she met with Jae Shik who informed her that Eun Gi has been found and he can make Eun Gi disappear forever. All she needs to do to give him a house. Jae Shik reveals lawyer Ahn refused to deal so he's coming directly to Jae Hee. He warns that he can make her lose her Tae San group position so she shouldn't underestimate him.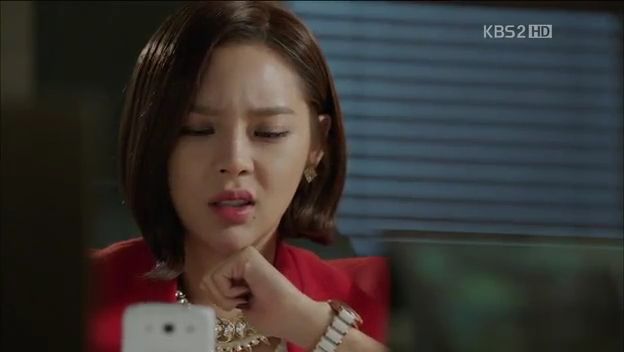 Jae Hee says she cannot just give him a house since its part of the dead Chairman's estate left to Eun Gi. Jae Shik asks what she can give him then? Back to the present, Jae Hee gets a text from Jae Shik that its all been taken care off and she can rest easy tonight. He asks her to give him the agreed upon payment earlier.
Eun Gi is back in her room and still hurt over her misunderstanding about Maru's anger earlier. Secretary Hyun comes to tell her that the doctor is here but Eun Gi doesn't want to see the doctor anymore since she's worked so hard but made little progress. Secretary Eun gives her a pep talk that she is improving and her memories will come back, so she needs to be less demanding of herself. Eun Gi listens to music and has a quick flash to Maru driving the car when they went to pick up Choco.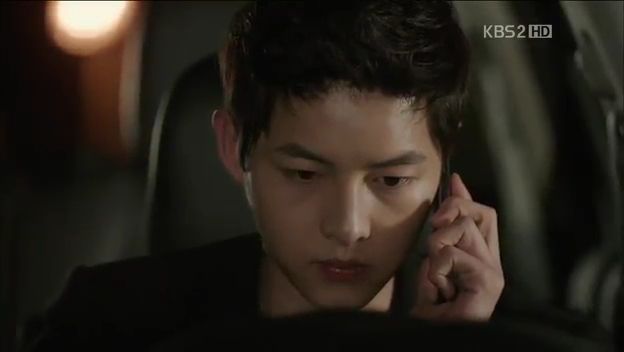 Maru sits in his car and its nighttime and he's still thinking about what Eun Gi said to him earlier. Maru calls Jae Shik but gets his voicemail.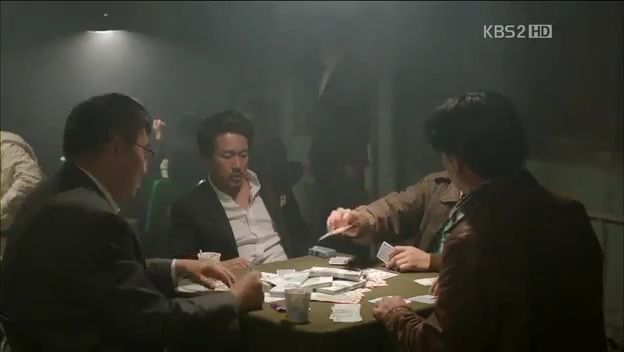 Jae Shik is at an underground gambling den and he's losing badly. He grouses about why Jae Hee hasn't wired the money to him yet and tries to call her. Jae Hee is on the phone with someone else, confirming that the people have been dispatched. She thanks the person for doing her this favor despite being so busy.
Jae Shik steps out to call Jae Hee, thereby missing a sudden police raid in the gambling den. He hides in the corner and calls Jae Hee, who lies that the money has been wired and acts all innocent in asking if her brother is currently at a gambling den. Jae Shik demands to know if she sent the cops on the raid. Jae Hee claims she had nothing to do with it but Jae Shik knows what type of person his sister is.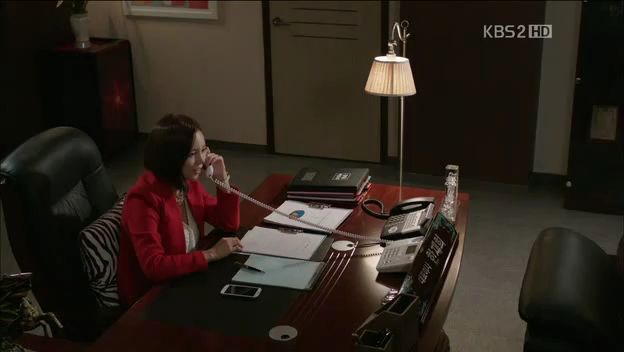 Jae Shik tells Jae Hee that he never trusted her, and Jae Hee is fine with that because she's also never trusted him. Jae Hee knows even if Jae Shik gets the house it'll not be the end with him. True 'dat. He's the brother that spent his life threatening her and tormenting her. She asks how Eun Gi is doing? She refers to Eun Gi as "our Eun Gi" like she's really her daughter, and claims that she told Jae Shik not to harm a hair on Eun Gi's head. Jae Hee threatens Jae Shik that she will go to the cops to report him for kidnapping and extortion and he'll spend the next 10 years in prison.
Jae Shik is uncowed and says he did none of that and she has no proof. Jae Hee tells Jae Shik to stay away from her for ten years, and maybe at that time she'll be happy to see him since he's her only relative. At that time, maybe she'll leave him half her fortune. Jae Shik screams into the phone for her to stay put because he's going over to kill her. The cops spot him and Jae Shik takes off.
Maru spent the night sleeping in his car and when morning arrives, Jae Shik comes to see him as he's walking into the house. Maru is still pissed at Jae Shik who reveals that Jae Hee ordered him to get rid of Eun Gi because she's a threat to Jae Hee owning all of Tae San. Jae Shik claims he still has a shred of decency left so he wants to tell the truth. Jae Shik admits he committed an unforgiveable crime towards Maru (by trying to harm Eun Gi), but warns Maru that Jae Hee is scary and dangerous and will do anything to a person blocking her path. Maru demands to know where Eun Gi's house is?
Lawyer Ahn has sent their lackey to find Eun Gi and he locates her and reports back to lawyer Ahn. He calls Joon Ha in and reveals that he's found Eun Gi and knows her current situation. He advises Joon Ha that if Joon Ha cares about Eun Gi and loves her, then he ought to know where she would be safest to live out the rest of her life, pretty much suggesting Joon Ha take Eun Gi and run far away. Not a bad idea.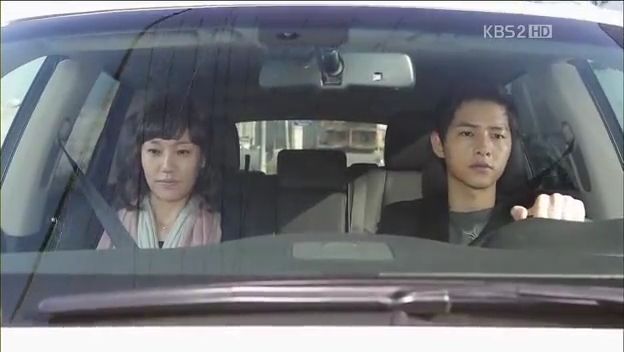 Maru arrives at Eun Gi's place and runs into Secretary Hyun outside. She gets into his car to talk and he asks what he needs to do to help Eun Gi – reach her final destination and get back Tae San including defeat Jae Hee? They notice Jae Hee's lackey lurking around and recognize him as working for Jae Hee. Secretary Hyun says she'll stall the guy and gives Maru the house key, asking him to quickly take Eun Gi away somewhere safe.
Maru walks into the courtyard and finds Eun Gi sitting outside with a story book next to her. She sees him but is no longer welcoming. She asks who he thinks he is, to come into someone's house without knocking. Maru asks her to leave with him but she refuses. She asks who he is to her and why she needs to go with him? Is he here because he's bored? Because he pities her?
Eun Gi gets up and throws her book at him, yelling for him to leave. She runs into the house and Maru stares after her. He picks up the book and sees that it's The Boy Who Cried Wolf. Symbolic much? Maru gets a call from Secretary Hyun that Jae Hee has been told where Eun Gi is and Maru has to get Eun Gi out NOW. Maru says he'll need 5 minutes.
Maru runs into the house but Eun Gi has locked herself in her room. He bangs on the door and begs her to open since they have no time. Eun Gi tells him not to worry, she will never leave with strangers again. And since he's a stranger to her, she's not leaving with him either. LOL, that's a good one.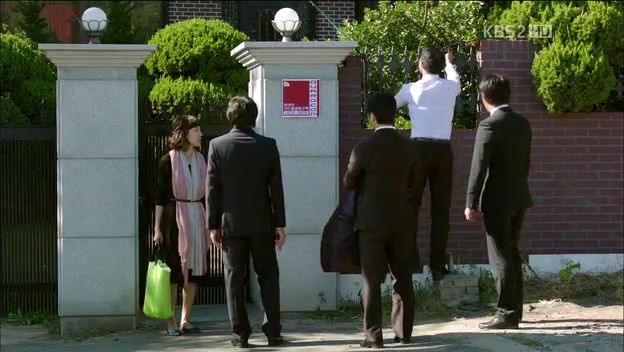 Secretary Hyun is outside the house stalling the people arriving to collect Eun Gi. She feigns confusion and says Eun Gi could not possibly be at her house. Jae Hee's people demand to go inside and check for themselves.
Maru and Eun Gi stand with their backs against the door, forming this lovely imagery. Maru, still holding the storybook, breaks the silence by recounting the first time they met on the plane. Eun Gi had passed out but there was no doctor onboard so he, as a med school dropout, had to treat her. The second time they met, she got in a motorcycle accident and her beloved doll fell down a cliff. He almost fell off the cliff himself trying to retrieve it.
In his life, meeting Eun Gi made him shocked at this brash rude girl like her existed. She was someone who was wild and arrogant, who couldn't even say a simple word of gratitude when someone did something nice for her, or to apologize when she did something wrong to another. I love how Maru is speaking sincerely from the heart, but like the Boy Who Cried Wolf, all his lies to Eun Gi before about how he didn't care about her and was using her is what is keeping her from opening that door to him right now, even though for once he is being completely honest with her.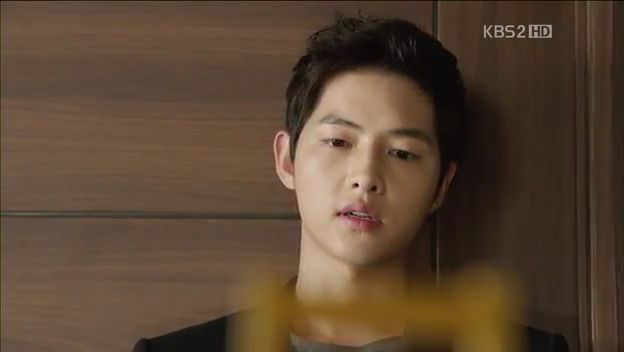 Maru turns around when Eun Gi opens the door with tears in her eyes, asking if he is really describing her? Maru stares at her and apologizes that now is not the time to relive their memories. He promises to tell her more if she gets in the car with him.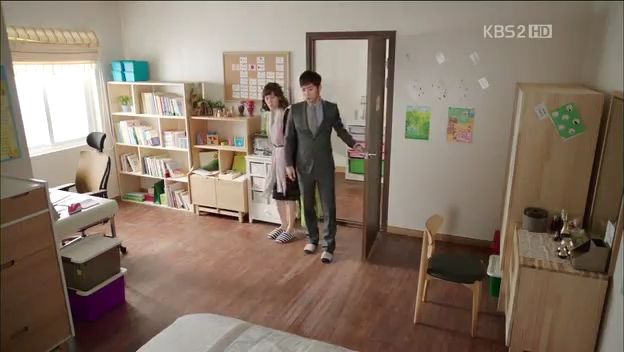 Joon Hae arrives and manages to talk down Jae Hee's minions from going inside. He tells him that barging into a private residence is a crime. Once Secretary Hyun and Joon Ha enters the house, they breathe a sign of relief that it's empty. Joon Ha is shocked when he learns that Kang Maru was the one who took Eun Gi away to safety.
Maru is driving Eun Gi back to his place and he continues recounting his history with Eun Gi. She doesn't believe him, asserting that he's making stories up about her past poor attitude. Maru reveals that the third time they met was when she tracked him down to his house. She was so prickly, using anger to mask that she wanted to see him and missed him.
Eun Gi says she doesn't believe a word he says anymore. Maru continues, explaining that he took her with him to find his sister Choco, even though he didn't want her to see that part of his life. Eun Gi calls him a bad guy so Maru ends his memory sharing for today, otherwise Seo Eun Gi's brain will explode with too much information. He turns on the music and it's "San Francisco", the same song that played when he was driving Eun Gi and Choco back to Seoul. Eun Gi hears it and flashes back to that moment briefly.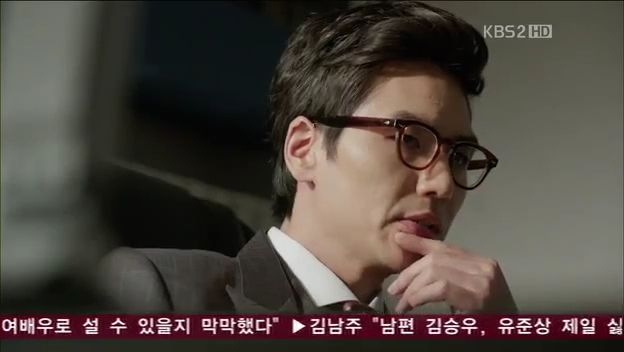 Lawyer Ahn is informed that Eun Gi has been moved and Kang Maru is now involved. He wonders what exactly happened to Eun Gi that makes her side so afraid of letting Jae Hee find her?
Jae Hee calls a Board Meeting and proposes stripping Eun Gi of her position at Tae San, claiming that someone who spies on them and doesn't trust them shouldn't be protected any longer. One board member asks why she is doing this? Its not like Eun Gi has been missing 10 years, or even 3 years, what is Jae Hee's rush? What if Eun Gi returns tomorrow?
Jae Hee says Eun Gi is not coming back, because if she wanted to come back she would have done so already. She asks if they want proof Eun Gi doesn't want to return? The board member asks how proof can be found? Jae Hee says that Eun Gi is not returning to a wonderful life in Seoul as the head of Tae San, and there can only be one reason, which is Eun Gi has found happiness elsewhere.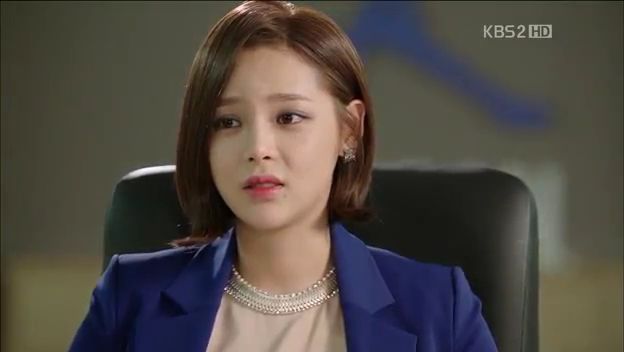 Jae Hee is the interim Chairman of Tae San, but she is also Eun Gi's stepmother. If Eun Gi wants to pursue her own happiness, then she wants to make that happen for Eun Gi. She wants Eun Gi to live the life of her dreams and not be tied to Tae San as the successor. She asks again for a vote to remove Eun Gi.
Joon Ha receives a text that the vote has passed and Eun Gi has been stripped of her official position at Tae San.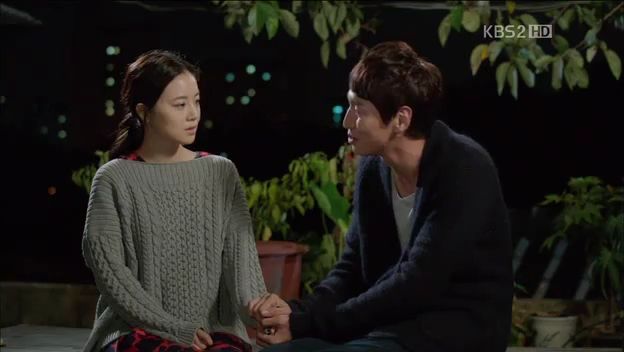 Jae Gil is outside Maru's house and enters to find Eun Gi sitting quietly in the courtyard. He is so happy to see her, worried that she was missing after the accident. Eun Gi stares at him quizzically and asks who he is? Jae Gil thinks she just forgot him or whether he's on a hidden camera show.
Jae Gil goes inside and finds Maru packing up his room and learning that Eun Gi lost her memory. Maru asks if Jae Gil told Choco to come home. Jae Gil did but Choco is still mad at Maru. Jae Gil grouses that Eun Gi doesn't remember him anymore and Maru reveals that Eun Gi also doesn't remember him. Maru tells Jae Gil to get Choco to come home because they are moving. This place is no longer safe since both Jae Hee and Jae Shik know this location.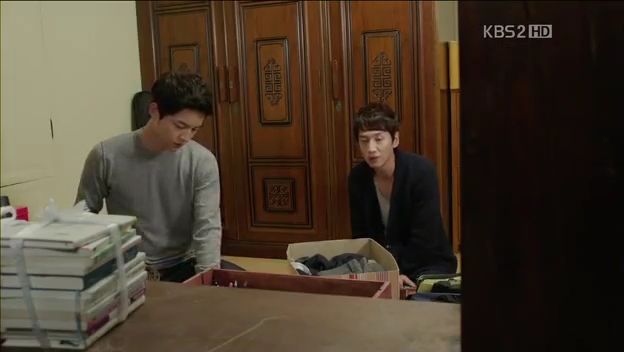 Jae Gil asks why they are moving and Maru answers simply "Because Seo Eun Gi has returned." Jae Gil asks if Maru stayed here because he was waiting for Eun Gi? He was waiting for Eun Gi to return and afraid that Eun Gi wouldn't be able to find him again. Jae Gil asks if Maru likes Eun Gi? This is no longer about getting revenge against Jae Hee noona, what Maru is doing now is all because Maru likes Eun Gi? Initially he stayed put to wait for Jae Hee to return, and she never did. Then he stayed to wait for Eun Gi, and she returned.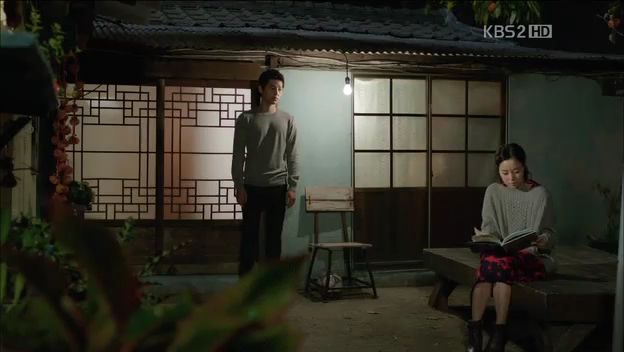 Maru walks outside and watches as Eun Gi reads her children's book in the courtyard. Maru gets a text from Joon Ha asking to meet. They sit in a café and Joon Ha reveals he knows everything about Maru – how he was formerly Jae Hee's boyfriend and he used Eun Gi to get close to Jae Hee.
Joon Ha doesn't know what Maru's intentions are this time around, but he's certain Maru doesn't have Eun Gi's best interests at heart. He threatens to tell Eun Gi all about what Maru is really like. Maru tells him to go ahead, Joon Ha should do that if Eun Gi's ultimate goal is Joon Ha, and not Tae San Group. This shuts Joon Ha up. Maru asks Joon Ha if he likes Eun Gi?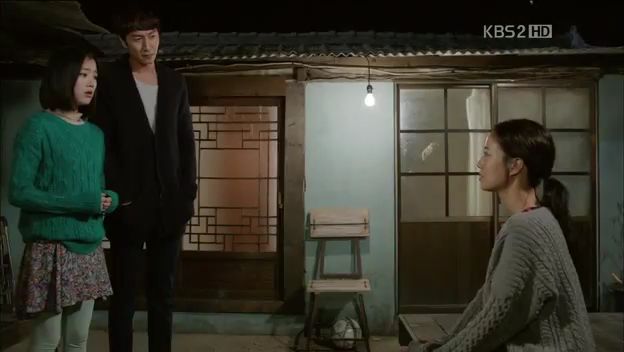 Back at Casa de Maru, Choco has come home and heard the scoop from Jae Gil. She's very sad for Eun Gi and asks if Eun Gi unni doesn't remember her? She asks if Eun Gi's brain trauma was all because of her brother? Jae Gil says it wasn't, but her brother does bear some fault. Choco hugs Eun Gi and says that she will do her best to help Eun Gi regain her memory.
Eun Gi thanks Choco, who ask Eun Gi to please don't hate her brother. Choco says Maru has so many frustrations and asks Eun Gi to please understand him. Choco apologizes to Eun Gi and she wonders what for? Before Choco can explain further, Jae Gil shushes her.
Maru asks Joon Ha what he wants him to do? Joon Ha asks if Maru will do as Joon Ha asks? Maru is willing to hear him out. Joon Ha asks Maru to help Eun Gi since he's the only one who can now. Both Joon Ha and Secretary Hyun's existence in helping Eun Gi has been sussed out so she can no longer stay with them. In addition, compared to Joon Ha, Eun Gi likes and trusts Maru. Right now Maru is the only one who can help her reach her final destination. Maru asks if this is all?
Jae Hee walks up the slope to Maru's house, taking her through her old neighborhood. She knocks but gets no response, then finding the door unlocked she goes inside. Once inside, she finds the house silent so she walks in. She enters the living room to find it empty and random items laying around. She stares disbelievingly at this house, where the residents have clearly moved out.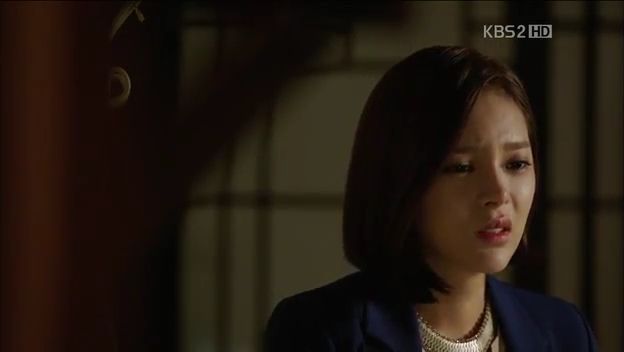 Jae Hee walks into Maru's bedroom and finds it also empty. She sits down stunned and shocked, finally scrunching up her face like she's about to cry.
Maru drives behind a moving truck carrying the family's belongings, clearly on the move somewhere safe. Eun Gi sits in the passenger seat while Jae Gil and Choco are in the backseat and sleeping on each other's shoulder. Eun Gi is also asleep and Maru turns to look at her. She looks at peace and Maru looks down where her hand is clasping his hand. He looks worried as he continues to drive.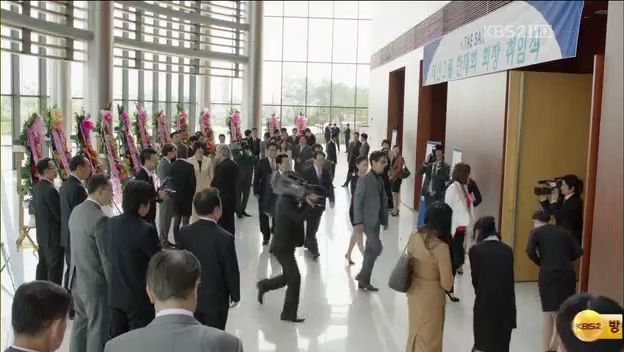 A bit of time has passed and Jae Hee is walking through Tae San surrounded by well wishers. She walks into the ball room which has been decked out as a inauguration of her as the new Chairman of Tae San.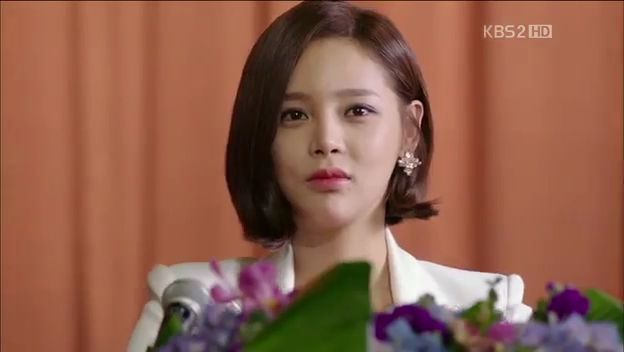 Jae Hee gets up on stage and greets everyone here before launching into her speech. Jae Hee recounts how the last year was the hardest in her life but thankfully Tae San Group's various industry subsidiaries have thrived under her leadership.
Jae Hee promise that Tae San will never falter with her as the new Chairman. During this speech, we see a woman slowly walking her way towards the stage. She passes by Eun Seok, who recognizes her and calls out "Eun Gi noona." It's Eun Gi, with Secretary Hyun behind her, and she walks right up to Jae Hee, who looks like her eyes are about to bug out when she sees Eun Gi.
Eun Gi greets Jae Hee, apologizing for returning so late and asking how her "mother" is doing? Jae Hee walks down from the stage and embraces Eun Gi, asking out loud how she is doing and where she has been all this time? Jae Hee sniffles that she's been so worried about Eun Gi this whole time. Eun Gi keeps apologizing and Jae Hee says it's alright since Eun Gi is back now.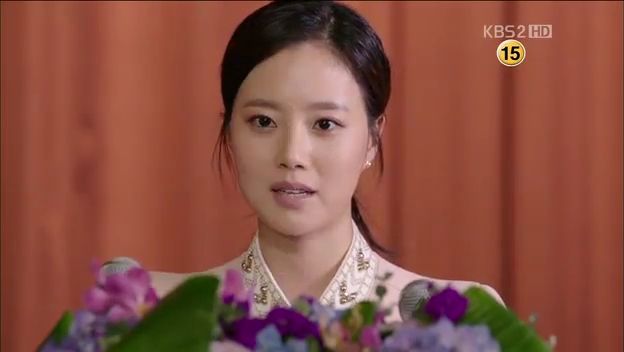 Eun Gi walks on stage and gets behind the podium to address the crowd. She introduces herself as Seo Eun Gi and asks if everyone has been well during her absence. She apologizes again for not returning until now, explaining that due to her serious accident, her severe injuries required prolonged rehabilitation. She has been living somewhere quiet to recover and now she has regained her health.
Eun Gi has worked hard and prepared herself to return to Tae San and now she is ready. Eun Gi drops the bombshell that she's suffering some insomnia due to the accident and therefore can't always recognize everyone's faces. She is still recovering from the injuries so during this time someone will be assisting her at Tae San. Eun Gi introduces to the entire ball room her fiancée, Kang Maru. Jae Hee's mouth almost drops open and everyone looks around for Maru. Suddenly a person sitting at a table stands up and we see that its Maru and he's been sitting there the entire time.
Eun Gi announces that her fiancée Kang Maru will be her right hand at Tae San from now on. Maru bows to the room and then looks up. His eyes flicker over Jae Hee like she's a fly that caught his attention momentarily, before locking onto stare at only Eun Gi with a slight smile.
Thoughts of Mine:
Holy moly, they are engaged! What the what? Whether it's a fake engagement, a business engagement, or a genuine engagement, I'm just thrilled that to the public they are a couple. I need some happy for these two sad and hurt souls, and if they get to spend time together doing positive things like getting Eun Gi's memory back so she can reclaim her position as the Tae San heir, then it's all good to me. Watching Jae Hee get the upper hand so often makes me relish each time she gets hoisted by her own petard. Seeing her glorious inauguration get shafted is truly worth savoring. Yes, this drama is far from over, and I'm sure Jae Hee and lawyer Ahn have plenty more tricks and ammunition on their side to take out Eun Gi. But at least Team Eun Gi is now like the Avengers, chock full of smart and good people including Joon Ha, Secretary Hyun, Jae Gil, and Choco. Maru is like Iron Man, with his own agenda and maybe doesn't quite play well with the others, but at the end of the day, his heart is all in when it comes to Eun Gi's wellbeing. That's all that counts. I'll give him time to keep working through his issues. Btw, let's LOL right now at the hilarity that Maru is about to become the step son-in-law of his former girlfriend. Oh K-dramas, you keep bringing on the awkward cuz I love it!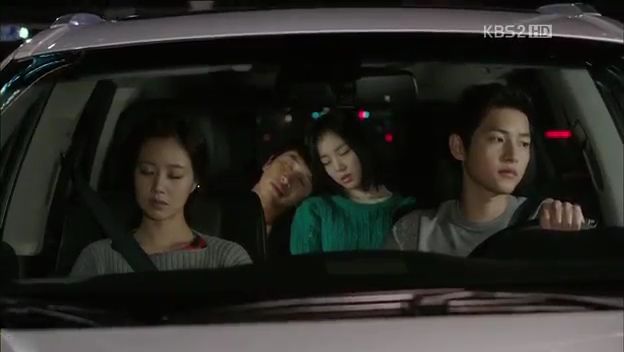 I'm thoroughly amused at how well Jae Shik is integrated into the narrative, which is a stark contrast to how poorly Jae Gil and Choco have been used so far. Jae Shik is like the guy who just can't do anything right, and whatever he does ends up being good for Team Eun Gi. His kidnap attempt was the threat that jostled Maru into action, who wanted to remain uninvolved except he can't if Eun Gi's life is in danger. He can deny all he wants that he doesn't have anything to do with Eun Gi, but the second he finds out she's missing, he goes all ape shit on Jae Shik and screams at an amnesiac with the mental awareness of danger of an elementary school student. I love watching Maru and Eun Gi be mad at each other and yell at each other, giving us glimpses of pre-accident Eun Gi's spitfire, and proving to us that Maru isn't as dead inside as he would like us to believe. There is hope for him yet, just as there is hope for them as a couple if they can overcome both the external challenges and the internal scars on their psyche.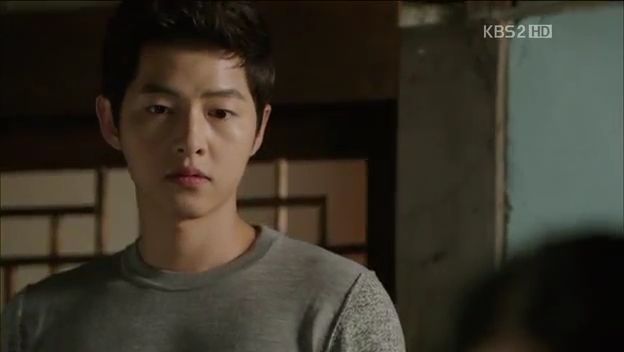 I love watching Jae Hee be evil, because she really is capable of quite a lot when all is said and done. I appreciate the drama showing us glimpses of her still having a conscience and still capable of feeling hurt, because it just makes her actions all the more easy to despise. Her walk through the empty Casa de Maru was so satisfying to watch, because it hammers home the point that Maru and her are done. Whatever residual threads remained between them have been severed, and it wasn't severed because of her. It was severed because of Eun Gi, because Maru is doing something for Eun Gi, and not because he's running away from Jae Hee. The worst part of accepting an emotional connection is irrevocably broken is when one party no longer cares or does anything motivated by the other side, whether the action is positive or negative. In Maru's eyes, he can only see Eun Gi, and I seriously screamed FINALLY when I saw that. At the end of this episode, Maru stood up and bowed, then his gaze briefly flickered over Jae Hee like he was casually acknowledging her existence in this room, before turning to lock onto Eun Gi before he broke into a tiny smile. My heart pretty much is happy now and I can't wait to watch Team Eun Gi and Team Jae Hee do battle. Even if Team Eun Gi takes a few hits, at least I know she's got Maru in her corner.