I can't lie – I loved episode 15 of Nice Guy but it was due to an overwhelming amount of goodwill built up for this drama because this episode felt like a bit of air was let out of the tires. A merely good episode of NG is still better than most anything out there recently, so that's not a diss on the drama as much as it's a recognition that certain elements are perhaps dragging down the tension and pace. I felt like this episode was a rehash of many of the same issues done before – Maru gets set up, he gets released from the clank, Eun Gi keeps trying to remember, Joon Ha plays the hovering protector, Jae Hee can't figure out if she's all evil for money or for love, and lawyer Ahn lets his jealousy freak flag fly. I can't deny that an episode chock full of Maru-Eun Gi happy and shippy moments is like downing a giant bowl of drama chicken soup, but I rather wish it was accompanied by more delicious side dishes of meaningful narrative push. At this point, I don't think Eun Gi getting back Tae San even matters to Eun Gi, and Jae Hee is about thisclose to saying "to hell with it" and trading Maru for Tae San as well.
This is like the gender-reversed drama trope where two leading men give it all up for the Candy-esque kindhearted heroine with the sunny disposition, except here we have two bitchy ladies fighting over a former gigolo. I seriously love the dysfunction. This episode also made me LOL with Jae Shik playing cupid for Jae Gil and Choco, who no longer annoy me as long as they are relegated to less than 10-minutes an episode and are in charge of bringing the inadvertent laughs as well as communication information to and from Maru. I love this story so much and I trust Lee Kyung Hee has one more major arc in store for the grand finale, be it Eun Gi regaining her memories and going batshit on Maru before jumping his bones for make up sex, Maru getting his brain surgery in the nick of time, and Jae Hee getting more botox injections and accidentally dying of a fungal infection and leaving Eun Seok to be raised by his Eun Gi noona.
Episode 15 recap:
Jae Hee announces that she's making Eun Gi co-Chairman of Tae San Group. Much as this is a win for Team Eun Gi, it's sorta a pyrrhic victory since the brain damaged girl can't exactly run a conglomerate just yet. Jae Hee shakes hands with the surprised Eun Gi, all while shooting death glares at Maru, who just smirks back at her. Don't smirk, boy, you might arouse the crazy witch's lust for you.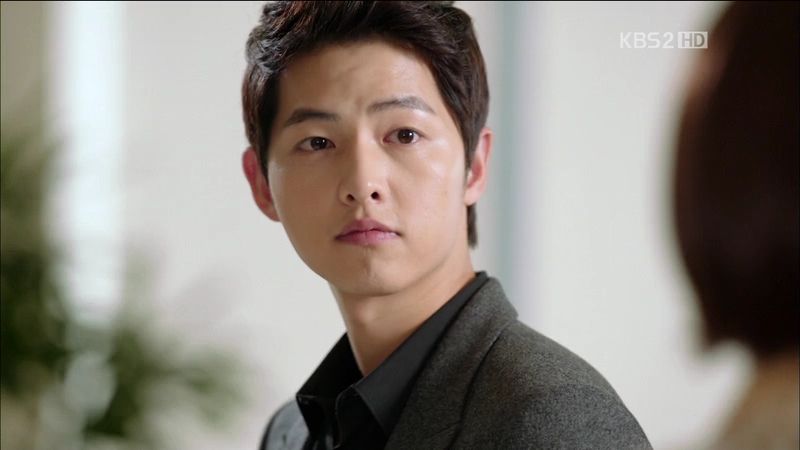 Maru walks through Tae San and Jae Hee is lurking around the corner waiting for him. She asks if he's pleased with how things worked out? He is immensely please, but this is nothing since he's going to keep going until he checkmates her. That's when he'll bust out the champagne. Jae Hee is all butthurt that he used her abusive brother against her, to which Maru derides her stupidity for not processing what he said earlier about doing everything he can to get Eun Gi back to her place. Jae Hee says he can't act this way, such behavior is what Han Jae Hee will do but not Kang Maru! He laughs, asking if she thinks Han Jae Hee and Kang Maru are really any different?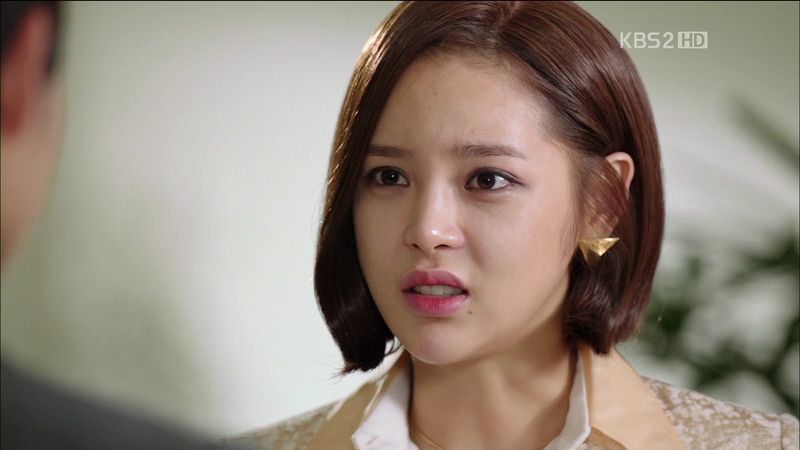 Maru asks if she wants to keep going, or is she ready to abandon ship and get the hell out of Dodge. Jae Hee asks if he'll return to her if she gives everything up? What? Ewwwww. Jae Hee continues and says she wants Maru back in exchange for giving up Tae San. OMG, this would be hella hilarious (in a morbid way), if Maru ends up prostituting himself to Jae Hee for Eun Gi's sake. It would be like the Twilight Zone episode of Nice Guy.
Jae Hee asks if Maru will be her bargaining chip in surrendering Tae San? Maru says that her wish is not impossible, but he asks what she wants with just a physical body though (implying that his heart is already gone from her reach)? His look when he says this conveys the same sentiment as "who knows, maybe one day pigs can fly"…… Maru walks away and past lawyer Ahn, who clearly heard everything.
Lawyer Ahn goes over to Jae Hee and tells her to get herself together and buck up. He reminds her of all she's done to come this far. Ha, forever the bad guy justification for not stopping in their nefarious plans. Her final destination can't possibly be to stop here? No, her final destination is hell, and I've got a passenger seat ticket for you to join her.
Eun Gi is sitting outside pondering existential things, or just dozing off. Maru finds her and she's all like "what the what just happened back there?" She wonders if there is something going on with Jae Hee she doesn't know about. I wouldn't open that Pandora's box, Eun Gi, so back away now. Maru tries to sell her a crock of balony that Jae Hee has validated Eun Gi, but she's not that gullible anymore.
Maru brings up Chairman Nam and how Eun Gi used her sincerity to move him and resolve that problem. Maru warns her that all eyes will be on her from now on and she needs to regain her memory as soon as possible because the road ahead will get more treacherous. He tells her that she can do it. Maru grabs her hand and says the the first thing she needs to try and remember is him. When she remembers him, in that moment, all her memories will come back. Maru says "remember me, Seo Eun Gi."
Jae Hee drives to the old neighborhood and gets out of her car for the long walk up the hill. She passes the nosy ahjumma who recognizes her and calls her Chairman, wondering why she's been by quite a lot recently. The ahjumma asks if Maru knows she bought this house but Jae Hee says no. Jae Hee goes inside and sits down, looking around the courtyard pensively.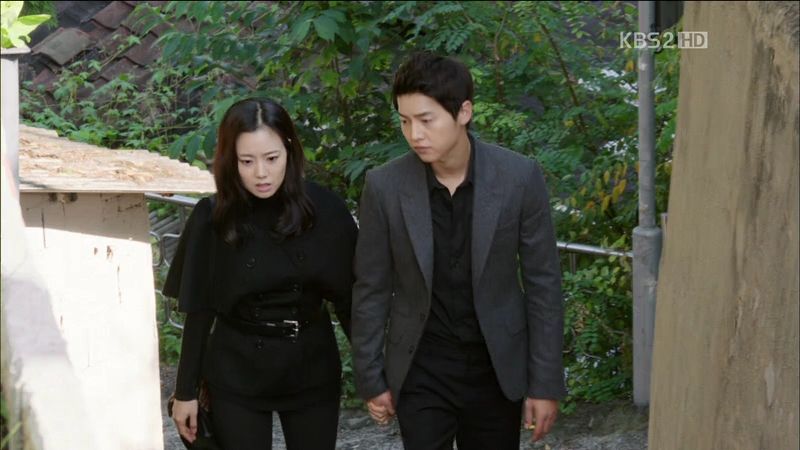 Maru brings Eun Gi back to his old house as well, the two of them slowly walking up the hill. Eun Gi talks out loud, saying this is the road to see Maru. He thinks she's remembering things but she's not, she's just hoping to trigger a memory. When they reach his front door, she touches the door and says this is Maru's house and if the door opened then Maru would come out.
Sadly she still doesn't remember, and when she tries to open the door, Maru stops her and says another family lives here now. Maru and Eun Gi leave and we see that Jae Hee is inside the courtyard since she's the new owner of Maru's old house.
Lawyer Ahn has his lackeys go grab Jae Shik. After he has Jae Shik beaten up, he demands to know how much money Maru gave him? Jae Shik tries to attack lawyer Ahn but is restrained. Lawyer AHn asks again how much money did it take for Jae Shik to agree to help Maru? What? You don't believe that cuddly generous Jae Shik helped Maru out of the kindness of his own heart?
Maru brings Eun Gi to the hilltop where they once drank beer and then broke up. Eun Gi says she doesn't remember this place as well and asks what happened here? He explains to Eun Gi that they broke up here once when Eun Gi discovered what kind of person Maru really was.
Eun Gi asks now what kind of person Maru is? Maru responds sadly that he already knows. He won't tell her, only asking her to remember, to use her own power to regain the memory of who he is. Eun Gi promises she'll do it, she vows to do it. I wish memory-less Eun Gi was sharper on the uptake, because Maru has been hinting with giant neon signals to her for ages that HE IS NOT A GOOD GUY. Though come to think of it, he also told Eun Gi way back when and she also chose to ignore it. This girl, love truly bakes her brain into beans. Maru sees her trying to remember and asks if she wants to go home now.
Maru and Eun Gi leave and slowly walk down the neighborhood. They pass a couple kissing as they stroll and Eun Gi stares a bit. She hesitantly calls Maru's name and he answers. She says nothing and then calls his name shyly again. Finally she asks why he's never kissed her? She says it feels like she can be discarded at anytime, or he will leave her at anytime. She asks if they've kissed before? Has she kissed him before? LOL, this girl has got only lips on her mind, not that I blame her.
Maru stares at her and looks amused. Eun Gi says they must've kissed before since they were lovers and they are not that young. She just doesn't remember it now, but they must've done what all lovers do. Maru smiles and lies that they have never kissed before. Eun Gi says no way and looks at him with disbelief. He flashes back to their kiss in Aomori and we know that he doesn't want that manipulative kiss on his part to be their first kiss.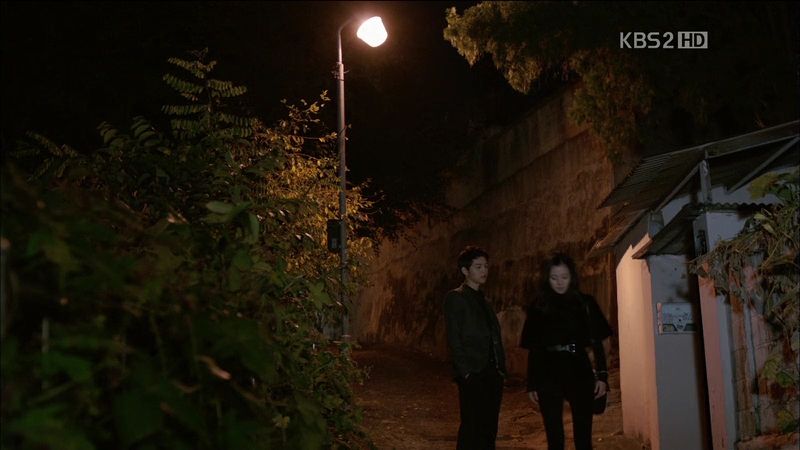 Eun Gi lets go of his hand and grumps that not kissing makes no sense and is all wrong. Maru keeps insisting they've never kissed before. She huffs off and Maru follows behind her.
Back at home, the Maru and Eun Gi lay in bed tossing and turning. Eun Gi finally can't take it anymore and goes down to see Maru. He asks what she wants at 2 am and turns out Eun Gi wants to go to work right away. She asks Maru to teach her how to run the company and she promises to learn everything he teaches. Maru wants to sleep and asks for 10 more minutes but she keeps hounding him so he agrees.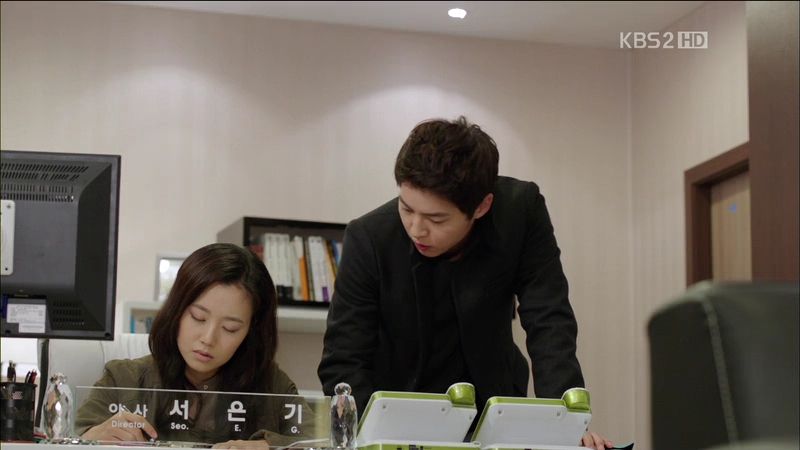 Eun Gi sits at her desk at work while Maru stands next to her giving her a tutorial. Let's all put aside that Maru was a med school student in college and just pretend he's genius enough to handle corporate management. Eun Gi dozes off and Maru teases her about slacking off, reminding her that she's sleeping while she made him come here to teach her.
Maru tells Eun Gi that she once camped out in the countryside for a month to persuade people there to work with Tae San. They go wash their faces and brush their teeth as morning arrives.
Joon Ha calls Maru and discusses how a huge amount of money was deposited in Eun Gi's account. This makes it look like a company that just signed a contract with Tae San gave Eun Gi a pay off. Looks like Jae Hee did it and she's trying to set up Eun Gi somehow. They agree not to tell her and will try to solve the problem themselves. Maru walks back to Eun Gi's office and sees her hard at work studying so he leaves her breakfast on the table.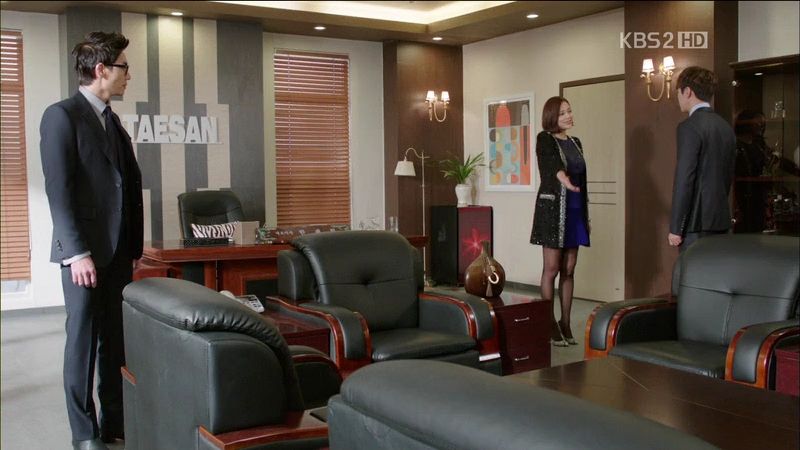 Jae Hee is at her office and lawyer Ahn brings in a Director Kim to meet her. Turns out it's Eun Gi's douchey ex-boyfriend and Jae Hee thinks he looks familiar. Ex-boyfriend says they met at the former Chairman's funeral, though he missed her inauguration as the new Chairman because he just recently went through a divorce. Lawyer Ahn recognizes him and says he's Eun Gi's ex-boyfriend.
Ex-boyfriend goes to meet with Eun Gi and she stares at him quizzically.
Maru wonders to Joon Ha how he'll clear up the situation. Shall he go meet with the Chairman of the other company? Secretary Hyun arrives and reveals that Eun Gi's ex-boyfriend is here to see her. Joon Ha knows its Kim Jung Hoon, the guy Eun Gi dated back in the US. Maru doesn't look pleased to hear about a guy that Eun Gi used to love. They worry that his arrival will reveal her current state to Jae Hee.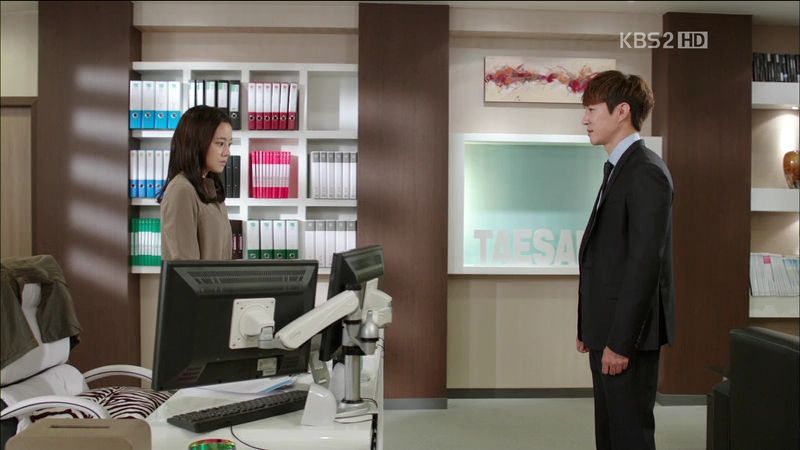 Ex-boyfriend sits down with Eun Gi and asks why she's so distant with him, like he's a stranger. When he heard she returned, he wanted to see her immediately. But he stopped himself when he learned that she came back with a fiancée. We see Jae Hee telling Ex-boyfriend that Eun Gi hasn't fully regained all her memories from the accident, and Jae Hee as Eun Gi's stepmother is not terribly pleased with the new fiancée who she says doesn't suit Eun Gi. Ha, cuz she wants to jump his bones herself and Eun Gi is in the way. Jae Hee asks Ex-boyfriend to help her, and in exchange she will invest money in his company's acquisition plans.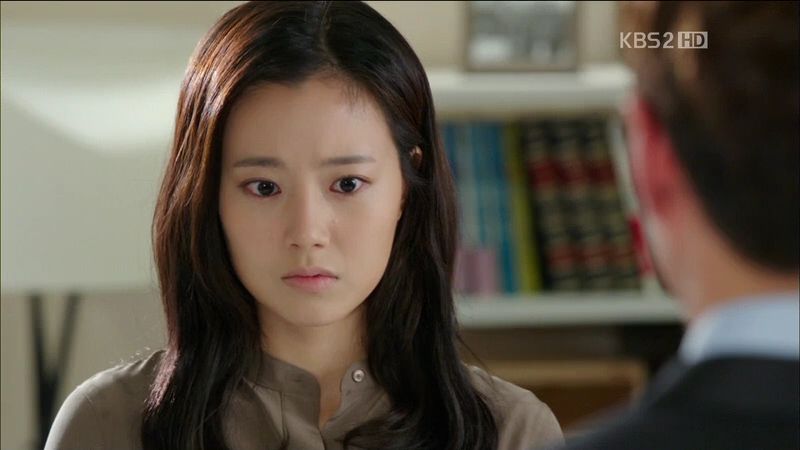 In Eun Gi's office, Ex-boyfriend compliments Eun Gi on being more beautiful now and  asks about her fiancée – how long they have been together, what kind of person he is? Eun Gi says he's a kind and nice person. Ex-boyfriend asks what Eun Gi thinks of him? What kind of person does she think he is? A lame ass person would be my vote. Maru rushes to Eun Gi's office and passes by the Ex-boyfriend. Maru stops and looks back at him then rushes to Eun Gi's office. When he walks in, she's alone and Ex-boyfriend has left. She looks deep in thought and not terribly happy.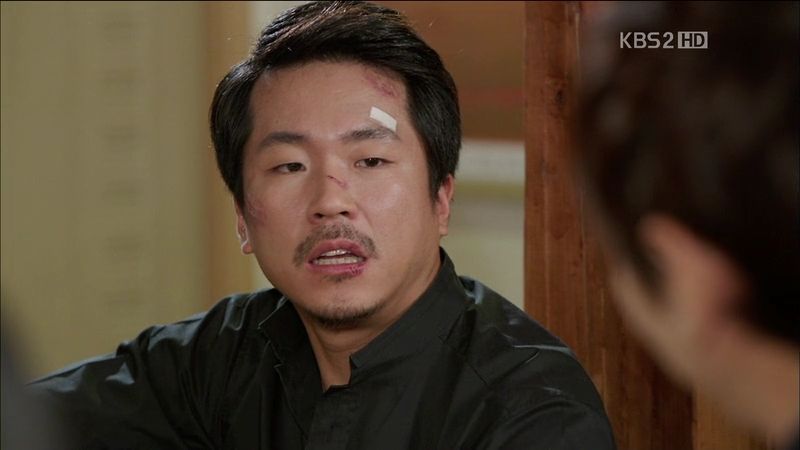 A beaten up Jae Shik has sought refuse at Casa de Maru and he's sitting in the kitchen with Jae Gil and Choco. He chides them for telling him about the move. Choco asks if he's really become a good guy. Jae Shik wonders how he can show he's changed, shall be slice himself open to show her his soul? Jae Gil taps him and Jae Shik gets angry and wants to wallop him so Jae Gil quickly says Jae Shik hasn't changed at all. Jae Shik then changes the subject notes that Choco has grown up quite a bit and wants to introduce a boyfriend for her if she doesn't have one. Choco says she has a boyfriend and claims its Jae Gil. Jae Shik is suspicious and asks how far along they've progressed.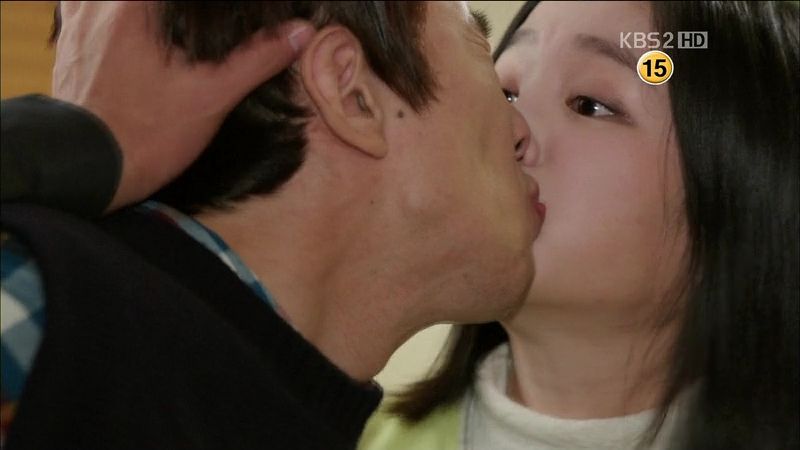 Choco says they've kissed, to which Jae Gil says he doesn't remember kissing her. All that matters to Choco is that she remembers it. Jae Gil pushes them together and makes them kiss right now. Ahahahha. Choco sits there in a daze while Jae Gil quickly says that didn't mean anything. Afterwards he tells Jae Gil to take good care of Choco since she's young and pretty. Jae Shik goes to wash his face thoroughly so he can put on more BB cream to cover his bruises. Jae Gil asks what Jae Shik wants to do next and the bastard hilariously says with completely honesty that he's trying to decide which side to work for that will bring him more financial rewards. I love unabashed shadiness!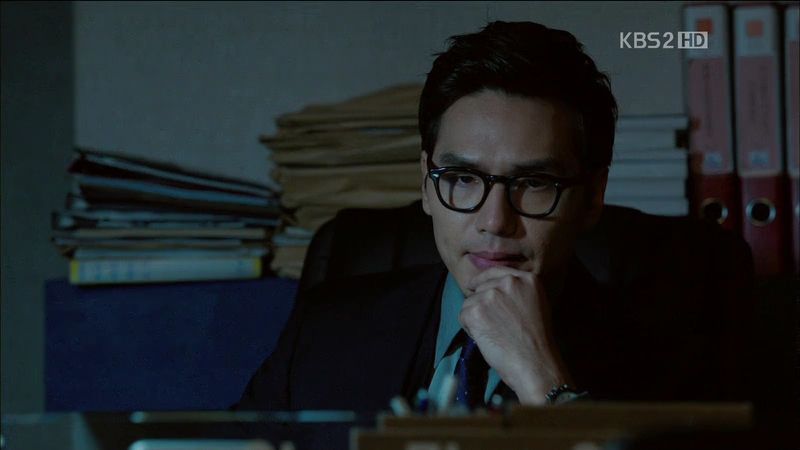 Lawyer Ahn sits in his office and broods about how Jae Hee is clearly not over Maru. He remembers how Jae Hee wants to break up Maru and Eun Gi, and wants to get Maru back. Serves you right, you grody lap dog.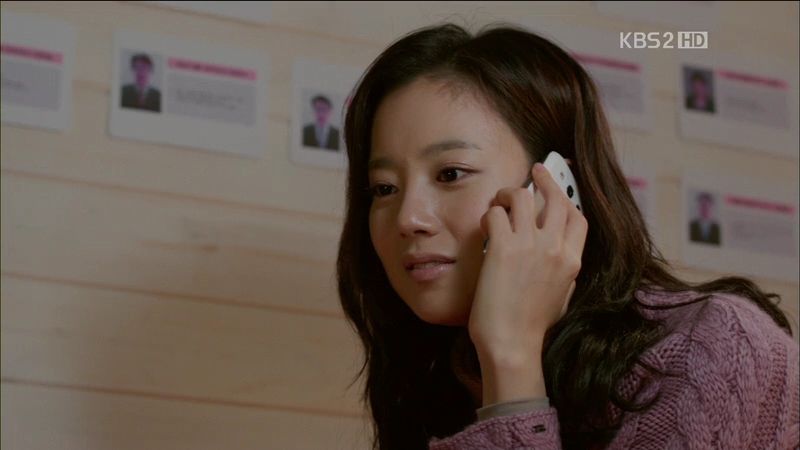 Eun Gi is tossing and turning in bed and calls Maru, who says he can't come home tonight and will be back in the morning. Eun Gi says she met someone today and she'll tell Maru tomorrow about it when she sees him. He's off to see someone and tells Eun Gi that they will meet at work tomorrow afternoon for more studying. They say goodnight to each other. Eun Gi grabs her Aomori picture with Maru and sleeps with it tucked in her arms.
Maru goes to meet with Representative Kim from Tae San who immediately stonewalls him and says he has nothing to say. Maru knows he wired money into Eun Gi's account to set her up and he wants to know what the plot is. After Maru leaves, we see Jae Hee and lawyer Ahn's lackey nearby watching this exchange.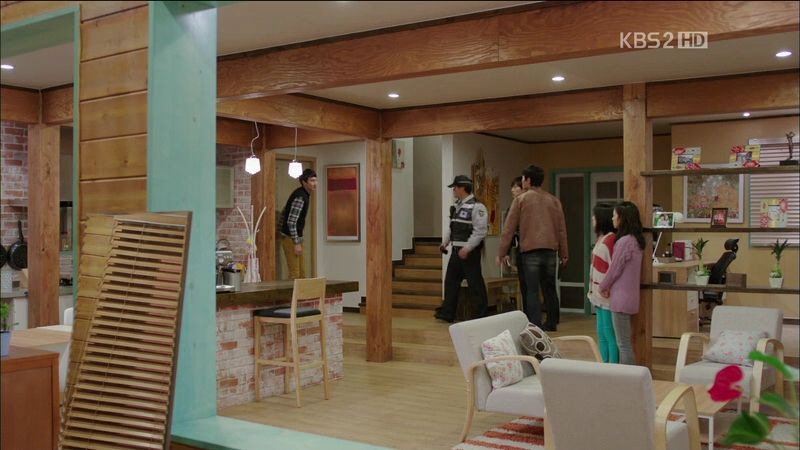 Jae Gil calls Maru and says cops are at their house with a search warrant. The cops want to search the bathroom as well and tell Jae Gil to scam. Maru assures Jae Gil he didn't do anything and wants him to tell the others not to worry. The cops wants Jae Gil to tells Maru to contact the police station when he returns. After the cops leave, Jae Gil assures Choco that he spoke with Maru who proclaimed his innocence.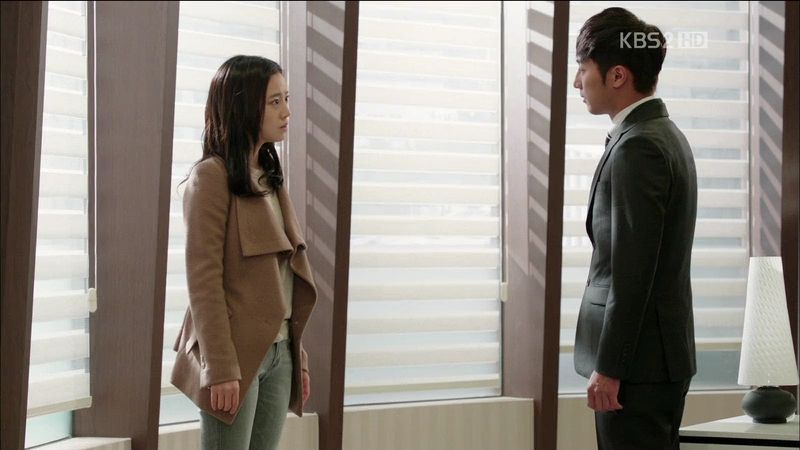 Eun Gi sits at home that night as Jae Gil and Choco sleep, still worried about Maru. She thinks back to Maru telling her to meet at the office to go through more studying. The next morning, the cops arrive at Tae San group headquarters looking for Maru. Turns out the charges are that Maru attacked Representative Kim at his house, but of course it's lawyer Ahn's henchman who attacked the guy who is now in a coma.
Eun Gi hears this and knows that if Maru did anything it was because of her. Joon Ha tells Eun Gi not to feel bad towards Maru. Eun Gi gets angry at Joon Ha for being so cold and reminds him that no one can reach Maru still.
Jae Hee is in her private bathroom in her office at Tae San and she looks up to see Maru standing there waiting for her. She acts all worried and asks how he could beat someone up? Maru calmly says he never touched the man. Jae Hee tells him to turn himself in and proclaim his innocence then.
Jae Hee claims she has nothing to do with that or what's happening to Maru right now but he doesn't believe her. She tells Maru to turn himself in. Maru asks Jae Hee to reveal that she set Eun Gi up for the embezzlement scheme and apologize officially to Eun Gi. Can she do that now? Maru walks towards Jae Hee and presses her into the wall as he glares at her. He tells her to do what he asked and thinks about whether she had anything to do with what happened to Eun Gi. Jae Hee asks him to step outside and they can discuss this further.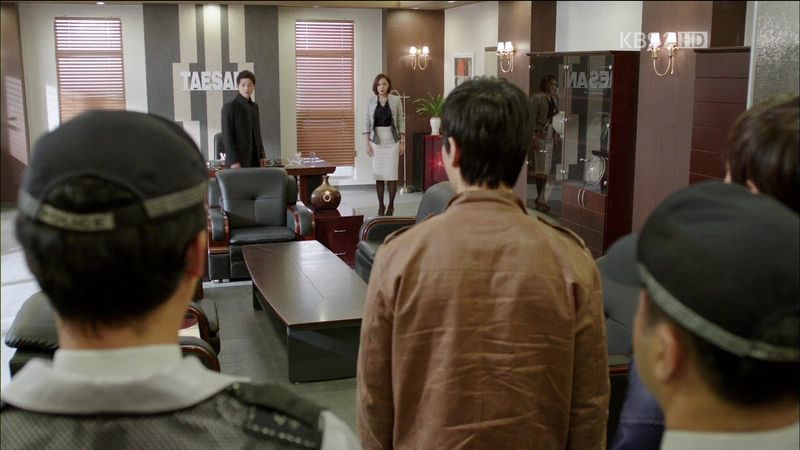 Maru walks out of the bathroom and Jae Hee gets a call from lawyer Ahn asking if Maru is in her office. She claims he isn't and she's alone. But when Jae Hee walks out, she sees a bunch of cops standing in her office waiting to arrest Maru.
Eun Gi finds out Maru is at the office and was just arrested from Jae Hee's office. Joon Ja asks Eun Gi not to rush out now because there are too many people, they can go to the police station later. Eun Gi asks if Han Jae Hee called the cops? Joon Ha isn't sure but it looks like she did.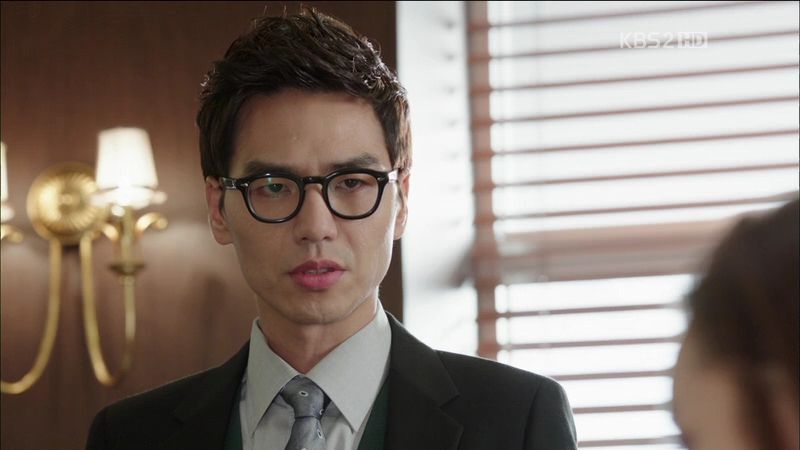 Jae Hee sits in her office and glares at lawyer Ahn, asking if he ordered something that she didn't ask to be done? He did, and he was expecting praise and thank yous for what he did for her sake rather than her ire. He won't sit back and let Jae Hee be shaken. He intends to stabilize the situation for her and take her to the finish line. He tells her to be like a race car and head confidently towards her destination.
Eun Gi, with Joon Ha in tow, rushes to Jae Hee's office and asks for a truce. Eun Gi asks what Jae Hee wants, whatever she wants she can have it. Eun Gi doesn't want it or need it. Eun Gi tosses Tae San at Jae Hee, telling her to take it and release Maru. Jae Hee is stunned that Eun Gi is giving up Tae San for Maru but Eun Gi is all like "what? It's no big deal to me."
Jae Hee is stunned and furious, demanding to know what Maru did to Eun Gi. Did they sleep together, did they make some sort of promise with each other, is that the reason she's willing to give up all of Tae San for him? That's just unbelievable to her. Eun Gi loves Maru more than she wants Tae San, and then she asks Jae Hee if she wouldn't do the same thing for the man she loved? Isn't everyone like this? Jae Hee looks shaken and says its not just her, anyone else on the planet would make the same choice and choose bread over love. Jae Hee points out love can't feed her, and for Tae San, Jae Hee give up her love and her everything. She's right and Eun Gi's way is wrong.
Eun Gi shrugs and says they simply see things differently. Eun Gi leaves with Joon Ha and he asks what the heck Eun Gi was saying back there? She can't be thinking of giving Tae San to Jae Hee for Maru? Eun Gi walks away and passes by the Ex-boyfriend without acknowledging him. Joon Ha greets Ex-boyfriend, reminding him that they met once in New York 9 years ago. Ex-boyfriend asks how he can help Eun Gi right now? Eun Gi goes to her office and tries calling Maru but he doesn't answer.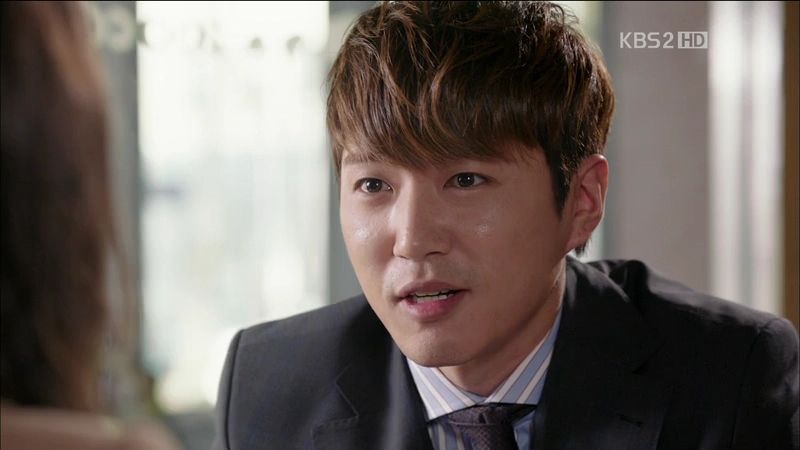 Ex-boyfriend takes Eun Gi out for coffee and hands her a picture of the two of them. He tells her that he wants to start over with her. The best time of his life was with her, when they lived together in New York, their first kiss, when he said "I love you". It all feels like yesterday to him. Listening to him talk triggers Eun Gi's memory of her rain confession to Maru.
Eun sees herself crying and confessing to a beaten up Maru that he was her first love, first kiss, first everything. Ex-boyfriend claims Eun Gi and him used to say "I love you" to each other thousands of times a day.He holds Eun Gi's hand asking for another chance but she asks him to let her hand go. She calls him a liar since her memory tells her that Maru was her first at everything. LOL, I love how douchey ex-boyfriend actually triggers a useful and awesome memory for Eun Gi. She gets up and leaves while Ex-boyfriend looks pissed off.
At the police station, Joon Ha tells Maru that Eun Gi offered to give Jae Hee all of Tae San in exchange for her letting Maru off the hook. Is that right? Joon Ha asks Maru to confirm that he will leave Eun Gi as promised once she regains her memory. Maru asks what Joon Ha will do if he reneges and doesn't leave Eun Go, pointing out the fallacy in Joon Ha expecting a schemer like him to keep a promise. Joon Ha asks if Maru has changed his mind? Maru asks what he'll do if he has changed his mind? Joon Ha says he will use his position as a lawyer to stop Maru. Maru points out that Eun Gi is obsessed with him and willing to give him everything, so Maru holds all the cards. He tells Joon Ha to be prepared for when Maru reneges on his promise. Oh Maru, stop making Joon Ha think you are a bastard and just tell him you need him to pull Eun Gi away when the time comes.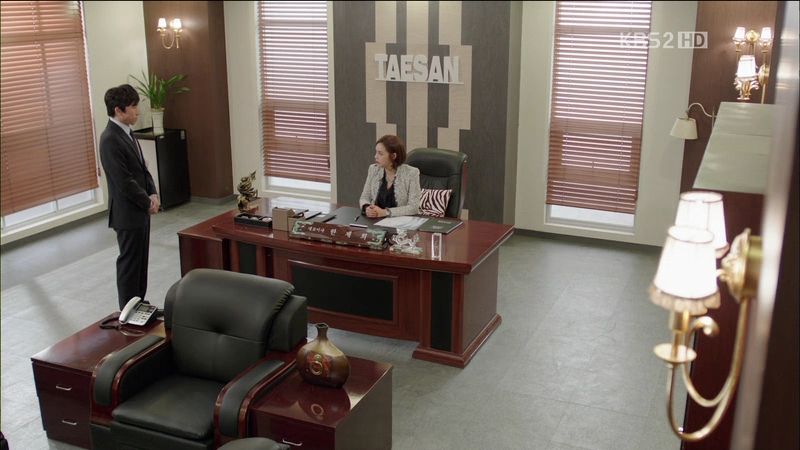 Back at Tae San, Jae Hee gets off the phone and learns that Maru has been released because the true culprit has been found. It's one of her lackey's henchman and clearly Jae Hee ordered the henchman turned in to get Maru off. The lackey doesn't look happy about it and goes to report to lawyer Ahn about what Jae Hee ordered him to do.
Maru walks out of the police station and sees Eun Gi waiting for him. She greets him and calls him a liar, a big fat liar. She won't forgive him for lying that they've never kissed before. She remembers her confession and their first kiss, so why he is he insisting that wasn't their first kiss. She's unhappy and grumbly and turns to walk away.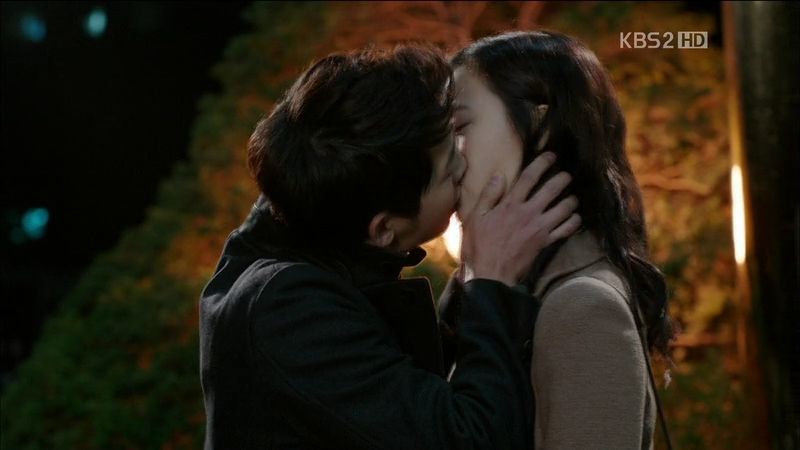 Maru rushes to stop her and tells her to remember, to remember carefully, because this is their first kiss. Maru pulls Eun Gi in for a deep kiss and the two of them start making out in front of the police station.
The camera cuts away and we see Jae Hee sitting in the car watching this kiss with a look of disbelief and shock on her face. Go away, you grasping skank, and leave my precious babies to suck face in peace from your dirty prying eyes.
Thoughts of Mine:
Sometimes good drama plotting feels like a Catch-22 proposition, especially when it comes to meaty dramas that are more than just a couple getting together. Once the spectre of watching a love story get thrown into the mix, if its emphasized too much it risks derailing the plot, and if its marginalized it feels tangential to the story and viewers lose interest. So far NG has been stellar at balancing the love woes with the whole discussion of power and wealth, which are really motivated by the same basic emotion that propels people to fall in love. Desire is the cornerstone of what makes people tick, be it a desire for companionship, for validation, for security, for payoff. What's fascinating about Jae Hee is that she ranks her desires and has no problems with rationalizing her behavior to achieve it. She wants financial security, then she'll marry the Chairman and make sure Eun Gi is out of the way. She wants Maru, then she'll buy his old home and keep slithering close to him asking him if he'll come back to her. It's like she lives in Jae Hee bizarro world where her own bad behavior is washed away once she's achieved her ends.
In the same vein, Eun Gi and Maru are mirror opposites of her. They cannot let go. They cannot move on. It took Maru to the brink of self-destruction before he was finally able to let Jae Hee go, and what he did to Eun Gi has haunted him despite knowing that she is willing to forgive him. At that beach, she told him that nothing he did to her up til then mattered, she still wanted him. But he still pushed her away, and the guy didn't even having his ticking bomb hematoma at that time! He was just guilt-ridden and unable to accept a woman who accepted his dirty and scarred self. Eun Gi is similarly fixated on the broken things in her life, with that doll being great physical manifestation of what makes her tick. In many ways, she's just as grasping as Jae Hee, except what she desires is Maru and not money. In our world, that makes Jae Hee a gold digger and Eun Gi a romantic. It may sound like we have double standards, but it's a fact of life that we prefer to idiolize romance over material accumulation. If Maru didn't love Eun Gi back, then she's be a delusional stalker. Because Maru loves Eun Gi back, their love becomes romanticized and idealized as some sort of mutual healing miracle. But at the crux of it, we're dealing with three very obsessive individuals.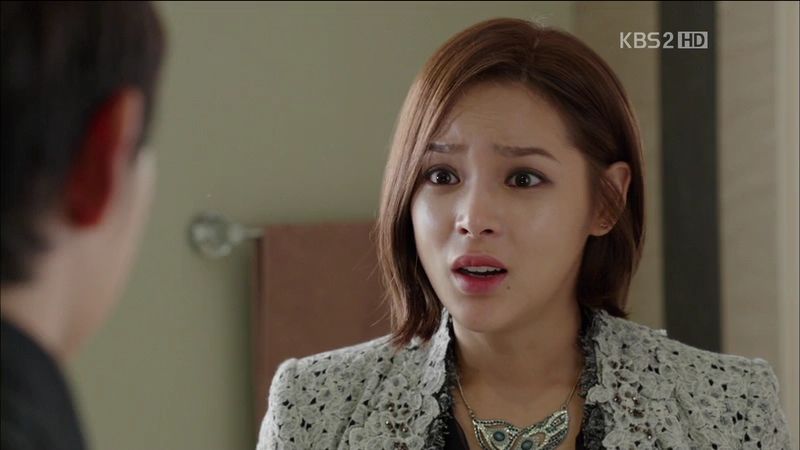 I'm a bit confused as to why Lee Kyung Hee is dragging out Eun Gi's memory loss, and it feels like she's dragging it out. If Eun Gi short-circuited her brain leading to her suicidal attempt where she tried to take Maru with her, that emotion isn't one where I think she'll be fixated on when she regains all her memories. She will remember that her first reaction on finding out Maru is not a nice guy is to accept and forgive him. Will she blame him for her not being there when her dad died? Probably not, because like she said, it's not his fault she liked him so much. I actually think Eun Gi regaining her memory is like a red herring and shouldn't having massive ramifications, but I could be wrong. I can see how much Maru loves her,and can see that she's also falling in love with him anew, and coupled with their mutual history, regaining her memories might be the final link to allowing them to get over their residual guilt and anger and finally enjoy some happiness before Maru's big hematoma reveal.