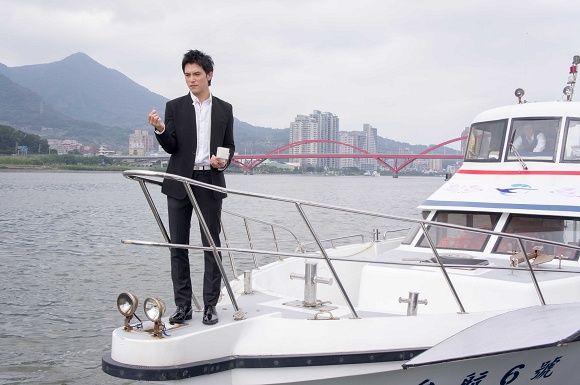 Oh Roy, is that ring for me? I do, I do, I do! Just tell me when and where and I'll supply my own white dress. As Miss Rose turns the corner from corporate espionage and clingy exes, Cheng Kuan stays true to his feelings and never once wavers in the face of never ending opposition and tricks from his mom or Vivian. Si Yi, on the other hand, isn't quite as courageous with her feelings, or shall I say she is constantly worried about what will happen to Cheng Kuan's future if he picks her. I would like to say that Yi Chun's betrayal 6 years ago made her such a scared girl in love, but I think she's always been this way since 6 years ago she should have stood up for herself and confronted the bitch who tried to steal her man. Even if Yi Chun chose money over love, Si Yi shouldn't have taken it lying down and running off to cry her sorrows away in the rain.
This time around, I'm just glad the man who loves her isn't tempted by power and wealth and is quite secure in his own ability to achieve both. Some OTPs give off the sense of complimenting each other, or are so awash in romance and chemistry that we just want them to be together even if it doesn't make all that much sense. MR has created a lead pair relationship and falling in love experience that resembles the steady calm beats of real life and mature adults rather than the heady emotional outburst of youth. Perhaps that why at times it feels so staid, because that it's not terribly exciting to watch. I love the juxtaposition of Cheng Kuan and Si Yi as a refreshing alternative, now if only Si Yi can just step up and shed her overly cautious weepy self, then it would all be perfect.
Written preview for episode 19:
Si Yi is cleared of any wrongdoing and returns to the company amid her colleagues warm welcome. The real culprit Ting Ai also arrives with her head held low to receive her censure. The payback is coming……Cheng Kuan shows off his manly aura as he gets justice for his girlfriend. Under Vivian's protection, what kind of punishment will Ting Ai get?
Operation proposal begins! Sheng Jun's one word reveals Miss Screw's emotional fears. Cheng Kuan hears it and starts to fret!? Cheng Kuan cooks a meal and prepared a lavish candle light dinner, all for the sake of capturing Luo Si Yi's heart and her person.
That night, Cheng Kuan takes out the ring and expresses his desire to spend the rest of his life with the woman he loves. A white yacht slowly docks at the port of happiness. The prospective groom waits at the shore for his prospective bride to arrive…. Looking at the ring on her ring finger, Si Yi expresses indecisiveness?! Under the encouragement of her family and her best friend, will Si Yi be willing to take off for love and become the Mrs. Gao that will be the envy of all?
Video preview for episode 19:
Sheng Jun: A man's most important vow to a woman is marriage.
Vivian: Cheng Kuan is proposing to her.
Cheng Kuan: I may not be a perfect score husband, but I will do everything in my power to create a perfect score family with you. Marry me!
Vivian: I won't give up. Until the very last minute, who wins and who loses, is impossible to say.