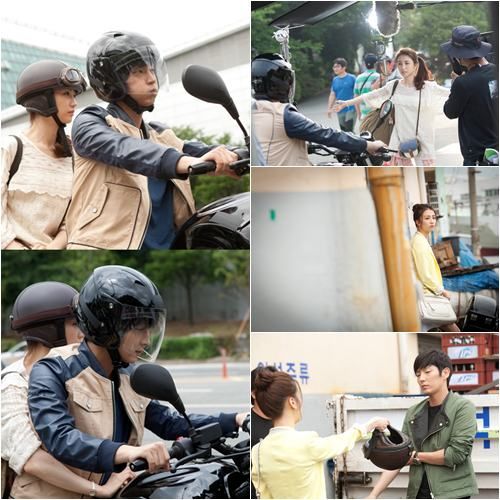 It's weird how my watching of Two Weeks rather mirrors the tension and excitement of the drama timeline. When it's on I'm fully immersed and a ball of nerves. But during the break between weeks I'm totally emotionally checked out. Whereas many dramas that I loved while watching live kept my emotions on a tight leash during its entire run. I think this drama is fantastic but likely remains rooted in its very urgency to draw in our attention. Because it eschews the typical romance element and the run-and-chase hinges on what new escapades Tae San will squirm out of next, there is no point in predicting what will happen so there is very little to discuss between episodes. Episode 6 left off on quite a meet-and-greet between vicious Bad Man Moon Il Suk and wide-eyed innocent leukemia patient Soo Jin. Obviously she'll come to no harm at that very moment being all safe and tucked away in the clean room, but Moon Il Suk knowing her relationship to Tae San is a HUGE advantage for Team Baddie right now. Jae Kyung needs to hurry her ass up and get another leg up on Team Baddie otherwise Team Good But Not Very Bright Guys will be five more steps behind. I thought about Chairman Han's suggestion for Tae San to smuggle himself out of the country for the interim and while it theoretically sounds like a good plan to stay out of reach of both the good and bad guys, I'm not sure its a wise decision considering he then needs to find a way to smuggle himself back in time. I doubt he's going to succeed anyways, and I'm most looking forward to Tae San finally meeting Jae Kyung. Here are the two people who have been thoroughly screwed over by Moon Il Suk and Jo Seo Hee's criminal enterprise. I also appreciate that this drama has made no attempt at suggestion forced romantic love possibilities, and I would be happy if it ended with Seung Woo and In Hye getting married while Tae San survives and gets to be a co-parent to Soo Jin. That being said, the way the drama has doled out Tae San and In Hye past romance has been very well done. It's used sparingly and the flashbacks to certain moments are always relevant to what is happening in the present, whether showing us the happy or painful times. They make a cute couple indeed but unlike the thwarted romance currently going on in Who Are You, I don't feel like they have to get a second chance to be happy in this world. I'm way more invested in the end game of greed and amoral selfishness finally getting its comeuppance in the hands of justice and humanity.
Episode 7:
Seung Woo falls into despair after seeing how thrilled and happy Soo Jin is. He flies into a rage when he returns to the police precinct and learns that his team as set off on a mission leaving him behind. Jae Kyung and the cops start to search for Tae San who is trying to smuggle himself out of the country. When Jae Kyung regains consciousness, she sees Moon Il Suk before her…….
Episode 8:
Jae Kyung and Tae San begin their intense battle of wits with Moon Il Suk, who takes out a gun and places it in Tae San's hand, telling him that he'll let him go if Tae San kills Jae Kyung. Seung Woo is furious once again that Jae Kyung acted independently. When Jae Kyung walks back into the prosecutor's office, she's shocked to see Jo Seo Hee has come to see her……..