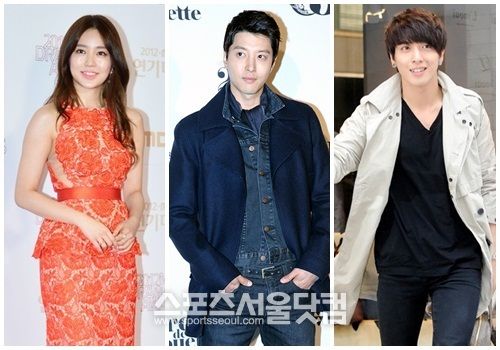 More news about upcoming KBS drama Future's Choice (Mi Rae's Choice) and I'm liking what I'm hearing. I'm sure only folks familiar with the TVB oeuvre have ever watched the 1990 drama Cherished Moments with Leon Lai and Kathy Chow (it was a classic), but when I heard about Future's Choice and the time-traveling heroine I immediately thought about that drama (which really was a drama adaptation of the Hollywood movie Peggy Sue Got Married). The idea is that the heroine suffers a painful heartbreak with her husband and gets transported to the past. She vows to make different decisions so that she doesn't end up married to the same guy, but in the course of reliving the past she falls in love with him all over again even with the knowledge that he'll break her heart later on. In the end, past her still picks the same guy and her spirit goes back into the future and realizes that they were always meant to be together regardless of the heartbreak, and they end up working through their issues in the future. The idea is that love is not easy or perfect but there are no way to make decisions that are correct. The only thing that is certain is whether the couple genuinely love each other. And in both stories, they always do despite the leading lady knowing better. So the synopsis of Future's Choice is that 50-something Mi Rae played by Choi Myung Gil travels back to meet her 32-year old self played by Yoon Eun Hye in order to advise her to avoid making the same series of decisions that leads her to marry Lee Dong Gun.
Putting aside the glaring question of "A girl would have to be insane to not want to marry Lee Dong Gun!!!", or a character that looks like him (sorry but his hotness literally shorts brain circuits), this is definitely a remake of Peggy Sue and Cherished Moments, except this time the twist is that future Mi Rae and past Mi Rae will co-exist in the same past, as opposed to future Mi Rae inhabiting the body of past Mi Rae. I've watched enough of these movies and dramas to know, and there are more than the two I mentioned with the general idea of trying to avoid something that isn't working out, that the OTP will always always end up together again. So never fret, I will bet my knickers that Yoon Eun Hye will still end up with Lee Dong Gun even after a do-over! I reported that Han Chae Ah was the second female lead last week before the official news came out, and she's now been confirmed but with her confirmation came a bit more information about her character. She has a love line with second male lead played by Jung Yong Hwa, but something happens to create a rift in their relationship. Lemme see, she's dating Jung Yong Hwa but decides to make a play for Lee Dong Gun? Or she's dating Jung Yong Hwa and he starts getting interested in Yoon Eun Hye, so she moves on? Whatever is the case, I'm already putting money down that the second leads will end up together at the end as well. We can revisit this post come end of December when the drama finishes and see if I'm right or wrong. Yoon Eun Hye with Lee Dong Gun!!! I'm so excited and haven't been this giddy about a Eun Hye drama since she was confirmed for Lie to Me opposite Kang Ji Hwan. 
I really like mom actor Choi Myung Gil, and it's going to be riot watching her hectoring and lecturing her past self played by Yoon Eun Hye. Lee Dong Gun is going to be so smexy that even knowing her future self says NO, present self will not be able to say not to him. Mark my words, the leading man is going to be even more awesomer than usual just to overcome the leading lady's reservations about him. Reservations in the form of her future self telling her to run the other way. Ha, this is going to be so exciting to watch. Han Chae Ah and Jung Yong Hwa will make an interesting potential couple as well. Here's to hoping they don't cockblock the OTP too much. Future's Choice premieres in early October after Good Doctor on Mon-Tues.