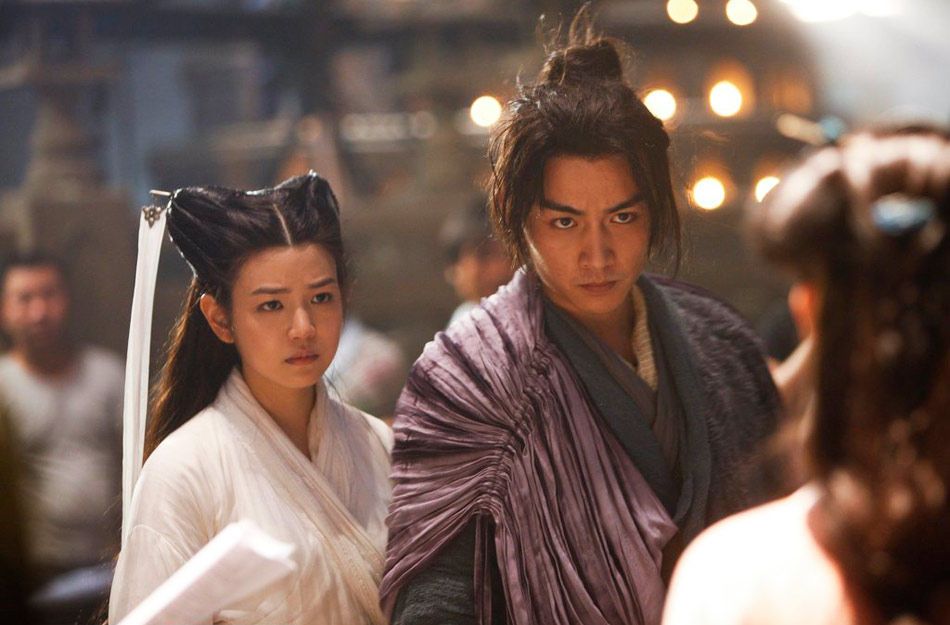 I firmly believe in the adage "just because you can, doesn't necessarily mean you should." And sometimes jokes just write themselves because people do things they can but common sense should tell them not do. Filming is fully underway for the latest drama adaptation of the famed wuxia novel Return of the Condor Heroes, and it's been nearly a month since all hell broke loose across the width and breadth of Greater China (Mainland, Taiwan, Hong King) since Michelle Chen was cast as the heroine Xiaolongnu, the wuxia world equivalent of Helen of Troy. Her casting isn't just ridiculous from a physical suitability perspective, her acting also doesn't lend any optimism that she can play a leading lady known for cutting people down with one icy glare and has the emotional range of an Arctic ice patch. Rather than the brouhaha dying down, with each successive comment from the production comes even more annoyance – Michelle compared herself to a flying pig and later made a deranged comment that she's right for the role after seeing picture of herself in the Xiaolongnu outfit and realizing she was so beautiful (you know, the one where she looks nothing like Xiaolongnu) she had to accept the role. Can we say a collective WHUT?
She also said her version of Xiaolongnu will be more cute and aegyo because after she falls in love with Yang Guo she taps into her emotions more. Da fuck you talking about, Michelle, claiming you read the novel in high school (cliff notes version, lady?) and completely misunderstanding the description of her in the novel using the proverb 嫣然一笑 (she lights up in smile). In the novel it meant she could slay all the men with a smile, not that she turned all smiley after she fell in love with Yang Guo. With every new comment Michelle makes, she wants me to actively loathe her as opposed to simply being annoyed, what with her delusional assessment of her own qualifications to play Xiaolongnu and then misreading proverbs to bend the characterization to her own limited capacity. Yu Zheng opened up the set to the media this week and trotted out the leads for a dog and pony show. I feel terrible for Chen Xiao looking actively uncomfortable when being asked if it was true he voted for Michelle since they had good chemistry and he saw her as his "goddess"? Chen Xiao, bless his heart, looked down and mumbled some shit about her being called a "screen goddess" and then promptly said it's all about acting to present the right aura. Good boy, you get a cookie for towing the Yu Zheng company line. Check out more hilarious pics from the set.
Netizen comments on this hot mess have been some of the funniest stuff I have ever come across.
She looks like Ne'zha (a male Chinese mythical God).

What kind of beauty standards does the producer have?

This has nothing to do with whether she's fat or not fat, round or not round. She just doesn't have the imposing aura! In addition, with the epic fail costume attire what with the hair horns to make her look like Chun Li in Street Fighter, she has no elegant aura either.

Each generation is worse than the one before.
Just because she's Xiaolongnu (Little Dragon Girl) doesn't mean she needs to have dragon horns? Which loser designed the costume!

She must have very powerful backers to get this role!

She's not fat and doesn't need to lose weight – she just resembles a Xiaolongbao (Steamed Bun) in general.
It looks like the Leader of the Beggar Sect leading his servant girl.

This version of Yang Guo is wearing the outfit of the Beggar Sect along with palazzo pants plus he has the iconic fan used by Chor Leu Heung (another epic wuxia hero), then paired with a Xiaolongnu who is played by one of the female extras on the set………fuck this ridiculousness.

Michelle Chen is cute, but she has zero aura to be Xiaolongnu.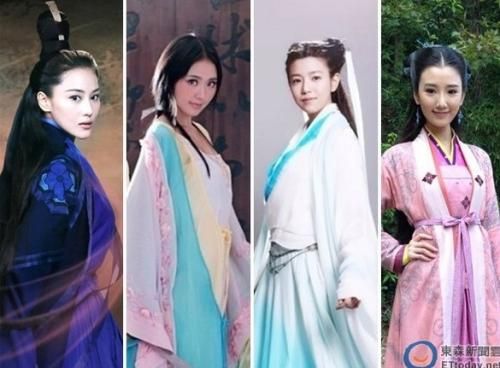 This is the first version of RoCH where Xiaolongnu isn't just unattractive, she's going to be the least attractive female in the entire drama. Does that not compute with the production?!?! Why does the production expect the viewers to be blind? And if we're blind then we can't watch your stupid drama!
Did Yu Zheng think we wouldn't see that he photoshopped off half her face?!?!
This picture of them isn't all that bad. Did my baby already get his arm chopped off so early in the filming?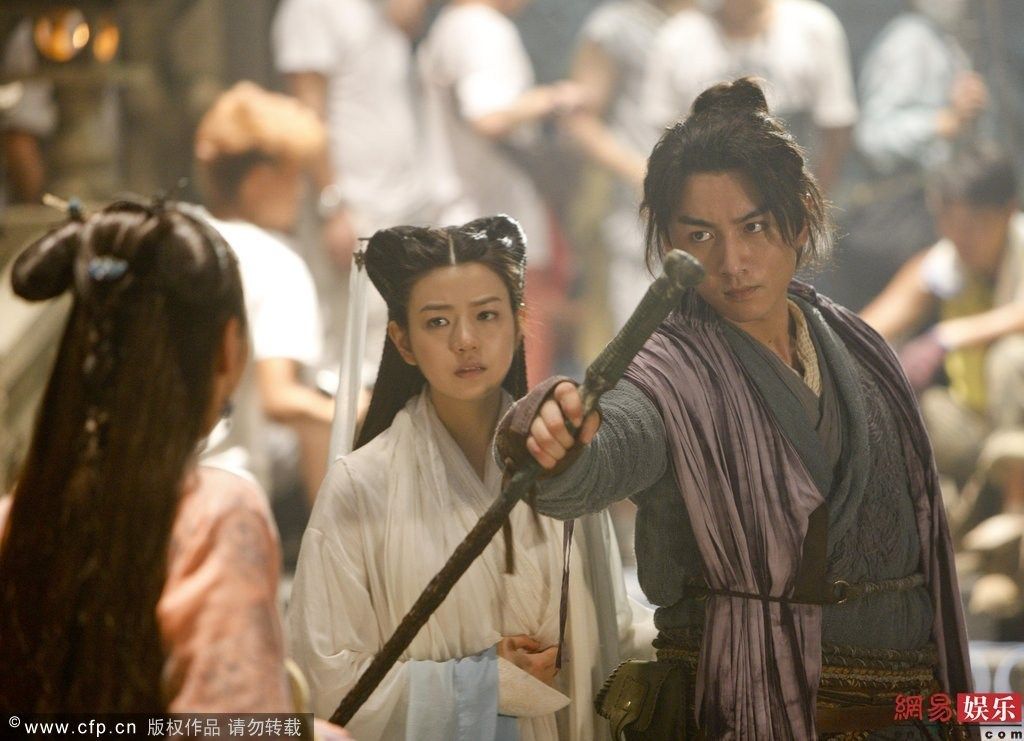 But once you get past the initial blush of excitement seeing anything from a drama version of RoCH, this one is still so far removed from visually what Xiaolongnu and Yang Guo together should look like it's almost a Funny or Die parody sketch in the making.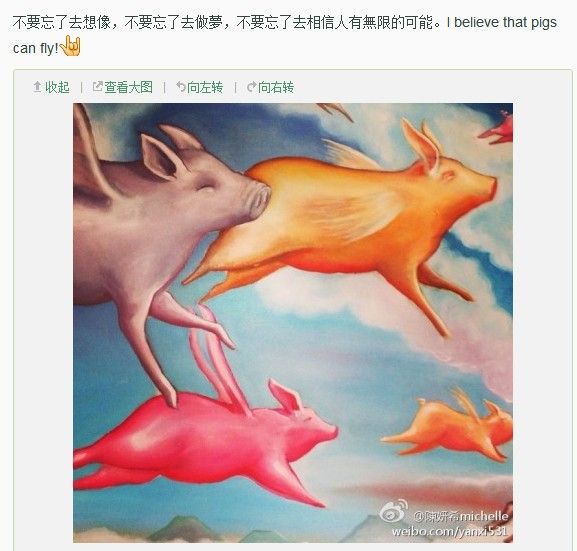 This above picture is courtesy of Michelle Chen's own Weibo and she wrote the following:
Don't forget to use your imagination, don't forget to dream, don't forget to stop believing people have infinite possibilities. I believe that pigs can fly!"
Netizens got so pissed they then spliced it with a picture of her "trying to fly" but not getting airborne on the set of RoCH 2014.
Of course, Chen Xiao's deliciousness knows no bound even when shoved into the most atrocious looking outfit ever. He's not just good looking, he has the "it" factor – camera charisma and acting talent. I don't know what the hell he's doing hanging around Yu Zheng and his crap factory. But leave it to Xiao Xiao to elevate crap.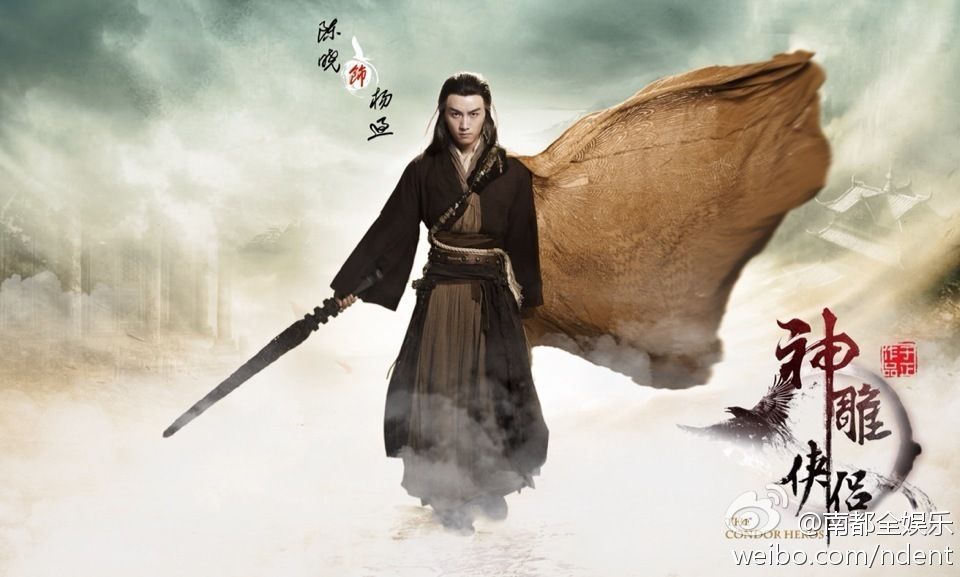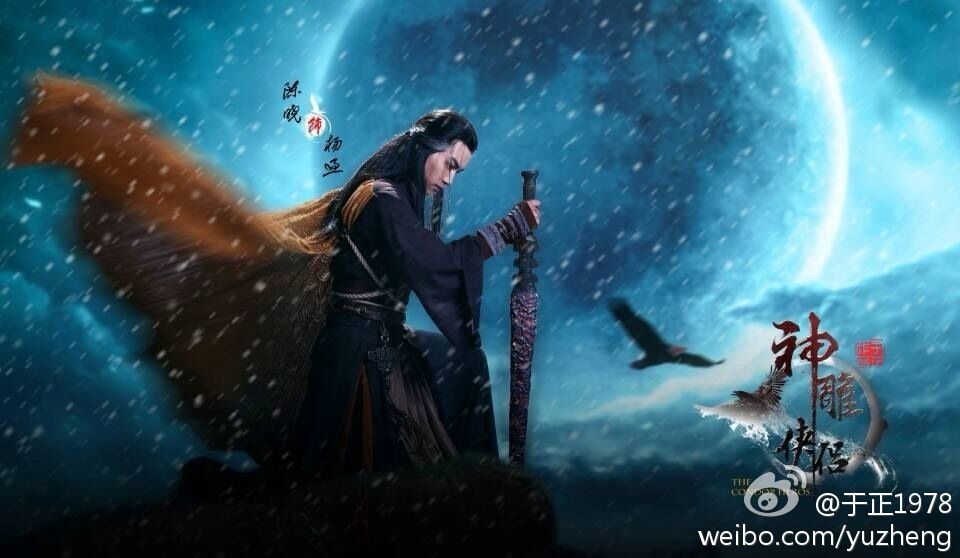 This is the first decent official character still from the drama, though I do not get why Yu Zheng is making RoCH look like a wuxia RPG, what with the fire and thunder and eclipse and wind. I'm confused on the concept, but am loving the first look at post 16-year time jump and now armless Yang Guo. Chen Xiao continues to be so sexy it's illegal. I actually like that his hair isn't obviously streaked with white since it's sometimes distracting onscreen. Louis Koo's older Yang Guo was an epic visual fail, while Huang Xiaoming's was the only time I even mildly liked his Yang Guo in looks and performance. I guess they are giving him a cape – expect lots of wind machines on full throttle here. His sword isn't as big as I expected but it's decent enough.
I can't believe how much I now miss Crystal Liu's 2006 RoCH Xiaolongnu. Girlfriend was a vision in white. Let's have some Crystal as Xiaolongnu to massage our eyes. I know she can't act worth shit, but believe it or not Huang Xiaoming with the mugging and the sleazy Yang Guo was actually the main reason RoCH sucked. If Crystal reprised her role with Chen Xiao, I bet they might actually be THE most perfect-to-novel casting ever of those two characters. Chen Xiao is every bit from looks, height, aura, and eye sexing spark, the very vision of Yang Guo come alive from the book description. Same with Crystal.