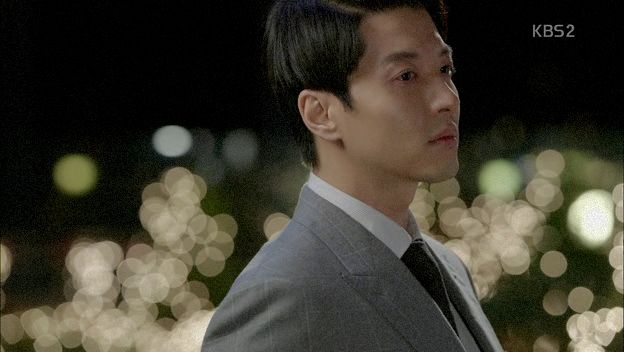 If we accept that Marry Him If You Dare (Mirae's Choice) is a drama NOT about love, romance, the joy of dating, the sadness of logical romantic obstacles, and the satisfaction of a well-earned happy ending, then episode 15 might actually have some bittersweet poignancy all on its own. Unfortunately for those wanting actual romance from a drama that seemed to promise it by the boatload, then episode 15 probably sucked donkey balls. It made me want to actually go out to my backyard to punch a tree, rage scream towards the sky (and scare my neighbors), and then find a couple of wild bunnies to kick. Yes, this drama has turned me into a mentally bunny kicking crazed loon. Will episode 16 bring me back to sanity? I don't know, but I survived today's episode which speaks volumes about my fortitude. So the drama wasn't done with the "plot twists" which so far have ranged from future Shin being dead, future Mi Rae is NOT the future version of present Mi Rae since there are multiverses in this drama time-travel, and finally probably the most "whut?" moment came at the end of today's episode. Turns out future Kim Shin isn't dead! Yup, so apparently future Mi Rae came back and royally screwed with everyone's life when (1) these people were not in her time line to begin with, and (2) the husband she came back to save from a fate of death wasn't even dead. Can someone start digging a hole, we have a future Mi Rae to bury alive in there. She doesn't even deserve to be put to death first, she is that royally idiotic.
I'm actually excited for episode 16 in the way one is excited to go to Monster Truck rallies and watch the total destruction to come. The ridiculous in this episode though? Through the roof – Se Joo shoves his couple's ring on Mi Rae's hand without her saying or even nodding yes, Mi Rae looks like death warmed over the entire time and misses Shin miserably and finds every reason to keep watching him on TV and contacting him, Shin goes to work at NTN and considers being propositioned to by the NTN rich family to become their charity case son-in-law to show how magnanimous they are, future Mi Rae comes clean with the multiple universes bit but then everyone think it still doesn't change anything (DA HELL?!), and Yoo Kyung plans her own future without Se Joo or anyone's help and it actually makes sense and sounds cool. And Se Joo? I saved the best for last – he's now joined the pantheon legend of most brain-dead love addled second male leads in the history of K-dramas. Douchier second male leads than him are the ones who try to commit suicide if the girl doesn't pick him. Otherwise his "It has to be Mi Rae" fixation has become the stuff of urban legends and I will whisper it in the future when guys like him pop up onscreen and we all want the girl to run for the hills. I tried to make this recap as fun as I could since the drama is actually a blackhole of fun.
Episode 15 recap:
Se Joo reveals that he was the one who saved her in Jeju but never told her because he wanted her to see him as Park Se Joo and not as the person who saved her life. This drama could function as a cautionary tale for girls not to go skinny dipping in the ocean because a crazy persistent dude might fall in love and then insist you are the one forever more. Despite episodes upon episodes of saying he accepts that she just sees him as a friend, Se Joo nevertheless thinks it's fine to whip out a ring to Mi Rae. Unless that is The One Ring, then it's just not kosher with me. He asks if she will accept his heart? Do you have eyes, Se Joo? Is that the face of a girl who wants to accept your heart? Other than in pity and worry that you might harm yourself should she reject you YET AGAIN.
Shin signs the contract with NTN and asks if all he needs to do is come to work tomorrow? Hee Kyung says yes and things will be ready for him.
Mi Rae says NOTHING but Se Joo still picks up her hand and puts the ring on it. Lovely. We should all do that henceforth, just randomly shove rings on people's hand. Se Joo hugs Mi Rae and she looks very torn.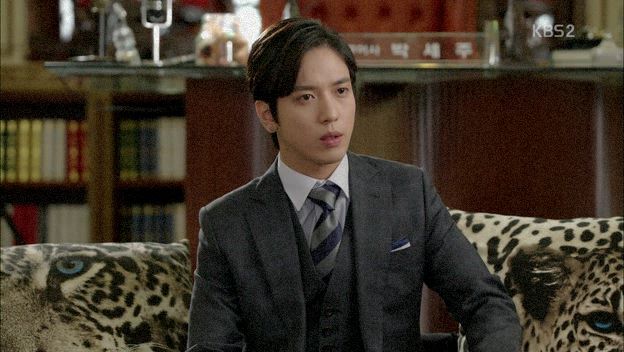 Shin arrives at NTN and walks through the halls with Hee Kyung. He passes by some commotion with people arguing over whether to report something. Shin asks Hee Kyung what the fuss is about and she brushes is aside as just reporters being overwrought as usual. Hee Kyung takes Shin to his new corner office which is very fancy telling him that he's going to be the future Head of NTN broadcasting so of course only the best for him. Se Joo is in a meeting with YBS to discuss his new plan to open YBS broadcasting centers around Korea. His executives ask him where the funds for this major project is coming from?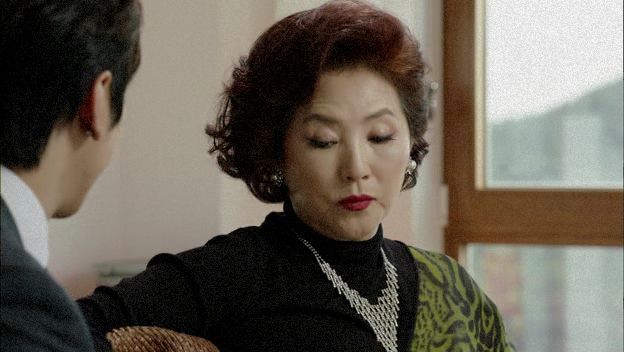 Se Joo goes to see Miranda to ask for funds for his project not as her grandson but as a businessman. She agrees but spots the ring on his finger so she makes a deal that she'll give him him money if he marries the woman she chooses. He's got so many plans going on that if something fails only she can help him. Se Joo says no thanks to Miranda's deal and she asks if its because of Na Mi Rae? He can date her but he can't marry her. Se Joo says it can only be Mi Rae and no one else. UGH GET A LIFE.
Oppa gets a call from future Mi Rae and asks why she hasn't left? He goes to meet her and she asks how he knew she was leaving? Oppa says all her farewell behavior was the clue but why is she still here? Future Mi Rae planned to leave but she discovered something shocking. She tells Oppa that she and Mi Rae are NOT the same person and if she goes back nothing will change.
Oppa gets a clue much faster and says this is the theory of parallel universes. There are many universes that co-exist and there are different versions of each of us in the parallel universes. Future Mi Rae asks what she did? How can she fix things between Mi Rae and Shin? Oppa tells her to keep this a secret between the two of them since there is nothing future Mi Rae can do now. Mi Rae has finally agreed to hang out with Se Joo. He takes future Mi Rae back to hide from the Time Cop.
Mi Rae is working when she pauses because she spots her couple's ring with Se Joo. She does not look the slightest bit happy. Mi Rae gets called to meet with Miranda who acts all nice and friendly. Mi Rae apologizes for not getting dressed beforehand since she was at work. Miranda spots the couple's ring while Mi Rae pulls her jacket over it to hide it.
Miranda asks Mi Rae to quit her job now and start working towards becoming the wife of the Chairman of YG Group. Mi Rae says it hasn't gotten to the discussion of marriage and Miranda says why date if not to discuss marriage? She wants Mi Rae to work towards something coming soon and can tell she doesn't look happy about it. Mi Rae tries to say she's not unhappy but she and Se Joo haven't discussed it. Miranda tells her to keep it a secret between them and not tell Se Joo otherwise he'll consider her a nagging grandma.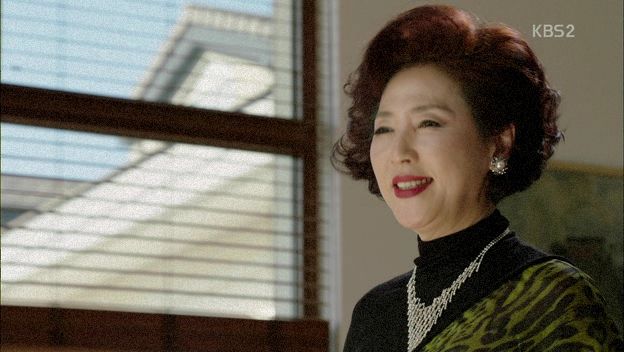 Mi Rae leaves Miranda's mansion and pauses outside to look unhappily back at it. Miranda looks out the window at her and snarks that now Mi Rae will know what YG Group is and will understand and leave Se Joo first.
Shin arrives in the broadcast center and sits down at the NTN 9 pm news chair. He starts the broadcast and everyone is watching, including Mi Rae in her living room. She thinks that he suits that place and is going to be fine from now on. Oppa and future Mi Rae come home and see what she is watching. Mi Rae lies that she hasn't watched the news in awhile and so much is going on. She gets up and goes to her room.
Hee Kyung takes Shin to a gathering of family members all consisting of very powerful people. Shin asks why she brought him here and Hee Kyung points out the empty chair next to hers which still needs an occupant. Hee Kyung is called inside by her dad and Shin steels himself and walks in.
The NTN Chairman (Hee Kyung's dad) pulls Shin aside to talk and he asks why did they select him for Hee Kyung? He't not a prosecutor or politician or connected in any way. Chairman says the family has enough of those types. Shin asks if they picked him to show how Hom Group is very open-minded. The Chairman admits it and says Shin will show the world that he can rise from nothing and become part of an influential family. The Chairman tells Shin that the family door has been opened for him and whether he wants to step across is up to him.
The gathering ends and as the Hom Group family walks out they run into Miranda coming in. Everyone greets each other fake warmly. Miranda spots Shin and he asks how she's doing? Miranda says not very well since she raised him for 10 years and he went to their biggest rival. Shin says raised is not the right word since he's not a dog. Miranda says she forgot dogs can bite their owners even after being raised for 10 years.
Mi Rae is working when she hears other co-workers gossiping about her dating Se Joo and soon to be engaged. She does not look happy. Mi Rae goes to meet with Se Joo at the roof and asks him why he spread the news that they are getting engaged? Se Joo tries to laugh it off but Mi Rae is not happy about it and says she can't work like this with all the gossip. Se Joo's response? The absolutely brilliant "then let's get engaged for real." He tells her to seriously consider marrying him. What kind of hell dating experience does Se Joo have that he thinks this kind of talk is rational?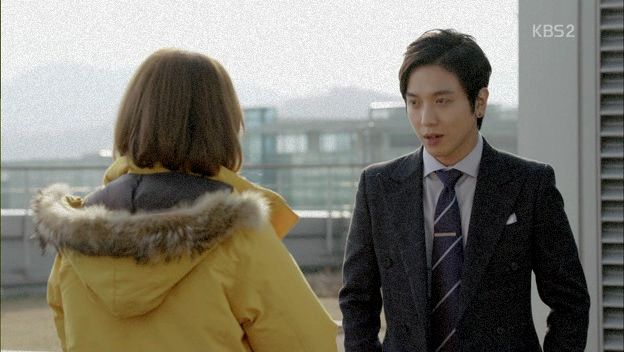 Mi Rae keeps looking miserable but Se Joo keeps talking past her and says his grandma has been pushing him to get married anyways. Mi Rae tries to reveal that she talked with Miranda already……but ends up not telling him. She takes her leave to go back to work.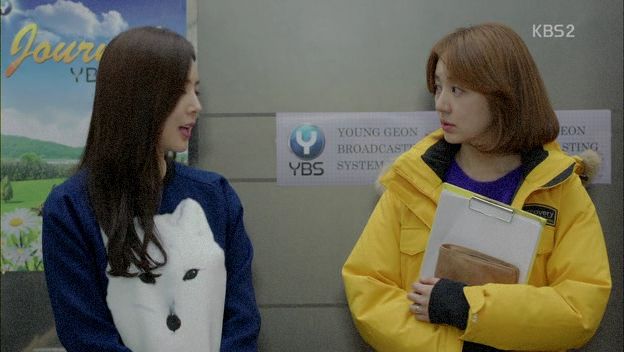 Mi Rae runs into Yoo Kyung in the elevator. Oh, she's still in this drama? I totally forgot! Yoo Kyung asks Mi Rae whether future Mi Rae went away but then stops when she spots the ring on Mi Rae's finger. Yoo Kyung asks if Mi Rae went to Jeju over the Summer right before a holiday? That day Yoo Kyung was supposed to go to Jeju for her holiday but she ended up getting into a car accident with Shin. If things had happened as intended, Yoo Kyung would have met Se Joo in Jeju. Mi Rae looks sad hearing this but says nothing and Yoo Kyung leaves the elevator.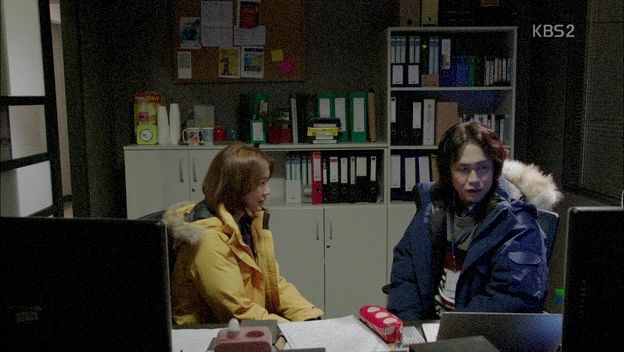 Mi Rae walks back to the team office but stops outside when she hears people gossiping about her and how awkward it is to work together since they have to watch what they say around her. Mi Rae walks away and runs into Oppa in the hallway. Mi Rae tells Oppa that she wants to go work at the outside production company despite knowing its hard. Here everyone sees her as Se Joo's girlfriend or Oppa's sister. She wants to go somewhere that she can't rely on anyone and has to do everything by herself. Oppa reveals that he's taking a long overdue holiday tomorrow and won't be home for a few days.
Se Joo is getting a report from his subordinate about how to open new broadcasting centers and what approvals he's going to need.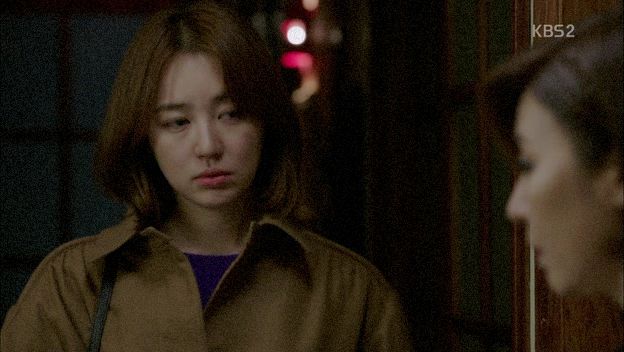 Mi Rae comes home and sees future Mi Rae and asks if she went away for a few days? Future Mi Rae lies and says she never went anywhere. Future Mi Rae spots the couple's ring on Mi Rae's hand. Mi Rae gets a call from Se Joo asking if she can accompany him somewhere tonight. She asks where and he asks won't she just go with him without asking so many questions? Mi Rae agrees and Se Joo tells her to dress up.
Mi Rae dresses up to go out and as she is putting on perfume she flashes back to the night of Christmas dinner when she got dressed up for her date with Shin. She looks sad but then forces a smile. Se Joo and Mi Rae arrive at a chaebol dinner and Mi Rae asks what they talk about here? Se Joo asks if she would have said no had she known where they were going? Mi Rae wouldn't have since she is curious what goes on in this world.
Mi Rae takes Se Joo's arm and they walk inside only to immediately run into Hee Kyung and Shin. They walk over to say hello and it's awkwardness all around. Mi Rae and Shin greet each other and Shin explains to Hee Kyung that they worked in the same group at YBS. Se Joo introduces Mi Rae as his girlfriend to Hee Kyung who is a noona he grew up with.
Hee Kyung and Shin sit at a different table and she talks about how Se Joo is rumored to be marrying Mi Rae soon and tossing all the rich girls aside. She thinks Mi Rae and Se Joo look good together and Shin agrees. Hee Kyung asks her friends if she and Shin look good together and her friends all say yes and she beams.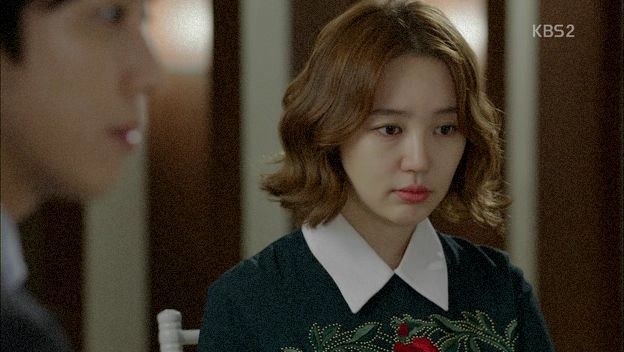 Mi Rae keeps looking towards Shin's table and hears the others discussing how Kim Shin has the backing of Hee Kyung and is the next in line to take over NTN.
Both Mi Rae and Shin are utterly miserable during this dinner. Shin takes his leave at the same time Mi Rae excuses himself from the table. Mi Rae walks outside and is surprised to see Shin standing on the balcony already. They notice each other and she walks towards him but stops a few feet away.
She congratulates him on becoming the news anchor for NTN. He thanks her and asks how she is doing? She says fine and asks if he's fine? Shin is okay and congratulates her on getting engaged soon. Mi Rae grabs the ring on her finger and asks if he met with Hee Kyung that night because he was getting scouted? Shin says yes, but now it's what she sees, implying that he's dating Hee Kyung.
Mi Rae takes her leave and the moment Shin is alone he puts his hand over his eyes to stop his tears from falling. OMG, this scene is amazing even for a scant few seconds. Shin!!!! Mi Rae walks back inside the party and forces a small smile when Se Joo gets up with a beaming smile to greet her.
Mi Rae comes home and future Mi Rae asks why she's home so late and can tell that she doesn't look well? She asks what happened? Mi Rae says she's not being sarcastic, but she saw that person and he looks much better now than when he was with her. That is such a relief. Future Mi Rae asks if she saw Shin? Mi Rae smiles a sad smile and says she's tired and going to bed.
After Mi Rae walks inside her room, future Mi Rae grabs her head and asks what she did? What did she do to Mi Rae? Mi Rae sits down on her bed and looks at her ring and thinks about Se Joo asking her to get engaged and Miranda telling her to quit her job. She then remembers Shin congratulating her on getting engaged soon.
Oppa heads out of the house in the morning with a suitcase and tells both ladies not to call him while he is away. Future Mi Rae looks worried and apologizes for not being able to go with him. Mi Rae leaves for work and future Mi Rae looks very worried. She thinks that Oppa needs something beside him when he wakes up but she can't leave the house.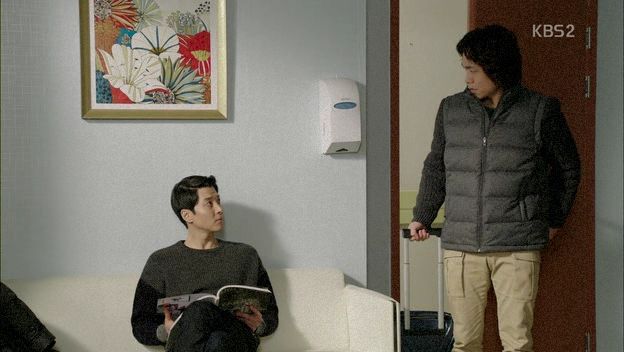 Oppa walks into his hospital room to find Shin sitting there reading a magazine. He does a double take and LOL this was a cute moment between them. These two would make adorable brother-in-laws. Shin reveals future Mi Rae called him in tears (whut, he still answers her calls?) begging him to help so Oppa isn't alone during the surgery. Oppa sits down on the bed and Shin asks Oppa why he doesn't have any friends.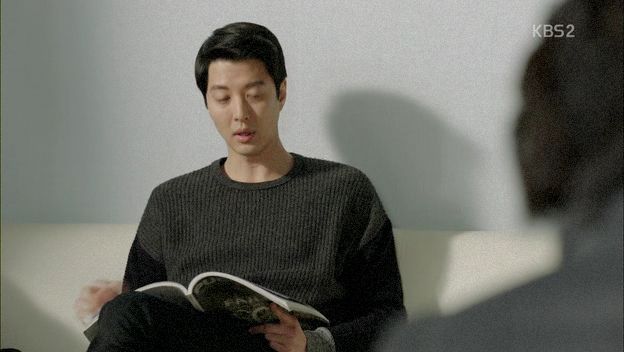 Shin asks why future Mi Rae didn't know Oppa was sick in the future and Oppa reveals that he cut off ties with Mi Rae five years down the road hence future Mi Rae never knew what happened to him. Shin looks upset to hear this, another reminder that his marriage with Mi Rae caused rifts. Oppa tells Shin to scram but Shin can't since he's signed up as Oppa's guardian, then adds that he's not paying for this surgery. Ha.
Oppa goes into surgery while Shin sits outside the OR while future Mi Rae paces around the house. She finally sneaks out of the house past the Time Cop who is on the phone reporting to his superiors and doesn't see her leave. He says the longer time passes the more dangerous it is.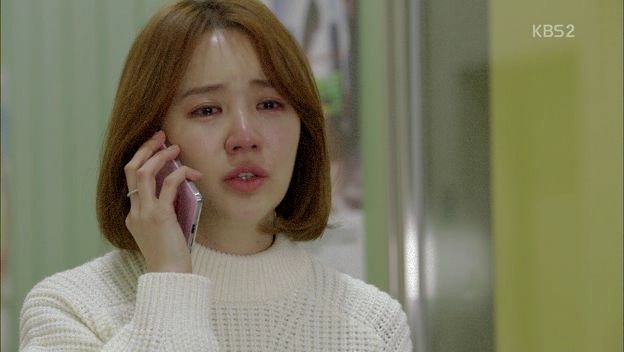 The team is frantically looking for something but can't find it so Mi Rae goes to call Oppa. She can't reach him so goes to the network director who finally reveals that Oppa didn't go on vacation and is getting surgery for early stage cancer. Mi Rae cries and rushes out of YBS and calls future Mi Rae to scream about where Oppa is right now and how could they keep this from her!
Oppa wakes up from surgery to see Shin looming over him. Oppa says its so horrible to wake up and the first person he sees is Shin. LOL. Shin says seeing him ought to give him energy to get better then. Oppa sees future Mi Rae and she reveals that present Mi Rae found out from work and she's on her way. Shin hears this and says he's leaving since he's all better now. Oppa says a curt thank you to Shin and Shin snarks that his illness must be dire indeed if he's taken to babbling nonsense. I love these two and their annoyance-respect relationship.
Future Mi Rae pulls Shin aside to talk and reveals that present Shin and Mi Rae are not the past of future Mi Rae. Shin processes this news while future Mi Rae keeps apologizing to him. I don't think this is something an apology is enough. Shin asks if Mi Rae knows yet but future Mi Rae hasn't told her because she doesn't know how to say it. Shin asks why future Mi Rae is telling her now? Future Mi Rae says because Mi Rae can't forget Shin and its clear Shin hasn't forgotten Mi Rae. She thinks there is still hope.
Shin says no, there is no hope. He has already hurt Mi Rae harshly this time around. Perhaps later down the road he will hurt Mi Rae more than future Mi Rae's Kim Shin hurt her. He thinks she did the right thing and this time around Park Se Joo is the best choice for Mi Rae. In this world, the way they ended up is the right choice. Shin gets up and sadly leaves the hospital while future Mi Rae stares at him. Shin happens to notice Mi Rae running into the hospital as he's outside and looks at her sadly.
Mi Rae goes to cry at Oppa's bedside for being a horrible sister and always asking Oppa for more tuition and spending money despite not knowing how sick he was. Oppa is awake and future Mi Rae comes in to tell Mi Rae that Oppa needs to rest. Mi Rae asks why future Mi Rae didn't take Oppa to the hospital earlier and hears future Mi Rae didn't know Oppa had cancer. Mi Rae is just happy that he's all better now and thanks future Mi Rae for keeping Oppa company at the hospital.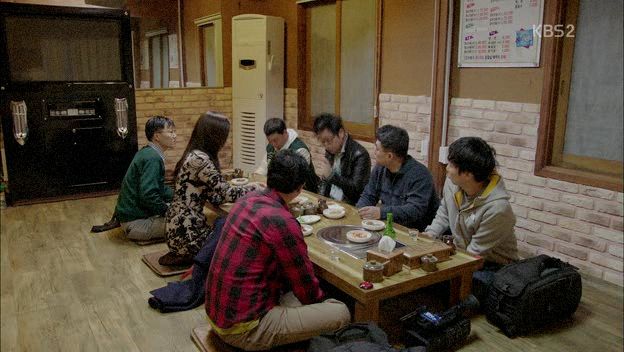 Yoo Kyung is dining with her reporting team and the PD is waxing poetic about his new idea about the relationship and courtesy between people. She was placing the eating utensils down for him before slamming it on the table and telling him to do it once for himself so he gets real life experience about how to be courteous and respectful of others. She leaves with her head held high.
Se Joo finishes dinner with a business man and decides to walk home and gives his driver the night off. Se Joo walks through the city and pauses when he sees a family of four dining in a restaurant. He calls Mi Rae but her phone is turned off. Ha, so poetic.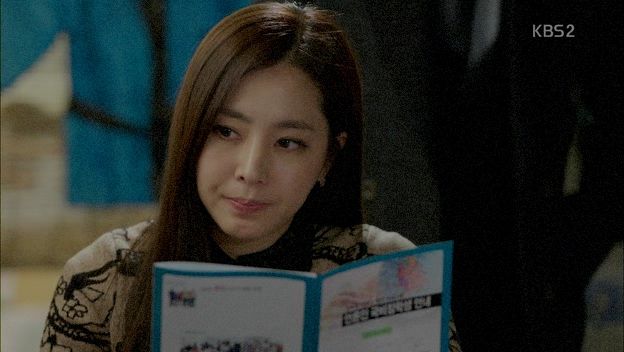 Se Joo goes to the udon restaurant and sees Yoo Kyung dining there alone. He walks over and asks behind her back if she has free time? Yoo Kyung looks annoyed and says she's waiting for her boyfriend, and then turns around and sees that the guy is Se Joo. He asks if she has a boyfriend and Yoo Kyung says she lied thinking a guy was picking her up. He sees her reading about how to get a national sponsored scholarship to study abroad.
Yoo Kyung needs to think about developing a specialty since she can't be a reporter forever. Se Joo asks if she needs help such as with her housing. Yoo Kyung declines since her brother will be going to the army soon and during that time her mom will move in with her aunt. Yoo Kyung will just mail all her scholarship money to her mom as living expenses and they will be fine. She can just work part time to earn money for her own living expenses. Se Joo asks how long this will take and Yoo Kyung says a few years and she may up planting down roots there. Se Joo looks sad and Yoo Kyung says she will probably not be around when he gets engaged.
Mi Rae goes to the front desk and hears from the nurse that Kim Shin announcer was the person taking care of Oppa when he was getting his surgery. Mi Rae hesitates but ends up calling Shin to thank him for taking care of her Oppa during his surgery. Shin says he didn't do much so she needn't thank him. Mi Rae hears another woman's voice and asks if he's with someone? Shin asks what she needs and Mi Rae says nothing else and ends the call.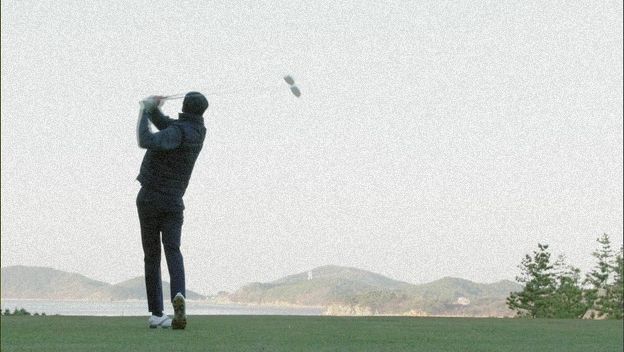 Shin is playing golf with the NTN big-wigs and he's told that the guys in the family all play golf and he's going to have to know how to play. Shin silently sends a driver shot flying high and its clear he's a good golfer.
Oppa returns to work to the party welcome from the team. It's pretty cute and everyone is happy to go to celebrate. Oppa says lets celebrate but as a farewell to Mi Rae. Everyone asks if she's going to get engaged so quickly but Mi Rae says she is going to an outside production company. The guys think she's doing it so she can marry Se Joo without the network gossip and start congratulating her on getting engaged.
A few reporters come to see Shin in his office and hands him a report saying he has to report this on air. Shin flips through the report is about how there has been a product failure that has results in deaths but the product is manufactured by one of Hom Group's family alliances so NTN has sealed the news report on it. The reporters say they have a social obligation to report on it. Shin says he needs more evidence before reporting on it. The reporters leave and give Shin a very disappointed look.
Mi Rae is walking and passes by a man carrying a protest sign on the street. She goes up and asks him what happened? She introduces herself as a television screenwriter and wants to know his story. The man explains that his son died because of the disinfectant solution that remained in the humidifier. The man knows he didn't clean the humidifier thoroughly but the company has refused to admit fault for the death. The man doesn't want compensation for his son's death, he just wants an apology. He was interviewed for hist story but the powerful company has killed all reports on it. The man begs Mi Rae to tell his story.
Mi Rae arrives at the outside production company to start her job. She asks her boss if she has a story she is working on right now? Mi Rae reveals the ahjusshi's to the PD who says its a very sad story but if the network heads refuse to report on it then there is nothing they can do. She does tell Mi Rae to interview the guy first. Mi Rae goes back to talk with the ahjusshi and sees two NTN reporters talking to him. She hears from the ahjusshi that the reporters are going to beg Kim Shin the new announcer to report the news.
Mi Rae calls future Mi Rae and asks what the specific issue was that caused Shin to pay a penalty to NTN? Future Mi Rae doesn't want to tell her the details but Mi Rae pushes her. Future Mi Rae reveals that Shin reported a news that the upper management didn't want reported, so he was fired and had to pay a penalty. Mi Rae asks what the day of the report was? Future Mi Rae doesn't remember the exact date but it was the same day the NTN reporters went on strike. Mi Rae goes to NTN and finds the reporters striking in the lobby on the obligation to report the news. Mi Rae asks the security guard and finds out the protest started today. Shin walks down into the lobby and sees Mi Rae.
They go outside the talk and he asks her if today is the day he's ruined? Mi Rae says yes, he will be asked to report on a news story and when he does he will be fired and pay a penalty. Shin asks if she wants him to not report it and ignore social injustice? Or report on it and get fired? Will she help him either way? If not then why is she here telling him any of this? Mi Rae knows she has no right to be here worrying about him. Shin tells her that he will decide what to do and she needs to stop getting involved in his life. He walks away and Mi Rae looks very sad.
Future Mi Rae is at home watching the news about the NTN reporters strike. The doorbell rings and it's a delivery man with a package. Future Mi Rae opens the door and is promptly nabbed by the man who is also a Time Cop. Future Mi Rae starts screaming and the two guys tell her that she needs to go back because someone is waiting for her. Future Mi Rae screams that there is no one waiting for her! Time Cop tells her that future Shin is still alive and future Mi Rae promptly faints.
Mi Rae comes home and freaks upon seeing the Time Cops and a fainted future Mi Rae. The Time Cops says future Mi Rae needs to go back to the future now, and then drops the bombshell that future Mi Rae is NOT the present Mi Rae's future self. Present Mi Rae goes "WHAT?"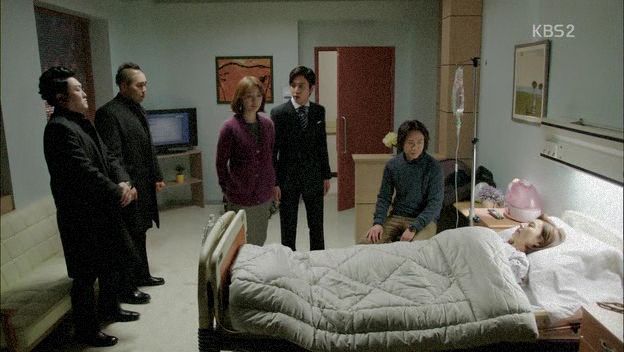 Oppa arrives at the hospital where future Mi Rae is in the hospital bed. He finds out the Time Cops are here to take future Mi Rae back but need her to be awake for the trip. Mi Rae asks what they mean that future Mi Rae is not her own future self. Se Joo hears about the incident and rushes to the hospital. Turns out future Mi Rae is very weak but the hospital doesn't know what else is wrong with her.
Shin is at his desk and the two news reporters walk in with their script for the broadcast that includes the story. Shin remembers the NTN Chairman telling him that the door is opened and he needs to decide whether he wants to step over. The reporters were so happy Shin joined because his subway reporting was so inspirational to them. Shin sits down at the anchor desk and he has two sets of scripts placed before him. The NTN 9 pm news broadcast begins and Mi Rae and Se Joo turn towards the television and stare at Shin.
Thoughts of Mine:
So close, I can see the finish line so close before me. I'm going to say some rah rah cheers tonight to give me that final push to finish this sucker up. Is MHIYD the worst K-drama I've ever watched? Ever recapped? LOL, not by a long shot, so all my legit complaints about how bad it is does not equate this with being in the pantheon of suck. It's simply a thoroughly misguided and misconceived effort right out of the gate. If we take away everything that we know with this drama present time line being an alternate reality of the life future Mi Rae led, then we can accept that what we're watching is lacking in everything interesting and compelling that drove future Mi Rae's life. Future Mi Rae and Shin had a magical romance stemming from a car accident, a fairytale wedding and not so fairytale marriage, but they loved each other and through it all they had a son but couldn't keep him. It's all so dramatic and the stuff we want to watch onscreen.
We want to swoon with their love and rage for their mistakes and cry for their pain. But all of that was kept from us. Instead we got an alternate timeline where the only romance between Shin and Mi Rae was a subway fire bonding moment and then an almost kiss in a haunted house. Then everything went to hell in a hand basket and the remainder of their romance was scuttled for their mutual fear of being with each other coupled with the Park Se Joo determination fest. Se Joo is determined to win Mi Rae's hand, isn't he? And he's got no sense of timing, space, natural progression, or even the ability to read Mi Rae's attitude towards him. She is the least thrilled girlfriend in the history of chaebol dating. That couple's ring is akin to a heavy handcuff but I don't even feel bad for Mi Rae because she could have kept saying No and NO and No means No to Se Joo. But she chose to silently accept it so she can wear that ring and be sad and mopey and I don't give a fug.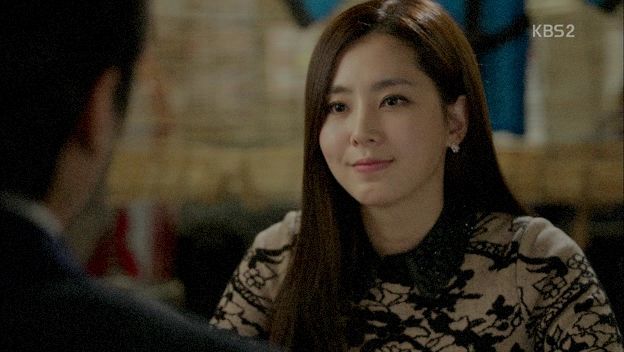 Yoo Kyung has been relegated to a scant 5 minutes and episode but she's still the most rational and sincere person in the entire show. By miles and miles. Next one would be Shin, but his insistence to future Mi Rae that even if he's a different universe Shin he can still hurt Mi Rae was the epitome of "what the hell logic". But compared to Se Joo's brain waves (or lack thereof), at least Shin is doing this because he doesn't want to risk hurting Mi Rae down the road whereas I no longer have a clue what sustains Se Joo other than the belief that if he loves Mi Rae enough then it's all good and she needs to pick him if she's not going to pick Shin. The part where she doesn't need to pick anyone and could become a lesbian or a nun if she wanted appears not to factor into his thinking. This is Se Joo's thought process – Mi Rae and Shin didn't work out? Great! That means I can steamroll my way into marrying her. Awesomesauce! – which is the mind of a child but with the resources of an adult to make his grand plan work out. Se Joo played no part in Mi Rae and Shin's issues which is all self-inflicted, but he is doing his own ridiculous pursuit of Mi Rae that sucks in its own right.
I cannot even say an eulogy for Yoo Kyung and Se Joo's thwarted fate because Se Joo's behavior in this drama has so completely lost me on his personality that I wouldn't sic him on Yoo Kyung if he was the last man standing. She's much too wonderful for him, and her three scenes in this episode were truly stand out moments. The sadness when she told Mi Rae about how she was supposed to meet Se Joo in Jeju (and Mi Rae's silence spoke volumes about her own complicity in ruining that destined fate), her telling off the rude PD was such a sweet vengeance moment, and finally her conversation with Se Joo in the udon restaurant made me want to hug her for being such a smart and confident girl who can accept her lot in life and make more or herself but also can let go without insisting her feelings are the most important thing EVER. That would be Se Joo, by the way, though once again he made me mildly like him in his scene with Yoo Kyung because I could feel that he had a chance to be cool if only he had her by his side.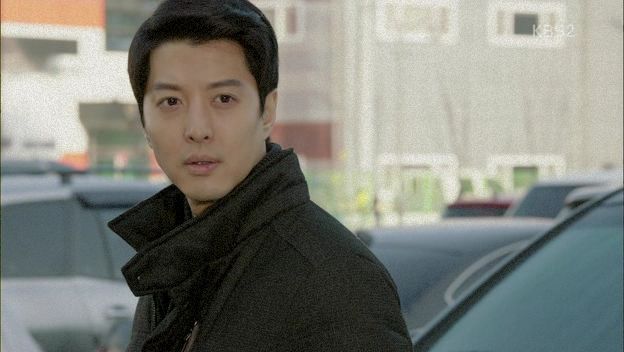 I'm looking forward to episode 16 the most because of the glimpse in the preview of future Shin coming back to meet present Shin. Even if its not the same universe Shin, I still think it would be instrumental in resolving Shin's major impasse. If he loves Mi Rae that much, he needs to battle fate and pick her. It's not worth living a life of misery missing the other person, they might as well live a life of misery together. I think it's safe to say that the only real romance we saw in this drama was in the flashbacks of future Mi Rae showing us her love story with Shin in her timeline. So in the end, the main female lead in this drama may be future Mi Rae, LOL, and her love story with Shin is what this drama is about. She came back at the expense of her own life span to save his life, and save him from an unhappy marriage with her. I wished she would not have lied or withhold so much of the truth for so long in this drama, giving everyone whiplash and ruining what would have been a compelling reason for her interference in re-writing destiny for the four leads. Of course the drama hasn't nonsensically made Mi Rae suddenly like Se Joo back, and she doesn't look like she'll ever like him back that way. Which just makes all of this SO POINTLESS. Can we just have Shin and Mi Rae elope and make out and then we all pretend this was not a drama and just an MV with Lee Dong Gun and Yoon Eun Hye playing a happily married couple for 4 minutes. I can live with that, I really can. Because living with MHIYD for the last 8 weeks has been nothing short of excruciating.
Click here to watch Marry Him If You Dare.