The schedule for In A Good Way will be slower than when I recap K-dramas and that's due to the slower release of the video files as well as my wanting to savor this sweetness and take my time with each recap. Liu Chuan said to Jia En in episode 3 that it's not just what happens that matters but the journey that is also rewarding. It's not one or the other but the ability to balance the two that enriches life's many experiences. I find this drama does practice what it preaches because each episode does exactly that. I am excited to see development from the characters in growing their interactions and understanding of each other, but how it happens is amusing and interesting in its own right. I'm also not going to jump ahead and guess developments to come or worry too much about future conflicts or misunderstandings. What will come will feel natural in the course of college kids growing up and educating themselves. Episode 4 was above and beyond my expectation, deftly integrating Jia En into the college life of CDU while still focusing on rekindling her connection with Liu Chuan. I still can't get over how the drama dared to time jump so abruptly and thoroughly, separating two kids who were tentatively feeling something but without any angst or woe. It just happened and Liu Chuan and Jia En picked off right where they left off.
She still fairly idolizes him yet doesn't fawn over him like all the other girls. He is captivated by her without any words necessary, she just lights him up. And he's so deliciously obvious around her I can't even. Liu Chuan makes staring actually feel tingly without all the stalkerish subtext. He looks at her like she's so enchanting, like he wants to just spend time together and talk to her. So he does, and boy was it good. I don't know if Jia En is really that dense or she hasn't even considered the possibility that he might feel something more than friendship with her. But it's such a relief to watch a drama where love and romance and "does he like me, do I like him?" isn't the end all and be all of what drives this narrative. This is a drama about finding independence through courage to try new things and take changes, and in episode 4 all the characters did that. I quite liked how the spotlight finally fell on Bai Xue a bit more and she's much cooler than I took her for. I don't see any cattiness and her no-holds-barred rejection of Ren Wei was nicely done because it was all true and she wasn't trying to be nice or mean but rather sincere. If he has a good reason for liking her then say it, otherwise why should she even consider giving him a chance? It's clear she likes Liu Chuan but he sees her as one of the guys, but at least Jia En and Ren Wei don't have a thing for each other and turn this into the predictable love square situation. This drama really is the balm for my weary soul.
Episode 4 recap:
Jia En starts her college life and walks to school since she's living at home which is right outside campus. She walks to her major building and runs into another freshman Ding Xiao Wei who is on the shy side and Jia En talks to her first. They are called in to join the mentor-mentee match.
The upper grade students greet the freshman and then start picking names so that the freshman are all paired with an upperclassman mentor. Bai Xue is also a Foreign Languages major and of all people she picks Jia En, whose name she clearly recognizes. There is an awkward pause and then two girls greet each other with a smile. After all the names have been selected, Xiao Wei laments she didn't get a mentor but Jia En says her mentor can also mentor Xiao Wei since Bai Xue is so nice. Bai Xue comes over to say hello but gets a page and leaves the two rather abruptly to go somewhere. She hands Jia En an invitation and books it, leaving the two girls wondering why she's seems not very friendly.
Turns out Bai Xue got paged by Liu Chuan and she heads to the Treasure Hunters club where the Three Musketeers are all there planning for the upcoming freshmen orientation event for their club. The event is an all-night treasure hunt and they need more guys with scooters because there are always more girls. Qing Yo asks if Bai Xue invited some freshman and she says she invited her mentee but Qing Yo says that's not enough. Ri Qi is pretty nonchalant about finding new freshman guys but Qing Yo says they need to find guys with scooters. Bai Xue promises to find guys with scooters to join their event.
Liu Chuan is designer the treasure map and the concept revolves around mirrors. Mirrors are considered the entrance to another world and its a simple code to break. He wants to use mirrors to welcome the freshman into the world of treasure hunting. Bai Xue thinks it won't too hard to crack but Liu Chuan just smiles and says nothing. Liu Chuan gets up behind Bai Xue and holds two mirrors up to show her reflection and how things are not what they seem. People believe only what they see but sometimes what they see is not always true. Bai Xue admits something does seem off and she doesn't look like herself. Bai Xue gets nervous to be so close to Liu Chuan but he's rather nonchalant about it. After Liu Chuan sits down, Bai Xue asks how he sees her? Qing Yo and Ri Qi turn around as Liu Chuan just stares at Bai Xue. She asks what he's doing and he says she is reflected in his eyes so that is how he "sees" her. She's exasperated and says that was not what she meant.
Bai Xue sits down and fiddles with the rubics cube while Liu Chuan keeps working. She takes a mirror and shines it on him and totally distracts him. He laughs that she's like playing with a cat. Qing Yo and Ri Qi look over and exchange a knowing glance.
Jia En and Xiao Wei leave their major building and run into Ren Wei outside. He playfully greets Jia En and introduces himself as a sophomore in the Business Management department. Xiao Wei wonders how Jia En knows so many students already at school and hears they grew up together. Ren Wei admits he came not to see Jia En but to see Bai Xue.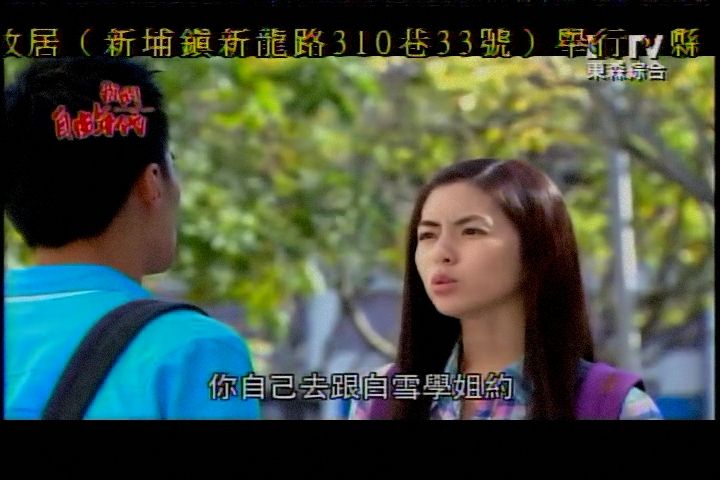 He pulls Jia En aside when he hears that Bai Xue is her mentor and asks that she invite Bai Xue to a co-ed orientation party. Jia En asks if things have developed after the bike race since Bai Xue changed her impression of him then. Ren Wei admits he asked her out a few times but something always came up. He attributes it to her being shy. He thinks Jia En being Bai Xue's mentee means its fated for her to ask for him. Jia En refuses and tells him to invite Bai Xue himself, and then tell her where the party is and she'll come.
Xiao Wei takes Jia En back to her dorm to chat. Jia En admits that she knows people at CDU because she didn't get into college last year so hung around her because of Ren Wei. This school was actually her third choice though there is someone here who influenced her very deeply but she hasn't told him that she got in yet. She doesn't know how he thinks about her being here. Xiao Wei asks if Jia En has special feelings for that upperclassman student at CDU? Before Jia En can answer, the alarm rings and Xiao Wei's roommate wakes up after sleeping late and her name is Tracy and she is a freshman in the Tourism department. She gets ready to head out to club events and plans to go to the Dance Club.
Tracy's mentor in her major arrives and hears from Jia En that her mentor is Bai Xue and they are headed to the Treasure Hunters club as their social activity since Bai Xue is a member of the club. There is awkward silence and the mentor says Bai Xue is the School Flower and all the guys like her because she's so pretty, but she doesn't have any girl friends because all the girls seem allergic to her. She tells Jia En to let her know if Bai Xue is mean to her and she'll stick up for Jia En.
Ren Wei is at the cafeteria with Ah Di who discusses last year how Ren Wei challenged the Three Musketeers here. A new guy Jacky who is their next door neighbor and a Computer Science major comes by and asks a favor. Jacky idolizes the Men of Steel and ask to join their group. Ren Wei is hesitant but without Zai Zai they are one man short so lets Jacky stay for now as a trial period. Jacky promises to try hard during this trial period.
Bai Xue finds Ren Wei in the cafeteria and invites him to the Treasure Hunter's club orientation treasure hunt tonight if he has a scooter. Ren Wei is ecstatic and says of course he'll be there. He asks if Jacky and Ah Di can go as well and Bai Xue is fine with it as long as they have motorcycles. They don't but they can borrow one so they're in as well.
Ren Wei goes back to his dorm room and totally gels up his hair and sprays it stiff with hairspray to form the perfect "airplane hair". He practices smiling and goes through too outgoing before settling on a more reserved smile and practices his confession to Bai Xue. The straight forward one he thinks is too cheesy. He then tries a confession from a popular J-movie that year, and then practices running around the dorm just like in that movie. He even practices hugging himself and then starts singing the theme song from Ghost with "Oh my love, my Snow White" using Ah Di's trashcan like a pottery wheel. AHAHAHAHA. Ah Di and Jacky come back and Ren Wei seats Ah Di down to do his hair. Poor Ah Di.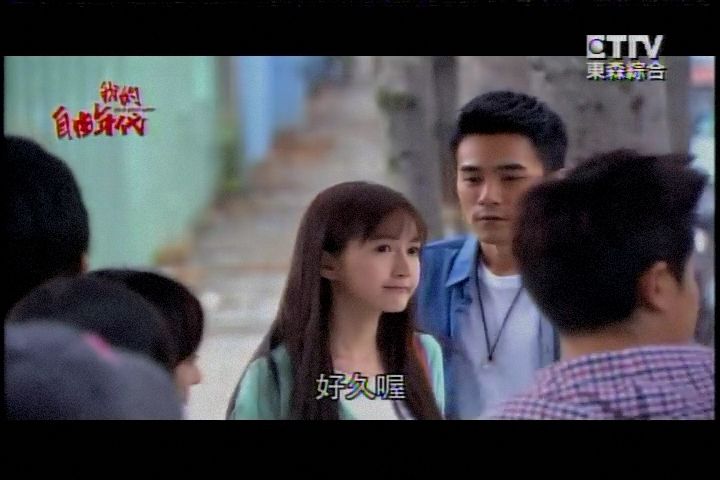 The upperclassmen and freshman have all assembled outside for that evenings treasure hunt. Ren Wei arrives and runs over to say hello to Bai Xue and she's all like "what?" He's so clueless and just thanks her and thinks they will make the best pairing. They realize they are two girls short and Bai Xue asks if two guys won't mind pairing up but no one volunteers.
Xiao Wei arrives and Ren Wei recognizes her so goes over and welcome her to join. She's hesitant especially since Jia En was supposed to be here but hasn't arrived yet. Ren Wei says Jia En will be here if she said so and tells her to stay. All the guys notice cute shy Xiao Wei.
Liu Chuan is running late and carrying a box of supplies to the meeting when he bumps against the railing and his box falls. He's picking the items up when Jia En runs by because she's late but then she turns back to help him not realizing it's Liu Chuan. He is about to thank her when he realizes who she is and pauses, which is when she raises her head and recognizes him.
They both smile and say long time no see to each other. He says the obvious which is that she ended up coming to CDU and then congratulates her. She asks if these things are for tonight's treasure hunt and he asks how she knows?
Everyone is milling around waiting for Liu Chuan to arrive when he walks up with Jia En beside him. The girls wonder why he's coming with her and Bai Xue doesn't look all that happy. Jia En greets Xiao Wei and introduces her to Liu Chuan explaining that he is the club president, which continues to impress Xiao Wei that she's so well connected around here. Qing Yo welcomes black tea girl to CDU and Ri Qi asks if she joined the Treasure Hunters club because she missed them? Jia En reveals that Bai Xue invited her.
Liu Chuan passes out the map and the kids wonder if it will be hard? Liu Chuan looks at Jia En and says he knows she can solve complex math questions by herself without giving up so she should be able to do this. Liu Chuan stands before the group and explains that tonight is a treasure hunt in co-ed pairs and the most important thing to do first is to select keys. Some girls ask why he's not joining but since he designed the map it doesn't make sense for him to join. Liu Chuan gives everyone one last clue which is that there are two mirrors in the map packet and that will be their clue to solving the map. Qing Yo holds a box containing motorcycle keys and the girls pick a key and that's the guy she's paired with for the night and will ride behind him on the motorcycle.
The selection is uneventful but a few things stick out. Shy Xiao Wei picks Ri Qi's key and I'm like hhhhmmmm this would be a cute couple. When it's Bai Xue's turn to pick, Ren Wei is dying for her to pick his key, and she actually does! Dumb lucks wins for Ren Wei. Jia En is the last girl so the remaining key left in the box is Jacky and she smiles and toddles off after him. HOMG the tiniest look on Liu Chuan's face is so precious, this twinge "guh why is she going with another guy and not me?" and then a smile that it's just all part of the game.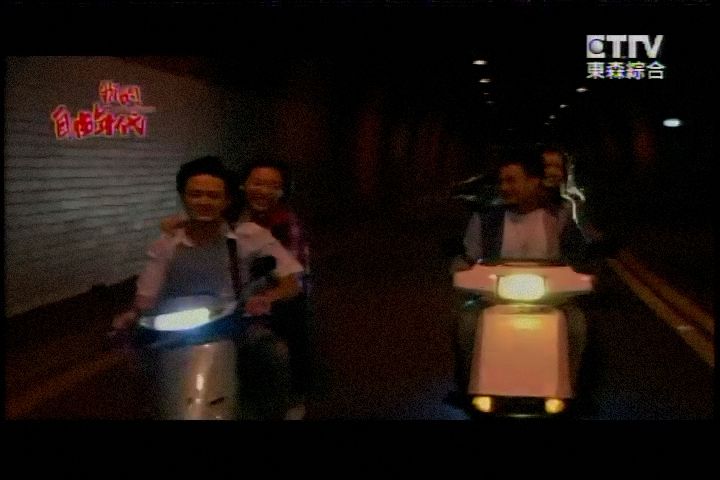 The participants in the treasure hunt take off on their motorcycles while Liu Chuan the organizer stays behind. It's a pretty cool montage of the guys ride their motorcycles as the girls' read the map.
Xiao Wei and Ri Qi stop to check their map since Ri Qi thinks the map can be that easy to follow since Liu Chuan designed it. Xiao Wei reaches for it to ask if maybe the mirror in the center means something. Her hand touches Ri Qi's and there is a frisson between them. Ri Qi walks off to look at the stars and break the awkward mood. Xiao Wei walks over and he describes the constellation Pegasus to Xiao Wei. I love how the drama gives them this little interlude because they are adorable together.
Ren Wei is purposely riding slow to spend more time with Bai Xue and she asks him to speed up.
Jacky and Jia En arrive at an intersection with a mirror on it. Jia En decides to go with her instinct and head up the mountain rather than the other route that the map seems to indicate because she remembers Liu Chuan told her that mirror code is to be read backwards. Jacky says the motorcycle has broken down and Jia En tells him to go take it to a shop while she'll run up the mountains since she's got legs. Jacky isn't sure about it but she assures him that she'll be fine.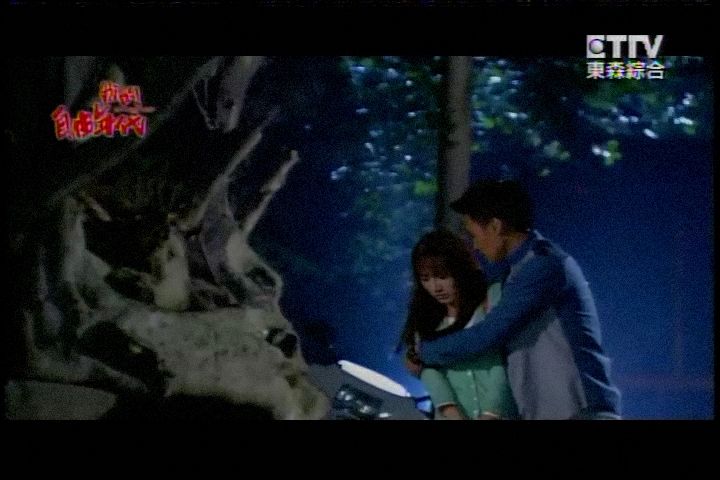 Bai Xue makes Ren Wei stop the scooter because he keeps not going the way she told him. He thinks getting lost isn't a big deal, they can find a pavilion to enjoy the ocean view and just relax. Bai Xue points out they are in the middle of a race and if he won't go she'll do it herself. She steps out and a car comes racing around the corner and Ren Wei pulls her to safety.
Bai Xue thanks Ren Wei for saving her and he uses the chance to confess sincerely that he really likes her and if she'll be his girlfriend. Bai Xue reminds him that she told before – friends okay, dating no. Ren Wei says they are friends already so if she invited him out it must be a date. Bai Xue says its not since she was just looking for guys with scooters. Ren Wei accepts he jumped to the wrong conclusion but of all the guys at school she invited him so it must mean he means something to her. Bai Xue turns the questioning around and asks why he likes her? Other than her appearance? Ren Wei says she's pretty and she is a good student but Bai Xue scoffs at the usual superficial reasons. Ren Wei admits he doesn't know her well but is there anything wrong with liking someone. If she gives him time, he promises to get to know her very well.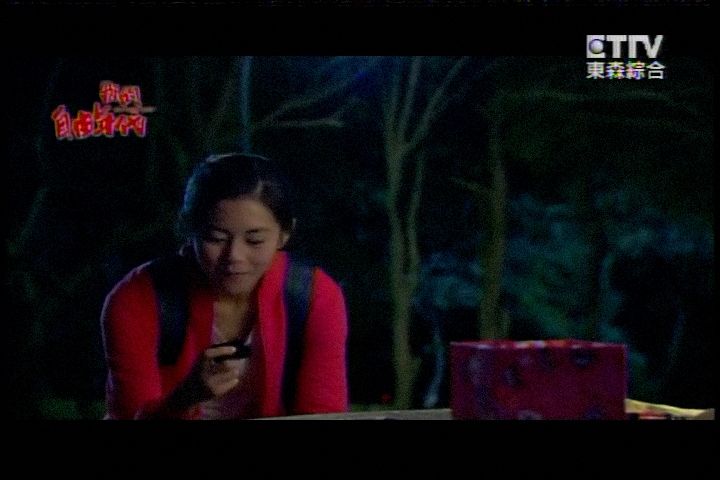 Jia En runs and runs up the mountain road and finally ends up at a pavilion where she finds a box. She opens it to see the B.B. Call inside and yelps in happiness that she found the treasure first! She sees a call back number on it and goes to a payphone to call.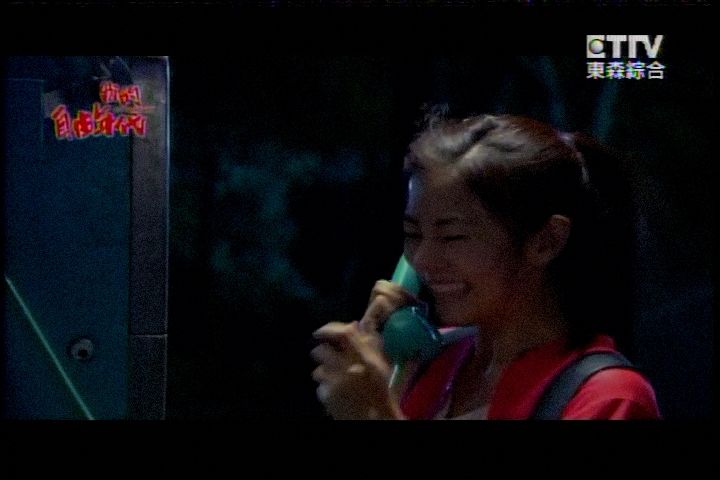 The call back number leads her to a voicemail recording that Liu Chuan left. Liu Chuan congratulates the winner of the first treasure hunt of the school year. He doesn't know who he/she is, but he/she will surely have good luck all semester. Jia En smiles as she listen to this message.
Jia En walks back to the pavilion to rest and a motorcycle drives up the mountain road. It's Liu Chuan of course, here to congratulate the winner. It's lovely and so raw the way his face lights up in a fleeting smile when he sees it's Jia En in the pavilion. I swear I yelped out loud when I saw Liu Chuan's motorcycle turn up the mountain road.
Liu Chuan gets off his bike at the pavilion and congratulates Jia En on finding the treasure first. He asks why her face is so red and hears that she ran up all by herself. God he notices every little detail about her. He's upset to learn her partner isn't with her after their motorcycle broke down. It's dangerous to let a girl walk the mountain road at night and Jia En realizes that he's right but she was pretty clueless about it. Liu Chuan says forget it since she's alright. Jia En asks where everyone else went and Liu Chuan says they are all wrong so went off to the seaside.
When Liu Chuan asks how she figured it out, Jia En reminds him of that code book he lent her last year. She read it and remembered what he said about the basic tenets of mirror code. Liu Chuan smiles that she remembers something from so long ago and Jia En says of course, everything he ever said to her she remembers. You can totally see his face just light up when he hears this. He stares at her and then to break the awkwardness asks if she's seen the city lights of Taipei yet? Jia En confesses she ran up the mountain so focused on the task at hand she didn't even notice. Liu Chuan smiles and asks if she wants to go, he'll take her. Dude, you'll take her anywhere, won't you? Beach, concert, and now a mountain view? Jia En happily accepts.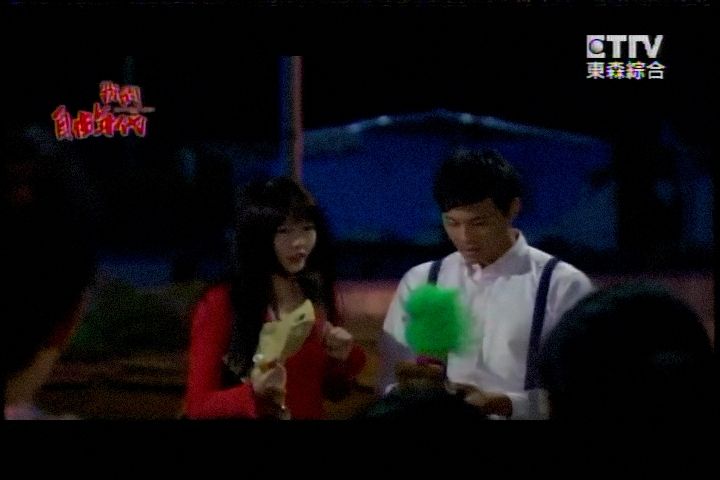 The rest of the treasure hunters arrive at a beachside pavilion and find a box there only to have a jack-in-the-box pop up called "Loser" which is the club tradition prize for those who guessed wrong. They decide to go grab some late night dinner.
The losing group gather at the dinner place and poor Ah Di is being ignored by his partner. Xiao Wei notices that only Bai Xue and Jia En are not here yet so the winner must be one of those two. Ri Qi bets on Jia En since she learned stuff from Liu Chuan while Qing Yo bets on Ren Wei who seemed very determined today. Ah Di says Ren Wei's fighting spirit today wasn't for the treasure hunting but Qing Yo says he could have done anything to impress Bai Xue. Moments later Ren Wei rides up and Bai Xue enters the restaurant. She finds out that only Jia En and Jacky are not here so they probably won. Ren Weil walks in and goes to sit by Ah Di rather than Bai Xue, who asks where Liu Chuan is? She goes to page him. Ah Di asks Ren Wei why he looks so pissed and the two guys go grab a beer because they both need it.
Liu Chuan and Jia En arrive at a mountaintop overlook and she rushes to the edge and starts exclaiming over how beautiful it is! They sit down to admire the city lights and Liu Chuan leaves his pager on his motorcycle so he misses the call from Bai Xue telling him to join them for dinner. Liu Chuan turns to Jia En and asks who she wants to be the first person to call her pager? Say "you" Jia En, SAY IT! Jia En says this pager is for Xiao Wei and Liu Chuan is impressed she tried so hard to win something for a friend. Jia En explains the process was so interesting she got into it so it wasn't all for Xiao Wei.
Liu Chuan stares at her as she looks back out towards the city and he raises his hand to stroke her cheek when she turns back. He pauses and tells her to wipe her sweat. Jia En quickly wipes herself and they resume sitting there in silence. Stupid Jia En! Grrrrr, let the man wipe your sweat for you!!!
Liu Chuan drops Jia En off at home and she gets off and thanks him for taking her home. She tells him to ride home safely and he says he'll call her after he gets back to the dorm. Jia En yells "No!" and Liu Chuan is taken aback and asks why not? Yes, tell him he can and must call you. Every day. Jia En reminds him that this pager is for Xiao Wei. Liu Chuan understands and they just stand there looking at each other for an extra moment before Jia En walks inside.
Liu Chuan watches Jia En enter her house and sits there with a sigh before riding off.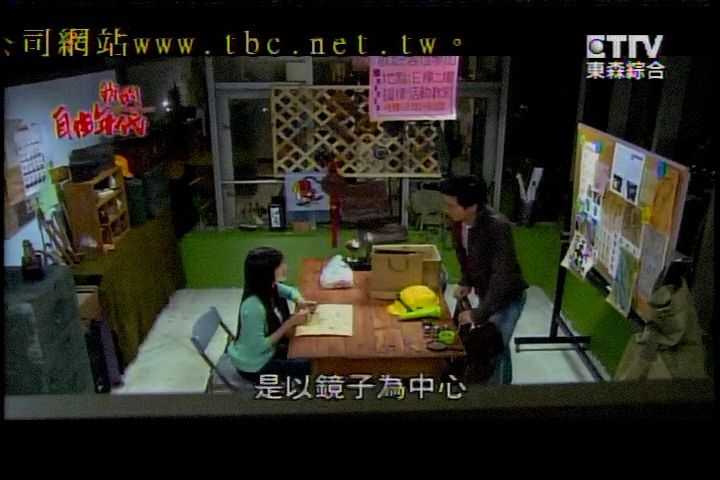 Liu Chuan goes back to the club headquarters and finds Bai Xue sitting inside alone. She asks why he didn't answer her pages and its the first time he realizes he missed pages. He reveals he took Jia En home first. Bai Xue asks why and Liu Chuan reveals she won the prize by running up the mountain after her motorcycle ride broke down. He felt she must be tired so took her home. Bai Xue realizes she was the only one who solved the treasure map. Liu Chuan thinks she would be a great club member if she joined their club.
Bai Xue asks what the code in the map was. Liu Chuan reveals that the top half of the map is true but the bottom half is a mirror image so one needs to use a mirror to read the correct route. Bai Xue is impressed but sees Liu Chuan tiredly rubbing his eyes so offers him some left overs and tell him to get some rest. She stands up to head back to the dorms but he makes no move to join her since he has some more stuff to do. She leaves and looks at him but he doesn't even notice her lingering.
Liu Chuan goes back to his dorm room and Momo is excitedly waiting for him. He puts Momo on his bed and then sees Jia En's note on his desk where he left it visibly right under his clear writing pad. He takes out the note and looks it at while Momo scampers over to vy for his attention. Liu Chuan lays back on his pillow and reads the note while listening to the same song he played for Jia En that night to put her at ease.
He has this wry smile on his face while Momo is totally all over him but he just quietly reminisces. Dude, you are so falling in love.
Jia En gives Xiao We the pager the next day and she reveals that her parents bought her a new computer for getting into college. Jia En asks if anything interesting happened last night? Xiao Wei thinks about stargazing with Ri Qi but doesn't tell Jia En. She doesn't think she'll join any club since her parents are working hard to send her to college so studying is her first priority. Xiao Wei offers Jia En a ticket to the hit Japanese movie Love Letter which is playing in the theaters right now.
Jia En goes to the movie by herself and start crying during the movie. Bai Xue happens to be sitting beside her and offers her a tissue. After the movie ends, the two girls chat and hang out. Jia En wonders if Bai Xue goes to movies by herself and finds out that she does and thinks its very relaxing since she doesn't need to wait for others and watching it alone can be a very enjoyable experience. They discuss the love story in that movie, with Jia En thinking that love needs to be about persistence while Bai Xue thinks the story is when one projects an image on the person they love.
They head to the record store to buy the OST and Bai Xue explains this movie soundtrack won awards in Japan. I remember, it was definitely the hottest movie in Taiwan the Summer of '96. They head to a tea shop to get some drinks and runs into Xiao Wei and Tracy. They ask to hang out but when Bai Xue joins them both girls act weird and make excuses not to hang out. As they walk away, Bai Xue rushes over and offers her cardigan to Tracy because her dress is so see through and other people are laughing at her. Jia En decides to keep hanging out with Bai Xue and the other two girls realize she's genuinely very nice. They try a drink that Bai Xue bought for Jia En and discovers the delicious concoction was something Bai Xue asked the owner to make. She offers to buy them some.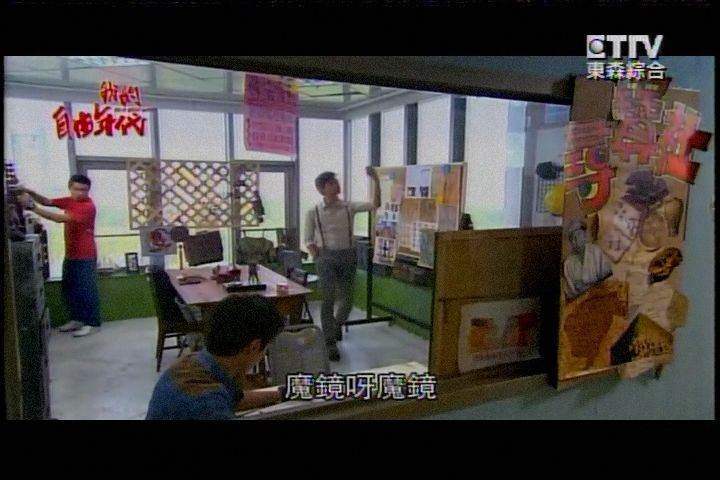 The Three Musketeers are hanging out at the Treasure Hunters club headquarters and discussing how come Liu Chuan doesn't seem interesting in romance. Even Ri Qi knows that the three extracurricular credits college students need to take are – part time jobs, social clubs, and romance. So how come Liu Chuan isn't interested in the romance. Qing Yo says Liu Chuan's looks could mean he's self-absorbed and that's understandable but he's still missing out. Liu Chuan says the real self-absorbed person is the one holding the mirror, pointing to Qing Yo staring at himself in the mirror.
Qing Yo takes the mirror and asks the magic mirror on the wall who Liu Chuan loves the most. He holds it in front of Liu Chuan's face and he tells Qing Yo to stop messing around but then stops when Jia En's face is reflected in that very mirror.
Liu Chuan turns in shock towards the window and sees Jia En standing outside in the hallway. Jia En smiles at him and both Qing Yo and Ri Qi smile a knowing grin. Bai Xue brings Jia En inside because she's officially joining the club today. Ri Qi welcomes her and finds out that she cracked the treasure map because of a code book Liu Chuan lent her. Qing Yo piles on and says she's so in sync with Liu Chuan, it's like they are on the same wavelength. Ri Qi adds on by saying that maybe this semester Liu Chuan can finally get a romance credit.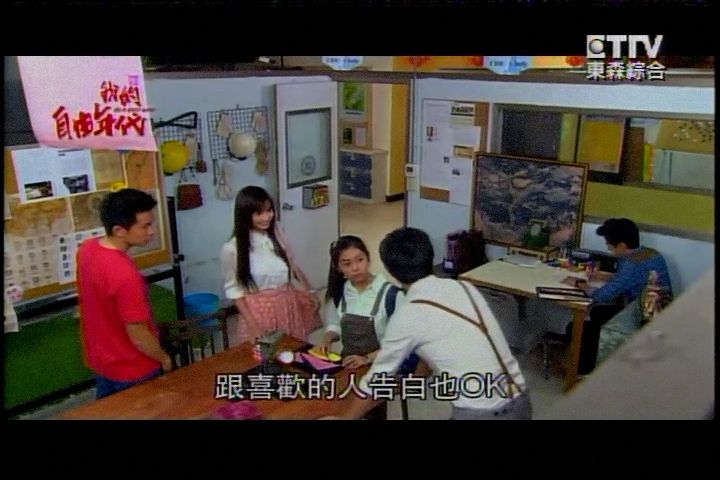 Liu Chuan shoots a exasperated look over at his two best friends as they are loving this ribbing. Poor Bai Xue looks uncomfortable while Jia En is totally clueless. Liu Chuan tells the two of them to stop being so annoying. Bai Xue takes a book and asks Jia En to write in the Treasure Hunter's book which is a new member orientation activity.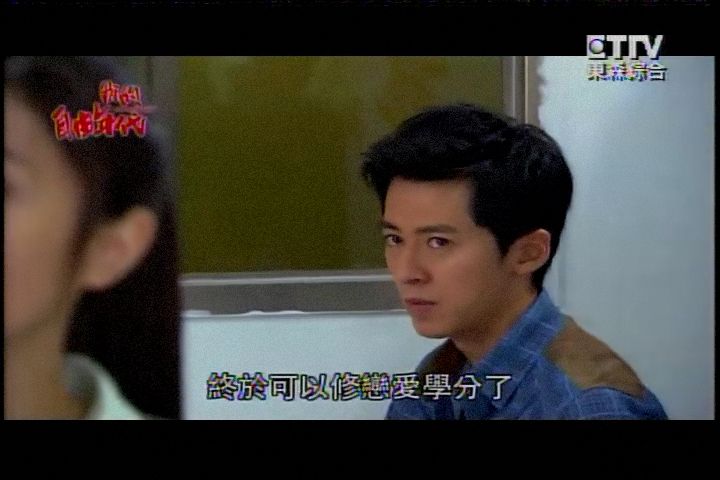 Qing Yo says she can write whatever she wants, she can even write a confession to the person she likes. Poor Jia En is like "whut?" while Liu Chuan is pretending to be all nonchalant doing his own thing in the back. Jia En starts writing and Liu Chuan sneaks a peek from the back table. Suddenly Xial Wei arrives and asks to speak to Jia En. Ri Qi goes over and invites her inside to chat but she calls Jia En out to talk.
Bai Xue takes over Liu Chuan's bookkeeping work while the other two guys go do something else. Liu Chuan gets up and stands before the autograph book for a minute before picking it up and reading what Jia En wrote "So happy to join the Treasure Hunters club. Thank you Bai Xue sister for lending me a tissue, Love Letter was a great movie. And….." That is where Jia En stopped because she was called out and Liu Chuan mutters to himself "and what?" Qi Ri and Qing Yo drag Liu Chuan out to play basketball and leave Bai Xue working there alone. After they leave, Jia En comes back and she wonders where the other guys went? Bai Xue asks if Jia En is looking for them and its clear she is but she says no and heads out.
The guys are playing basketball and Liu Chuan is in a rough mood as he is totally killing it on the court. Jia En goes back to her room and flips through her desk until she finds her old notebook where Liu Chuan wrote down his pager number for her when he was looking for the necklace. Qing Yo calls a break and asks Liu Chuan what's gotten into him to play so intensely today? Liu Chuan gets a page and he rushes off to call back, leaving his roommate wondering what his problem is today.
Liu Chuan runs to the payphone and calls back to have Jia En answer the phone. The moment he realizes it's her his demeanor totally changes. Jia En explains that Xiao Wei's parents gave her a pager so she got to keep this. Since Liu Chuan helped her win the pager, she's decided to give him a day's time to let him be the first person to call her on it. Liu Chuan laughs and points out that if he helped her, why is she ordering him him to call her?
Jia En says her pager hasn't gone off yet and she doesn't know what it feels like to get a page, so she wants to save that chance for him. Liu Chuan asks if he needs to thank her then but she hurries him to page her so she knows what it feels like. Liu Chuan reminds her that she gave him day so why is she rushing him now. Jia En sheepishly apologizes and says he can call her anytime and she'll wait for him. They end the call and Liu Chuan has the most interesting expression on his face as he walks off.
Liu Chuan heads back to the dorm and sees a line of students waiting by the dorm pay phone. He gets in line as it slowly inches it way up to the front, and the entire time he keeps looking at his pager. Dude, it's still her number on it, no need to keep staring. Finally he gets to the front of the line and calls Jia En's pager.
The moment he hangs up the phone it rings back and he has to cut back in line to answer it. Liu Chuan laughs at Jia En returned his page way too fast, she must've been waiting for him to page her. Jia En says of course. There is an awkward pause until Liu Chuan asks what she's doing. She's waiting for him to call, what's he doing? He's calling her. Awkward pause, and then Liu Chuan playfully chews out Jia En for not telling him first that she got into CDU. He was her tutor ferssakes! Jia En tries to explain but he laughs it off.
Liu Chuan admits he saw her name on the freshman post board and was very happy for her. He changes the subject again and asks what she was planning to write in the club book? Jia En admits that she was going to finish with "and I learned more about love" after watching the movie Love Letter. Liu Chuan says "About love? What is that can you tell me?" Jia En thinks it too complicated and promises to think about it and then tell him. Liu Chuan says "Okay, when you figure it out you have to tell me immediately."
Jia En agrees and there is another silent pause which is when the other students in line remind Liu Chuan that they need to use the phone as well. Liu Chuan ends the call and tells Jia En to keep their communications lines open. He looks back at that payphone a few more times as he walks up the stairs to his room.
Jia En sits down and logs on to the CDU BBS portal and makes a post about the movie Love Letter. It reminds her that youth is like a dragonfly encased in ice. Even though she doesn't know what the dragonfly waiting for in the future is, she's sure that in the future she'll reminisce very longingly about it. Liu Chuan logs on to the same campus portal and clicks on the post by "sky" about the movie Love Letter, which is Jia En's post. He reads it and smiles.
Thoughts of Mine:
What this drama captures so well is the concept of delayed gratification that has become lost as technology can make communication easier and less meaningful. With cell phones suddenly we are available 24/7 and always need an excuse for not responding. I don't necessarily miss the days of rotary phones and pagers and waiting in line to use a payphone, but that era allowed burgeoning romance to always come with harder work and greater uncertainty. I love that feeling so much and this drama perfectly conveys it. In a few sentences episode 4 filled in the time jump year for everyone – Jia En studied hard to get into her first choice but ended up at her third choice CDU which was a personal let down and perhaps the reason she didn't contact Liu Chuan because she wanted to do better in his eyes, Ren Wei tried to ask Bai Xue out a few times but always got turned down but he's neither obsessed nor given up. The characters in this drama have lives and they live it, we're only glimpsing bits and pieces and already so amused. We also know Liu Chuan always kept Jia En on the back of his mind because he kept her thank you note and placed it in a very central and obvious location on his desk right under the clear writing mat. It was only after he ran into her at the treasure hunt and spent some time with her after such a long time apart that he took it out to look at. For us viewers, Jia En and Liu Chuan's time apart was mere minutes, but in the drama it's been a year. That year meant something to both of them – she tried to not look like a loser who couldn't get into college and he wondered when he would see her again. I think their feelings stem from this very Chinese phrase called "在乎" which means a person means something to you. It doesn't rise up to like or love but just that this person is rather important in some way. When Liu Chuan dropped off Jia En at her house, the way he used her excuse to ride home safely to say that he'll call her when he gets back was brilliant. Too bad her denseness shot him down and he was left with nothing left to say.
Of course this drama has always shown us that the fate between Jia En and Liu Chuan is strong indeed. Even if they don't make an effort to communicate they are always been tossed together. I just think it never crossed her mind EVER that he could possibly like her. Or even that he wants to be better friends with her more than just casual acquaintances. I think what he said to Jia En really made an impact, when he said she might have transferred her clinging from Ren Wei to him, which is when we saw her really pull back. She may be on the clueless side but she's a determined little thing and she doesn't want to ever let people think poorly of her. So she went from seeking out Liu Chuan to pushing him away, but her voiceover tells us that she was really just overcompensating during that period in her life. Who among us hasn't done that. Its so wonderful to see that all the characters show so much respect to each other, accepting their decisions and not forcing things. While I don't necessarily think Bai Xue and Ren Wei are meant to be, it would make me happy if they fell for each other in their own suitable way. The drama also starts giving all the side characters their own stories such as Ri Qi and Xiao Wei's foreshadowing of their growing interest in each other and reportedly Xiao Wei's roommate the pretty Tracy will catch Qing Yo's eye soon. This drama has a sprawling cast but no one is wasted even if most of the screentime is given to Jia En and Liu Chuan. It's quality over quantity and so far every moment of screentime is efficiently utilized to maximize storytelling and enjoyment. It's astonishing that the most amazing moments are not anything major happening, but instead mundane things like an awkward but sweet phone conversation or enjoying a night view. That's not to say I'm not looking forward to some more dramatic developments further down the line (jealous Liu Chuan anyone?) because while the early part of getting to know others is filled with expectation and some projection, as the surface is scratched that is when the reality sets in that everyone has their own scars and sore spots. The question is whether college, friendship, or romance fills the void or is it all just a stop along the way.
Click here to watch In A Good Way.