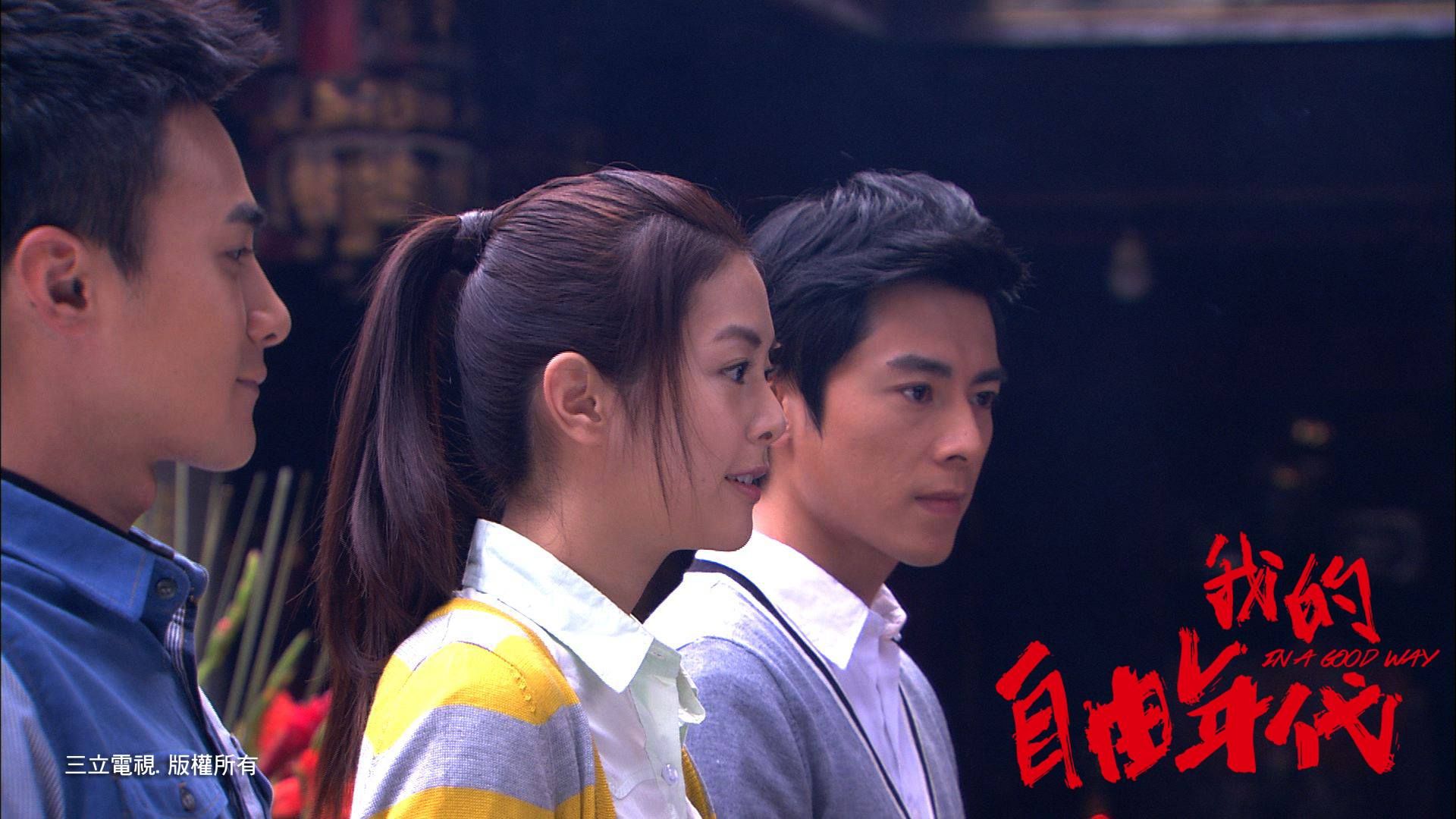 Sorry for a bit of a lull with In A Good Way goodies such as preview posts. This week's previews for episode 9 were beyond weaksauce since Jia En scenes were deliberately kept from it to maintain the illusion that our leading lady might actually be in real danger. Of course she wasn't, but the concern Liu Chuan had that she was in danger dragged his heart out from its hiding place for the first time. It's clear now that he likes her whereas she's nowhere near consciously liking him back yet, and that differing level of emotional clarity makes sense from both their experience level and how they approached their friendship. Liu Chuan to Jia En was like a combination idol and confidante, but I guarantee Jia En affected Liu Chuan from their first interaction in the dorm room which explains why he went out of his way to help her time and again. As Ri Qi said, he's known Liu Chuan for three years and has never seen him treat a girl the way he treats Jia En. By Jia En having a little tussle with danger, it helps Liu Chuan figure out his feelings but does nothing for actually spurring him to do anything. The closest he gets is asking for tea as a reward for helping to find her, which of course we all know what the giving of tea means on the CDU campus.
The writers are really laying on the Ren Wei Easter eggs in this episode, hinting by signs alone that something might happen down the line with him and Jia En. I wonder how that might even happen since Ren Wei remains so into Bai Xue he comes close to failing a class because of her. This episode really belonged to Bai Xue and she continues to develop as a girl who I can relate to and feel sorry for. She really is the female version of Liu Chuan, beautiful and good at everything with a lovely personality, but emotionally riddled with hang ups and insecurities. The way she nursed her crush on Liu Chuan for the last five years is exactly what I project for Liu Chuan's feelings for Jia En if he doesn't do something about it. I applauded Bai Xue's confession to Liu Chuan but wished she went all the way rather than take off after being subtly rejected. I also don't blame her for dropping the nuclear bomb on Jia En that the guy she likes turns out to like Jia En. Bai Xue said that in an emotional moment devoid of scheming or malice, and knowing this drama it might actually help Jia En and Liu Chuan down the line. I love seeing the characters continue to toggle school situations with their own emotional growth and the drama is doing a nice job of shining the spotlight in each episode on one or two supporting characters other than the OTP. The pacing is good for Liu Chuan and Jia En to slowly soak in each other's company and awareness but the one narrative that needs a jump start again is Ri Qi and Xiao Wei. Please don't let that misunderstanding drag on any longer because poor Xiao Wei needs more friends now than ever.
Episode 9 recap:
Jia En's screams get everyone's attention and Liu Chuan sets off a flare signal as a sign for everyone to gather and that the hunt is over. Liu Chuan runs to the gathering site and waits anxiously for everyone to arrive. Folks trickle in all confirming they heard her scream and the worry increases when she's the only one who isn't here. Ah Qing broadcasts the radio news about kidnapping suspect Chen Jing Xing hiding in the Guan Yin Mountains. Jacky is freaking out because the suspect is so vicious and dangerous but Ren Wei thinks she'll be fine since they explored mountains a lot as kids. Ri Qi takes charge and orders everyone to pair off and go search for Jia En and return here in exactly an hour. Bai Xue grabs her wish bracelet and makes a wish hoping Jia En is fine. Liu Chuan is alone as he searches for her and everyone calls out her name anxiously hoping to hear a response. Liu Chuan scrapes his arm as he brushes by a bamboo stalk but he ignores it and continues looking for Jia En.
It's nighttime and Liu Chuan returns alone to the gathering site worried sick about where Jia En is. Suddenly Jian En shines her flashlight on him and calls out his name. She thinks she won the hunt since she found him but he's not in the mood to be happy and is instead upset and relieved at the same time. Jia En notices the cut on his arm and takes out tissue to clean it. He asks where she went and reveals everyone was worried sick after hearing her scream. Jia En explains she screamed after entering a cave and some bat flew towards her. She saw the flare and tried to come back but got lost until now. Liu Chuan gruffly asks if she got hurt and hears she's fine. Jia En notices that his wish bracelet fell off and is happy his wish will come true. Liu Chuan says he didn't make a wish and it was 3631 that made the wish. Bai Xue arrives right before then and overhears the truth that Liu Chuan is 3631. Ren Wei arrives and runs over relieved that Jia En is fine.
Liu Chuan sits in the tea house as Jia En applies iodine on his cut. Her parents grumble about the treasure hunt being on the same mountain as that suspect Chen Jing Xing. Ren Wei assures her dad that all is well and they brought Jia En home safely. He gets a page from his dad and goes to return the call. Liu Chuan looks up as Jia En is patching him up and blowing on his arm and she apologizes if she hurt him. Her parents notice the way they look at each other and dad shares a story about how he saved her mom from dogs when they were young and had to go to the hospital. Jia En's grandparents arrived and asked how to reward her dad for saving her mom and dad asked for the right to date her mom. Dad asks Liu Chuan what reward he wants for saving Jia En. She tells dad not to talk nonsense but Liu Chuan stares at her and says "I want…."
Everyone stares intently as Jia En is shocked that he actually wants something. Liu Chuan stammers and then says "I want a glass of tea." Ahahahaha! Dad leans in and asks if he's sure that is all he wants, with his other finger pointing towards Jia En. Heh, dad is so adorable! Jia En goes to make him a glass and warns dad to stop joking around? We all know what a giving a glass of tea means in CDU, right? Ren Wei returns his dad's call and dad is there to chew him out for his horrible grades and going to some treasure hunt when exams are coming up. Ren Wei promises he will do well this quarter because he means it. He hangs up and sits down before Jia En and drinks the glass of tea she just made for Liu Chuan. Ooooooh, what does this mean? She chides him for taking the tea she made for Liu Chuan and Ren Wei tells her to go make another glass it's not like this glass of tea was meant for a love confession. They turn on the radio and hears more about the search for Chen Jing Xing. Jia En finally feels scared about being lost on that mountain. Liu Chuan tells her that they were all so worried about her. Jia En's dad says tomorrow they will all go to the temple to pray for safety. Jia En finishes making Liu Chuan another glass of tea and he stares at it.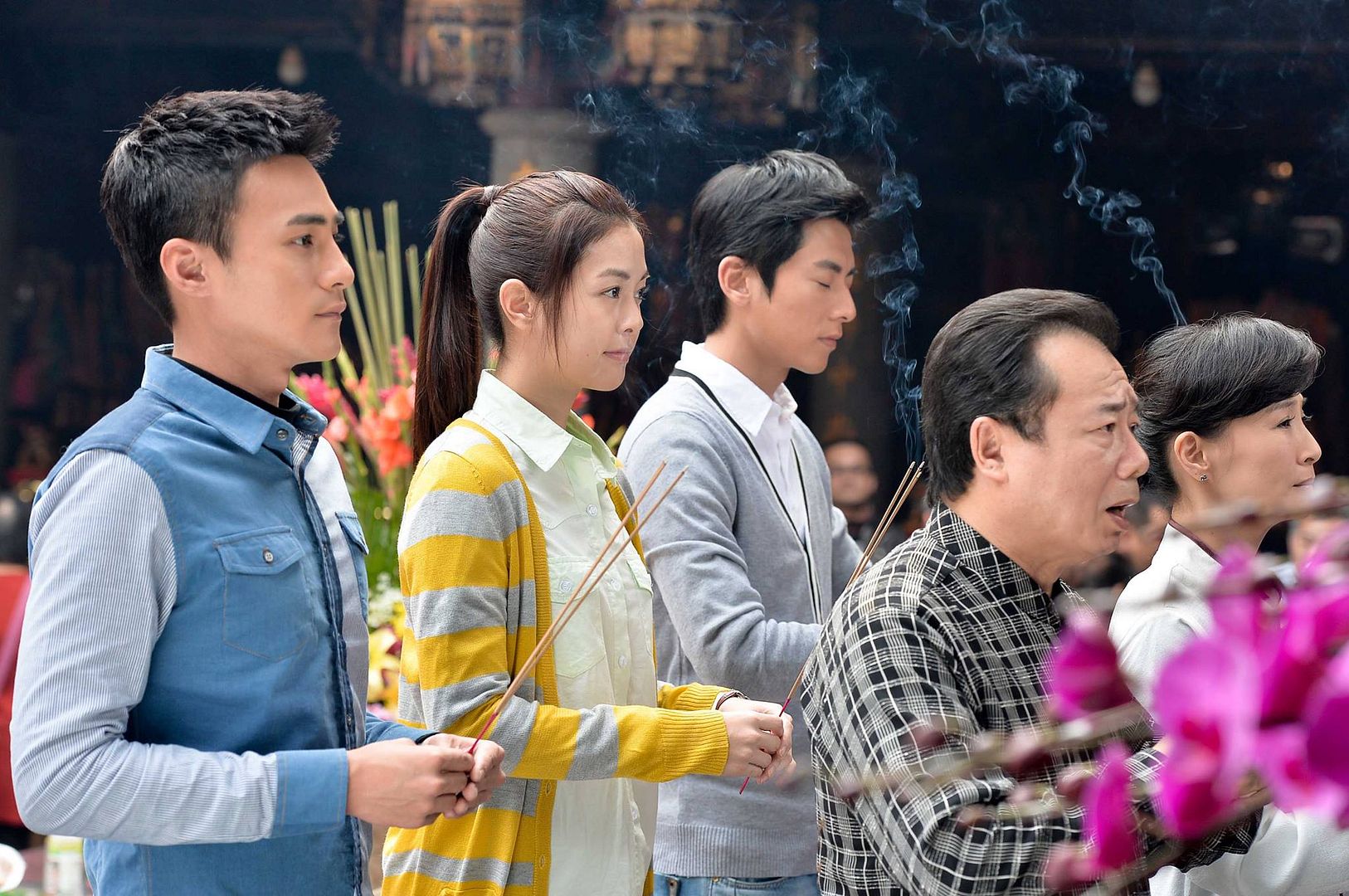 Jia En's parents take Ren Wei, Liu Chuan, and Jia En to the temple to pray. The two boys are left alone and Ren Wei uses the chance to ask Liu Chuan about his friendship with Bai Xue. Liu Chuan has known her for five years and acknowledges that everyone thinks she's very pretty. Ren Wei asks what he thinks about her and Liu Chuan says she is a lot like him and two similar poles will never be attracted to each other. Ren Wei can't believe that Liu Chuan has a blind spot as well (meaning that Liu Chuan can be dense to Bai Xue liking him) and laughs that he doesn't feel like Liu Chuan is far away anymore (i.e. way above Ren Wei's reach). Ren Wei asks if Liu Chuan has ever met an opposite pole before? Liu Chuan shoots a glance at Jia En who is waiting in line and then changes the subject.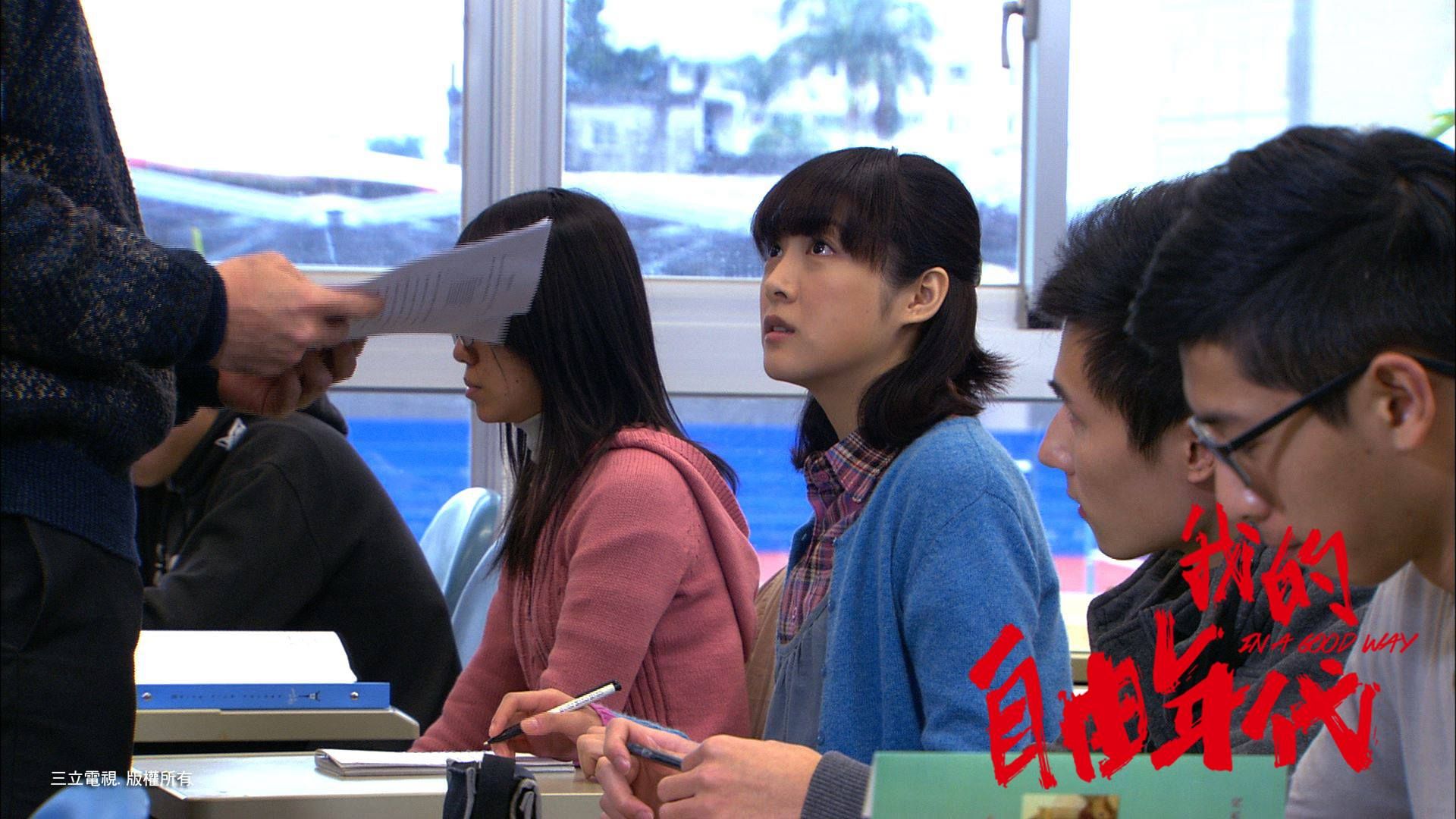 In their Western Classics class, Professor Chang singles out Xiao Wei for not buying a copy of his book. She confesses she can't afford it and made a copy. Professor Chang says some of the exam questions are from the book and its not enough for her to take notes from his lectures. Dur, you're such a douche. Xiao Wei looks crestfallen and embarrassed. After class Jia En stops Xiao Wei and tells her not to worry and she'll lend her book to Xiao Wei. She declines and says she'll borrow the book from the library, it must have the latest edition. She quickly makes an excuse to hurry off.
Tracy goes to the Treasure Hunting club and reveals that her Aunt Mary wants to school curfew lowered to 9 pm due to the search for Chen Jing Xing. Ren Wei tells Bai Xue that if she ever needs him then he'll be there for her. Jia En arrives and hands Bai Xue a safety prayer slip that she got from the temple. Bai Xue asks Jia En if she handed out her wish bracelet? Jia En reveals she did and the other person liked it. Bai Xue cautiously asks what the person wished for? Jia En lies that she doesn't know rather than reveal Liu Chuan's confidence. Everyone asks where Liu Chuan is and hears he's at the library doing research on ancient Dutch. Bai Xue wants to go to the library and Jia En offers to go with her as does Ri Qi.
Tracy reads a note left in the memory book for Ah Qing by his "girlfriend" Ting Ting and looks upset and rushes back to the dorm. Ah Qing reads it after she leaves and rips it out of the book. Ah Qing goes back to the dorm and calls Ting Ting to come see him in his dorm room later. Class is over for Ren Wei who keeps trying to borrow classmates notes to copy but everyone turns him down. The professor notices and calls him over and doesn't remember seeing him in class ever. Ren Wei can't answer how often he's been in class and lies that it doesn't matter how often he's been in class because he's so moved by the professor's lectures. The professor asks what exactly is so moving and Ren Wei tries to BS his way out of it.
Bai Xue, Ri Qi, and Jia En are walking to the library and run into Xiao Wei who reveals she's working at a part time job. She lies that she wants more college experiences. Jia En asks her to join them afterwards but she declines. Bai Xue worries about her walking back to school after dark and Ri Qi offers to come by and walk her back when she's done with her shift but she declines as well. Her boss calls her in to work and she quickly leaves. We see Xiao Wei working hard while her boss complains she is too slow.
Ting Ting goes to see Ah Qing and greets Momo warmly. She reveals moving out of home and wants to raise Momo herself. Ah Qing says no and Momo's owner is now Liu Chuan. He asks Ting Ting what is going on, she hasn't been in touch in so long and suddenly shows up and claims to be his girlfriend. Ting Ting says she hasn't agreed to break up so she is still his girlfriend. Ah Qing wants to officially break up now then but she still refuses. He chews her out for being so self-absorbed but Ting Ting tries the whining and clingy method to keep him by her side.
Tracy arrives and sees Ting Ting grabbing Ah Qing's waist and begging to stay together. She's here for Mary's radio and Ah Qing grabs it and tells Tracy not to misunderstand. Ting Ting claims to be his girlfriend while Ah Qing says ex-girlfriend. Ah Qing tells Ting Ting that he wants to break up with her because he has someone he likes. He confesses to Tracy that he likes her. Ting Ting grabs Tracy and calls her a Xiao San for intruding into her relationship with Ah Qing. Tracy goes off on Ting Ting calling her pathetic for clinging on to a guy, especially a smooth talking weasel like Ah Qing. If he was Tony Leung or Takeshi Kaneshiro then maybe but why is she so clingy to a douche like Ah Qing? Tracy huffs off and man I want to give her a high five.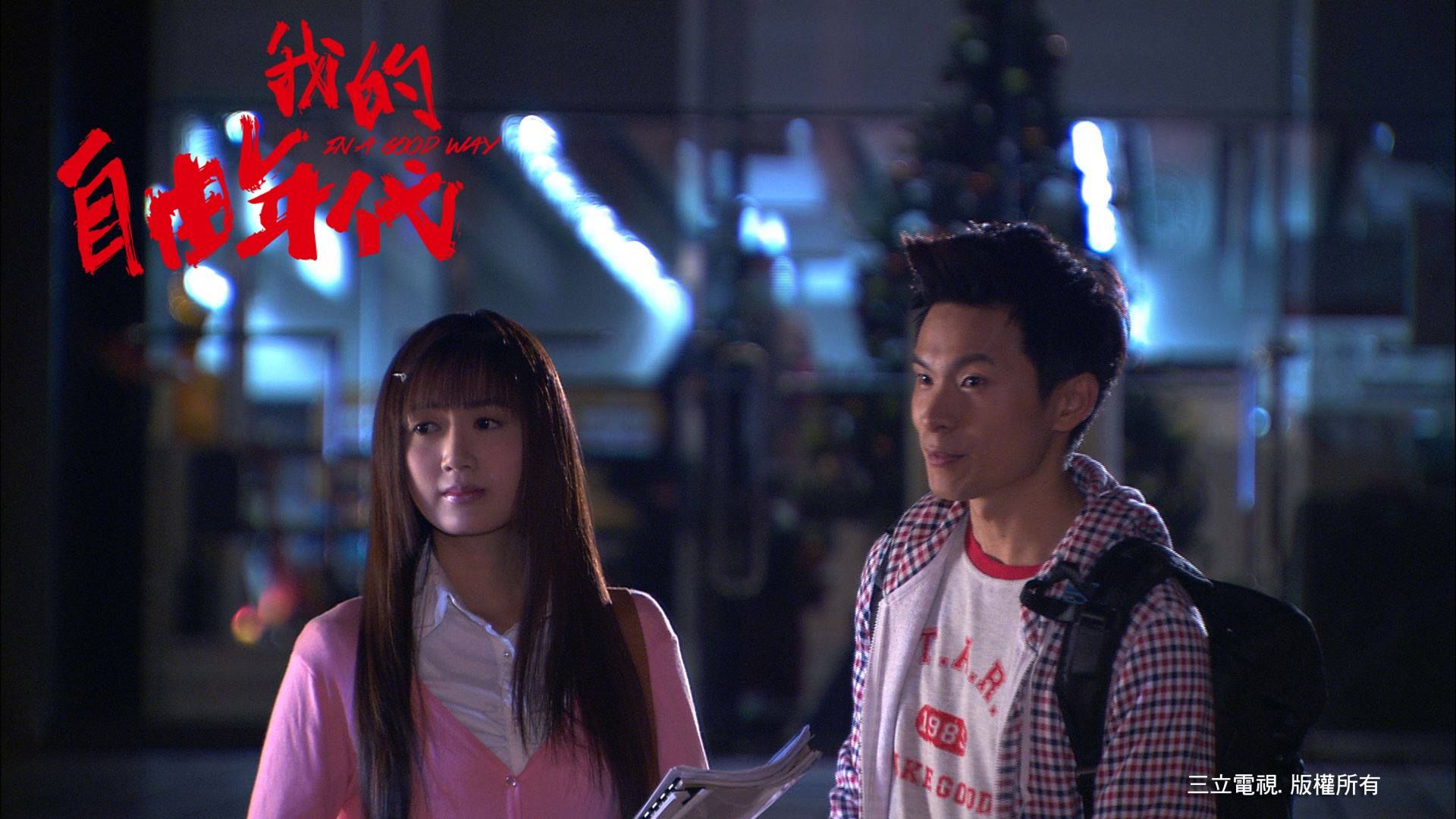 Bai Xue, Jia En, Ri Qi, and Liu Chuan are leaving the library and Liu Chuan offers to take Jia En home. Bai Xue watches them leave and Ri Qi makes the reference to Tom Hanks and Meg Ryan finally meeting at the top of the Empire State Building in Sleepless in Seattle. Bai Xue asks if Liu Chuan is dating Jia En and Ri Qi reveals that he's been friends with Liu Chuan for 3 years and he's never seen him treat any girl the way he treats Jia En. True dat. Bai Xue asks why Ri Qi pretended to be 3631 and he asks Bai Xue not to say anything to anyone. Ri Qi feels rather proud of doing his part to bring them together calling himself the cupid for sky and 3631. He ends with a "well done me" and then notices Bai Xue looking very sadly as Liu Chuan rides off with Jia En. Ri Qi asks if the person Bai Xue likes is……..but she just walks away.
All the kids are studying like mad for the exams. Tracy does it while hula hooping while Xiao Wei just sits and crams. Ah Qing is downing energy drinks while Ri Qi manages to study while doing crunches in bed. Liu Chuan sleeps with an open book next to him. Ha, osmosis my dear Liu Chuan? Jia En is eating a late night snack while studying when she gets a text from Ren Wei. He's cramming with the help of Jacky and Ah Qi and when Jia En arrives he begs for her help. Turns out his professor asked him to submit an extra report of 80 pages, 10 pages for each class he missed. The professor warns Ren Wei that he can fail him just on all the missed classes alone.
Ren Wei reveals this is a mandatory class and he has to pass otherwise he can't take his major electives. If he fails his dad will call him back home to raise fish. Jia En notices that all the books on Ren Wei's shelf are books Bai Xue likes. She chews him out for coming to Taipei just to get a credit in love and wasting all this chance. He claimed to come here for freedom and wanting to be independent but he's been doing nothing productive with his life. Ren Wei begs her to to help him over this hump and afterwards she can yell at him all she wants. She agrees and gets down to business with Ah Di and Jacky to help Ren Wei finish this report.
Bai Xue is at the Treasure Hunting club and gets a delivery of all the pictures from the recent club activities. She pays the guy and notices a slip of paper in her wallet and it's a birthday greeting note from Liu Chuan back in 1993. She thinks back to Liu Chuan taking Jia En home the other day and tries to tell herself to forget about him. Liu Chuan arrives and she quickly hides the note but he notices she looks off. Bai Xue chalks it up to cramming last night and then changes the subject to show him the pictures from their recent outing. Liu Chuan gets close to her to look at the pictures and she keeps sneaking glances at him. Bai Xue notes that he hasn't changed since they've known each other. Liu Chuan stops at a picture of Jia En and Ren Wei and he calls out Jia En for being so doofy as to wear such dark colored clothing into the mountains and reminds himself to tell her about it next time. Liu Chuan notices that she's in the middle of studying and lets her get back to it. Bai Xue alludes to it being engraved in her mind and she can't forget it even if she tried.
Ren Wei is still working on his report while Jia En, Jacky, and Ah Di are all passed out. Ren Wei tells Jia En to go to her exam and he'll do the rest. She promises to be back after she takes her test. Ren Wei suddenly sees a BBS message from Bai Xue asking if he has time? He makes up his mind and heads out though he apologizes to the sleeping Ah Di and Jacky first. Ren Wei takes Bai Xue out to ride a scooter to clear her mind. He tells silly jokes to her but she doesn't even crack a smile. He tries to ask why she's in a bad mood but she just asks for some peace and quiet. Suddenly Ren Wei's scooter putters to a stop because he forgot to fill up before heading out and they walk the scooter to find a gas station. Bai Xue asks why Ren Wei is always so good to him? Ren Wei explains he likes her, that is all. She wonders if he isn't tired of liking someone who doesn't like him back?
Ren Wei admits he's tired but shares a proverb about an idiot named Thomas Edison who tried 1600 times to invent the light bulb and everyone called him an idiot. Ren Wei may be an idiot but so is Bai Xue. She says neither of them are idiots, they are just trapped by love. She wants to let her feelings go so she can move on, and she asks him to do the same. Ren Wei says he's been thinking of her question about why he likes her and while he doesn't have a answer to that, he has been thinking about what he has that deserves for her to like him. And that is how much he likes her. Bai Xue has an exam after lunch and Ren Wei tries to flag down cars to get some gas and he manages to take her back to school. Bai Xue reveals she's feeling better and thanks him for giving her the courage to pursue love.
Jia En comes back to the tea house and tells her parents that she needs to head back out to help Ren Wei finish a report otherwise he'll fail a class and have to go back to Pingdong to raise fish. Her dad reasons that it's up to Ren Wei to grab his own opportunity and take advantage of it otherwise he might as well go back to Pingdong. Ah Di and Jacky arrive and everyone realizes Ren Wei is missing and his report is still not done. Ren Wei drops Bai Xue off at school and Jia En finds him and berates him out for going on a date while they are helping him finish the report. Ren Wei promises to explain later and they all rush off to finish the report.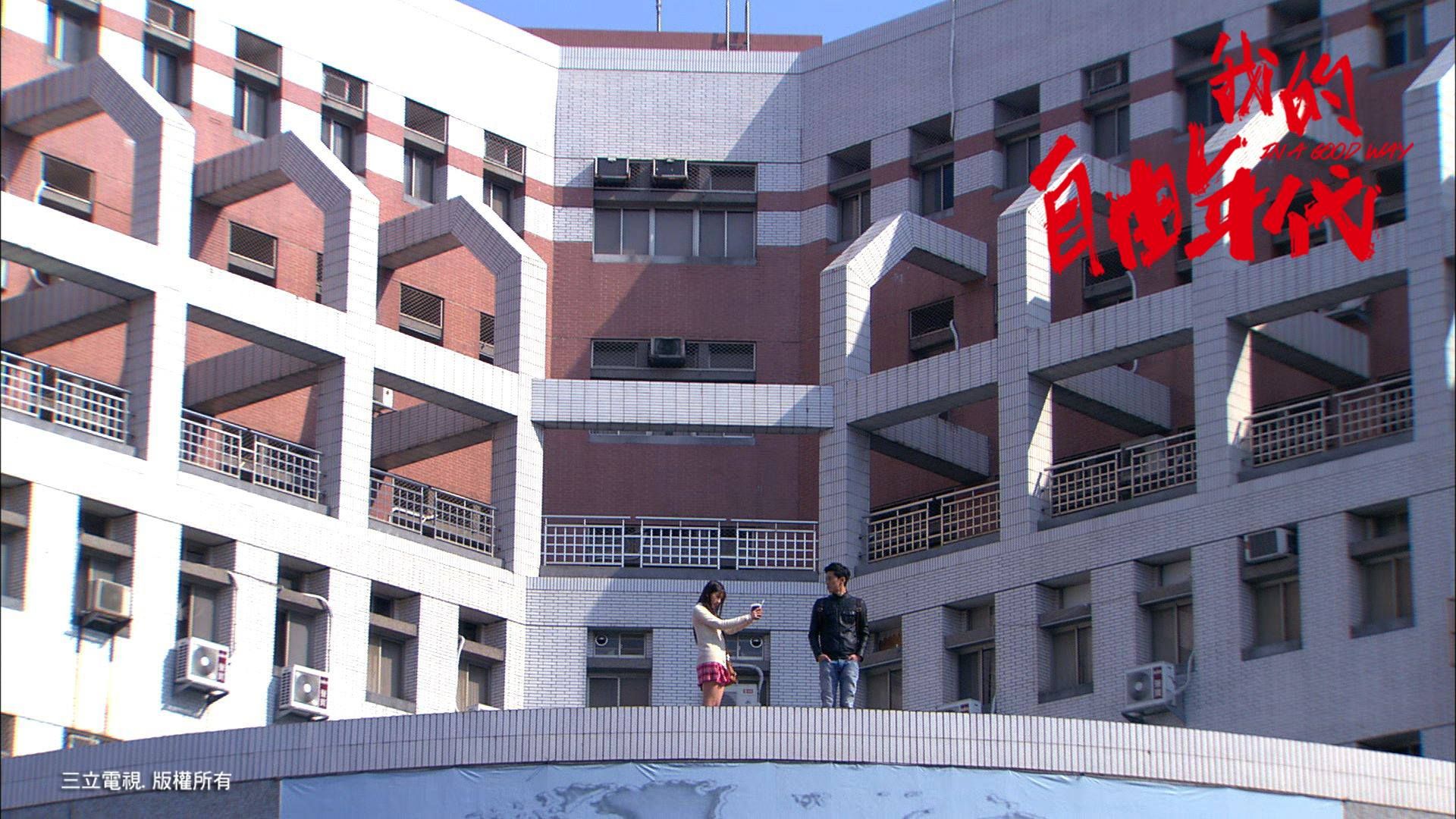 Liu Chuan and Ah Qing walk out of their exams and finds Bai Xue waiting outside. She asks to speak with Liu Chuan right now and they head up to the roof where the tea confession event takes place. Bai Xue has never been up there before and wows at the view people see when they are making their confessions. Liu Chuan stupidly asks if she has someone she wants to confess to and she nods. Bai Xue admits every year she wants to take part but she never got the courage to confess in public and accept the possibility of rejection. Especially since the person is someone she's known since high school. Liu Chuan finally wises up and asks why she never mentioned it before.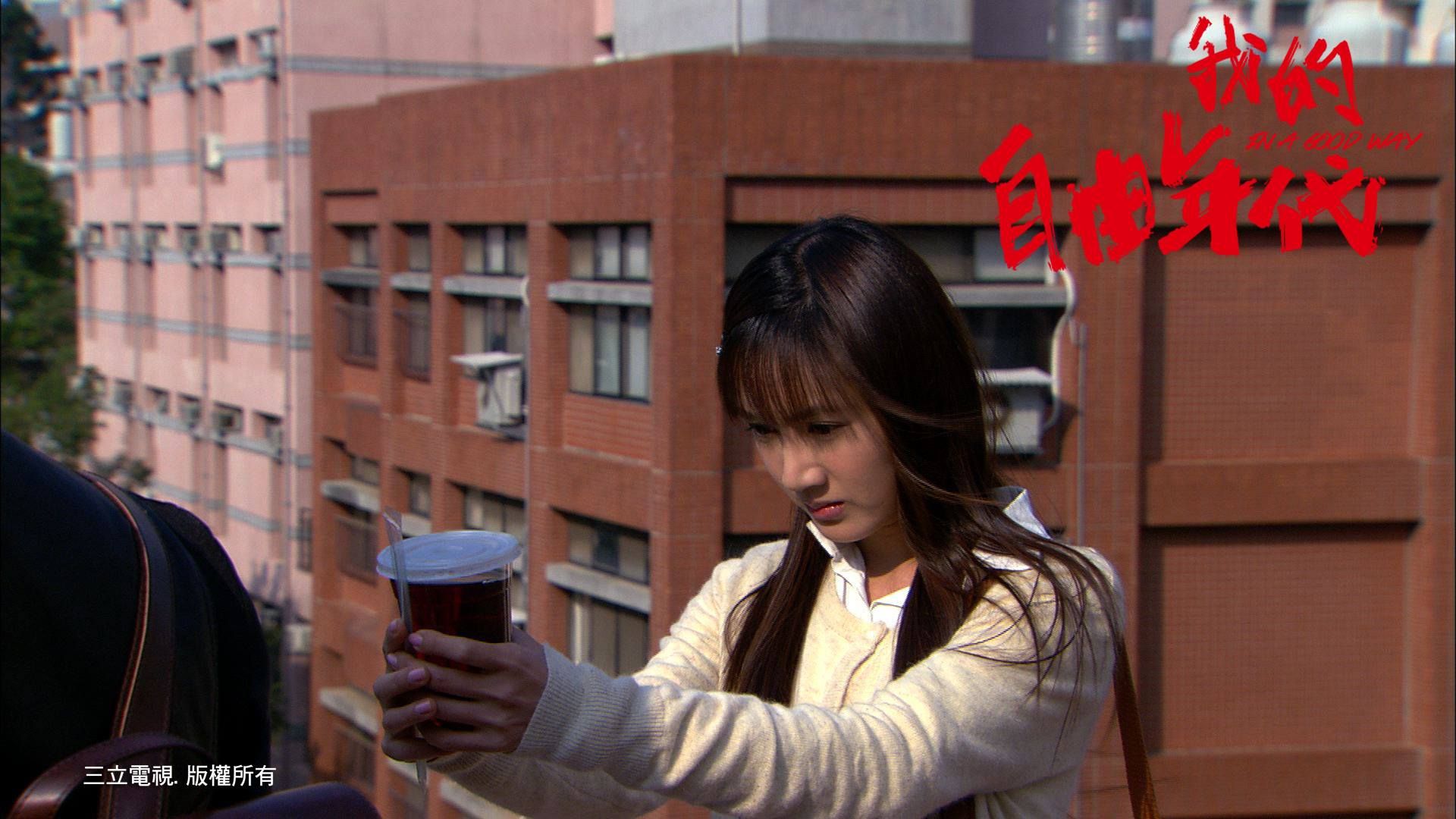 Bai Xue starts to describe Liu Chuan – good at everything from school to sports, hard working and not arrogant, doesn't care about winning or losing only about the journey, great camaraderie with everyone, she thinks they just get each other, he's considerate and kind, when a girl has nowhere to do during the rain he lets her stay the night, when a girl doesn't know how to dance he offers to teach her, he takes a girl home on his motorcyle and even remembers to wipe the dust off the backseat. Liu Chuan listens to all of this with a steely face. Bai Xue takes out a cup of tea and gives it to Liu Chuan asking him to accept it.
Ren Wei runs through campus to turn in his report and notices Bai Xue sitting in a daze on the bench. She starts to cry and flashes back to Liu Chuan taking the tea from her silently and doesn't make a move to drink it. Bai Xue asks if he's not going to drink it and Liu Chuan silently shakes his head. Liu Chuan finally speaks and apologizes for not noticing her feelings for so long. Bai Xue tells him not to apologize and says she was just sharing her feelings. She rushes off to class and thanks him for chatting with her. Bai Xue cries at the the tacit rejection from Liu Chuan and grabs Ren Wei's shoulder to cry on. He notices the time but can't bring himself to leave her alone to go turn in his report.
Jia En is at the tea house when Ren Wei comes back and she is furious to see that he didn't turn in the report in time. She asks what happened and he reveals running into Bai Xue as he was turning in the test and she was crying so he couldn't leave her there. Jia En and Ren Wei worry about what's going to next happen. Liu Chuan rides his motorcycle through town and ends up outside the tea house. He stare at it and then goes inside and hears about Ren Wei's paper debacle. Liu Chuan reveals that Ren Wei's professor has a reputation of being very reasonable and considerate of students. He offers to go with Ren Wei tomorrow to beg him to accept the paper late. Jia En tells Ren Wei to be extra groveling tomorrow with a side of sincerity.
Liu Chuan, Jia En, Ah Di, and Jacky send Ren Wei off to meet with his professor and encourage him to go submit the report late to his professor. Ren Wei goes him and bows his head low, explaining that the report is late because he wrote an extra twenty pages what with his inspiration to write more and do it perfectly. The professor takes the report and says he needs to read it first to decide whether he wants to accept it late. Ren Wei comes out and acts all sad before admitting that the professor accepted it! He thanks Jia En for her suggesting to write more and use sincerity to convince the professor. He also bear hugs Liu Chuan for his encouragement and suggestion to ask for a second chance. After Ah Di and Jacky leave, Ren Wei looks sad and Jia En notices that he's worried about Bai Xue still. She walks off with Ren Wei leaving Liu Chuan looking perturbed. Not sure if its because he sees how close Ren Wei and Jia En are, or because he's thinking about Bai Xue being all brokenhearted.
The three of them arrive at the Treasure Hunting club where Bai Xue is already there and she apologizes to Ren Wei for causing him to submit his report late because of her. Ren Wei brushes it off as nothing but Jia En puts on a hilarious Ren Wei impression from last night when he was moaning about going back to Pingdong to raise fish. Tracy and Ah Qing walk in and she discusses that men need to be more open about their feelings. She uses the opportunity to deride guys who try to play two women as pathetic. Liu Chuan asks Bai Xue to speak later but she claims their conversation is done and there is nothing else to talk about. She gets up and leaves and Jia En runs after her. Ah Qing tries to tell Tracy that he hates cheating guys but she asks if he hates himself them. She tells him to stop pursuing her anymore because then they can't even be friends. Tracy leaves and the three guys are left in the club room to stew over their own emotional hang ups.
Jia En tracks down Bai Xue to try and find out what's going on that has made her so sad. Bai Xue tries to brush it off so Jia En invites Bai Xue to watch movies with her later today but she declines as well. Jia En tries to tell Bai Xue that no matter what is bothering her, Jia En wants to help. Bai Xue blurts out "What if the person I like turns out to like you? Will you help me then?" Jia En looks shocked and asks who that person is? Bai Xue claims she was just saying a hypothetical and tells Jia En to forget about it. Bai Xue walks off leaving Jia En staring after her and not believing its just a hypothetical since Bai Xue's reaction was so intense. Bai Xue goes to cry in the bathroom stall and hears other girls calling her shallow for not dating one guy so that she can become popular with all the guys at school. This just makes her cry even more.
Jia En sits at home and tries to process what's going on. She posts a message on BBS to Bai Xue asking if she's fine and gets back a quick smiley emoticon before Bai Xue logs off. Jia En tries to think about the guy Bai Xue is referring to and then flashes back to all her interactions with Liu Chuan. Good girl, thank god you are not that dense. She doubts that it could be Liu Chuan but then remembers how upset Bai Xue is. She keeps trying to rationalize that it's not Liu Chuan since he never said anything to her nor is there any evidence that he likes her. She suddenly gets a page from Liu Chuan which freaks her out on the timing and she goes to flop on her bed trying to calm herself down.
Jia En finally gets up the courage to call him back and Liu Chuan is waiting by the dorm phone for her call. Jia En is totally awkward when he answers and he asks if she's been to the Red Hair City in Tanshui? Jia En went on an elementary school field trip with Ren Wei before. Liu Chuan says that place might have some clues on the ancient Dutch they are looking into. The City was built by the Spaniards but after the Dutch arrived they renovated it. Liu Chuan asks if she has time tomorrow and asks if she wants to go with him? Jia En says sure and Liu Chuan offers to pick her up. Before they hang up, Jia En screams "wait" but then tells him she's over-thinking things and will talk to him tomorrow.
Jia En and Liu Chuan visit the Red Hair City but leave empty-handed. They sit down to rest and Jia En notes that even modern day Dutch speakers can't read ancient Dutch anymore. Jia En suddenly asks Liu Chuan who his oldest friend is? It's Ah Qing, so Jia En continues and asks what he will do if the girl Ah Qing likes turns out to like Liu Chuan. He'll first decide if he likes that girl back. He turns to ask if she's dealing with the same situation? If so, does she like the guy in question? Jia En laughs that she doesn't even know if the guy is round or flat, much less whether she likes him. Jia En and Liu Chuan stare at each other quietly, and then Liu Chuan asks if Jia En's question is connected to Bai Xue?
Jia En admits Bai Xue told her yesterday that the guy she likes turns out to like Jia En. Bai Xue claimed to be speaking hypothetically but Jia En doesn't think so since Bai Xue looked very upset. Liu Chuan has this totally steely look on his face as he hears this. Jia En then says that no matter who the guy is, she hopes he is not Liu Chuan. He responds that if Jia En wishes it's not him, then it's not him. Jia En is happy that he's not the guy who made Bai Xue sad. She tells Liu Chuan not to look so serious and they get up to walk around some more.
Click here to watch In A Good Way.