Last week was the first ever Sina hosted Weibo Night 2013 to hand out awards to C-celebrities who have lit up China's most popular online social networking service akin to a combination Facebook and Twitter. Even among a bevy of popular stars it was hands down the joint appearance of recently gone public couple of Nicky Wu and Liu Shi Shi that garnered the most attention. This is their second public outing in as many months what with last month's appearance at the Baidu Awards. This time they were there to accept individual awards but definitely had no problem arriving as a couple and doing interviews together. Shi Shi candidly replied to the never ending questions about marriage plans by saying she's open to when it happens naturally. Nicky ribbed the press for asking the same exact marriage question each and every time and hoped perhaps that they can lay off since he's going to give the exact same answer anyway. I loved Shi Shi's strapless geometric print dress for this occasion which accentuates her lithe dancer's frame and makes her look elegant without being overly matronly. She went onstage with three other popular actresses Ni Ni (famous in her own right and now even hotter after dating Feng Shao Feng), Angelababy (herself with A-list boyfriend Huang Xiaoming), and Michelle Chen. The C-netizens and media predictably lit into Michelle afterwards for being the odd girl out in a collection of onscreen goddesses and frankly she did stick out like a different thumb. But she got to come on the arms of her onscreen co-star Chen Xiao so lucky her. Also present was C-movie star Chen Kun, preternaturally youthful Jimmy Lin who is red hot after his stint on the C-version of Daddy, Where Are We Going?, Wallace Chung in an outfit that defies the sense of good taste, and Han Geng in blue velvet. This was as odd of an excuse for an awards show as any, but heck the US did the Youtube awards last year so I guess it's anything goes these days. Check out all the pics below and I must say the ladies easily wowed with their style over the mostly style impaired guys.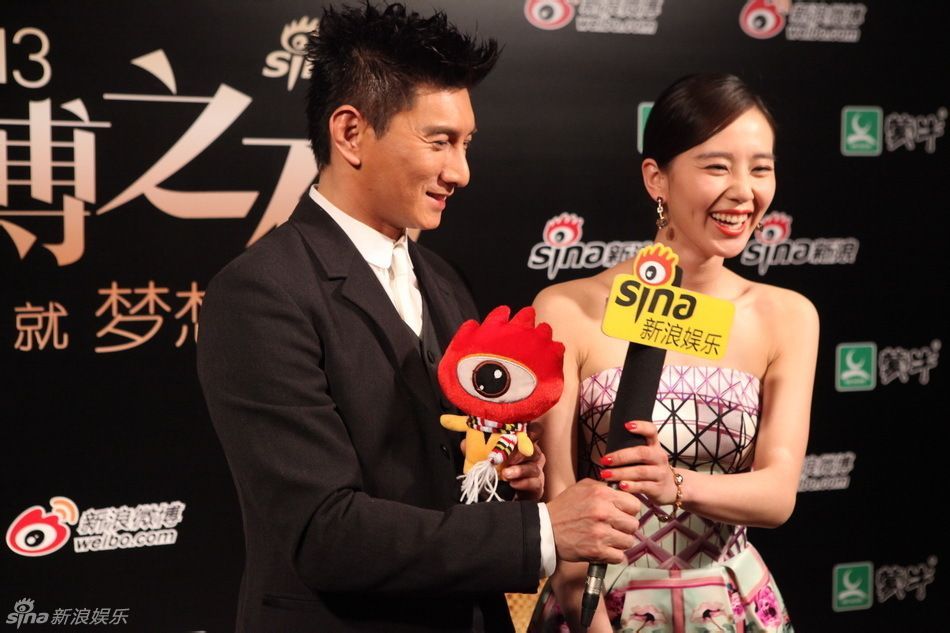 Shi Shi and Nicky will never stop being just too precious in my eyes. It's 4th Prince and Ruo Xi, people!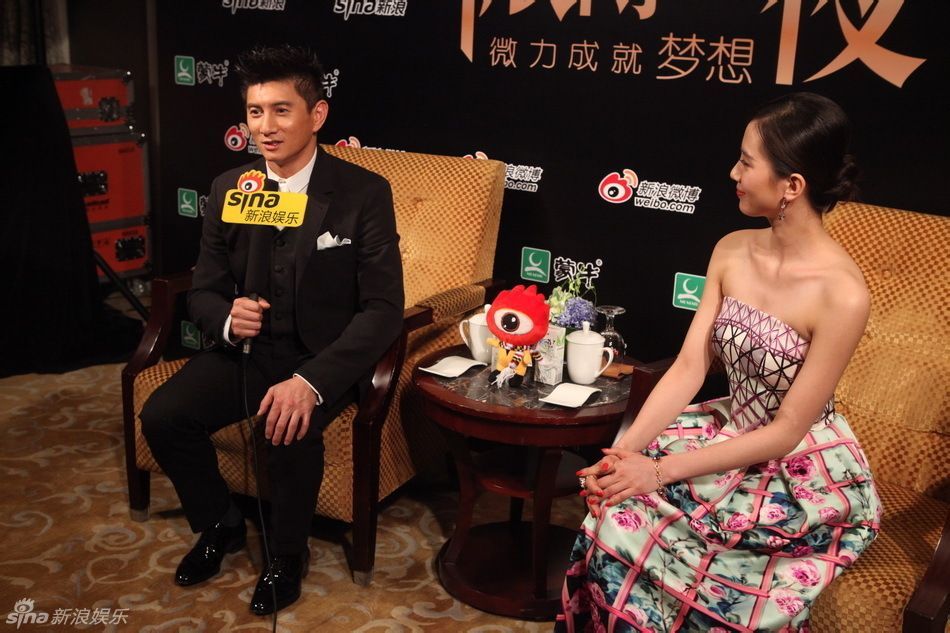 This is beyond adorable – Shi Shi taking a picture for her honey as Nicky poses with Wallace Chung and Jimmy Lin.
I love Shi Shi's dress for this occasion, it's like a cross between the Eiffel Tower and a Provence garden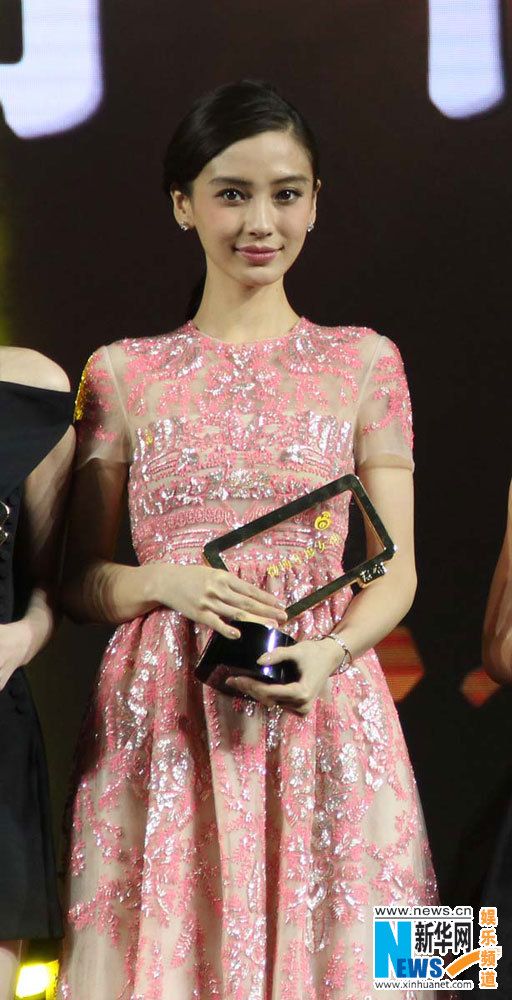 Only someone as tall and skinny as Angelebaby can pull off a full length dress like this and not seem like she's wearing a lacy ruck sack.
By popular vote the Weibo Goddesses of 2013 and of the night from left-to-right: Ni Ni, Angelababy, Michelle Chen, and Liu Shi Shi. Three of them would be perfect to play Xiaolongnu. The one who is not is actually playing Xiaolongnu. *sigh* I actually like Michelle's black strapless short tulle dress but unfortunately for her the goddess that is Ni Ni showed up in her own LBD and in comparison Michelle is just underwhelming.
Speaking of which, Michelle came with her costar the usually gorgeous Chen Xiao who is looking decidedly not in a blue velvet suit and borrowing Kim Soo Hyun's cheesy hairstyle in You From Another Star.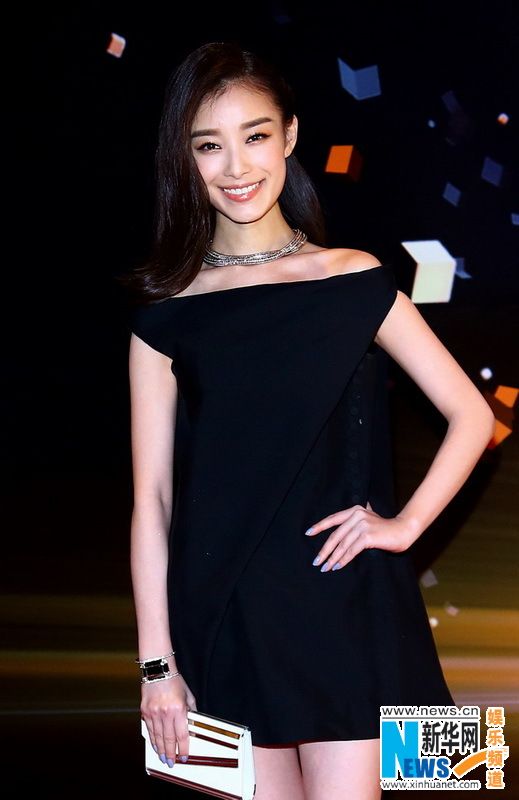 Somewhere Feng Shao Feng is sniggering and going "Yang Mi who?" Elsewhere the men in China are going "Curse you, Feng Shao Feng!"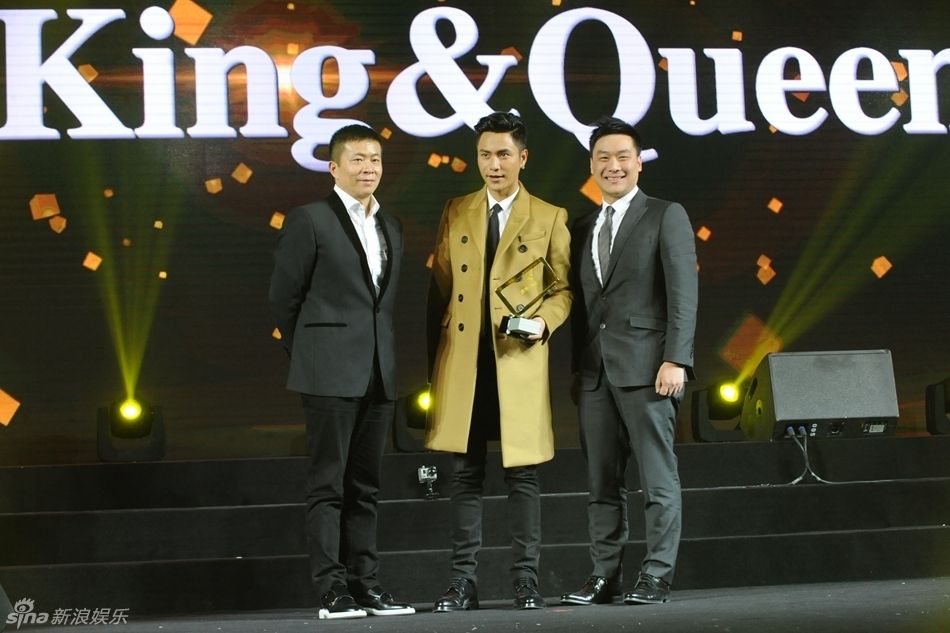 The smexy Chen Kun can do no wrong. King of the Weibo? I can buy that. Shi Shi bagged the female version of this award as the Queen of the Weibo.
The male Weibo gods from left-to-right are Huang Bo, Wallace Chung, Nicky Wu, and Han Geng.
Wallace, this is just so much fail from head-to-toe I can't even.