I'm still waiting for someone to convince me of the appeal of Lee Jong Seok. Back when School 2013 aired I thought he and Kim Woo Bin would forever be popular actors I would never find interesting enough to watch. I don't need cookie cutter good looks, far from it really, but I do need my actors to have some sort of "it" factor that makes me sit up and take note. Kim Woo Bin went on to do that in Heirs and now I find him the bees knees, but I couldn't get past a few episodes of Lee Jong Seok in I Hear Your Voice and for the life of me he totally looks like  a cross between The Joker and an anemic vampire. I concede he's definitely more mainstream attractive than his best buddy Kim Woo Bin, but between them I'd take Kim Woo Bin to headline a drama any day.
IHYV was more a Lee Bo Young drama when it first started before Lee Jong Seok really came to the forefront and won audience hearts, while School 2013 was an ensemble piece. That makes the upcoming Doctor Stranger on SBS Lee Jong Seok's first real headlining drama with him playing the titular Dr. Stranger. Lee Jong Seok plays a South Korean who was abducted to North Korean along with his doctor dad. He was raised and educated in the North and follows in his father's footsteps to become an accomplished heart surgeon. He becomes the doctor in a strange land when he returns to South Korea but bearing the education and life experiences of growing up in the North. Park Hae Jin is a fellow rival doctor while Kang Sora and Jin Se Yeon round out the female portion of the cast and the love interests. Check out the first official pictures from the drama, including a first look at the overseas shoot in Hungary. Dr. Stranger will premiere the last week of April following God's Gift: 14 Days on Mon-Tues.
Lee Jong Seok and Jin Se Yeon are adorable together. I hope they are a couple and Park Hae Jin and Kang Sora are a couple. The more the merrier.
Park Hae Jin looks gooooood here, the centered parted wavy hair that dorkifies him notwithstanding. He definitely rocks the scrubs and white coat.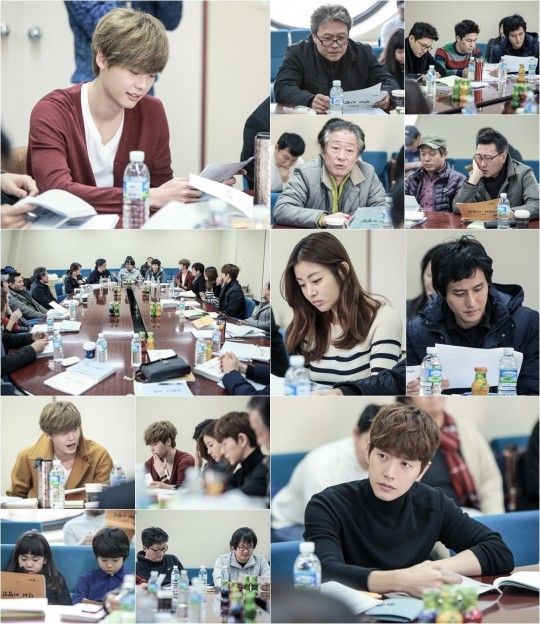 I find the title that odd mash-up of Korean and English – Dakteo Yibangin – rather then sticking with either English or Korean for the two words. Directing this drama is PD Jin Hyuk who did The Master's Sun, Prosecutor Princess, City Hunter, Brilliant Legacy/Shining Inheritance, and Painter of the Wind. He's an SBS regular and I always love his directing eye. Writing is Park Jin Woo who hasn't done a drama in a few years, the last one was being part of the ensemble writing team of Kingdom of the Wind and before that working on Snow Flower with famed screenwriter Kim Soo Hyun.