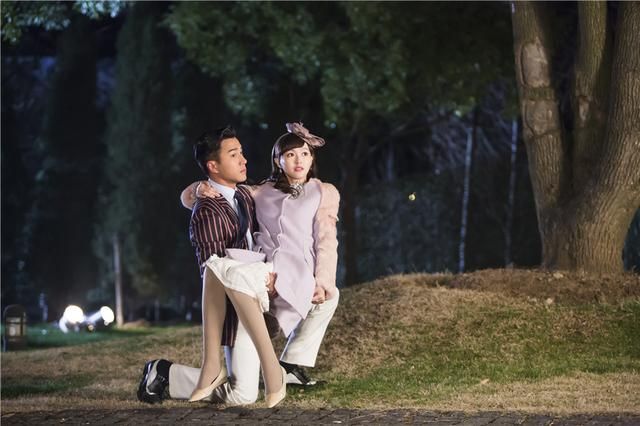 Woah momma does this look potentially fantastic. I've been all over the production of C-drama Lady and Liar since the very beginning primarily due to the story line being lifted from a classic shoujo manga Hakushaku Reijou (伯爵令嬢 or The Earl's Daughter). I loved that manga as a kid and now that I'm watching dramas more the plot is totally suited for a drama adaptation. The cast of Lady and Liar is decent but without a single lead I'm crazy about – Hawick Lau gets to act opposite his wifey Yang Mi's real life best friend forever Tang Yan while TW-actor Tony Yang and C-actress Yang Rong round out the complicated romantic quartet. The story is about an orphan who finds out she's the long-lost daughter of a rich aristocratic family, in her journey to reunite with her real family she gets lost at sea in a shipwreck and a female thief she befriended stabs her in the back and assumes her identity to become the rich daughter.
On the romance front, the leading lady first falls in the teenage blush of first love with a blind young man and but an older ruthless nobleman has fallen for her charms and seeks unsuccessfully to win her heart. After the shipwreck, she loses her memory and the nobleman rescues her and lies that he is her fiancee. During her convalescence she falls in love with him for real and then her first love comes back after getting surgery to regain his sight and she finds herself torn between two men. In the end she regains her rightful identity, the female thief is punished, and she picks the man she loves the most and can't live without. The story is a tad overwrought but the period setting in 19th century France worked wonders and has been transplanted now to 1930's Shanghai. The plot has been tweaked a bit with Hawick's male lead not being a nobleman but is instead a ruthless gang leader while Tang Yan's leading lady has an adoptive father and does magic tricks on the street to make a living. The long 19-minute preview is out and I can't stop watching it! So much pretty my eyes are twirling, with the rich lovely costumes and set production courtesy of the same production team behind Material Queen, Autumn's Concerto, and King of Lan Ling.
19-minute Long Preview for Lady and Liar:
Tang Tang is currently in my latest guilty pleasure drama Perfect Couple with Wallace Huo (he's so yummy in PC it's ridiculous) and she also looks fantastic here with Hawick and I see chemistry shooting every which way. Lady and Liar won't air until 2015 but I'll have this long preview to keep me company until then.