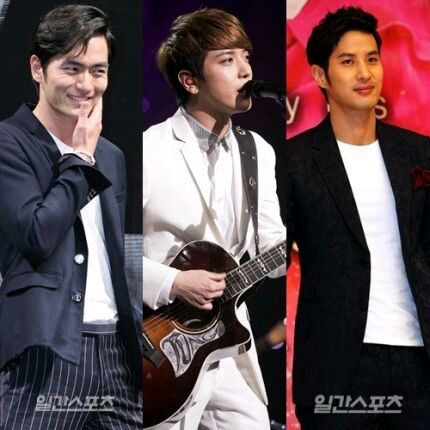 Looks like this Summer will bring back some sageuks to K-dramas after taking a short breather from the genre. There's Joseon Gunman on KBS, Records of a Night Watchman on MBC, and now tvN is joining in as it preps Three Musketeers for August. What got me intrigued by Three Musketeers is the behind-the-scenes talent with the scriptwriter who did Queen In Hyun's Man and Nine: Nine Time Travels doing her first full sageuk outing. The story appears to be a straightforward adaptation of the classic French Three Musketeers story but transplanted to Joseon. A poor young man of noble birth aims to join the royal military forces. His journey becomes intertwined with the King's and his three renowned royal guards. Officially in talks to play the three male leads are Lee Jin Wook, Jung Yong Hwa, and Kim Ji Seok. Of the three leads in question, only Kim Ji Seok has sageuk experience and it was quite a memorable outing at that playing one of Jang Hyuk's slave hunter buddies in Chuno. He hasn't done a sageuk since, and is currently in the SBS weekend drama Angel Eyes, but I would love to see him back in sageuk territory.
I'm not surprised to hear Lee Jin Wook courted for this drama since he worked with the scriptwriter as the lead in Nine. Having not seen him in a sageuk before, I can't say whether his acting is ready to tackle a genre that calls for intensity and restraint in perfect balance. I'm still burned by Jung Yong Hwa's last drama the craptastic Marry Him if You Dare, and even if he improved slightly from previous attempts at acting in Heartstrings and You're Beautiful, it was hard pressed to enjoy his emoting improvement when he was playing one of the worst male characters who is not an outright villain. If he accepts Three Musketeers and keeps on improving while playing a great male lead, it'll go a long ways to erasing the ugh taste from my mouth when I think of him in a drama. The three male leads are all currently in discussion (some reports claim Lee Jin Wook and Jung Yong Hwa have signed while Kim Ji Seok is still considering) but the casting will need to be finalized soon since the drama heads into production in June.
Another reason to be interested is the arrangement of the drama – it's being split into three seasons with 12-episodes apiece per season, with each season taking on a specific narrative arc in the story, and all three seasons combined will create the entire drama. Sounds neat to me.