I would prefer Michelle Chen stick with modern movies, she's not bad in stuff like You Are the Apple of My Eye and Badges of Fury, but put her in period movie fare like Ripples of Desire or on the small screen in any drama such as Channel X and Wish to See You Again and she makes me cringe. That appears to be the majority opinion which burst forth into one of the most excessive torrents of criticism I've ever seen from both the media and the public towards an actor when she was cast as the iconic leading lady in the period wuxia drama Return of the Condor Heroes. She was held up to both the effusive description of the leading lady in the classic novel (lithe, icy, aloof, beautiful beyond compare) and found thoroughly unsuitable and wanting. She was further held up to famed C-actress beauties before her who previously played said character of Xiaolongnu such as Idy Chen, Carmen Lee, and Crystal Liu, and found even more lackluster.
The furor died down but got resurrected last week by the rumor that Michelle was so depressed by the tremendous amounts of hate and criticism lobbed her way for thinking she was suited enough to play such a character of unattainable female perfection. The rumor claimed that she contemplated suicide (jumping off a building, to be exact) from all the public hate for her. Michelle's manager quickly issued a press release that she never contemplated suicide though she was upset by all the hate, but she felt better after she went on a massive diet and lost a lot of weight so that she could no longer be derided as a Xiaolongbao (pork bun) masquerading as a Xiaolongnu (the little dragon girl). I'm not sure losing weight would allay the netizens overall rejection of her playing the role in both looks and acting skill, but I am glad she wasn't so thin-skinned that she actually thought about killing herself. The TW-press interviewed similarly oft-criticized model-actress Lin Chi Ling this week at an event and asked her about the Michelle-suicide-over-netizen-hate rumors and Lin Chi Ling quickly offered advice to Michelle that to be an entertainer is a profession where one needs to have such thick skin as to repel everything.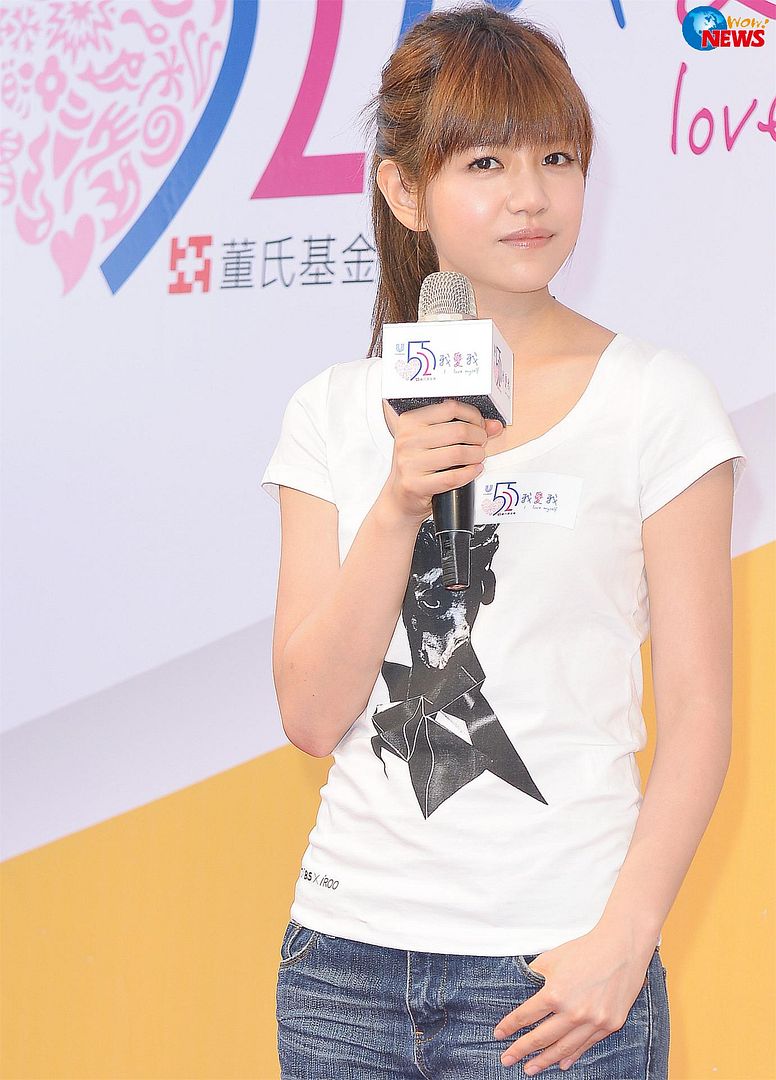 The above pictures are of Michelle last month attending an event and looking much skinnier than when she filmed RoCH last year. I quite like that hairstyle and color on her, very flattering and fresh. It was also her birthday this week and she posted on her Weibo that she's happy turning 31 years old and the wish that she made was for her heart to expand and her physique not to get fat (心寬體不胖).
A refresh of the Michelle as Xiaolongnu look that garnered her mockery and hate from fans of the original novel and previous drama adaptations of the RoCH story. I think there's an element of RoCH producer and troll extraordinaire Yu Zheng using Michelle to rile up the netizens and garner coverage for his drama. The man is a maestro at using bad publicity because the dramas he writes and produces are always shit so he's never going to get good press for it so might as well heat up the hate. I still think Michelle should have just say no to the role in the first place.
Michelle recently flexed her artistic side to design a pair of lover's mugs that read "I am home when you are with me" when placed together. It's pretty effortlessly cute. It would make a nice casual gift for the Summer wedding season. Her guy-girl doodles are adorable as well though I could do without the hearts on the handle. Maybe she has an alternative career as a mug designer?