I was wondering when the next big K-entertainment dating news would drop and looks like today is a good day for some good old-fashioned tabloid news Dispatch exclusive. Never one to rest on its laurels for following celebrities late into the night on secret dating trips, which really are too many to even list at this point, Dispatch decided to just sit back and wait for the goods to drop in its lap this time by parking its ass right outside the EXO dorm. As luck (or tip-offs) would have it, late into the night around 2 am Taeyeon of SNSD pulled up outside the EXO dorm in her shiny (and bright) silver Mercedes convertible and picked up her equally bright-eyed and bushy-tailed young Romeo in the cute form of Baekhyun of EXO-K. Taeyeon isn't just Baekhyun's sunbae at their mutual agency SM Entertainment and SNSD debuting years before EXO, she's also three-years older than Baekhyun. I don't think Taeyeon looks old in the slightest but looking at pictures of Baekhyun he looks about 15 years old give or take a few years.
The Dispatch spy followed Taeyeon's hard-to-miss car as it pulled over by the side of the road and the couple got in some hanging out time. My eyes may not be as sharp as it used to to (curses all those recaps that need to be written!) but I spot Taeyeon stroking her handsome young man's face and then some kissy kissy to boot. I was dying with amusement to see how SM explains their way out of this one, and even better is that it's all going to come from one agency rather than two agencies trying desperately to align their statements and sometimes accidentally kicking each other in the face with conflicting comments. Maybe Taeyeon-Baekhyun are discussing an upcoming duet together and harmonizing late at night because their schedules are so packed during the day? Maybe she's checking out his tonsils after feeling his face up in case he's sick? SM made it easy on itself and just confirmed these two are in fact dating. Baekhyun has stated openly that he admires his SNSD sunbaes and singling out Taeyeon as his personal favorite. Now we know why. So cute, these two. Good luck weathering the double whammy of crazy fanboy v. fangirl weeping blood tears.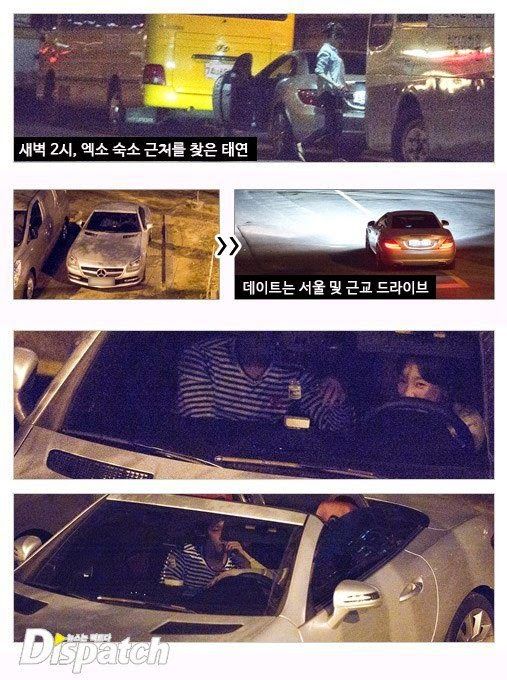 I've heard murmurings of this couple since earlier this year, around the time Yoona went public and Lee Seung Gi and Sooyoung confirmed she's been dating Jung Kyung Ho. Taeyeon and Baekhyun have been seen wearing couples bracelets, same earphones, and even posting the same SNS message about Pikachu and dreams (don't ask). With the girls above taken, as well as Hyoyeon with her maybe dodgy boyfriend and Tiffany dating 2PM's Nichkhun, that really leaves half of SNSD tied up. Hopefully this will also put to rest all those Baekhyun is gay rumors. Nothing wrong if he was, it just seemed like some of his fans were unilaterally shipping him with Chanyeol and wishing he was gay. I sometimes forget how boy-banders can generate crazy fandom slash fiction.