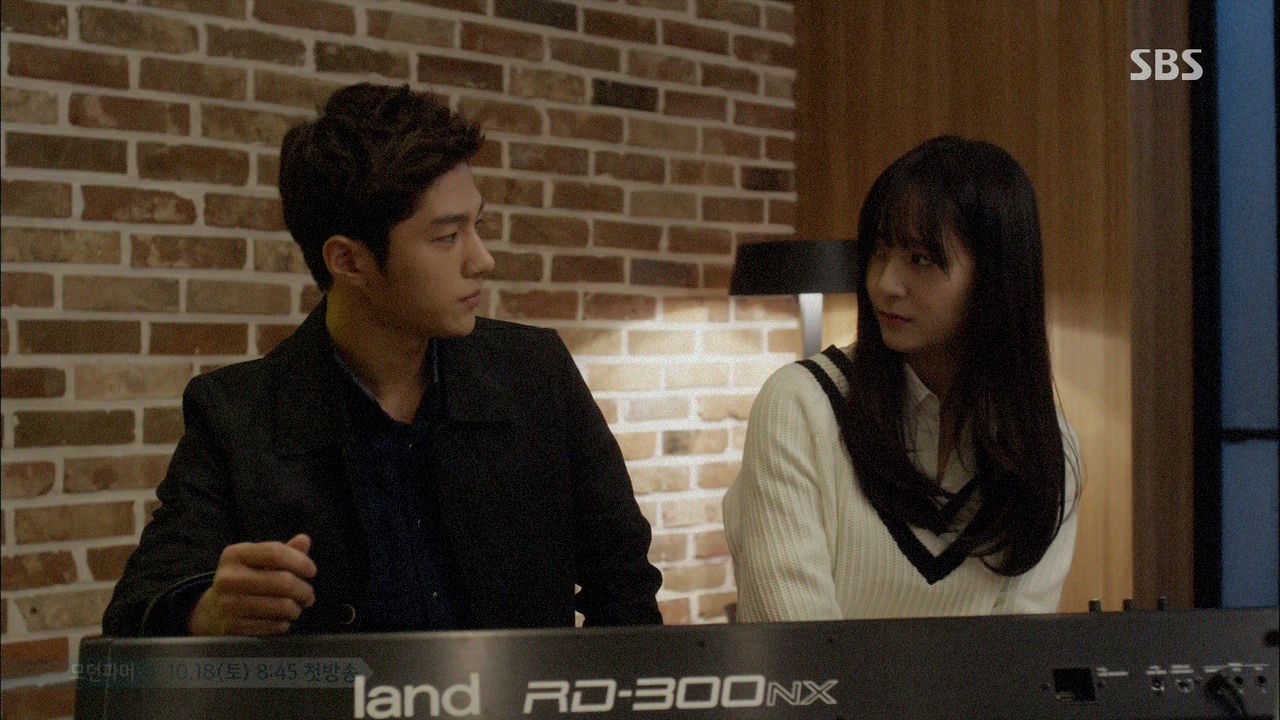 It's strange how My Lovely Girl (My Lovable Girl) captures my fancy in ways where I'm interested but not personally over invested. As far as love triangles go, I love both legs equally and see no need to play favorites. Yay for more love to go around, right? When Hyun Wook and Se Na are together I bask in their warm affection, when Shi Woo and Se Na are together I thrill over their sparkling chemistry. It's all good with me so hopefully the escalating ship wars can park it before it gets out of control. The emotional threads from Se Na out to both her leading men continue to be nicely developed.
Sure Shi Woo is way adorable and so endearing in how he seeks out Se Na for companionship, but being the fated sinking ship doesn't upset me because the drama clearly appreciates his character and gives him plenty of room to shine. As Shi Woo's solo debut hits a major hitch in this episode, so does Se Na and Hyun Wook's budding romance which went from sweet kiss to a grinding halt. I don't find any romance in this drama hinged on the destined or the inevitable so the push and pull doesn't comes across as a waste of time and instead allows characters to actually think things through.
Episode 9 recap:
Se Na finds Hyun Wook brooding over the latest veterinary diagnosis that Dal Bong is nearing the end of his life. She comforts him with a hug which leads to Hyun Wook pulling her in for a kiss.
The sweet kiss ends and Se Na orders Hyun Wook to wait for her here as she goes inside the vet to check on Dal Bong. Se Na strokes poor Dal Bong's head and chides him for getting sick so young at 7 years old. She worries about Hyun Wook if Dal Bong leaves him so soon since he sees Dal Bong as family. Se Na confesses to Dal Bong that she likes Hyun Wook and apologizes for being so happy herself when he's suffering. She hopes Dal Bong gets better soon so the three of them can play together.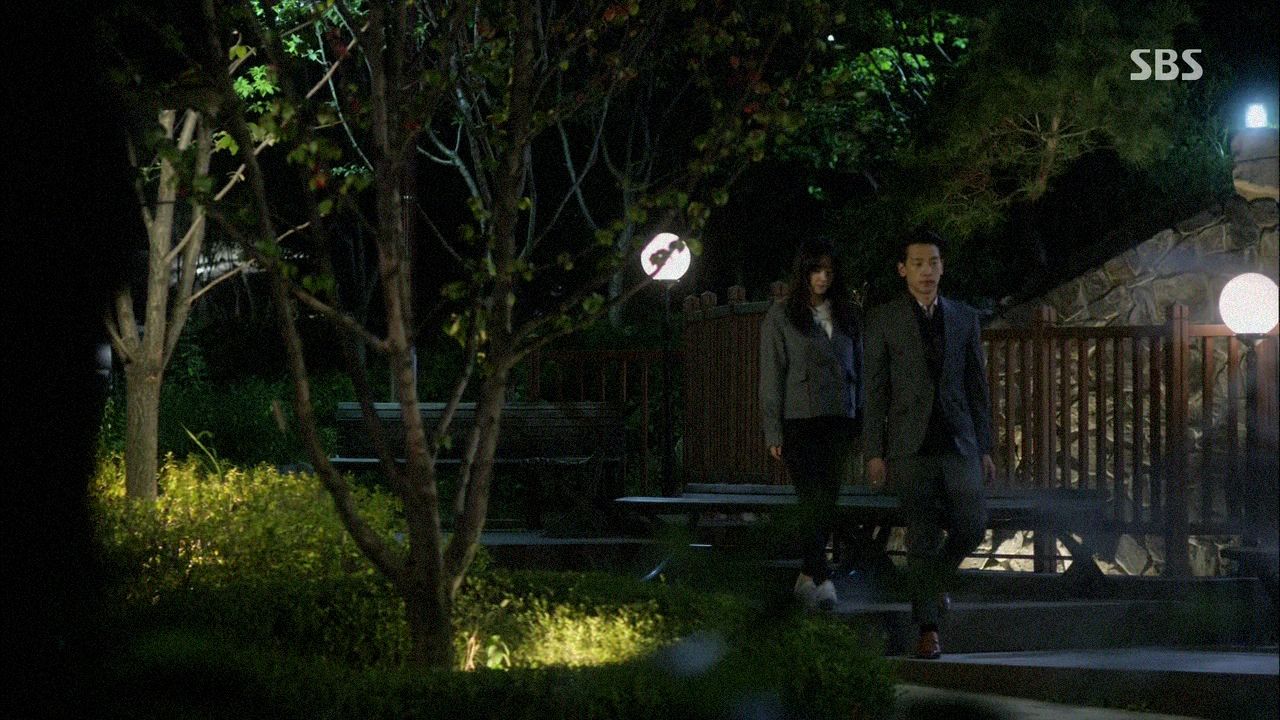 Se Na goes back to Hyun Wook and passes word from Dal Bong that he made a pinky paw promise to get better. The mood is awkward and Hyun Wook gets up to leave with Se Na. She walks close to him and her hand brushes his so she quickly explains she didn't intend to take it. Hyun Wook takes the initiative finally and takes Se Na's hand. He gives her a small smile and she quietly follows behind him as they walk off hand-in-hand.
Se Na hears his phone ringing but Hyun Wook doesn't want to answer. She tells him to take it so he lets go of her hand and answers the call. Hyun Wook is called away and Se Na assures him that she can take the bus home alone. She watches him walk off wistfully before staring with a smile at the hand he was just holding.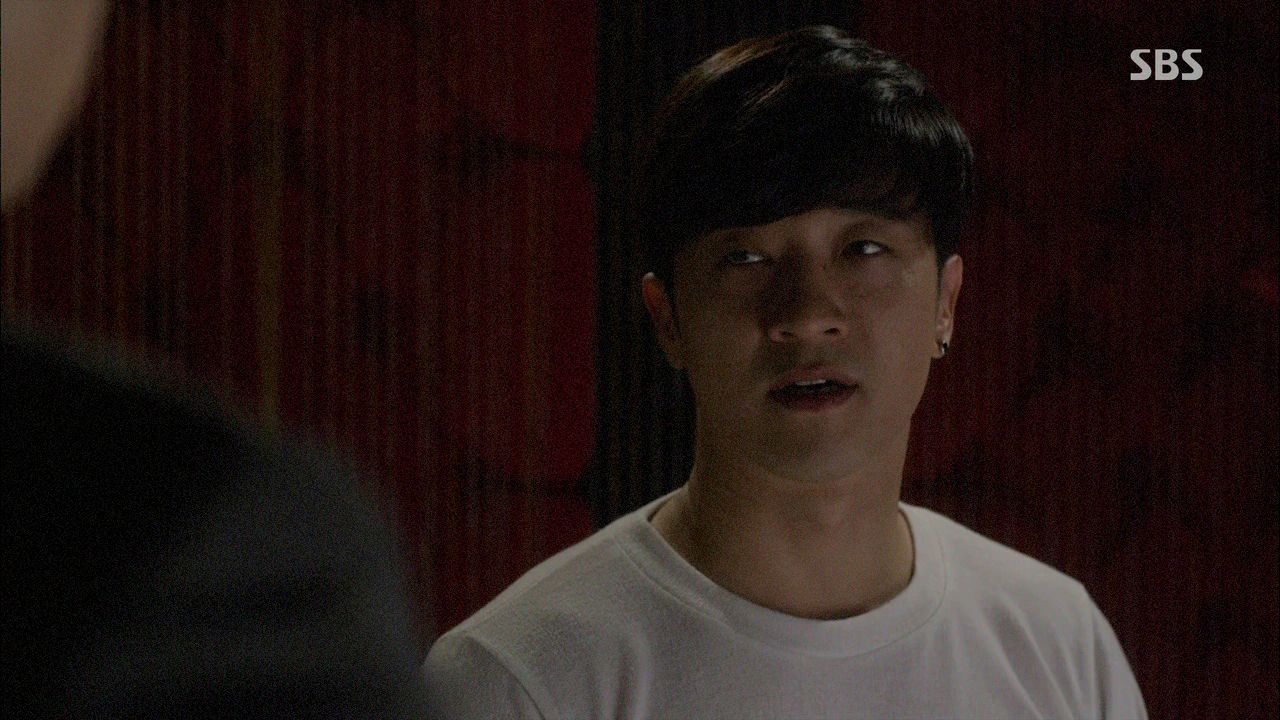 Hyun Woo finds Sang Jin babysitting a drunk Hae Yoon. Sang Jin blames Hyun Wook for Hae Yoon's current state and chides Hyun Wook for being so cold to a person who likes him even if he doesn't like her back.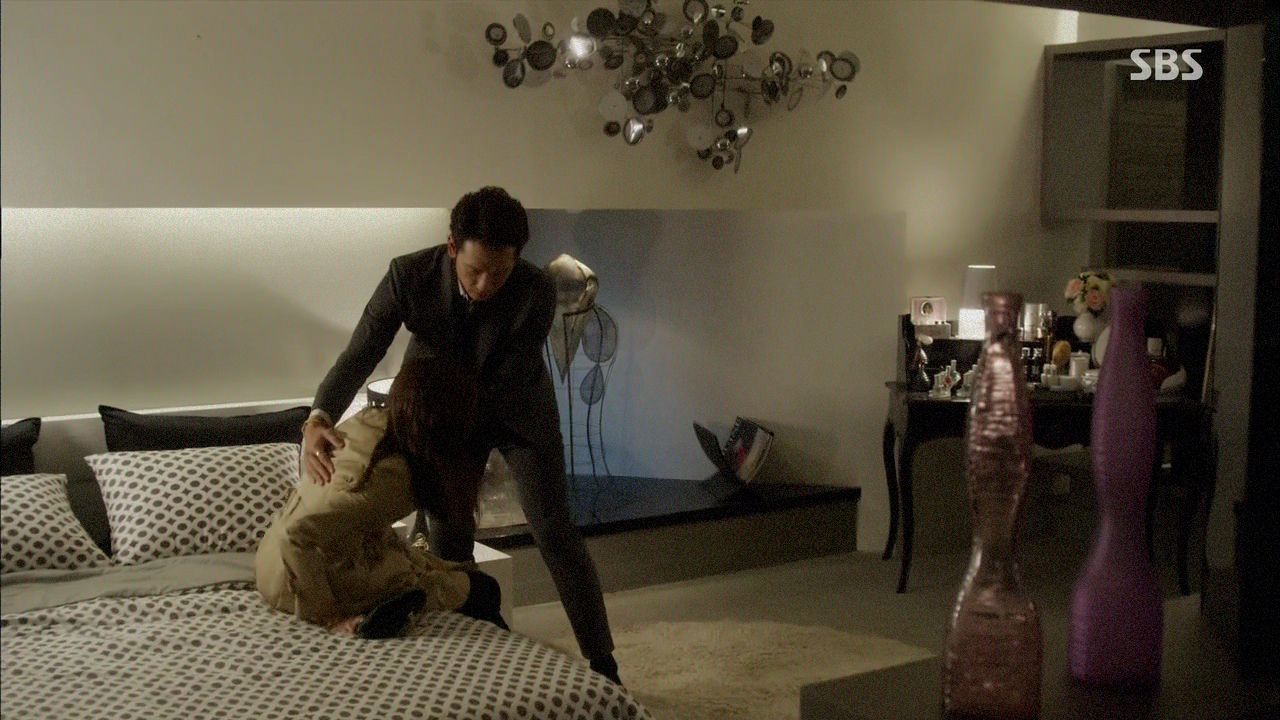 Hyun Wook deposits Hae Yoon back to her place and she asks him to stay with her. Hyun Wook doesn't want to hear it since tomorrow it will be awkward at work. Hae Yoon is tired of pretending, for the last 12 years she's been holding in her feelings for him ever since she met him during a particularly down day when she did poorly on an exam. She's been working hard to be good enough for him but while she was trying Hyun Wook fell in love with another girl. Then the girl died and Hae Yoon felt bad so kept on waiting but she doesn't want to wait anymore otherwise oppa will be taken by another girl.
Hyun Wook counsels Hae Yoon to let him go because there is no reason her life should be this tragic. If she can kick him to the curb then she can be happy, plus he doesn't want to have to distance himself from her because of this. Hyun Wook leaves Hae Yoon sobbing on her bed.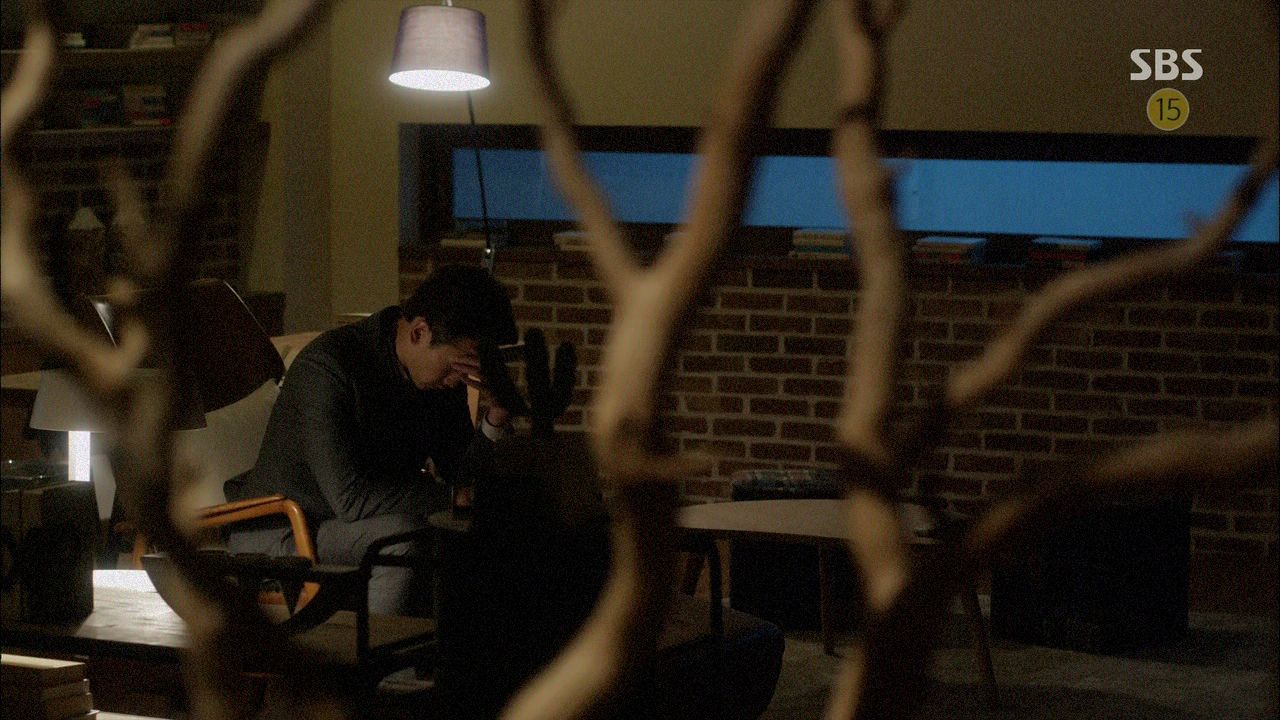 Hyun Wook goes home to brood, all alone now since Dal Bong is in the pet hospital. He touches his lips still remembering the kiss with Se Na from earlier. It only makes him more stressed. Se Na is still on cloud nine from the kiss as she sits at home.
The AnA management team go through final scheduling for Shi Woo's solo debut. Hyun Wook asks the team to start preparing for the debut of a new boy group since they can't put all their eggs in one Shi Woo basket. Hyun Wook is told to go to SBC studios to meet with the head about broadcast matters. Talk turns to why Hae Yoon missed this meeting and perhaps she's not feeling well.
Hyun Wook goes to Hae Yoon's office and she's back to pretending she didn't remember what happened after Hyun Wook took her home. He asks Hae Yoon to hurry up and nurse her hangover lest she barfs on the plane as she's about to head on a business trip.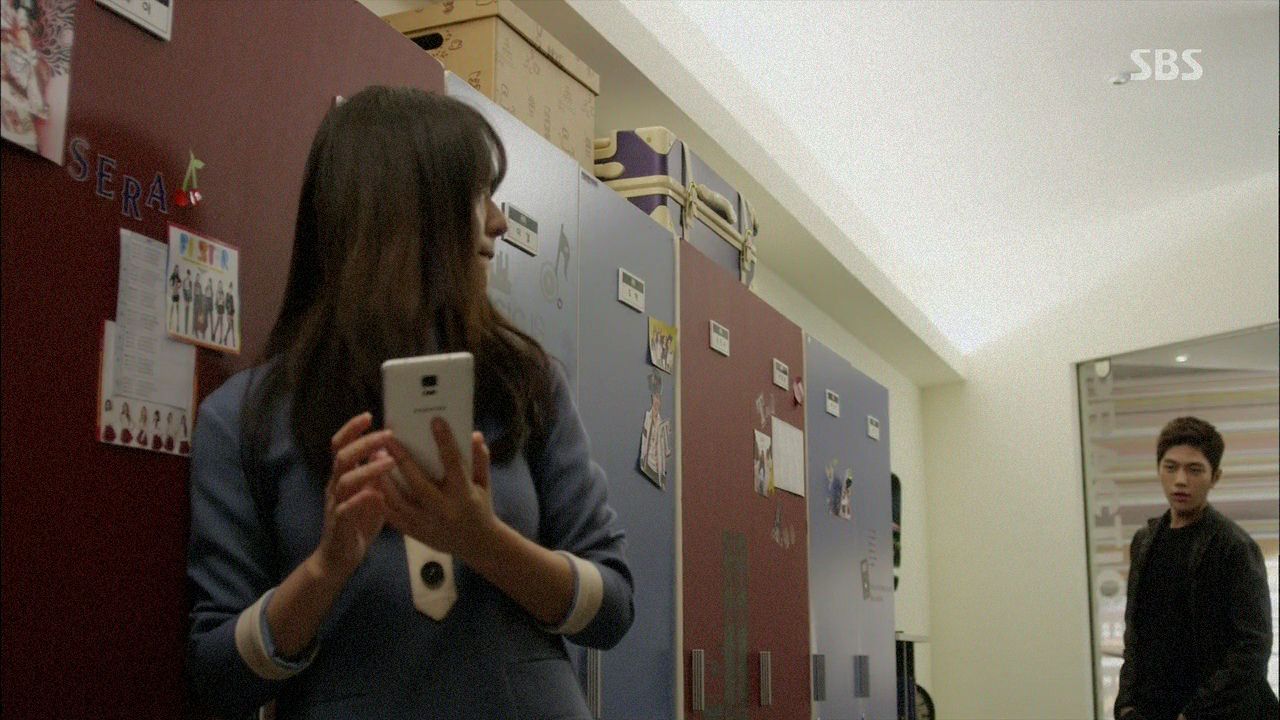 Se Na is still swooning over Hyun Wook and stares all moon-eyed at the picture in her cell phone of Hyun Wook and Dal Bong. Shi Woo notices her happy mood and wonders what she's looking at in her phone? Se Na explains it's a picture of Dal Bong which makes Shi Woo unhappy that she's still working as a pet sitter. He claims her closeness with Hyun Wook outside of work will only lead to the other trainees to keep ostracizing her.
Se Na explains how much she cares for Dal Bong who needs her even more now because he's sick. Shi Woo wonders if she'll take care of him if he gets sick but she sasses back that he has a mom to take care of him. Se Na notices presents in her locker and assumes Shi Woo gave it to her? He peeks and claims it's not him this time. Shi Woo grabs her hand to take her to lunch and Se Na agrees as long as he doesn't take her hand.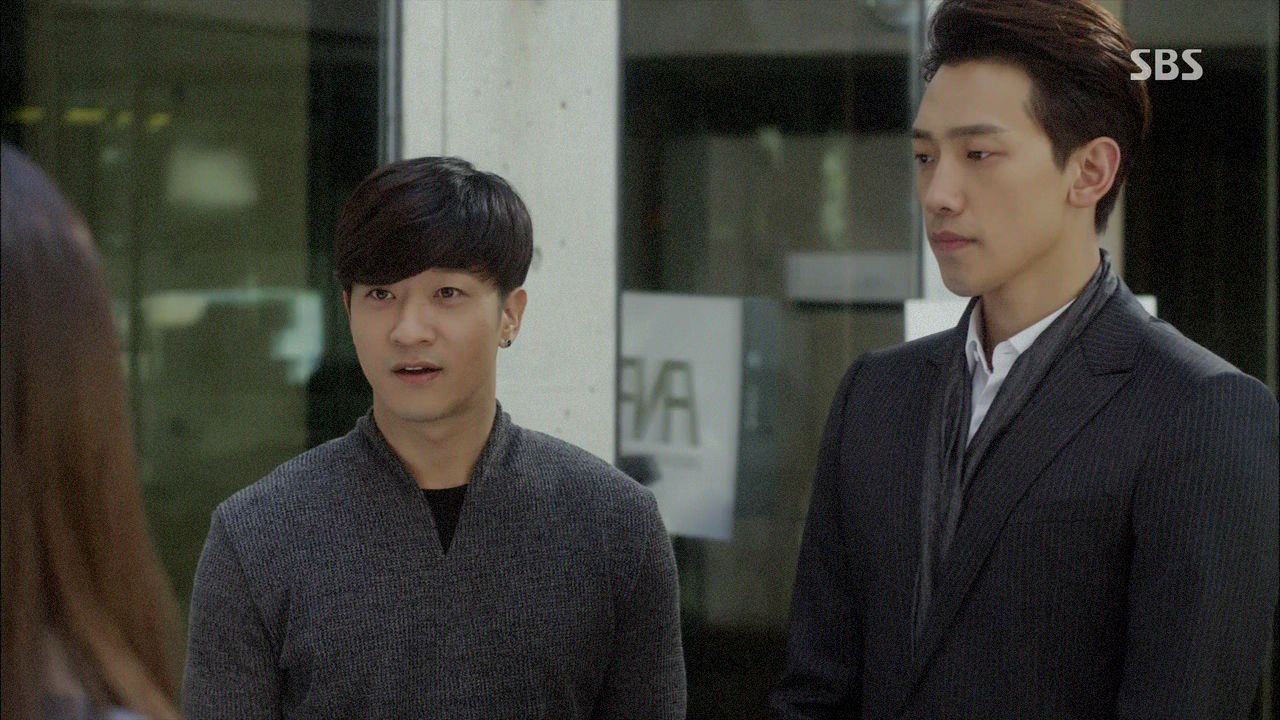 Hyun Wook and Sang Jin are walking back to the agency when they run into Shi Woo and Se Na going out for lunch. Sang Jin worries about the potential for scandal but Shi Woo doesn't see any reason to shy away from hanging out in broad daylight. Sang Jin wants all four of them to have lunch but Shi Woo pointedly asks Hyun Wook if he can go with just Se Na.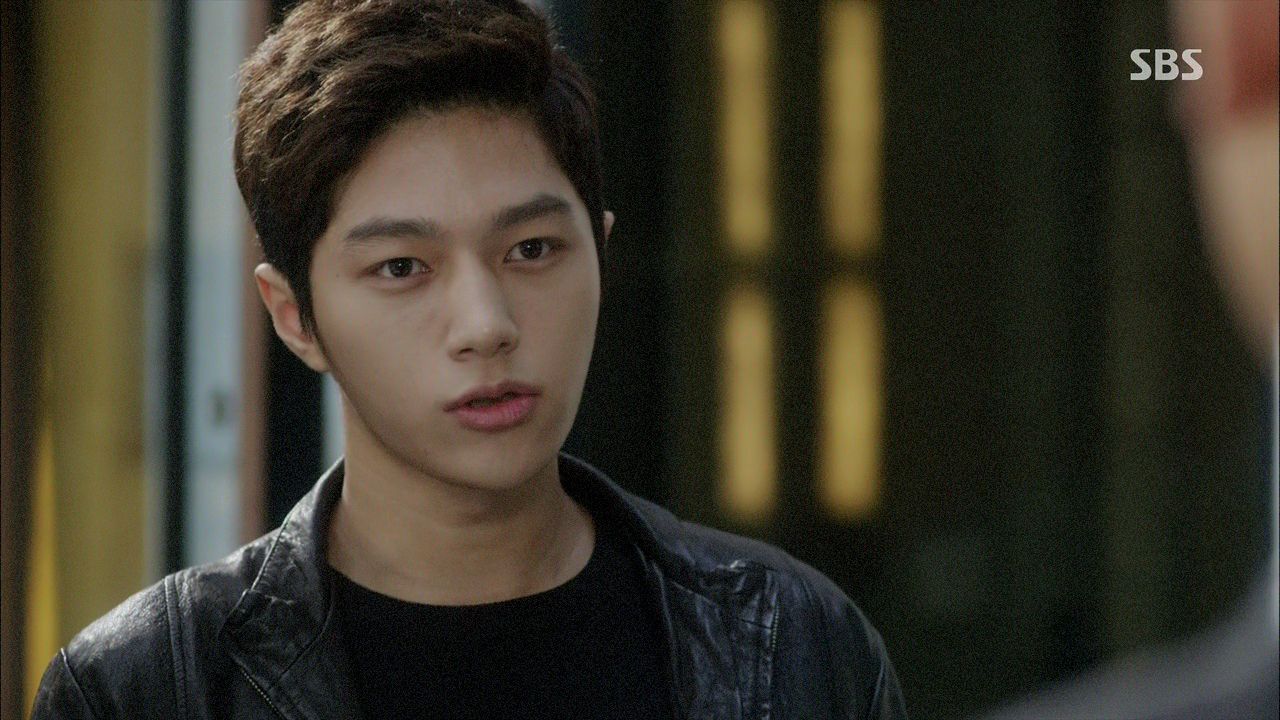 Hyun Wook agrees but declares this is the first and last time. After Shi Woo's successful solo debut then he can't grab a meal with Se Na anymore. Shi Woo glares and wonders if Hyun Wook is worried about him or Se Na? Hyun Wook sighs and says both before heading inside with Sang Jin.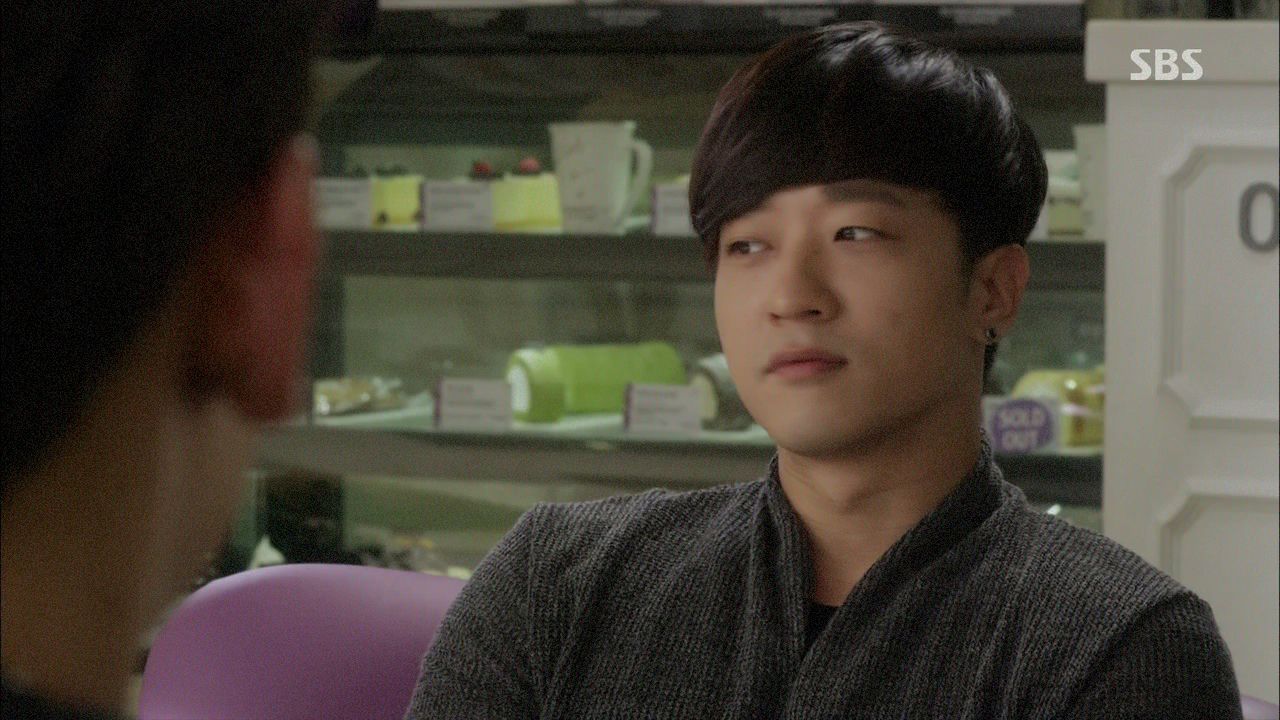 Sang Jin noticed the odd mood out there which felt like two men fighting over a woman. Hyun Wook is in a bad mood and Sang Jin picks up on it and tells Hyun Wook that he can't do this (like Se Na). Hyun Wook curtly thanks Sang Jin for the reminder since he forgot clearly.
Hyun Wook's dad personally cooks a meal for his wife but finds her already gone from the house. Hyun Wook's stepmother pays a visit to the woman who runs the café and confronts her about her relationship with her husband. The woman isn't cowed by Hyun Wook's stepmother's insults and instead says she's still as rude as ever.
Hyun Wook's stepmother is about to raise her hand to the woman when a little boy runs in calling the woman mom. The little boy is here to show off his new clothes that his dad gave him. Hyun Wook's stepmother asks the little boy who his dad is? The woman calls Hyun Wook's dad later to tell him that his wife came by. Hyun Wook's dad tells her to close the shop for a few days and lay low.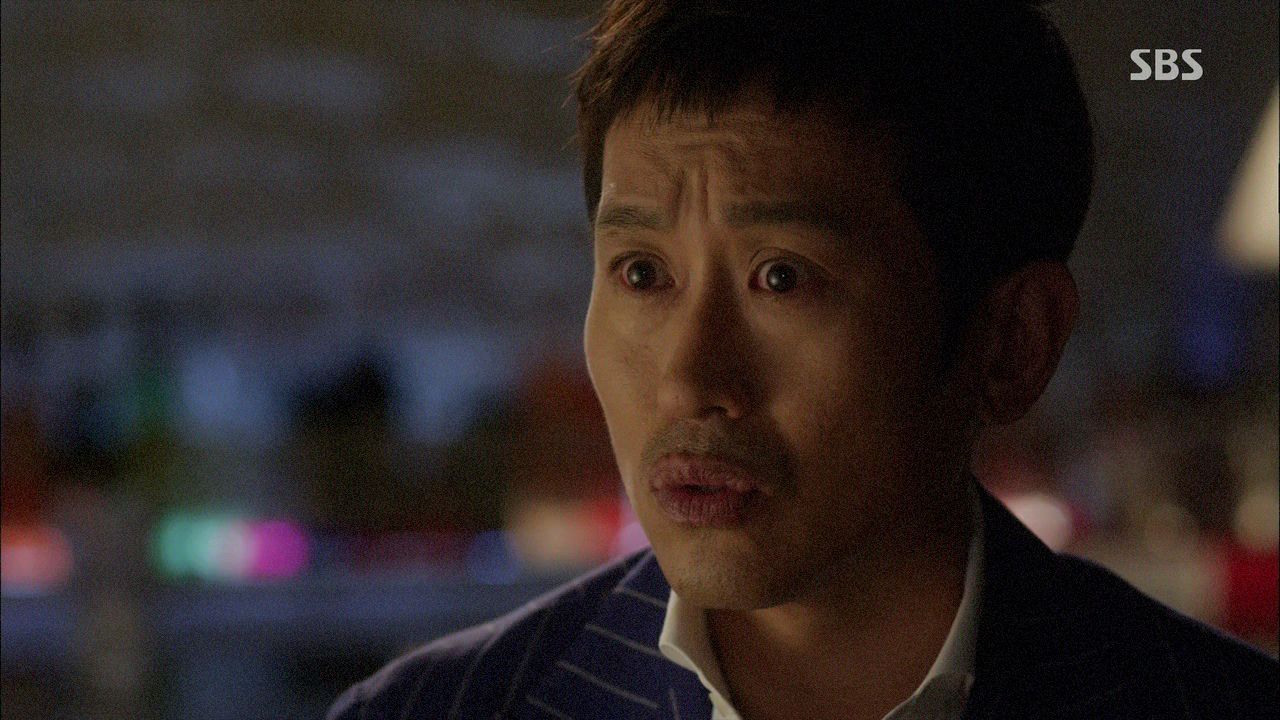 Hyun Wook's stepmother calls Director Kang out to meet and asks if he wants to join hands (i.e. align) with her?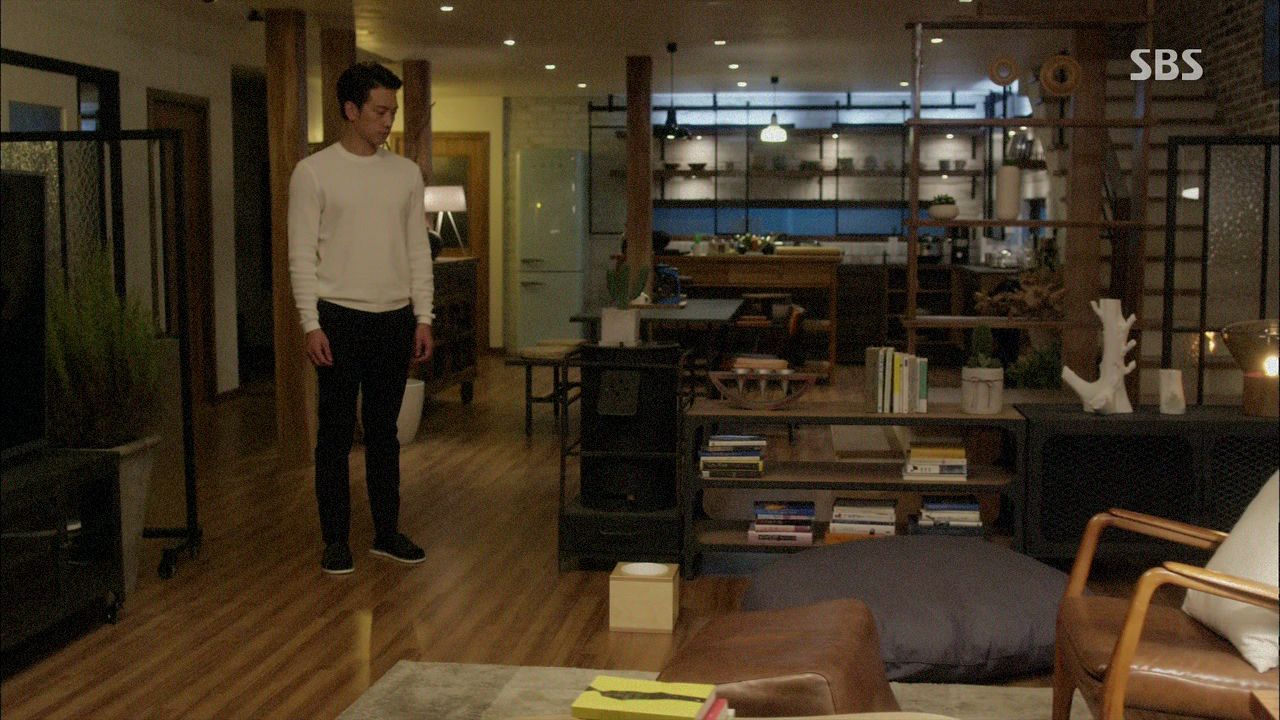 Hyun Wook makes dinner for Dal Bong before realizes he's still in the hospital. He sadly looks around and remembers Se Na playing with Dal Bong in the living room before falling asleep on his shoulder. Hyun Wook takes out his phone to see a new text from Se Na sending him the picture of him and Dal Bong so he's not as lonely.
Se Na then photoshops herself in Dal Bong's place in the same picture and sends him the new picture of Hyun Wook and Se Na together. Hyun Wook is about to respond but stops himself. He ends up standing outside Se Na's apartment that night brooding while Se Na waits and waits for his return text.
Hyun Wook confirms with the sound engineer that Shi Woo's performance song has been edited down to 6 minutes and hopefully that will fit the network broadcast requirement.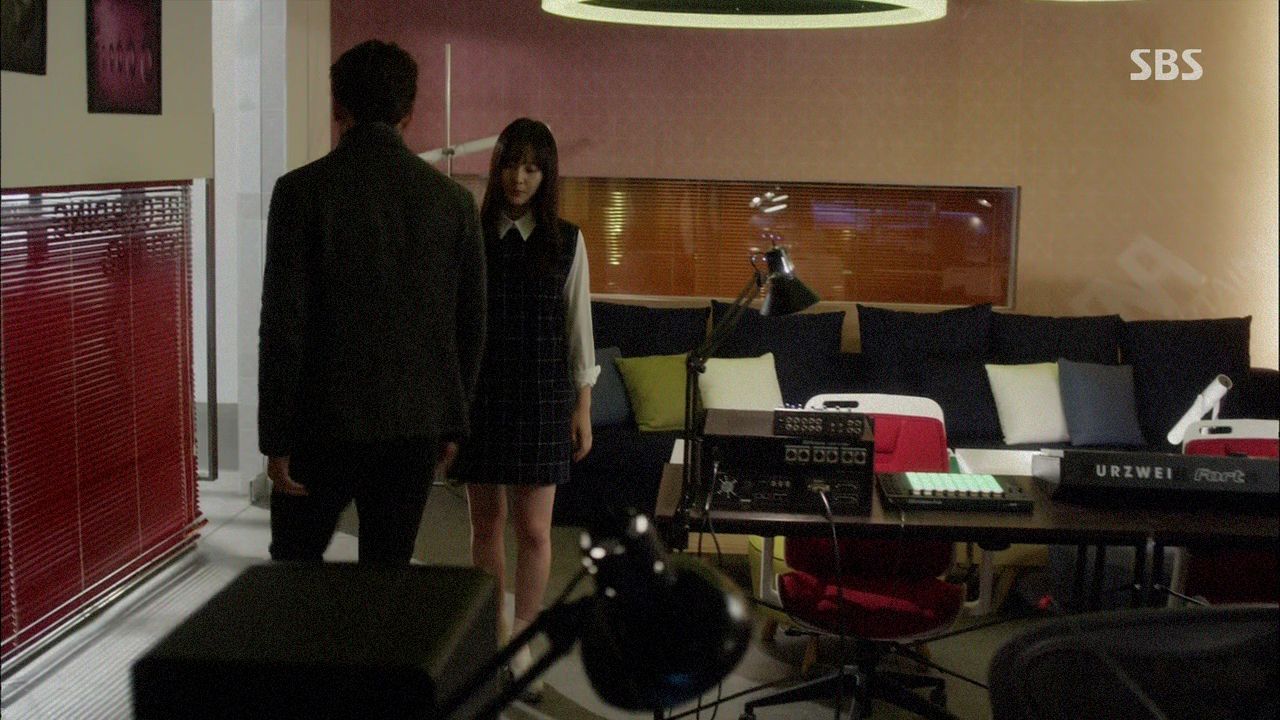 Se Na sees Hyun Wook inside the recording studio listening to the track and goes inside to ask directly if he got her texts last night? If so then why didn't he respond? Hyun Wook lies that he was too busy with Shi Woo's debut to respond. Se Na calls him out for avoiding her and asks why he did what he did earlier only to turn around and avoid her? Hyun Wook evades her question by asking what she thinks and runs out of there.
Hyun Wook is forced to go back inside to get Se Na to attend a meeting with Kim Tae Woo. Hae Yoon is coming back to the agency and calls Hyun Wook only to hear that he's on his way out. She then sees Hyun Wook getting in his car with Se Na and driving off.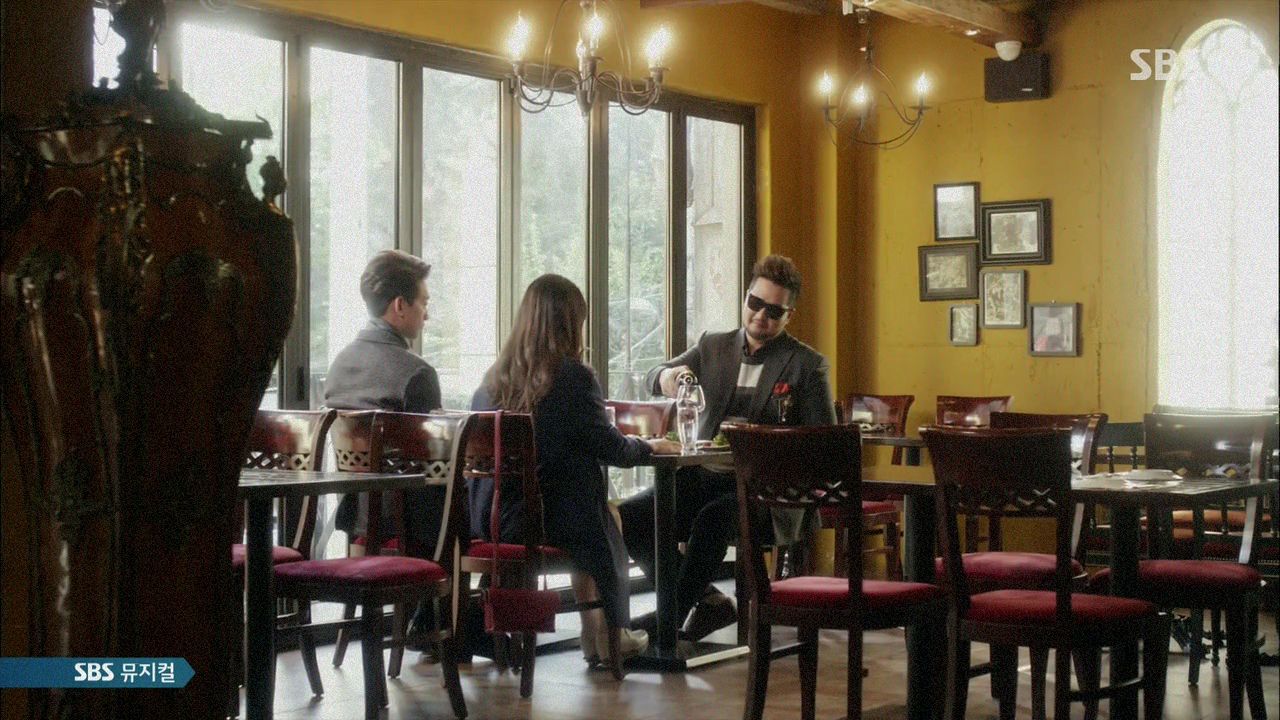 During the meeting with Kim Tae Woo, he asks Se Na to write another song for him since the last OST is very well received. Kim Tae Woo asks for a sweet ballad again. After lunch Hyun Wook congratulates Se Na on having reached a singer requesting a song from her. Se Na thanks him and wants to go back alone since she doesn't feel it's natural to share her happiness with Hyun Wook anymore.
Se Na walks back to the agency with Hyun Wook following her. She stops to look at scarves and Hyun Wook walks up to buy it for her. The two then stop to listen to musicians performing on the street and in the crowded jostling Se Na is pushed back into Hyun Wook's chest. Both of them are acutely aware of their close skinship and Se Na is especially tense and jittery.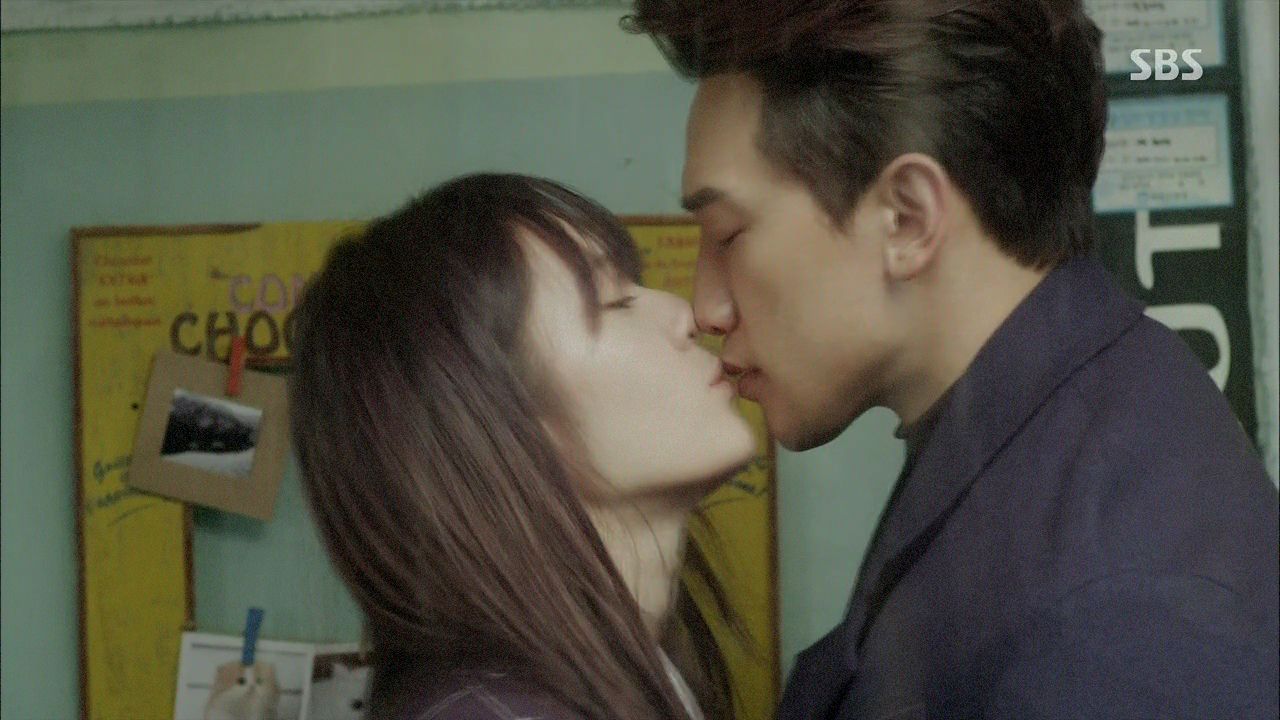 It starts to rain despite the big bright sun out so everyone scatters to find shelter. Hyun Wook and Se Na hide under the awning of a coffee shop and he tells Se Na to wait while he gets his car. Se Na stops him to drape her jacket over him and in the moment both of them stare at each other.
Se Na takes the first move this time and pulls Hyun Wook in for a kiss and confesses openly that she likes him. She likes him and can sense that he likes her too, right? Hyun Wook admits his heart did flutter for her but it has to end now. Se Na doesn't understand and all Hyun Wook can say is because she is Yoon Se Na.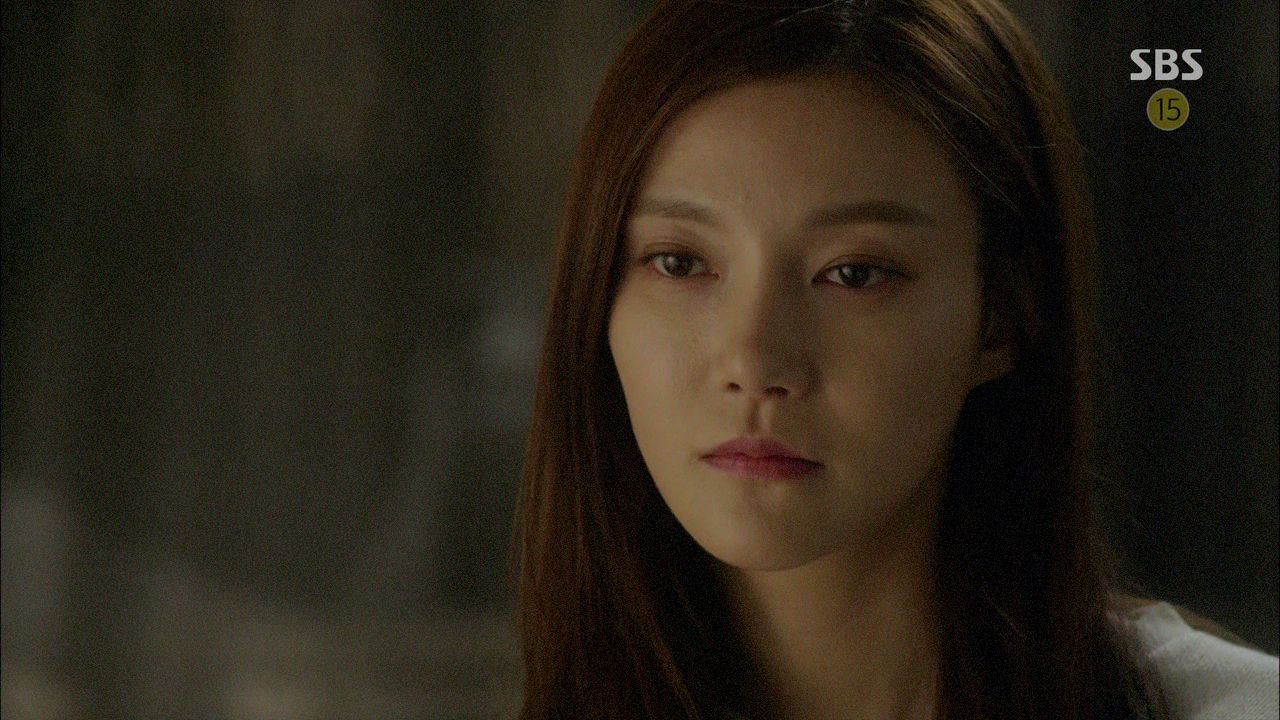 Hae Yoon broods at home looking at the present she brought back for Hyun Wook and remembering how he left work with Se Na.
Joo Hong fusses over Se Na after she returns home all wet and sad. Se Na can't figure out what Hyun Wook is thinking, all he said is that it can't happen between them because she's Yoon Se Na. She thinks Hyun Wook rejected her because he hasn't forgotten his dead girlfriend. Joo Hong encourages Se Na not to give up especially when her rival is dead. She's certain that Hyun Wook will accept Se Na eventually as long as she sticks with it.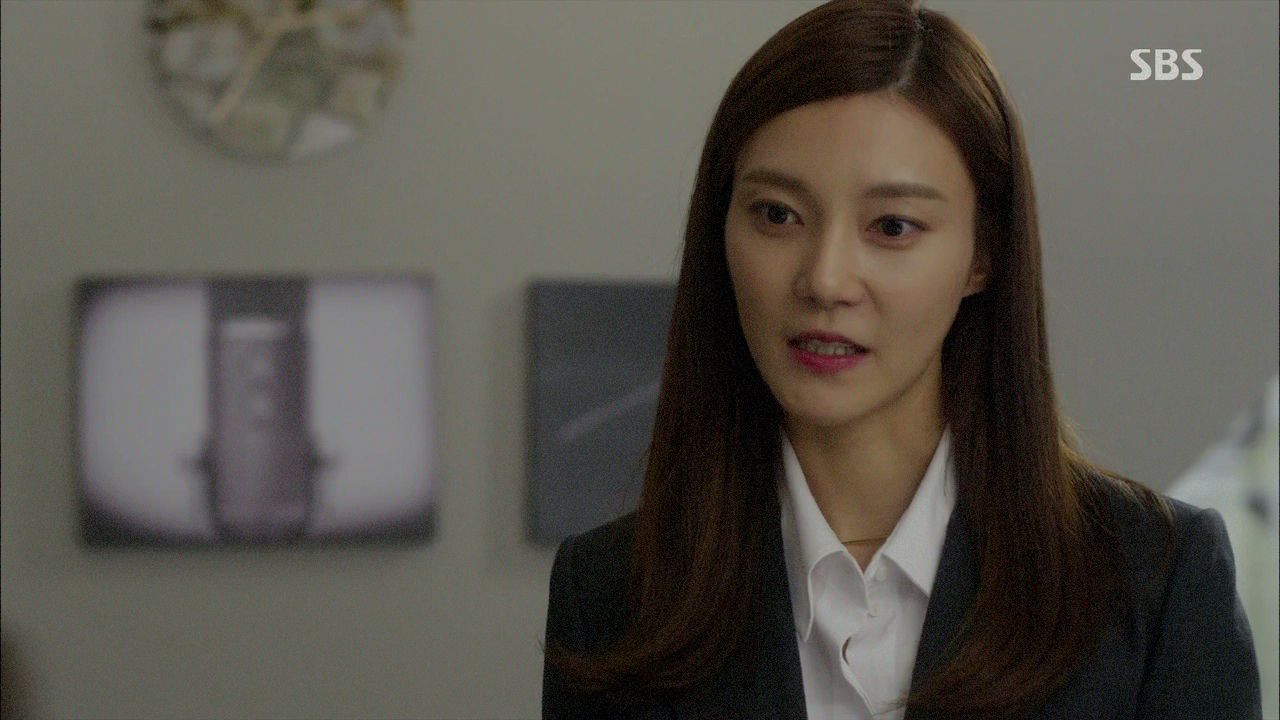 It's Shi Woo's solo debut day and Hae Yoon tells Hyun Wook not to overly worry since all the preparation is done and there is nothing he can do. She hands Hyun Wook the present she brought back from HK and informs him that she's made up her mind about something.
Hyun Wook goes to SBC to meet with the network head but finds her dad already there buttering up the network employees. Hyun Wook's dad informs him that the matter has been taken care of and not to worry about Shi Woo being able to perform. Hyun Wook wonders why he's getting involved since he handed AnA to Hyun Wook to run already.
Jae Young walks up to Hyun Wook and his dad to goad them some more. Hyun Wook's dad immediately tries to punch Jae Young in the face for his betrayal but Jae Young says he learned everything from Hyun Wook's dad. Jae Young tells Hyun Wook to wait because it's not over yet and more is to come.
Hyun Wook sends his dad off but asks him to let Hyun Wook handle things from now on no matter how dirty or difficult. Hyun Wook's dad brings up why his son and Jae Young had such a falling out? Was it because Hyun Wook blames Jae Young for what happened to So Eun? Hyun Wook doesn't want to discuss this with his dad who he blames for everything.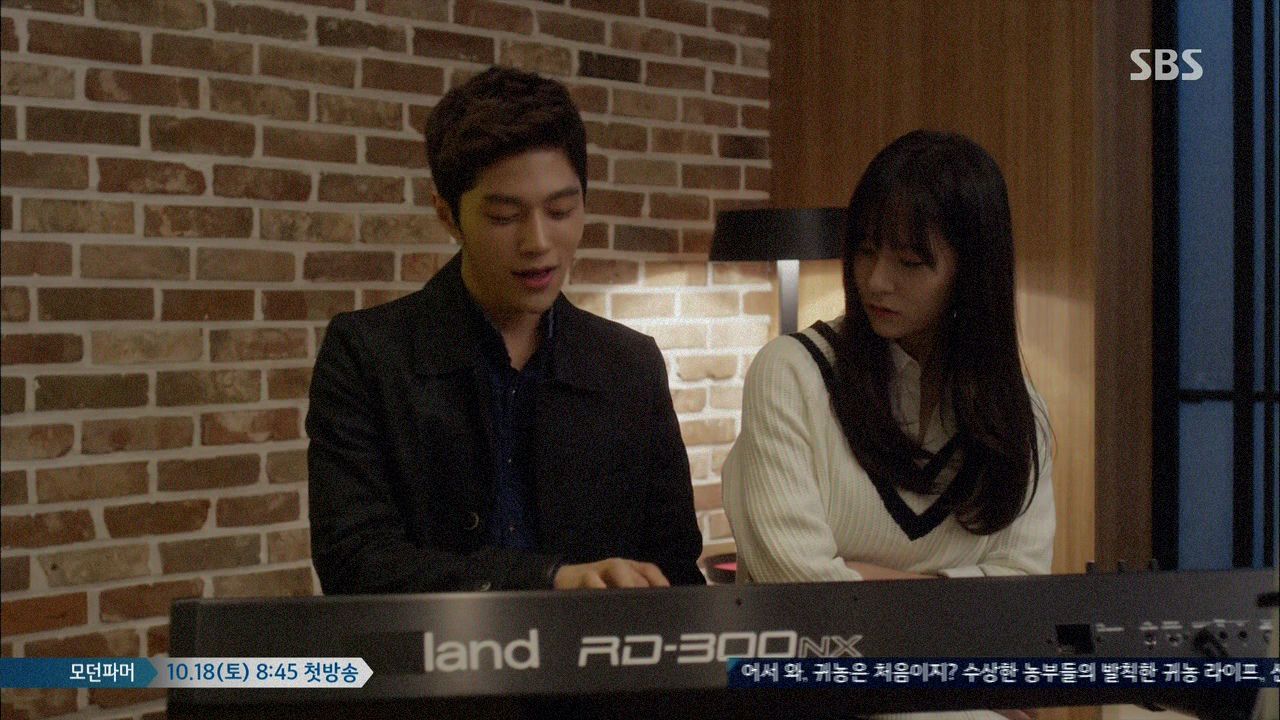 Se Na is brooding in the practice room when Shi Woo comes in and sits down next to her and plunks out this hilarious ditty about Shi Woo oppa good look, the very handsome cool Shi Woo oppa. Se Na laughs at his inability to play the piano and Shi Woo orders her not to do that otherwise he'll get even more nervous.
Shi Woo admits he's really really nervous for his performance later even if it's not his first time on stage. Se Na plays a rousing tune to cheer him up and Shi Woo asks her to keep play more. Hyun Wook sees them inside the practice room and stares for a bit before turning around and leaving. Se Na notices Hyun Wook and stops playing to stare.
Shi Woo arrives at SBC studios for his debut performance and is swarmed by his fans outside. They are walking to the dressing room when his manager notices that the best one has been assigned to Infinite Power already. Jae Young walks up and compliments Shi Woo on looking good and suggests he say hi to his former teammates but Shi Woo isn't interested.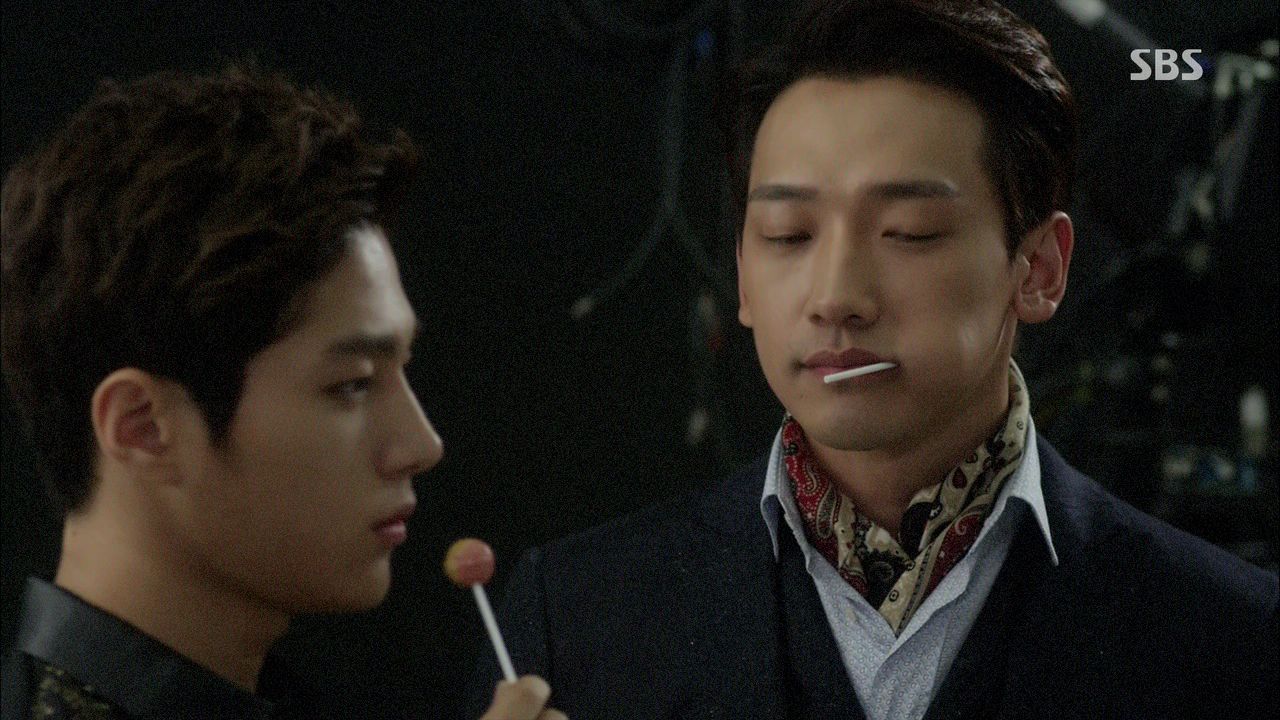 Shi Woo watches as the stage is being assembled for his "Superstition" performance, which hilariously is written as "Super Stiction" LOL. Hyun Wook walks up and offers Shi Woo a lollipop. The two guys stand there sucking on candy with Hyun Wook comforting Shi Woo that he will do well.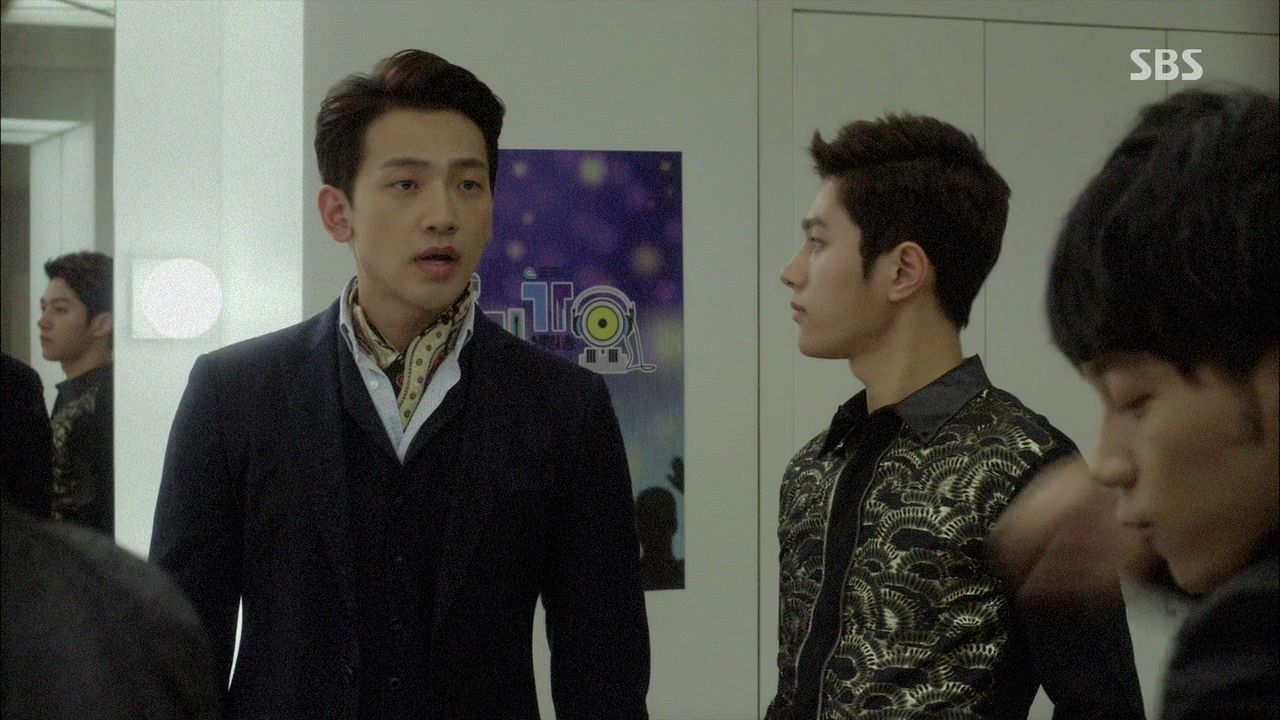 Hyun Wook and Shi Woo return to the dressing room to find only three back up dancers left and one guy took off and left them high and dry. Se Na joins the rest of the trainees to watch Shi Woo's performance live and everyone hopes he'll do well.
The AnA team is discussing how to make up for the sudden lack of one backup dancer. Hyun Wook suggests cutting the song shorter and having one dancer switch spots to cover. Shi Woo is even more nervous before his debut so Hae Yoon walks over to give him a final encouraging word that he'll do just fine and is the best performer tonight.
Shi Woo goes onstage and starts his performance with only three back up dancers. Hae Yoon notices that the crowd is very silent and dead and wonders where Shi Woo's fan club is? His manager insists that he passed the tickets out earlier. Shi Woo suddenly trips on stage when he tries to overcompensate for the missing dancer but picks himself up and finishes the performance.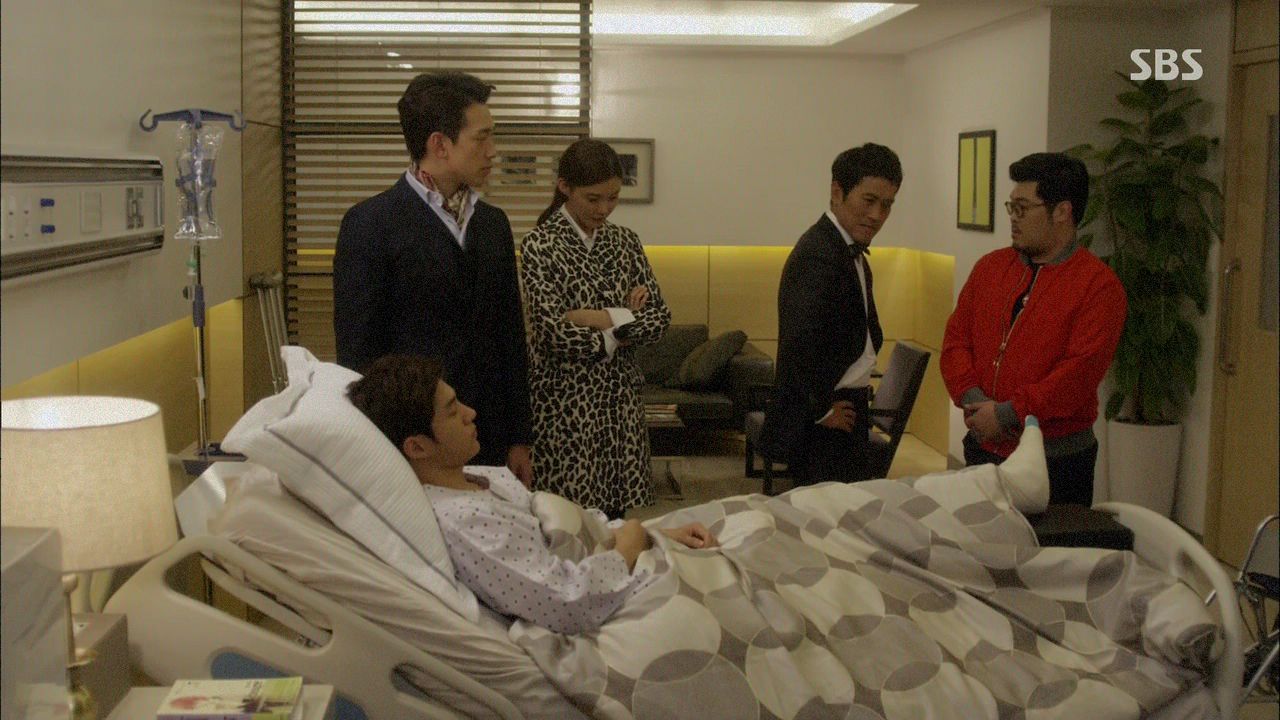 Shi Woo is carried off the stage and into an ambulance straight for the hospital. Shi Woo wakes up to find out that he tore his Achilles tendon and can't continue his promotion anymore. Hyun Wook tells everyone to leave the room and consoles Shi Woo that it's not the end of his dancing career. He needs to rest for the next few months and restart.
Shi Woo knows he did this by not listening to Hyun Wook and is surprised Hyun Wook isn't mad at him. Hyun Wook knows that Shi Woo feels worse than anyone right now.
Hyun Wook goes to confront Jae Young for luring the dancer away. Jae Young calls it fair game, even if Hyun Wook is a better songwriter but he can't match up to Hyun Wook as a company president. Jae Young plans to take away what Hyun Wook cares about the most and wonders if it's AnA or Hae Yoon? Jae Young then suggests it's Se Na and for that Hyun Wook punches him squarely in the face. Hyun Wook knows he should have done this 3 years ago.
Se Na is helping to pack up Shi Woo's debut promotional materials now that he is hospitalized. She sees the press release on the table about Shi Woo injured on his solo debut stage and texts him to ask if he's doing well? Shi Woo calls back and asks her to come visit him because he can't stand it anymore and might jump out the window.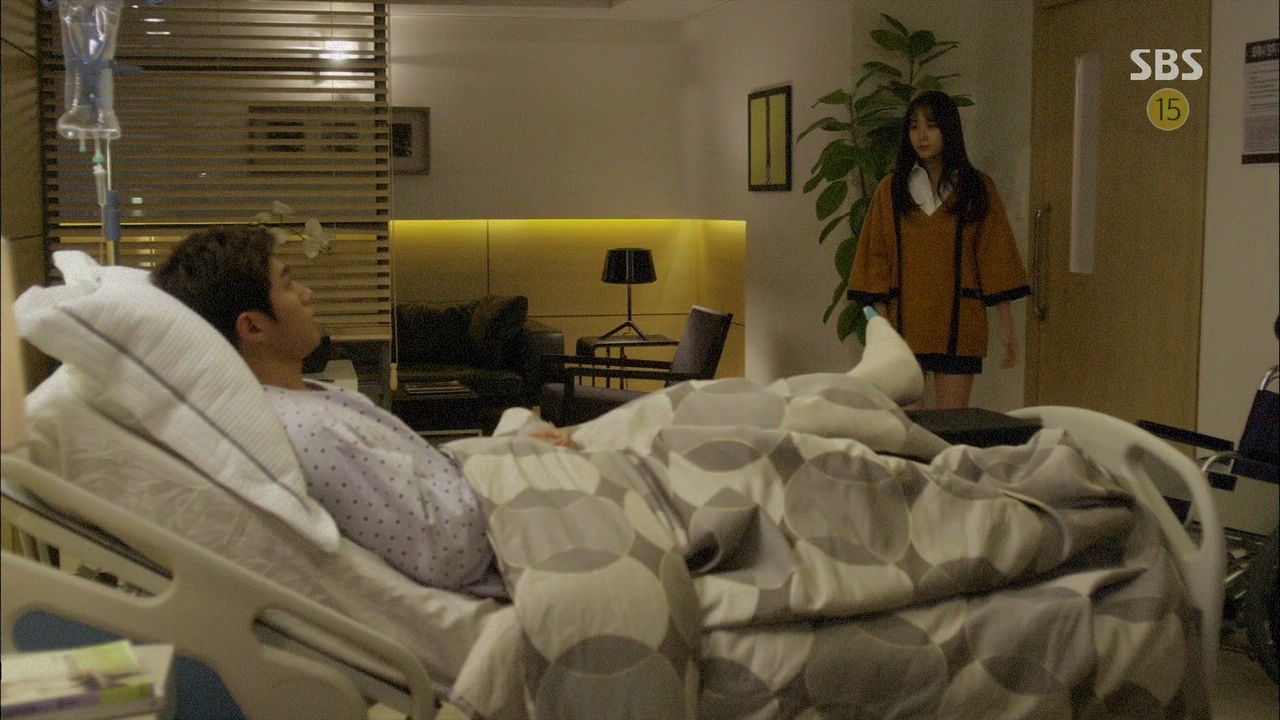 Se Na walks into Shi Woo's hospital room and he asks why it took her so long to come? Se Na needed to wait for the bus but is relieved to see Shi Woo didn't jump out the window. He thought about it and his soul jumped out already dozens of times. Shi Woo teases that he got injured because of Se Na when he joked with her about taking care of him if he got sick. Se Na doesn't think it's the right time for jokes but Shi Woo isn't joking, he's sick now and finds himself missing her very much.
Shi Woo hands Se Na a pen to have her be the first person to sign on his cast. Se Na writes a get well note on Shi Woo's cast while he just stares intently at her. She finishes and is relieved that he doesn't seem as depressed as she thought.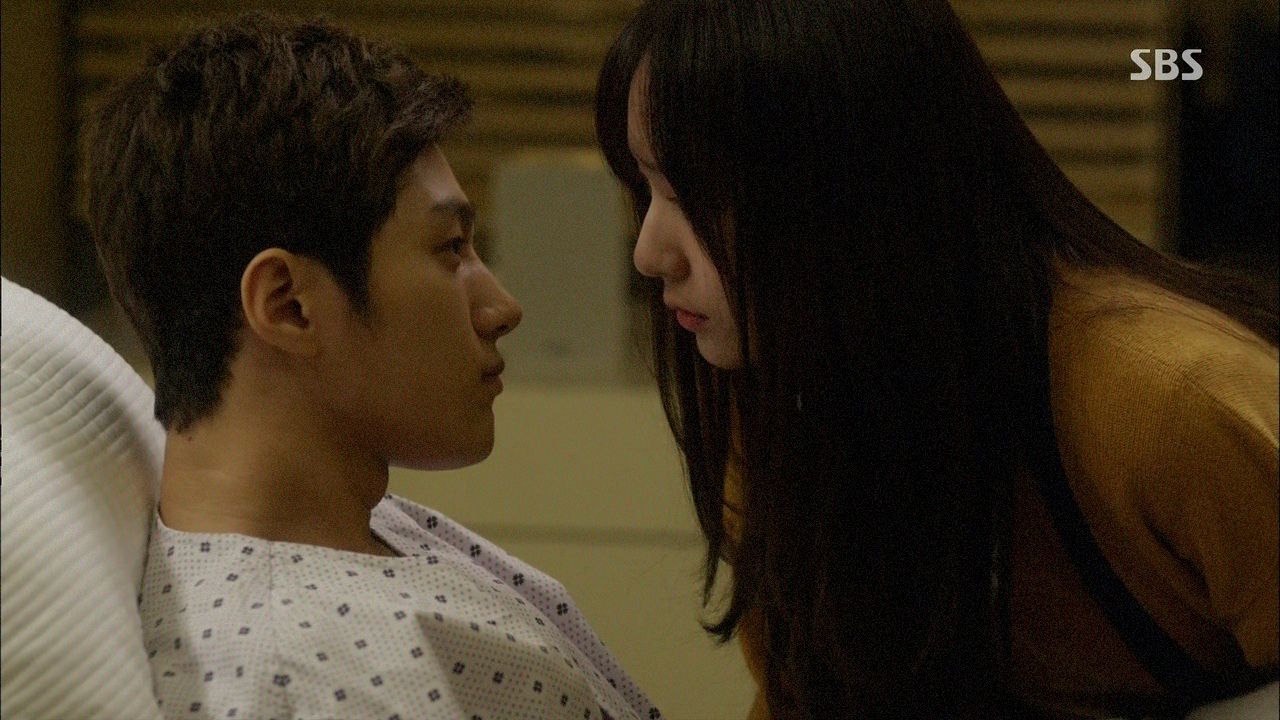 Shi Woo pulls Se Na close when she hands him back the pen and the two of them stare at each other. Shi Woo breaks the moment by telling Se Na that he knows why he's like this now? Se Na asks if he likes her and Shi Woo asks back whether he's not allowed to like her? He thanks her for coming and will see her after he gets out of the hospital.
A photographer hiding outside the hospital room snaps a picture of Shi Woo and Se Na.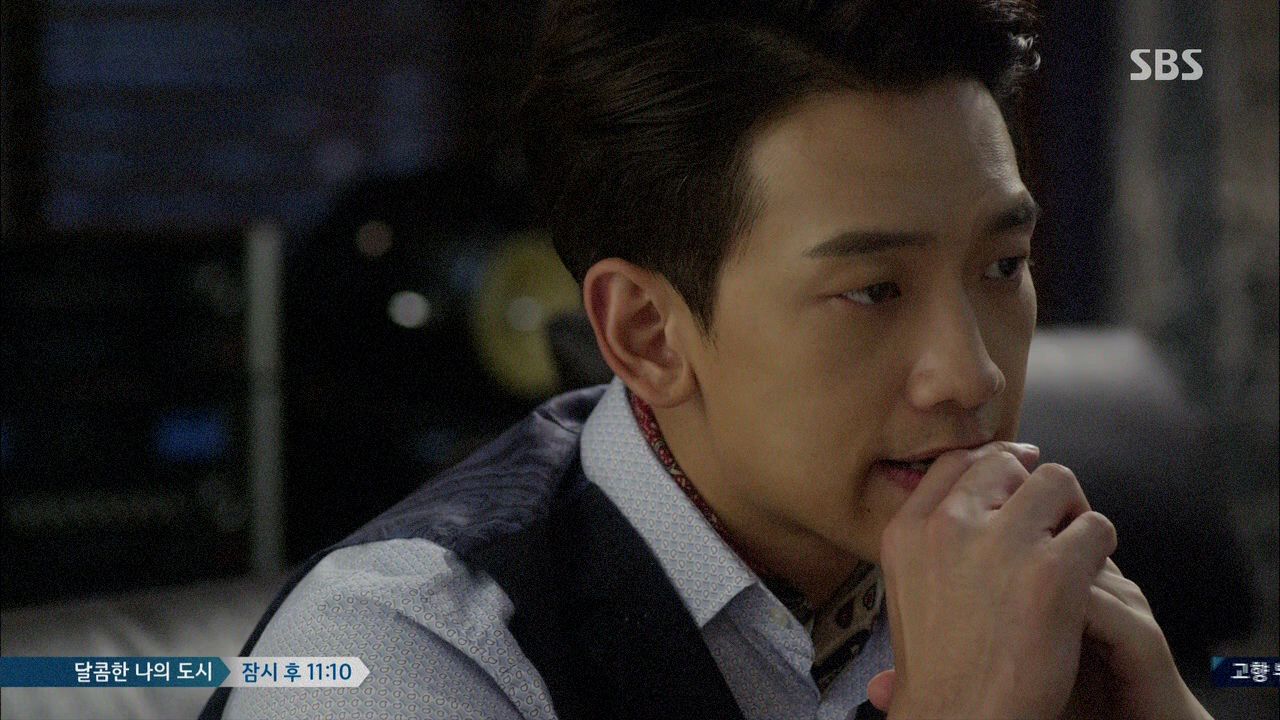 Hae Yoon sits with a brooding Hyun Wook who is questioning whether he should have insisted Shi Woo go with Se Na's ballad rather than this dance heavy single. He goes to cancel all of Shi Woo's remaining activities which is when Hae Yoon gets a call from a newspaper asking about Shi Woo and Se Na. Hae Yoon hurriedly asks for a meeting to discuss it further.
Se Na hears from the sound engineer that this is the worst danger facing AnA in the five years he's been here. It's even worse since it all started after Hyun Wook became president.
Se Na finds Hyun Wook brooding up on the roof and stands a distance away asking him to just listen to what she has to say. He said she can't because she's Yoon Se Na? She's always been alone and endured it but it all changed after she met Hyun Wook. She can talk about her worries and share encouragement. She hopes that she can give energy to Hyun Wook and share in his stress, she hopes that she can be that person for Hyun Wook.
Hyun Wook calls out to Se Na and asks her to count to ten. Se Na stares at Hyun Wook as she slowly counts to ten out loud. Hyun Wook smiles and tells her that's enough.
Hae Yoon sees Hyun Wook and Se Na up at the roof and then pulls Se Na into her office for a meeting. She immediately orders Se NA to leave AnA. Se Na demands a reason and Hae Yoon says the reason will shock Se Na.
The AnA management convene to discuss what to do next. Hyun Wook suggests moving forward with the new boy band and working on Ra Eum's comeback. When the other directors file out, Hae Yoon stays behind and tells Hyun Wook that she chased Se Na out of AnA. She shows Hyun Wook the paparazzi picture of Se Na and Shi Woo in the hospital which Hae Yoon prevented from being published.
Hyun Wook assures Hae Yoon that nothing is going on between Shi Woo and Se Na. Hae Yoon asks if that is because he knows Se Na likes him, or because he likes Se Na as well? Hae Yoon yells that Hyun Wook can't be with her, he can't be with Se Na because she's So Eun's little sister. Hyun Wook demands to know if Hae Yoon told Se Na that?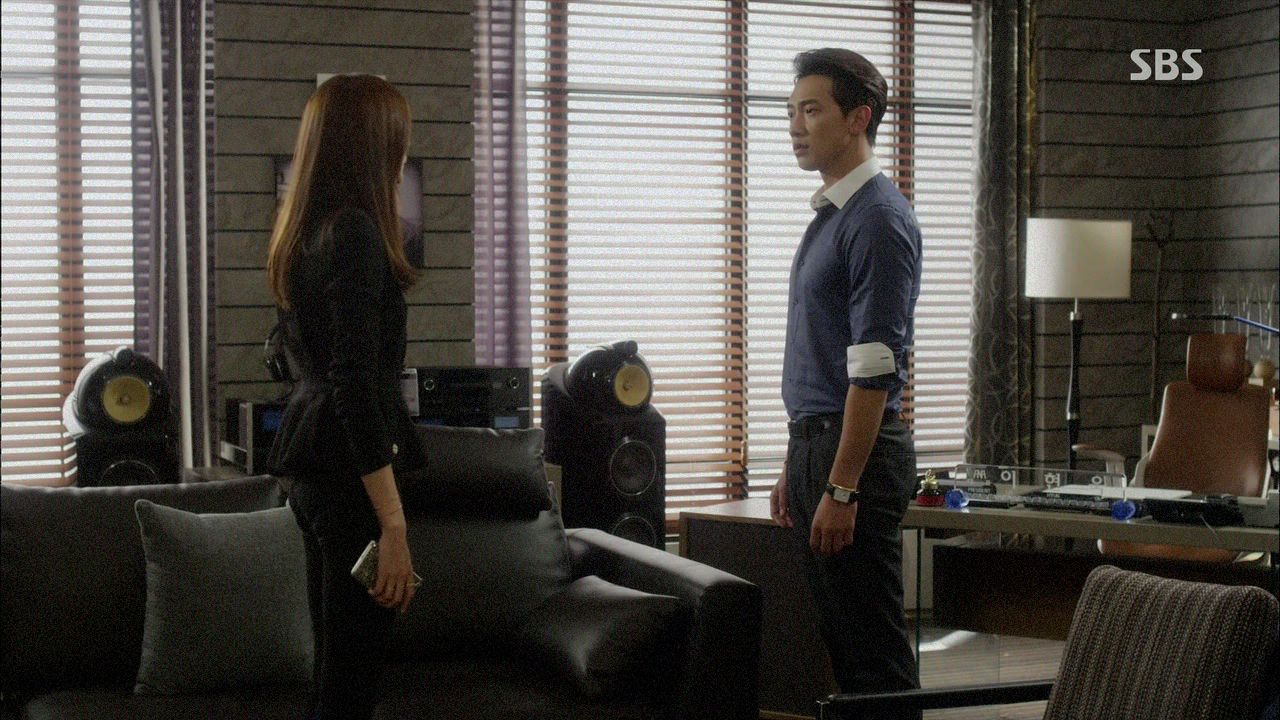 Hae Yoon asks if he's scared she told Se Na because he's worried Se Na will be hurt, or he's worried that Se Na will stop liking him after learning that he's her unni's former boyfriend. Hyun Wook screams at Hae Yoon to tell him what she said to Se Na! Hae Yoon says "What if I told her?"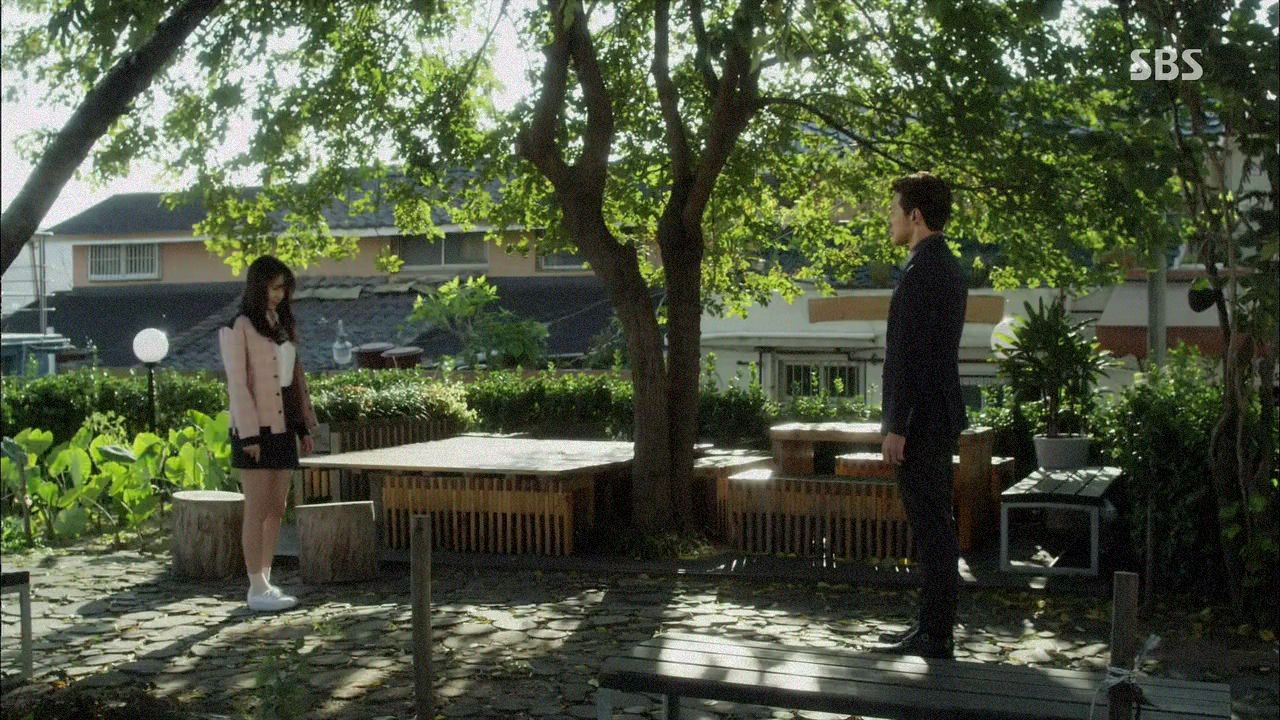 Hyun Wook runs out of the office and rushes to Se Na's apartment but no one answers when he pounds on the door. He tries calling but she doesn't pick up her phone either. He's about to run around the neighborhood when Se Na comes home.
She stops in her tracks when she sees Hyun Wook and as he takes a step towards her she takes a corresponding step back from him. Oooooh, ouch.
Thoughts of Mine:
The drama continues doing a nice job balancing the music agency narrative with the romance element. It goes hand-in-hand for Hyun Wook as he realizes nothing is going the way he planned. Nor is it as easy as he expected either with taking care of Se Na or running AnA. I think Hyun Wook's dismissiveness towards Jae Young is his blind spot, treating Jae Young like a tool might be deserved but certainly increases the raging chip on his shoulder. Since Jae Young doesn't play fair, Hyun Wook always finds himself reacting to Jae Young's nefarious undermining. That's also twice in a row that Shi Woo has become collateral damage in Hyun Wook and Jae Young's dick waving battle for supremacy. Shi Woo has his own role in play in the Infinite Power discord and his foot injury, but he's not being helped turning into the struggle between two men who are in their 30s but act like grade school boys.
I really love Shi Woo's character for his straightforward overtures towards everyone. He doesn't mince around and he's always honest, even when he was an ass towards Se Na in the beginning it was something he did and accepted the consequences of. Now that he's fallen for her, their interactions continue to be delightful to the nth degree. It's sweet without being saccharine, the way he makes it clear that he's interested in her and seeks out her company because that's just what a boy likes a girl would do. Hyun Wook loses out on that front for his back-and-forth with Se Na. Sure it's understandable that he would be hesitant since Se Na is so young and also the younger sister of his dead girlfriend. That's the only reason I'm giving Hyun Wook a pass on this episode's coolness towards Se Na, that and also because Se Na isn't some emotionally weak heroine that can't handle some blowback. She must expect it won't be easy with Hyun Wook for even the reason she knows, that he has a dead ex-girlfriend that he still mourns, and her dogged approach with him is exactly the right way to grind down his resistance.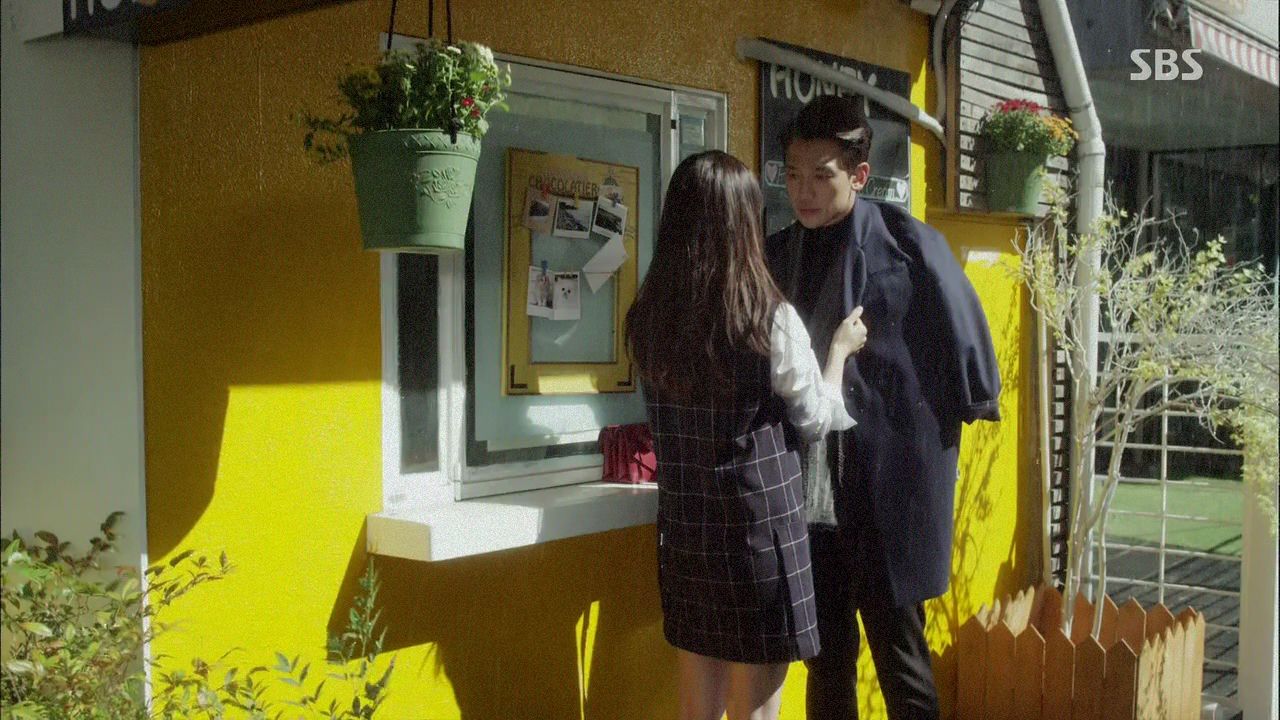 I can't believe Shi Woo's debut stage failed so spectacularly all thanks to Jae Young's machinations. I thought at least he might see some success before the next obstacles thwacks him over the head. I'm calling no fair and also wincing at how much it's going to suck for him later to find out he has zero chance with Se Na since she's already in love with Hyun Wook. I don't think Se Na ought to pick him since he comes with less emotional baggage than Hyun Wook, or because they have more youthful energetic chemistry together. That's stuff the audience sees, but Se Na is living the interactions with Hyun Wook which have always been positive towards her and really the most amazing connection she's made in her adult life since losing her sister. Shi Woo is making a new friend, one that started off on the wrong foot but gradually eases its way into camaraderie. Hyun Wook is for Se Na is the awakening of her feelings as a woman, she likes him maybe way more than the audience would be naturally rooting for her with Hyun Wook. And that's what I like about this drama, a feeling of the leads organically breathing life into stock characters that feel and more three dimensional.
Click here to watch My Lovely Girl.