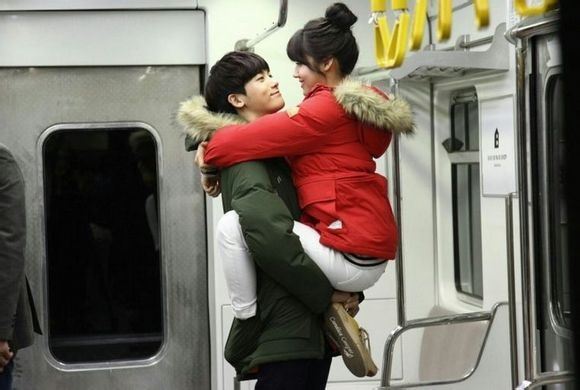 I'm pleased my pimp post for What's With The Family got some folks to check it out. Hopefully everyone likes this easy-watching weekend family drama enough to continue on with 30 more episodes to go. I'm certainly in it for the long haul, though my interest will obviously wax and wane depending on what the current story line is involving my favorite youngsters Dal Bong played by Park Hyung Sik and Nam Ji Hyun as his adorable lady love Seo Wool. Right now the two are in a tiff over the big reveal that this Dal Bong is not the Dal Bong that promised to marry Seo Wool twelve years ago.
That one is really named Eun Ho, a character that Seo Kang Joon makes easy on the eyes but mostly has a terrible personality that makes me want to smack him around until he grows up. I'm sure my sweetie OTP will make up (and kiss? pretty please PD-nim?) soon but until then there is some new skinship goodies to tide everyone over. The youth brand Bike Repair Shop (under the Beanpole label) smartly snapped up Park Hyung Sik and Nam Ji Hyun as the fall/winter collection spokescouple. The CF stills have been released already but the video commercial was just released called "Hug". I squealed so loud after watching the subway segment I think I injured my throat.
Calling all romantic couples, let Park Hyung Sik and Nam Ji Hyun show y'all how to hug properly and swan around an ice-skating rink like professionals.
Bike Repair Shop "Hug" CF:
Bike Repair Shop F/W Photoshoot: