Even Shi Woo's dippy new hat-and-bowl cut look can't dim my affection for him. He's officially my favorite character in My Lovely Girl, and with his story line this drama rises and falls on the only interesting aspect remaining. This week had a preemption in the Wednesday night airing so episode 11 aired on Thursday and thus the big unni secret reveal will have to wait until next week. I don't have a problem with Hyun Wook and Se Na liking each other, and neither have any obligation to like Hae Yoon or Shi Woo back respectively. The problem now is that Hyun Wook and Se Na are just so dull together, if I'm generous then I'll say their interactions are comfortably low key, but it's really a thin line between that and making me (and each other) fall asleep.
Which actually happened in this episode! They hung out and fell asleep next to the cancer-ridden sick Dal Bong, making me wonder if the three of them need to be shipped off to a containment ward away from the spectre of death for Dal Bong and the fear of secret outing for Hyun Wook. Whatever fondness I have for Hyun Wook's rock-and-a-hard place plight in falling for his dead girlfriend's younger sister went away in this episode when he went ahead to date her without telling her the very important fact she needed to know to make an informed decision. Hyun Wook has worked through his issues but he owes Se Na the same courtesy so she can decide that loving him is worth whatever shared personal tragedy binds them.
Episode 11 recap:
After getting fed up with days worth of Hyun Wook being cold to her, Se Na tells him that she's done harboring a crush on him and will be moving on. She leaves his place but her resignation is exactly what Hyun Wook needs to push through his own reluctance. Hyun Wook runs after Se Na but she doesn't let him get a word in before repeating that she won't like him anymore.
Hyun Wook doesn't care because that means he'll just carry on a one-sided love for her. He doesn't care anymore that she's Yoon Se Na because this is how he really feels. Hyun Wook pulls Se Na in for a hug and she nestles in his arms with all her earlier moving on insistence gone like the wind.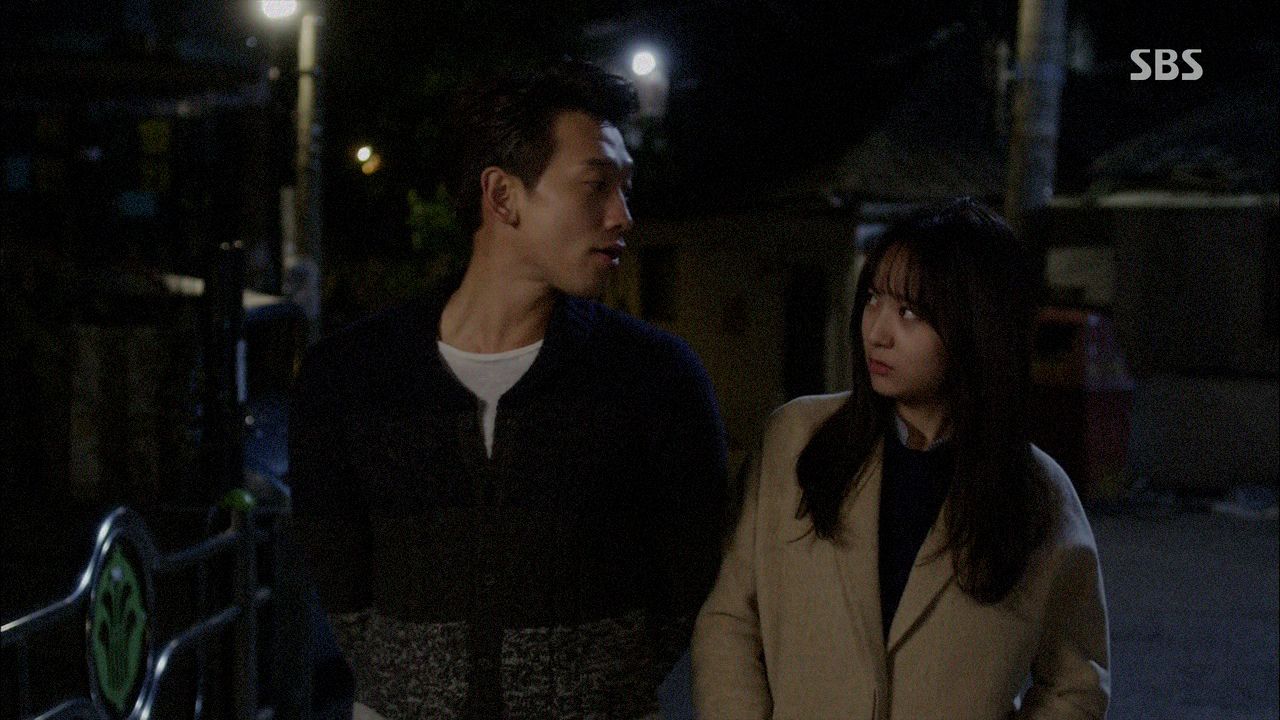 The couple walk together and Se Na grouses that he should have been just honest if he liked her. Hyun Wook is ready to be honest and readily repeats that he likes her, that she's welcome to his place, and that he won't change his mind tomorrow. Se Na wants to know why Hae Yoon was at his place and Hyun Wook explains he wasn't alone with her since Sang Jin was coming. Se Na refuses to believe him until Hyun Wook reveals today is his birthday.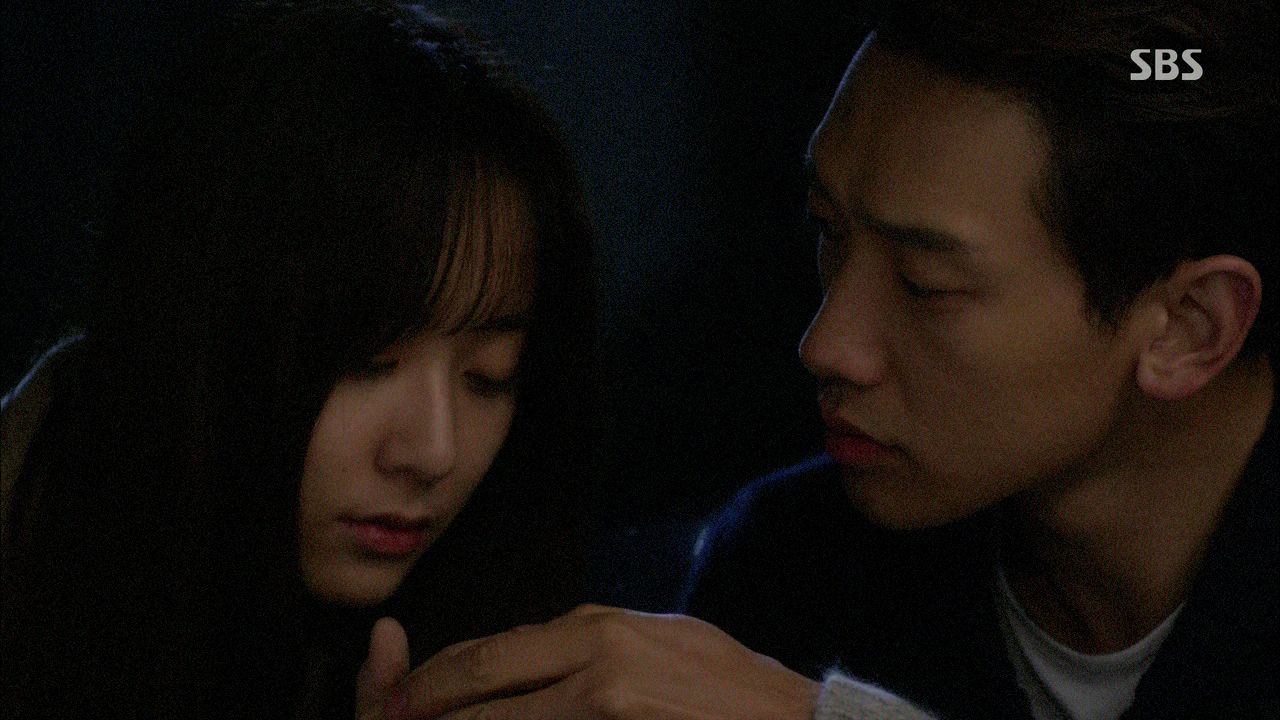 Se Na drags Hyun Wook off to the corner market where she keeps buying trinkets from the vending machine until she gets what she was looking for – a plastic star shaped ring for Hyun Wook. She puts it on his finger and they lean closer to see if it glows in the dark. Hyun Wook can feel the heat coming from her and checks that she's rather feverish still though she claims to be just fine and naturally hot-blooded is all.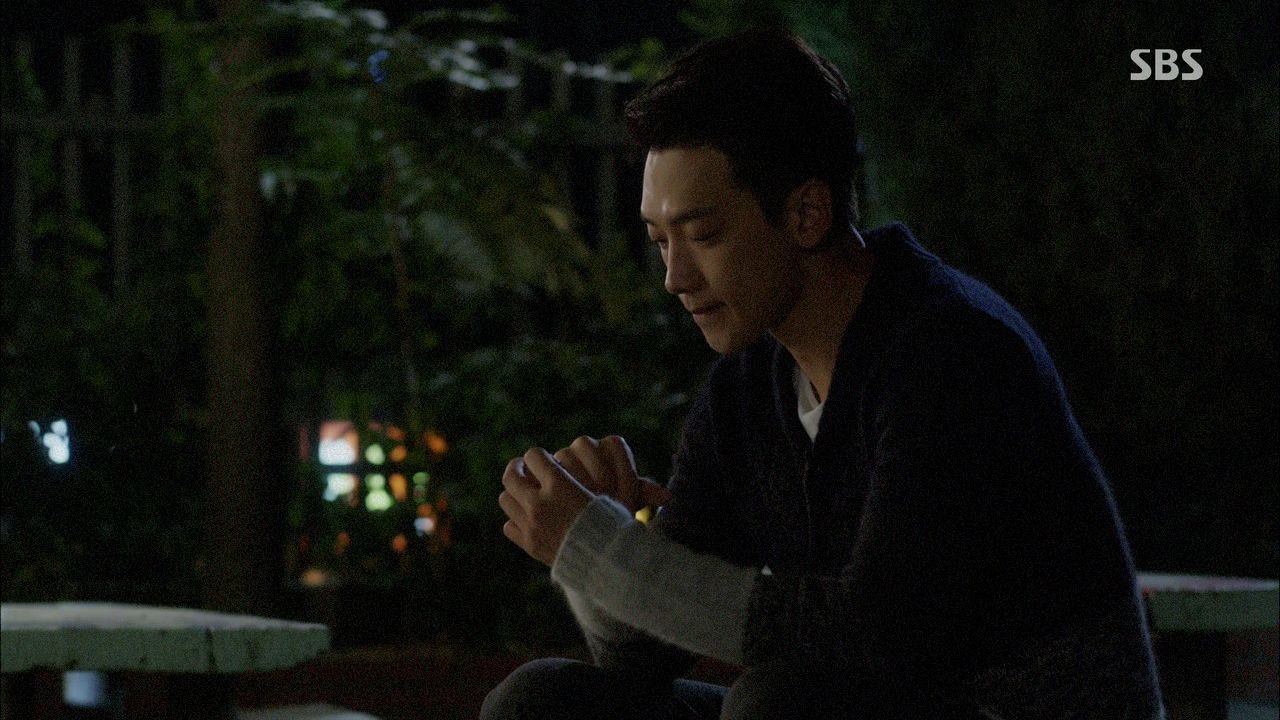 Hyun Wook is about to walk Se Na home when she stops at the playground to go prepare a birthday party for him. Hyun Wook stares at his plastic ring and smiles while peeking at Se Na busy doodling something in the sand. Se Na brings Hyun Wook over to sing him a birthday song in front of the giant sand cake she drew.
Se Na worries that Hyun Wook doesn't like the ring and sand cake she drew for him, but she has a real present up her sleeve as she leans in on tiptoe to kiss him. Se Na smiles that she passed her cold onto Hyun Wook who just smiles back.
Joo Hong and her boyfriend are fooling around in the living room when Se Na comes home beaming with joy. Joo Hong immediately confirms that Se Na and the doggie flower boy made up and are together now, giving her a deserving high five for making her romance come true. Hyun Wook goes home and finds Dal Bong waiting for him. He pets Dal Bong and looks over to see the birthday party items Hae Yoon left behind.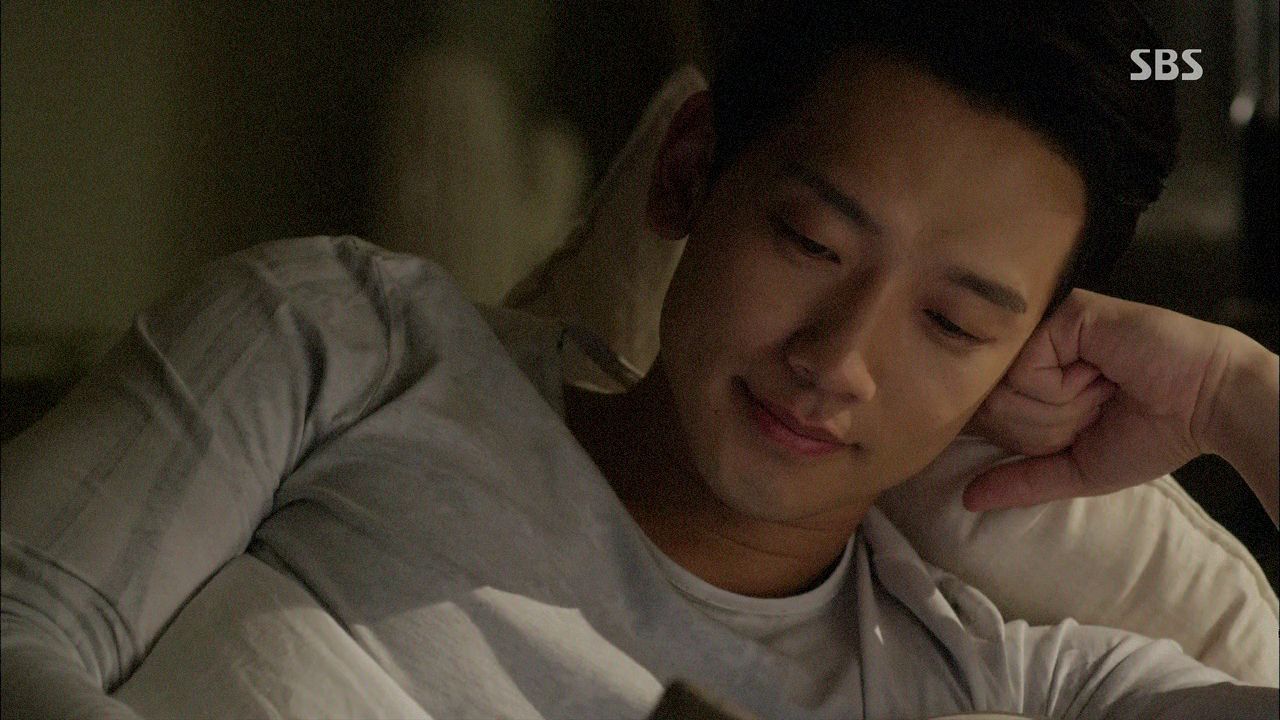 Hyun Wook and Se Na are in bed thinking of each other when Se Na makes the first move to call him. She's worried that he's gotten sick while she's now all better. Hyun Wook sasses back that a kiss can't get someone sick but then asks Se Na not to get sick again. After ending the call Hyun Wook starts to cough a little.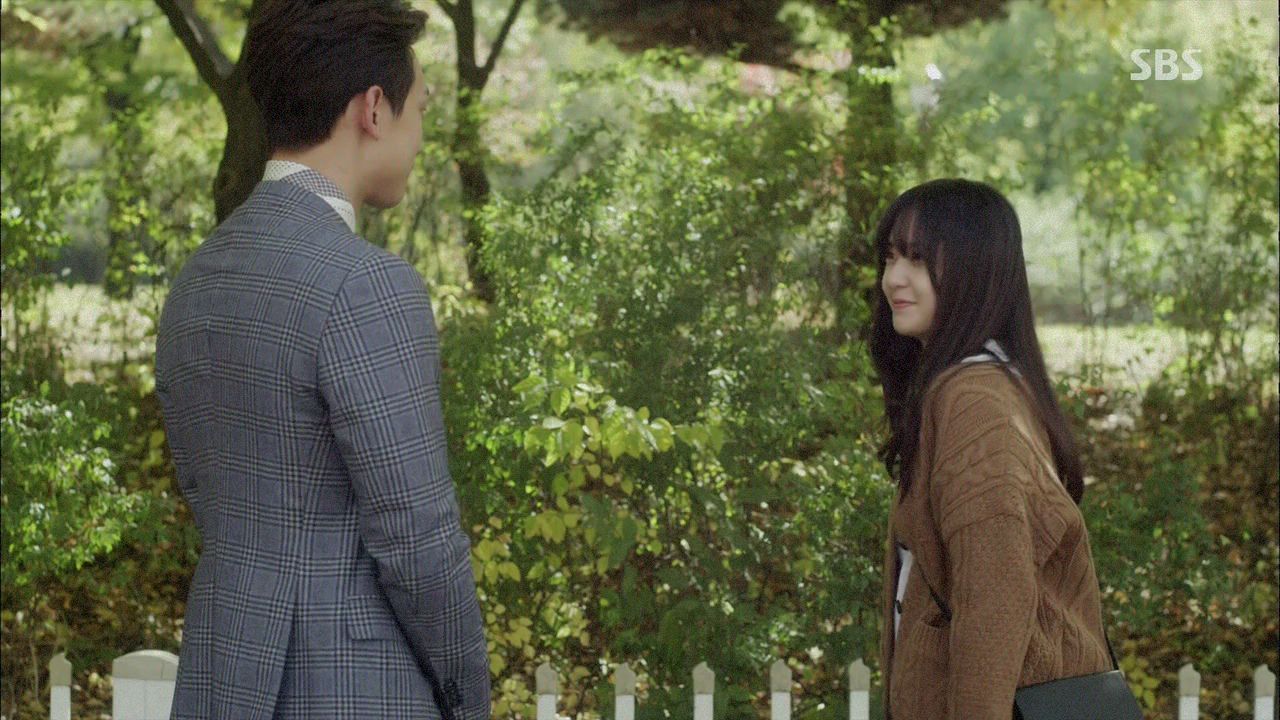 Se Na is walking to walk when Hyun Wook calls asking if she's feeling better? She lies that she is but he is walking behind her and can tell she's hiding her cough. He walks up offering to drive her to work since she's still sick.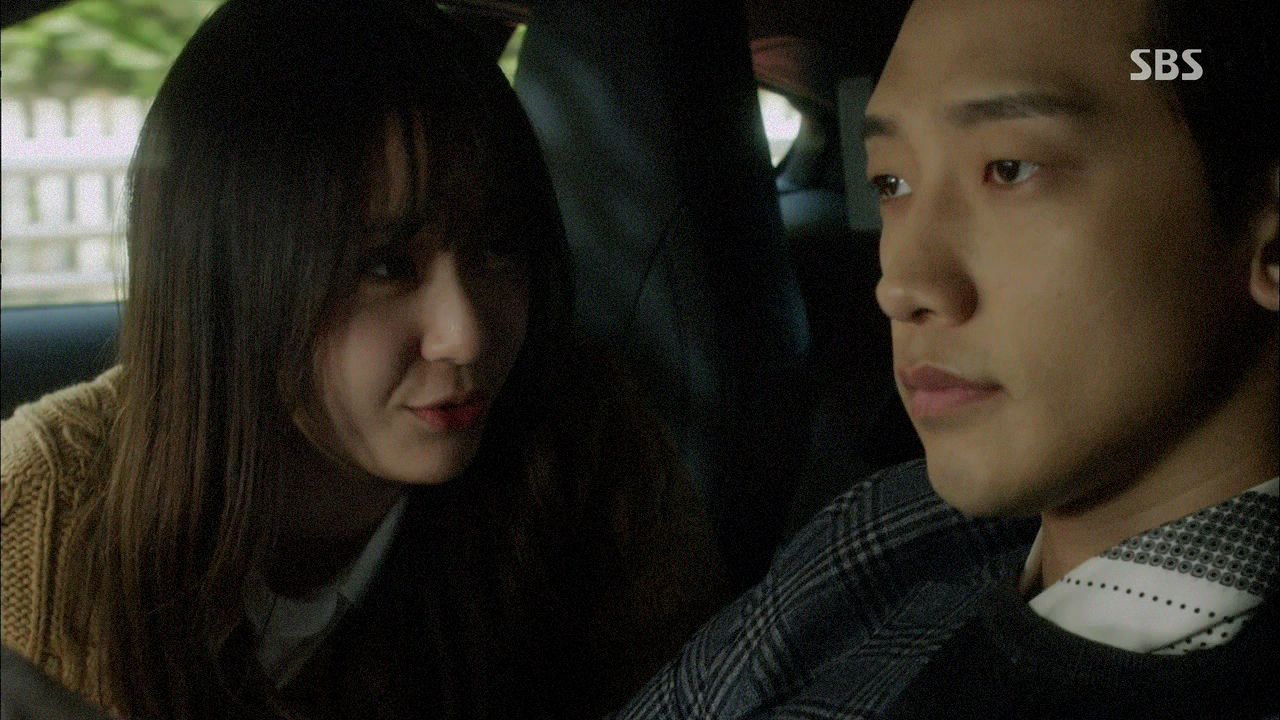 During the drive to work, Se Na tries to probe when Hyun Wook started to like her but he just pushes her head away and asks how the new song is coming along with Shi Woo. Se Na wonders if Hyun Wook is jealous which he quickly denies. She agrees to work hard on the song but insists that he tell her when he started to like her.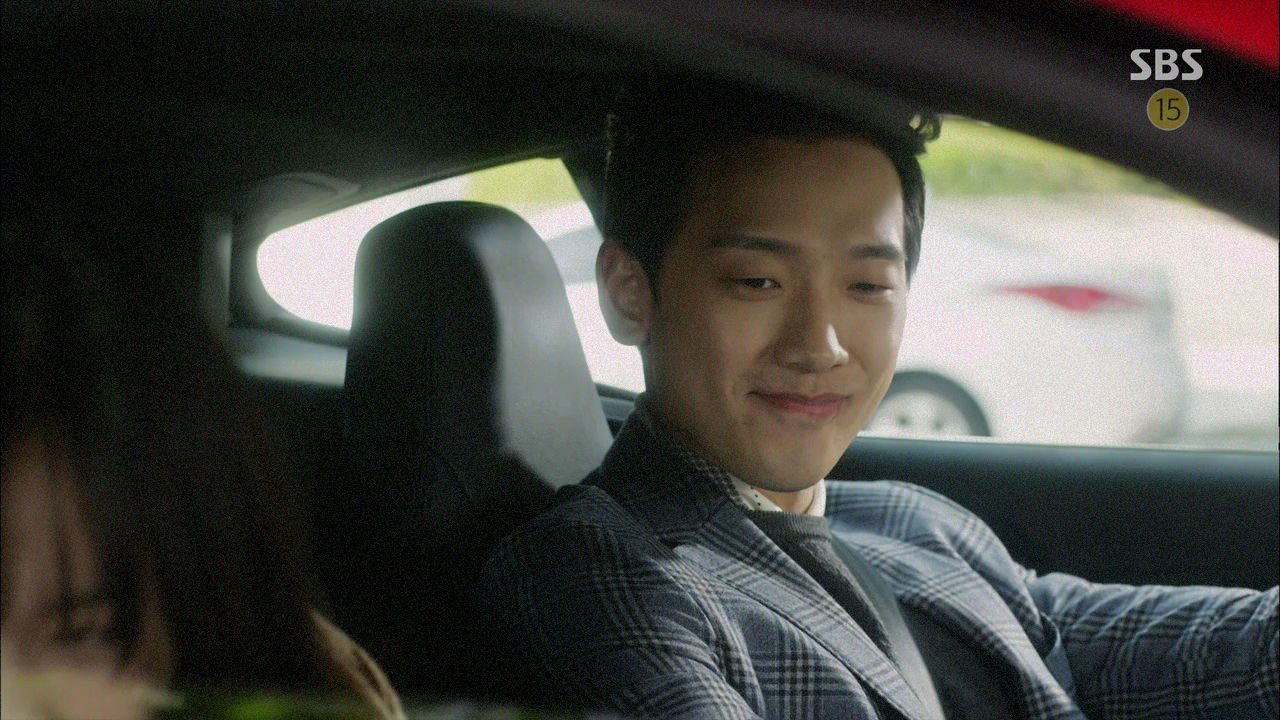 Hyun Wook pulls over and tells her to get out of the car. She thinks he's upset at her questions but Hyun Wook smiles and points out that the office is right there and they can't arrive together. Se Na gets out with a smile when Hyun Wook asks to hang out after work.
Hyun Wook finds Sang Jin waiting for him in his office and Sang Jin knows that Hyun Wook has chosen to be with Se Na. Sang Jin asks if Hyun Wook is happy now that he's doing what he wants? Hyun Wook asks why he can't do this and Sang Jin has no answer because Hyun Wook can do this. He just wants Hyun Wook to not leave things so awkward with Hae Yoon.
Hyun Wook pulls Hae Yoon out to return her birthday present to him and apologizes because he can't accept it. Hae Yoon knows Hyun Wook wants to be with Se Na even though she doesn't know the whole truth yet. Hyun Wook doesn't care since all he has on his mind is Se Na. Hae Yoon asks Hyun Wook what he will do if Hae Yoon told the truth to Se Na? Hyun Wook won't hate Hae Yoon if she did it, but the result would be that he won't be able to see her or Se Na again. Is that what she wants?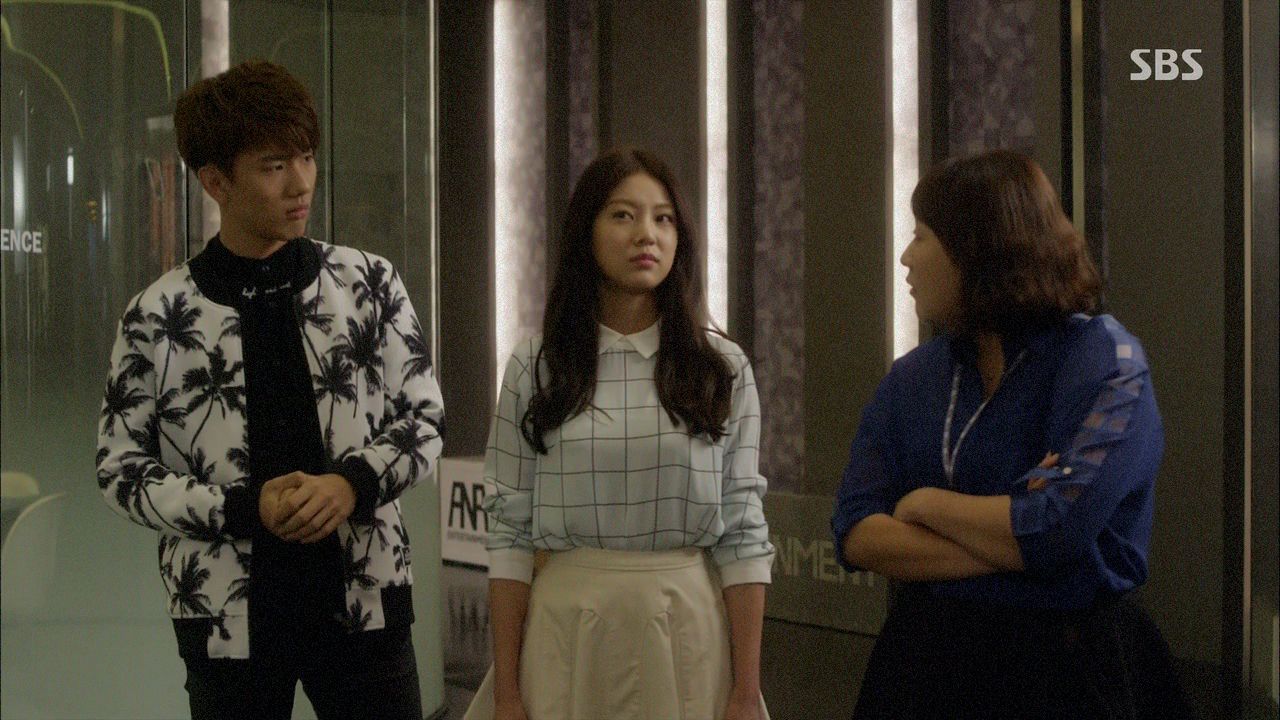 The AnA trainees are shocked to see Se Na back at the agency and hear that she's here working on a new song for Shi Woo. She tells them not to worry since she's only here for a few days.
Se Na encounters Hae Yoon next and the two ladies mention being startled to see each other last night at Hyun Wook's place. Hae Yoon tries to probe what happened between Hyun Wook and Se Na afterwards but Se Na doesn't think she needs to share with Hae Yoon. That leaves Hae Yoon going up to the roof to brood.
Se Na sits with Shi Woo to discuss his new song and how best to touch people's hearts with the music. Shi Woo thinks it's easy since his face is enough to move people. Se Na laughs at his self-confidence but hears that Shi Woo does this to give himself strength to continue when he has so many worries in his life. Se Na asks what he's worried about but Shi Woo doesn't want to share with her. He wants Se Na to spend more time with him to find out what he's really like.
Shi Woo gets close to Se Na and compliments her on getting prettier after a bout of sickness, but then she's always been pretty. He gets up to go do something and doesn't want Se Na to follow but she points out he wants her to spend more time with him to get to know him better.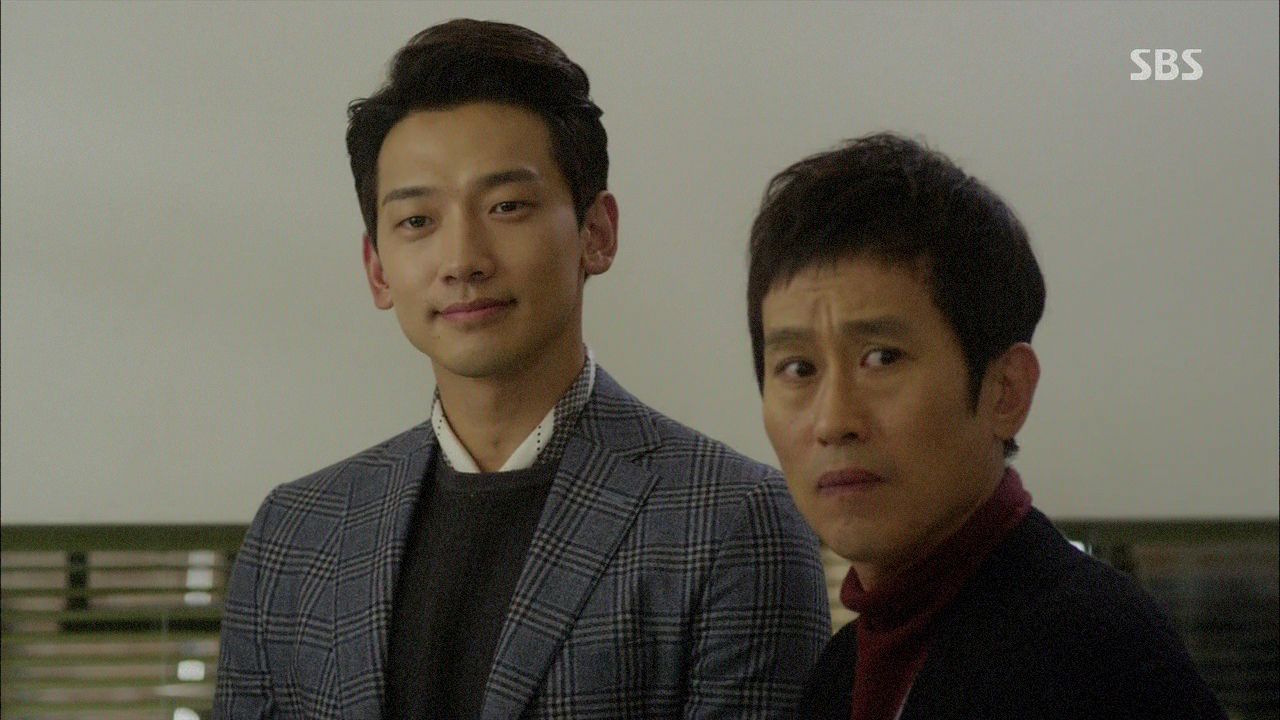 As Se Na and Shi Woo walk out they run into Hyun Wook and Director Kang. Shi Woo reports his running an errand with Se Na and Hyun Wook happily sends them off. Director Kang worries about the two getting too close but Hyun Wook isn't worried in the least, especially when Se Na shoots him a flirty look as she walks off behind Shi Woo.
Jae Young calls Hae Yoon out to offer her a job at his company since it'll be tough for her to keep working alongside Hyun Wook. Hae Yoon remembers revealing the truth about Se Na being Yoon So Eun's little sister but asks Jae Young to keep quiet about it. Jae Young agrees not to do anything for now but wants Hae Yoon to decide quickly on his job offer.
Shi Woo brings Se Na to a department store to help him pick out a purse for his mom. They head to a school where there is musical performance today. Se Na thinks Shi Woo's mom is a teacher here but he reveals that his mom is a student. She never went past elementary school which is why she's back now to continue middle school.
Shi Woo finds a reporter harassing his mom to write a story about how she's still in middle school. He thinks it will get sympathy points for Shi Woo but Shi Woo isn't interested. His mom being a student isn't something either has shared with friends so he doesn't want his mom's personal life bandied about. The reporter points out that Shi Woo will be forgotten soon since he's on hiatus.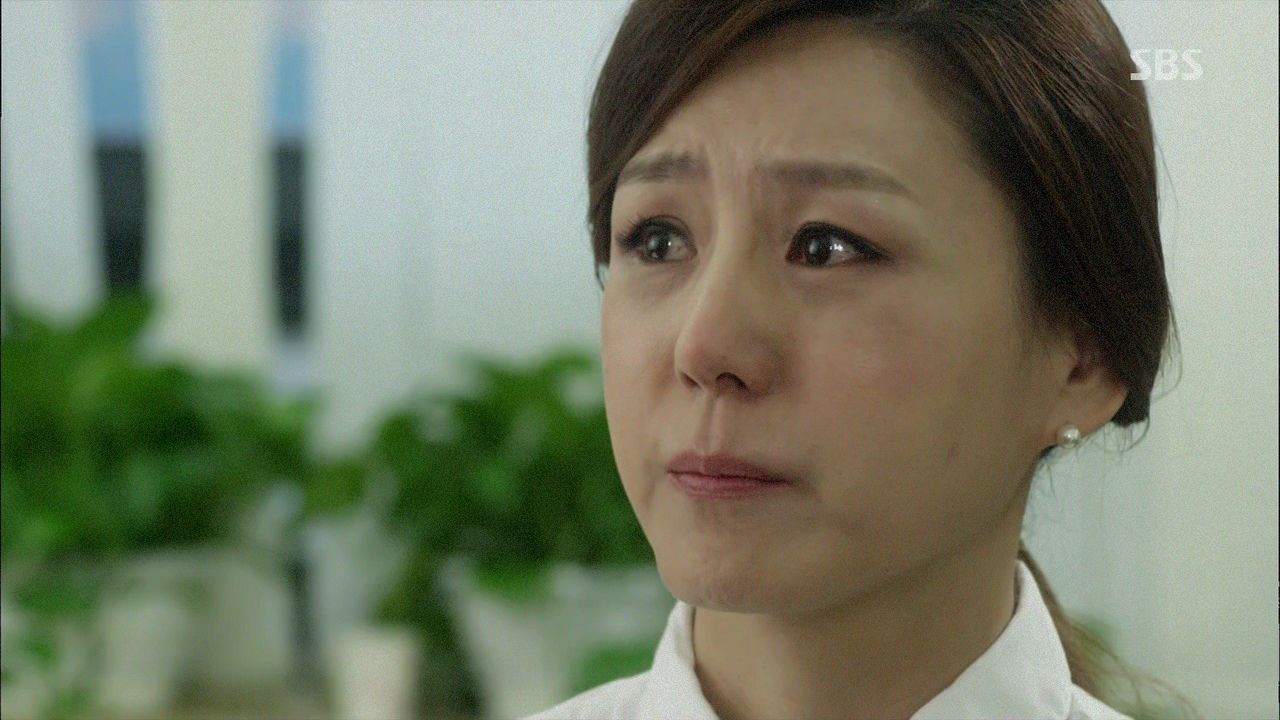 Shi Woo's mom agrees to do the interview but the reporter storms out warning Shi Woo that he'll be waiting to break an even bigger story in the future. Shi Woo yells at his mom for agreeing to do the interview but his mom tearfully feels bad because she can't do much to help Shi Woo and instead takes what he gives her. She runs a store now and can continue going to school all because of Shi Woo. He doesn't want her to bow and scrape to everyone she meets, begging them to be good to her Shi Woo.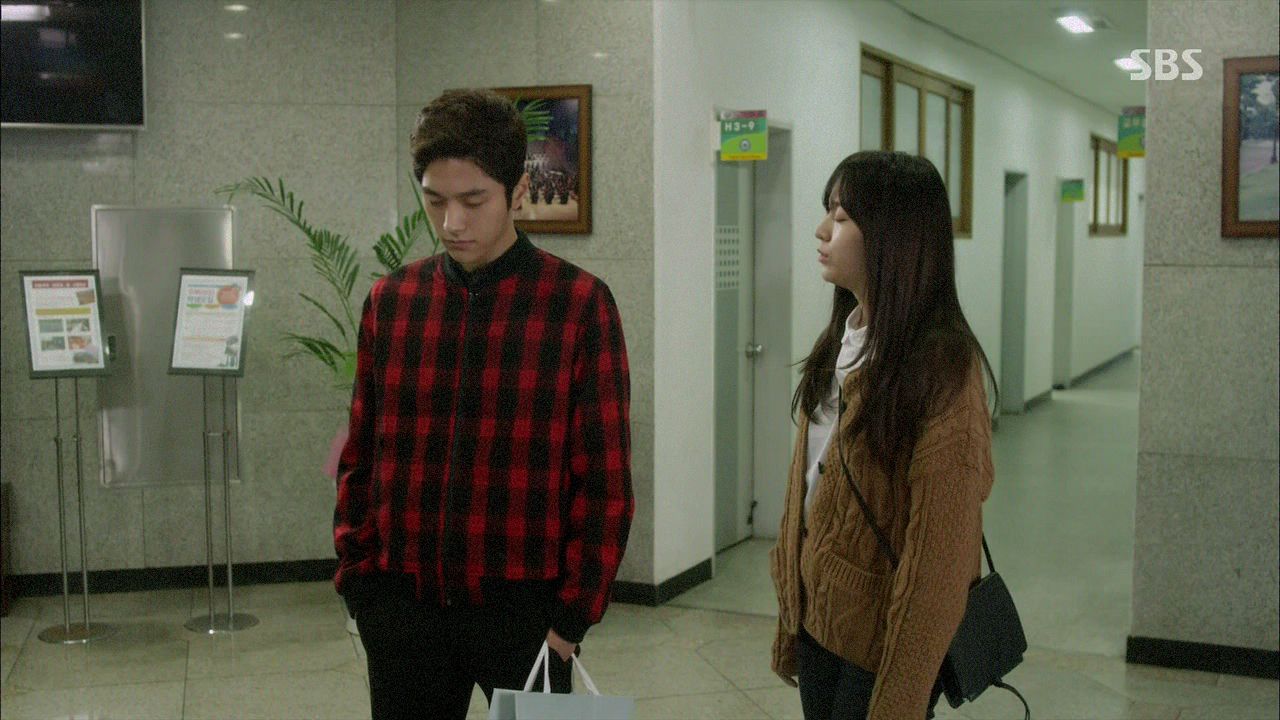 Shi Woo regrets coming today and storms out without giving his mom the present. Se Na watches all of this and follows Shi Woo out. She asks why he fights with his mom every single time? Shi Woo doesn't know either but he always feels like a screw up in front of her. Se Na advises him to stop being angry all the time when he just wants to be good to the person. At least Shi Woo has a chance to apologize and make up with his mom whereas Se Na can only miss her mom now.
Shi Woo offers to let Se Na see his mom like her own mom, chuckling that a husband's mom is a mom to the wife as well. LOL what a cheeky boy you are, Shi Woo. He walks away with a smile before Se Na can yell at him.
Hyun Wook starts getting angsty after not hearing from Se Na and finally calls her to find out where she is? He goes to the practice room where Se Na is working and wants to know why she didn't tell him that she's back. He hears that Se Na went with Shi Woo to meet his mom and did it to understand Shi Woo better so she can write his song. She has an idea now to write a song about things Shi Woo wants to say but he can't.
Hyun Wook is heading home but Se Na wheedles for him to hang out with him later tonight. Hyun Wook tells her to just work tonight and get some rest because she's going to be hanging out with him tomorrow. That gets a big smile out of Se Na.
Se Na is all dressed out to go hang out with Hyun Wook. Joo Hong is excited for Se Na but her boyfriend pooh poohs the date as nothing to get excited about since it's all the same thing – dining, movies, holding hands, kiss, etc.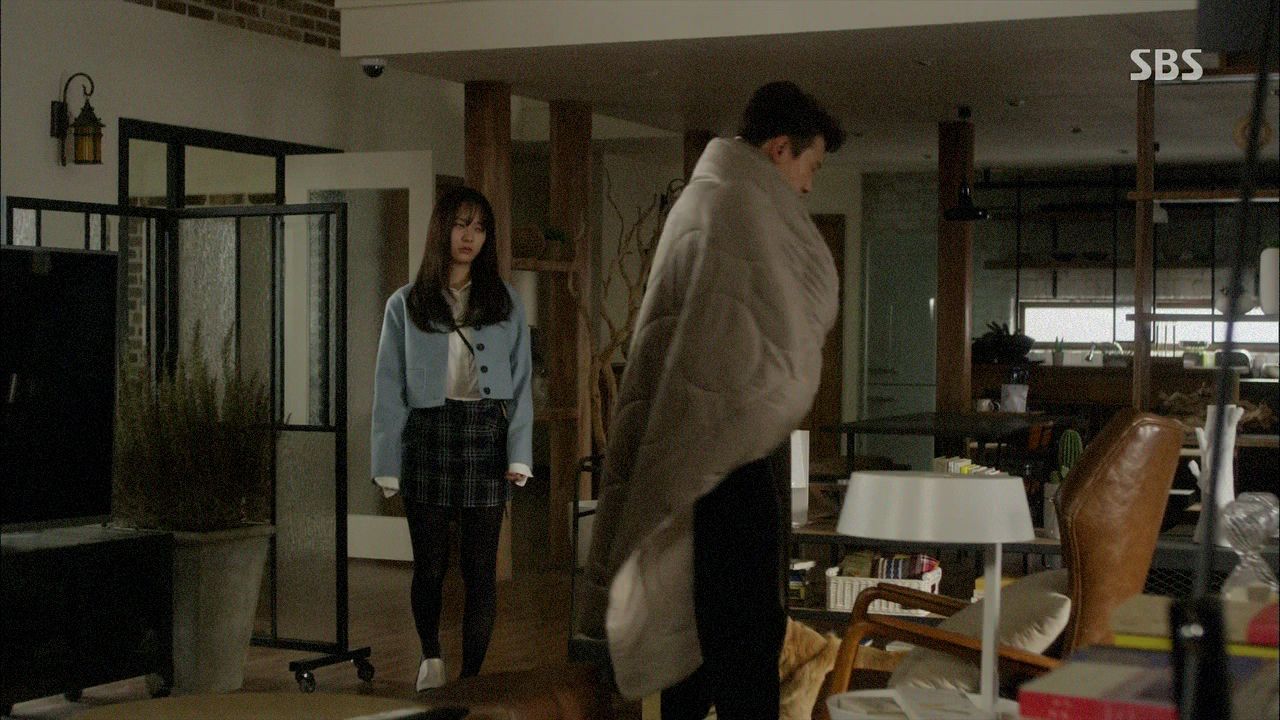 Se Na gets a call from Hyun Wook and rushes to his house to find him sick as a dog and blaming her for passing the cold to him when she kissed him. Sick Hyun Wook is a total baby as he whines that he hasn't taken his medicine since he hasn't eaten and he has no food in the house to eat. Se Na cooks him a mixed friend rice with all the ingredients from his fridge. Hyun Wook grimaces after one bite and Se Na samples her own creation in equal dismay.
Hyun Wook takes a nap on the chair while Se Na cuts some fruit at the table. She notices he's fallen asleep and walks over to tell him that she doesn't need to go out, all she wants is to be able to spend time with Hyun Wook. Hyun Wook wakes up to find Se Na sleeping against his chair and wakes her up when he starts coughing. She wonders if he's feeling better and he assures her that he's all better now.
Sang Jin takes the depressed Hae Yoon out to eat and she asks if she should tell Se Na the truth and cause then to break up? She realizes that doing so won't bring Hyun Wook to her either, so maybe she should quit her job because she doesn't know how to face Hyun Wook anymore.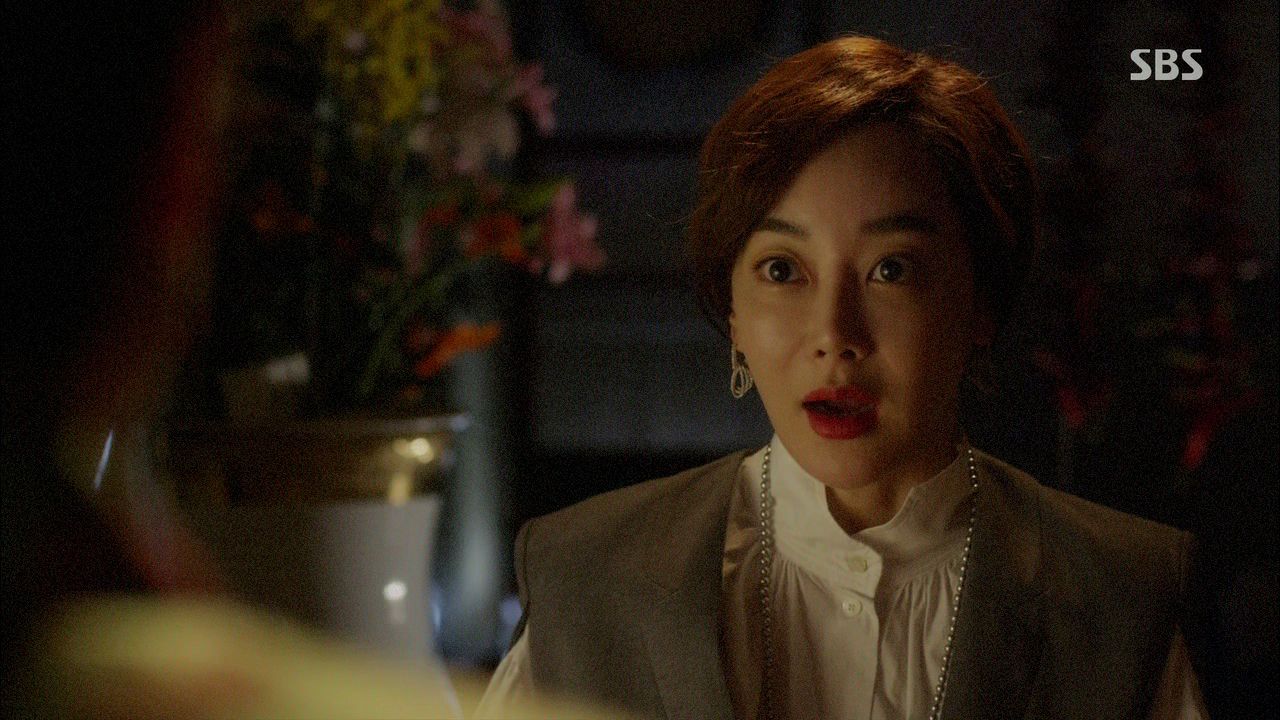 Hyun Wook's stepmother goes to a fortune teller to check on her fate with Director Kang to be business partners. The fortune teller suggests she marry the guy rather than be business partners with him. Hyun Wook's stepmother runs into Director Kang at the agency and feels awkward around him after hearing that.
Hyun Wook's stepmother goes home and her husband asks if she's gone to see Director Kang and if she's cheating with him. Hyun Wook's stepmother want's to earn her own living rather than rely on Hyun Wook's dad. He knows she's planning to take over the agency with Director Kang and laughs at their inability to run it eventually. He begs her to wait a few more days and he'll tell her everything.
Hyun Wook listens to the new song with Se Na and Shi Woo and Hyun Wook can't make a decision yet until he hears the final finished product. Shi Woo tells Hyun Wook to leave them alone so they can finish the song. Hyun Wook is coughing as he runs out so Se Na runs after him to hand him an orange with a heart drawn on it.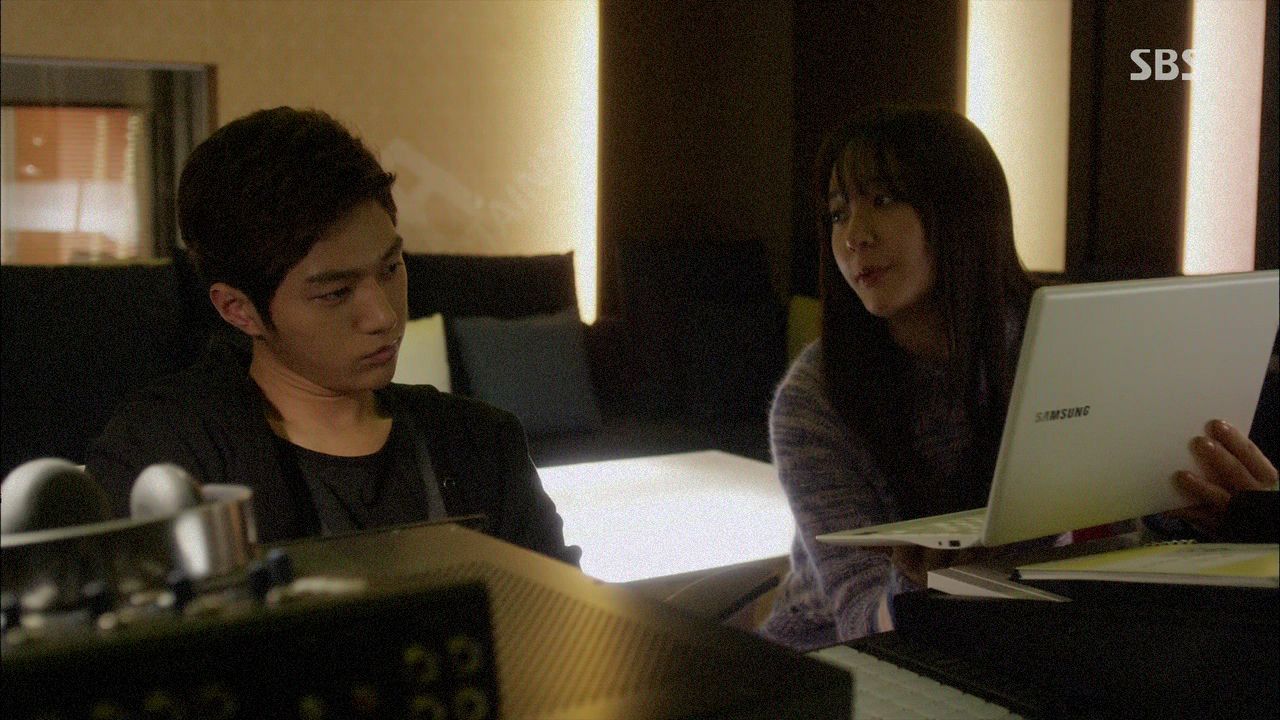 Se Na returns to the recording studio where Shi Woo asks that she focus only on them when they are working together. Se Na promises to do that before showing Shi Woo the beginning lyrics she's penned for the song which is meant for Shi Woo to his mom. Shi Woo offers to write the lyrics with her and really enjoys working with her. He suggests she sign a contract with AnA again to work exclusively with him and Se Na agrees to consider it.
Hae Yoon hands her resignation letter to Hyun Wook after thinking through things. It'll be too painful for her to work with Hyun Wook and she doesn't want to wait until Hyun Wook's dad returns to take over the agency again. Hyun Wook has known Hae Yoon for twelve years and their shared memories are also very meaningful to him. She's always been there supporting him and encouraging him and he doesn't want her to leave like this. Hae Yoon refuses to back down because waiting around is only going to keep hurting her. Hyun Wook needs to let her leave when she's made up her mind to stop liking him.
Jae Young finds Hae Yoon who is not going to work for him because it's unethical. She did quit her job but that's it, she's not going to have Jae Young continuing to use people against Hyun Wook. She wants him to forget the secret he learned about Se Na and stop being so fixated on Hyun Wook. If someone needs to suffer and that person is her, then that is enough, there is no reason to make even more people hurt.
Hae Yoon asks why Jae Young doesn't feel bad towards Se Na even just a little bit, Jae Young had a part in what happened to So Eun. Jae Young refuses to accept any culpability, what happened was due to Hyun Wook and So Eun doubting each other. Hae Yoon sighs that Jae Young hasn't changed in the least and walks away.
Se Na pulls Hyun Wook into the practice room with her to get his opinion as she's stuck on a certain section. Hyun Wook is about to play his suggestion for her but pauses right before he starts playing. He demurs and tells Se Na to do this alone since if he helps then his name would be on the songwriting credits and she'll have to split the royalties with her. Se Na doesn't care and wants to write a song with him. She also points out that he's in love again and that is when he writes songs.
Hyun Wook makes the excuse that he's too busy running the agency and Se Na doesn't push him, only pointing out that she'll have to make Hyun Wook love her more if she's going to get him to start writing songs again.
Se Na goes home and Joo Hong's boyfriend wonders why she's not spending more time with her new boyfriend. Joo Hong can tell Se Na is worried about something and hears that Se Na is worried that Hyun Wook seems to have something weighing on his mind. She suggests Se Na go to Hyun Wook's house and check on him herself.
Hyun Wook sits in front of the keyboard and remembers Se Na wanting him to start writing songs again. He tries but can't bring himself to start playing again.
Hyun Wook's dad is playing soccer at the park with the young man Yoon Joo and her son. The son calls him "dad". Hyun Wook's dad apologizes to Yoon Joo because he can't come visit them anymore because he has to tell his family the truth now. Yoon Joo understands and thanks him for what he's done all this time and assures him that her son is older now and can handle it.
Hyun Wook's dad goes home and his wife is still pissed, she wants him to bring the evidence home that the son is not his otherwise leave the house!
The AnA management team meet to discuss Shi Woo's new ballad composed by Se Na and everyone is in concurrence that it's a very touching song.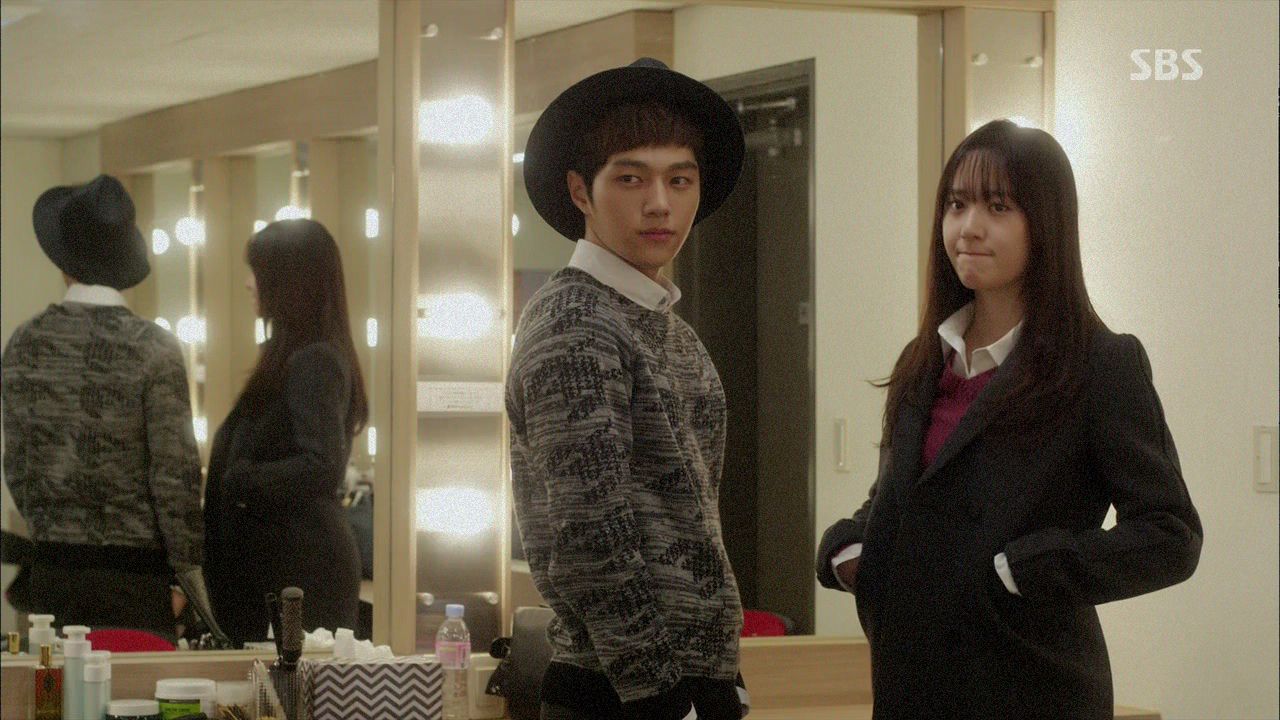 Shi Woo is with Se Na backstage right before his performance. She's nervously pacing while he tells her to calm down since it's his first time performing without back up dancers. He stares at her which calms her down before he's called out to get ready for his performance.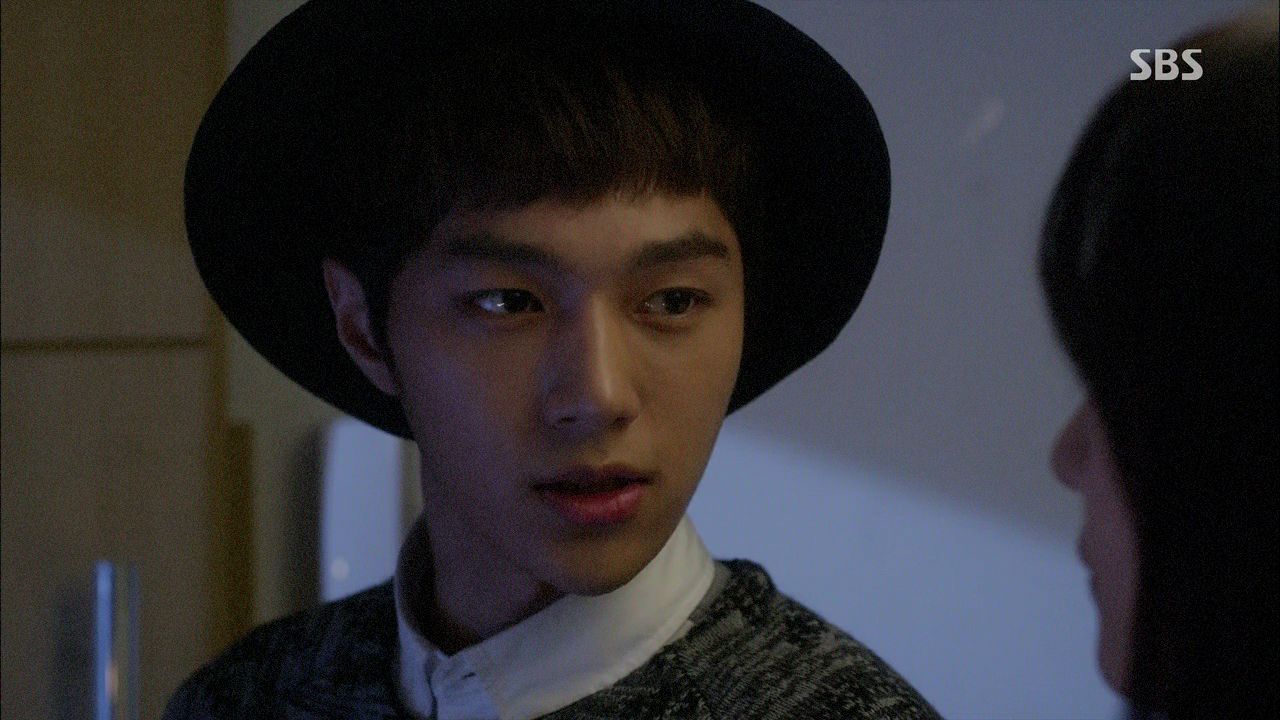 Se Na follows Shi Woo out but he wonders if she can't watch from the waiting room on the TV. Se Na is about to go back but Shi Woo grabs her hand and tells her to stay. He admits that he's really nervous, more nervous than three years ago when he debuted. He is ready to give it his all but worries that people will not like it. He's also worried that he can't perform the song well but Se Na has faith in him. He asks Se Na to be here when he's done and she promises to do that. She gives him a "fighting" before he goes onstage.
Se Na runs into Jae Young backstage and he says this entertainment circle is really small. He purposely brings up how Se Na reminds him of a solo singer he knew in the past named Yoon So Eun. When Se Na reveals So Eun is her unni, Jae Young acts all surprised and wished he knew earlier, then he would have been nicer to Se Na.
Shi Woo sits on stage and makes a speech sharing his dream since childhood about becoming a singer. He even reveals that his real name is Ryong Bok and today he's singing as Ryong Bok to his mom who is in attendance. This song is for all the things he wants to say to her and he dedicates it to all the moms of this world.
Shi Woo starts to sing "Song for You" and his performance is so touching that his mom is crying and all the audience members are equally as moved. His performance is met with thunderous applause all around.
Hyun Wook gets a call from Shi Woo's manager with the good news that Shi Woo's ballad debut was a roaring success.
Shi Woo finds Se Na backstage and pulls her in for a grateful hug. He thanks her for creating such a happy mood for him to share. Se Na knows they did it together and it's not just her. Shi Woo stares at Se Na and wonders what he'll have to do to keep seeing her in the future?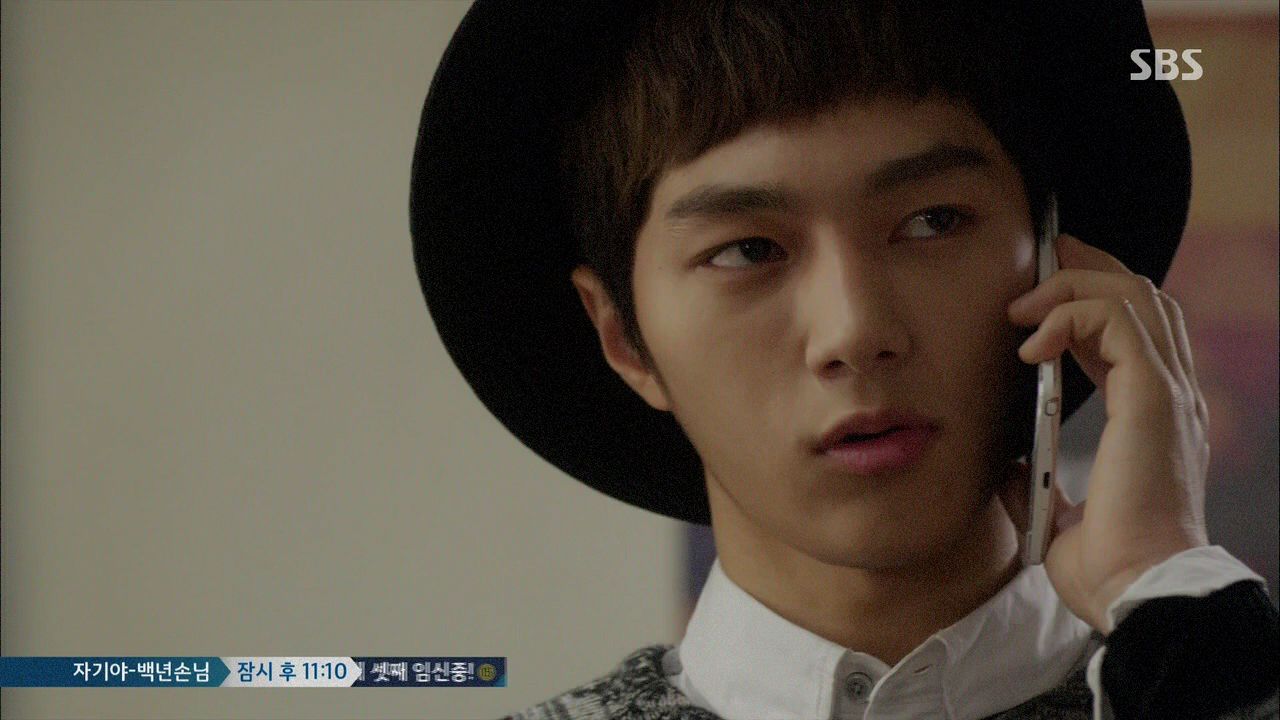 A call comes in on Se Na's cell from Hyun Wook and she hands the phone to Shi Woo. Hyun Wook congratulates Shi Woo on doing well and Shi Woo thanks him for giving this chance. Hyun Wook asks to speak again with Se Na but Shi Woo won't hand it over so Se Na snatches it back. Hyun Wook asks Se Na to see him later and she agrees to head back.
Shi Woo doesn't want to let her go and wants to have a celebratory party with her. Se Na offers to have the party another day and doesn't answer Shi Woo when he asks if she likes Hyun Wook.
Hyun Wook goes to Tiffany's and picks out a present for Se Na which he works very hard to stealthily leave in the recording studio for her. Se Na finds him acting weird and he has to literally guide her to the present box.
Se Na opens the present to find a necklace nestled inside. Hyun Wook puts it around her neck along with a kiss on the forehead to thank her for being in his life.
Hyun Wook takes Se Na out to a fancy dinner and teases her about the terrible tasting food she made for him last time. Se Na still thinks this feels like a dream having Hyun Wook in her life. She wishes he showed up three years ago instead of now and wants to do more for him since he's always so good to her.
Se Na brings up how she misses her unni a lot today. She wishes she could introduce Hyun Wook to her unni and that makes Hyun Wook's face fall. Se Na then brings up running into Jae Young at the studio today and he mentioned knowing her unni. Se Na innocently asks Hyun Wook if he knows her unni as well?
Thoughts of Mine:
This is one drama where I haven't found a single highlight moment or crescendo development. The story flows on a series of flat stepping stones for Se Na's journey to become a songwriter. Along the way she falls for her unni's former boyfriend and encounters the typical obstacles for a career rookie. Despite the overused relationship tropes that litter this story, there actually is potential for the end result to be addicting despite the familiar flavor. Instead the story never takes off so I'm left sifting through the mess looking for a hook. Eleven episodes in the hook remains the same, Shi Woo and his great character and career trajectory. He's the only character that shines and it even makes sense that Se Na's success is tied to his success. It really is too bad they're not the canon OTP, in this drama it really feels much more organic that Hyun Wook and Se Na.
For a while I felt Hyun Wook and Se Na was developing nicely as well but that's been derailed for me after this episode. I cannot get behind Hyun Wook not telling Se Na the truth at this point. He can keep the secret from her if he wasn't dating her but the moment he reciprocated her feelings then he needed to give her the right to make an informed decision. It's pretty hilarious that Hae Yoon suddenly became a sane and mature character in one short episode but she does know when to quit. Her decision to leave AnA and to not tell Se Na the truth was commendable, it shows that she's not vindictive or delusional. Perhaps Hyun Wook really did string her along by never ever drawing a firm line with her which is why her twelve year crush went on for this long. Even better was her refusal to jump ship to Jae Young just because Hyun Wook rejected her, even heartbroken she's not a trash of a human being the way Jae Young is.
Hyun Wook and Se Na's cute dating interactions in this episode really left me cold for the sole reason that he's keeping a critical piece of information from her. I can't help but feel like it's all based on a lie that Hyun Wook is actively maintaining because he doesn't want to risk losing her. Dude, if you lost her because she learned the truth then that means this relationship wasn't meant to be. At least Shi Woo is at all times completely himself with Se Na and even shares his darkest family secrets with her. It's also nice to see Shi Woo finally get some long overdue success, but having characters like Rae Heon and Ra Eum completely written out of the show for the last 4 episodes does cut down on the "in your face!" factor of rubbing it in. It's pointless to hope for an OTP swap but at least I'm not fully against Hyun Wook and Se Na, I just need them to confront their demons and have a relationship that conquers the past rather than hiding it away.
Click here to watch My Lovely Girl.