It's a testament to the fame of Yoon Eun Hye and the notoriety of Park Shi Hoo that even the mere mention of them possibly doing a cross-border C-movie together gets the internet all abuzz. The movie Love After Love (爱后之爱) is slated to start filming in November with an eye towards a summer 2015 release meaning the casting confirmations should be coming down any day now. It's fine for anyone to have an opinion on this potential casting but some opinions are going to have a stronger impact than others.
Yoon Eun Hye's own agency The House Company changed its name to Jarmy Entertainment last month and her official fanclub in Korea is now called Amazing (as in Amazing + Grace which is her English name). The official staff of Amazing have come out and issued a fanclub wide release that the admins do not support Yoon Eun Hye doing this movie with Park Shi Hoo and will be collecting all the fan reactions and submitting it to Jarmy in hopes of persuading Yoon Eun Hye not to accept the role. The response has been overwhelming – YEH's Korean fans are almost uniformly against her doing this movie.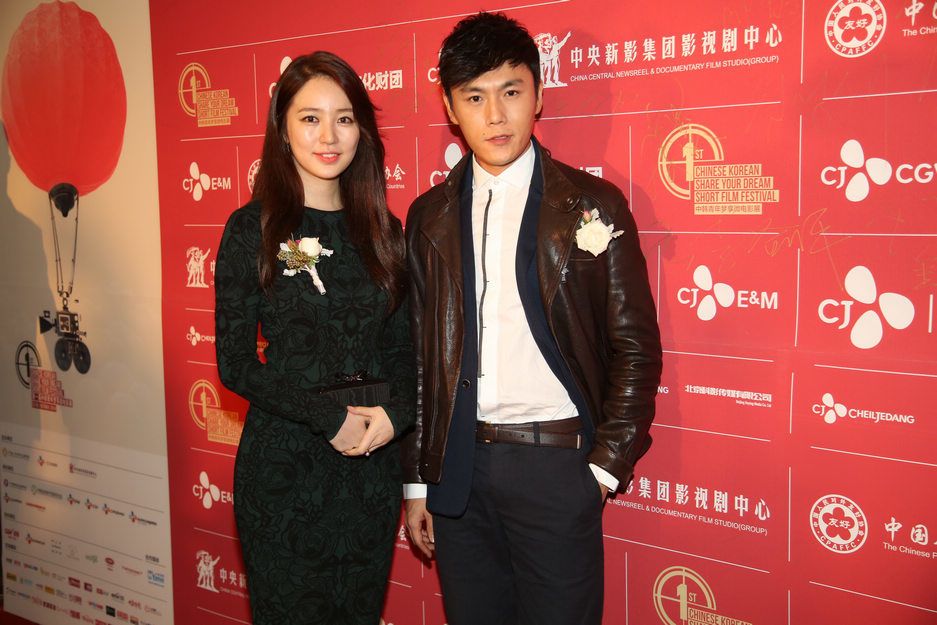 I don't think Amazing is revolting but rather acting like a concerned parent trying to give Yoon Eun Hye good career advice. I know Yoon Eun Hye is clearly interested in moving into the Chinese entertainment market whether through movies or dramas, last week she was in Beijing at the first annual Chinese Korean Share Your Dream Short Film Festival where she was the honorary festival ambassador along with Chinese actor Qin Hao (above). She can still do a Chinese work, but maybe just not with this particular movie project.
I personally don't think Park Shi Hoo should, like, never act again or slink off to a ditch somewhere away from the public eye. Legally he was not convicted of any wrongdoing and as a lawyer I can't subscribe to public castigation by allegation only. With that said, I personally will have a hard hard time watching Park Shi Hoo as a romantic lead, he would do better at this point in his career in being anything other than some swoony onscreen male character. When a good chunk of the viewing audience associates him with sleeping with a drunken passed out woman without her consent, I'd say it's going to be a hard sell styling himself as a dream man. Other than for his devoted fans, of course.
If I were Park Shi Hoo's agent (which is either himself or his brother I think since he has his own agency), the recommendation is that he should play serial killers and vengeful assassins and mentally challenged underdogs, characters that have nothing to do with wooing a lady and selling his charm. I'm sure Park Shi Hoo's diehard fans think nothing of seeing him onscreen as a lady killer but the general public is probably not ready for that yet. Love After Love is a straight up romantic melo movie about lovers separated and finding love again, there is like no other thematic thread going on other than for the lublublub part.
안녕하세요.
Amazing staff 입니다.
그동안 제대로 인사도 못 드린것 같은데..
죄송스럽게도 이렇게 이런일로.. 글을 쓰게 돼네요…
늦어진 생파 후기를 즐겁게 준비하며.. 사진 정리 중이였는데.. ㅠ.ㅠ
이번..윤은혜님 한중 영화 출연건에 대해서…
오랜 은혜님의 팬의 한사람으로서 정말 깊은 실망과 허탈함까지 느끼고 있습니다.
저희가 비록 Amazing staff 이지만..
지금까지.. 작품 선정이나 은혜님의 비지니스에 관련해서는 팬은 팬일뿐..
그분의 의견과 결정을 존중해서.. (어차피 저희 보다는 훨씬 더 잘 알고 계시리라 믿기에..)
설사 개인적으로 선호하지 않은 작품에 출연하다고 한들.. 그 결정을 믿고 따라 왔습니다만…
이번 작품에 관해서는 처음으로..
회사와 은혜님의 결정이 어떠하든..
지지해 줄 수 없는 행보라 생각되기에..
저희 staff 들 역시 "출연반대"라는 의견을 알려드립니다.
이에 팬여러분들의 의견을 모아 보고자 합니다.
냉정하고, 객관적으로 팬분들의 의견을 모아서 회사에 전달하고 싶습니다.
어떤 방식으로 우리 팬분들의 반대 의견을 효율적으로 전달하면 좋을지…
많은 의견 부탁드립니다.
그리고, 여기는 공식카페 입니다.
어떤 내용을 언급하고 의견을 내 주시는건 무조건 환영이지만..
자극적인 어휘나 반말 사용은 하지 말아 주시기 바랍니다.
모두에게 예의를 지켜주세요.