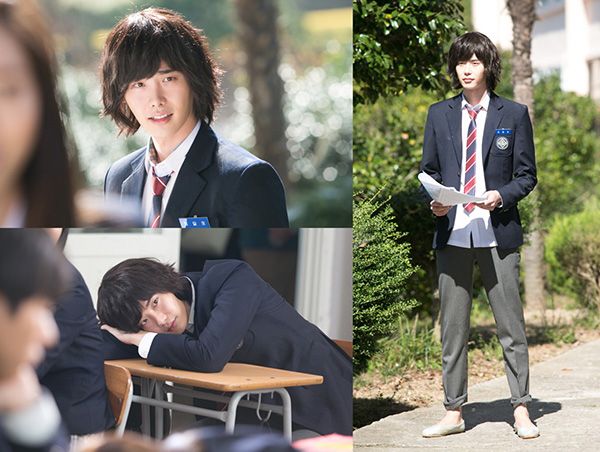 Contrary to how the public sees the fictional character of Pinocchio, the K-drama version has been quite the tease with a veritable lockdown on stills and spoilers until the floodgates opened last weekend. I think it's going to end up helping rather than hurting the drama if the final product is actually good. The undeniable fact is that a good quality drama will gloss over all pre-airing quibbles, the same way that a piece of crap drama erases any great promotional fanfare.
There are new Lee Jong Seok characters still out that remain firmly showing us the before era, not exactly a standard childhood sequence since both Lee Jong Seok and Park Shin Hye are playing their characters as high school students. Since his mop of a hairstyle is only during that period of time, and apparently is purposely done because his character is pretending to be an idiot with a low IQ, I'm fine with it. In the second video teaser there is a very stirring swirling vibe, all sunsets and piggyback rides and hair blowing in the wind. I like it even if it doesn't tell me much.
After watching the second teaser, who else thinks Park Shin Hye gives off the vibe that she wandered off the set of Heirs and dropped into Pinocchio? The similar hair, aura, and school uniform seriously gives me a raging case of the deja vu.
Second teaser for Pinocchio: