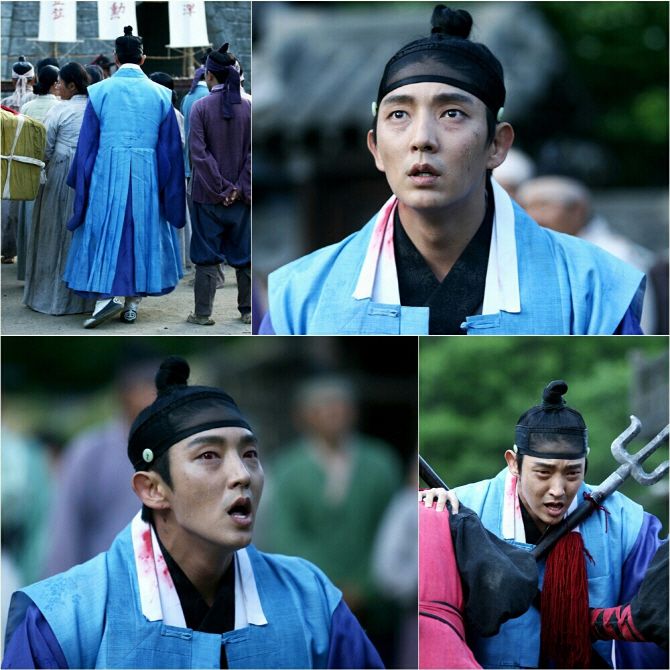 I hope it doesn't become a broken record that Lee Jun Ki looks just like (1) a vampire and (2) the character of Kim Sung Yul as drawn in the original manhwa. Because he does, so perfectly cast I wonder if the manhwa writer drew the vampire scholar with a picture of Lee Jun Ki next to her. Scholar Who Walks the Night is back on track with filming, after a week where both leads Lee Jun Ki and Lee Yoo Bi were sidelined at the hospital with separate injuries.
Lee Jun Ki returned to set late last week and today the production released new stills showing him filming a very intense and sorrowful scene. It was filmed in late May way before he got injured, with the scene being on where his character sees something horrifying at the castle walls and can't contain his despair and shock. Some may think Lee Jun Ki has a tendency to overact but I find his expressiveness never over the top even if it fairly emanates from his every pore. He always gets me in the gut with his acting and that's more than enough for me to anticipate his every project.
There's a lot of other story lines going on in this drama so having the two leads take a recovery breather doesn't mean the drama production came to a standstill. Likely the supporting cast gets an extra lead on filming their scenes and I'm really excited to see more stills of the other cast members. I'm just as curious about Changmin's womanizer Crown Prince hiding his real capable self, Kim So Eun's haughty noble woman, and Lee Soo Hyuk's antagonist smirky other vampire.