The visual feast of promos for Scholar Who Walks the Night fairly guarantees eye candy onscreen, and maybe that will be only positive thing about it. We'll find out next Wed (who's excited, I'm soooo excited!) but the chance of a hot mess doesn't deter me from eagerly gobbling up every new tidbit from the production. Case in point – more solo character stills of Lee Jun Ki as vampire scholar Kim Sung Yul. He keeps looking more and more identical to the manhwa rendering of the character, which fairly begs the question why he wasn't the first choice to begin with.
This is also the prettiest I've seen Lee Jun Ki since his impressive debut in The King and the Clown, which isn't an insult because his pretty puts most women to shame. My Girl tried to play up his pretty but failed because the hair and outfits he was saddled with was trying too hard to be cool even back then. As the vampire scholar, the eyeliner adds the mysterious pop while his luxe period outfits in primary colors immediately capture the viewer's attention. He adds such an unique layer of beautiful androgyny to the character flair, even moreso than in the manhwa drawings.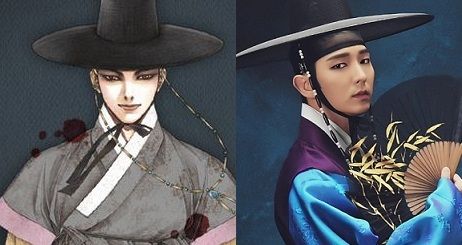 I'm so relieved all the casting sniping about Kim So Eun being the second female lead has finally died down, and I hope it stays dead during the drama run. I like her and Lee Yoo Bi basically the exact same amount so the way casting shook out was a nonstarter for me. So far I love both ladies in their costumes, posing in their official and dramas stills with engaging expressions to effectively portray their respective characters.
I also think this particular story isn't one where playing the second leads is a bad thing – think about it, the male lead is an undead vampire and the female lead loves him, the ending is 99% guaranteed to be a depressing tragedy unless its one of those rare instances where the scriptwriter pulls a unicorn out of her rear and forces a happy ending that is predicated on fantasy hoodoo. Whereas the second lead includes a human Crown Prince and a prickly noblewoman, their happy ending is a walk in the park compared to the leads. What's not to love?