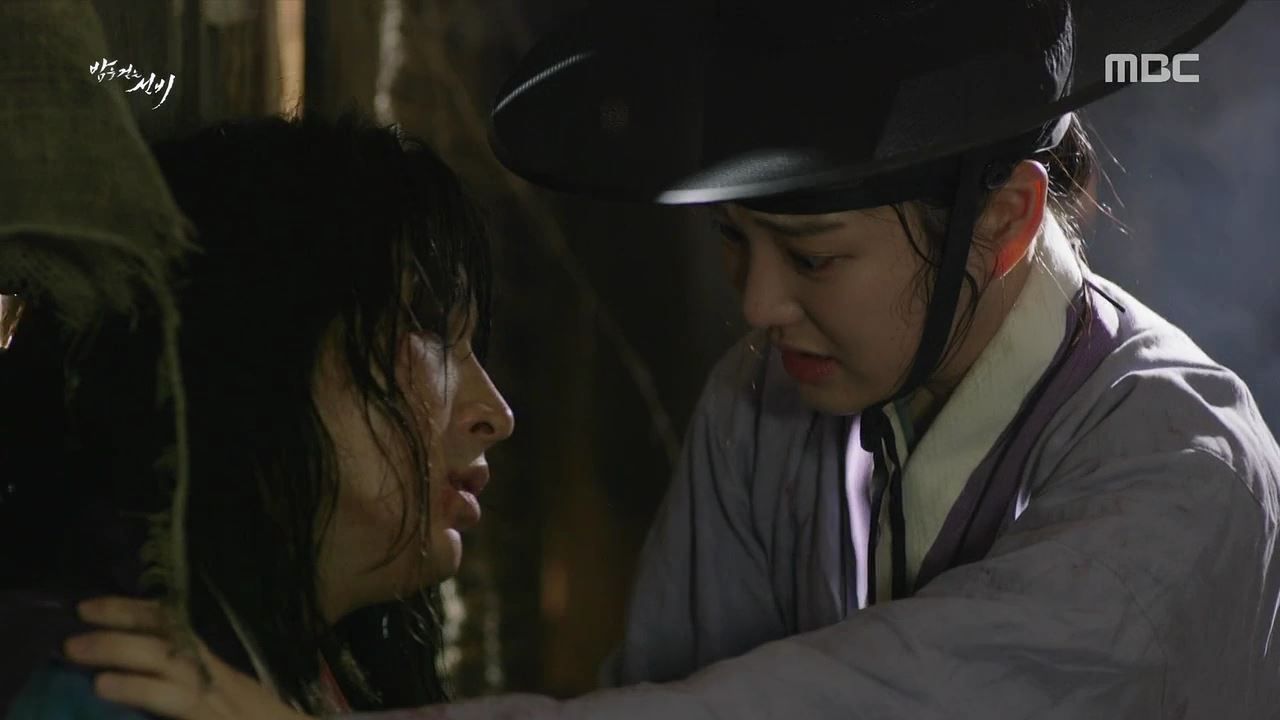 Episode 6 was by far the most substantive and interesting episode of Scholar Who Walks the Night since the fantastic start. That's not saying much since the drama still relies too much on shoving Sung Yul and Yang Sun down our throats. I do want Sung Yul and Yang Sun, eventually and at a well plotted pace, not the current lightning speed and with multiple logic and emotional leaps to get there. On the plus side are the multiple important reveals, from who has the dang memoir that everyone and their mothers are looking for, to what exactly Sung Yul finds intriguing enough about Yang Sun to tumble head first for her despite being a 120 year old vampire who has seen it all.
Six-episodes in, it's undeniable now that the weak link in the entire drama is Yang Sun, more her character and integration to the action than an indictment of Lee Yoo Bi's acting. Her performance has something that doesn't quite jibe either, not because it's bad acting because it is certainly good for the most part, she just makes Yang Sun so childish and it doesn't help that she's forever in need of saving. And not just by Sung Yul, Yoon does his share of helping her, and both even rope their retainers into doing extra chores to keep her safe. I only wish she were less of a guppy and more savvy to cotton onto what is happening around her, from Sung Yul's oddness here and there to Yoon's subtle hints and too sudden interest in her.
Episode 6 recap: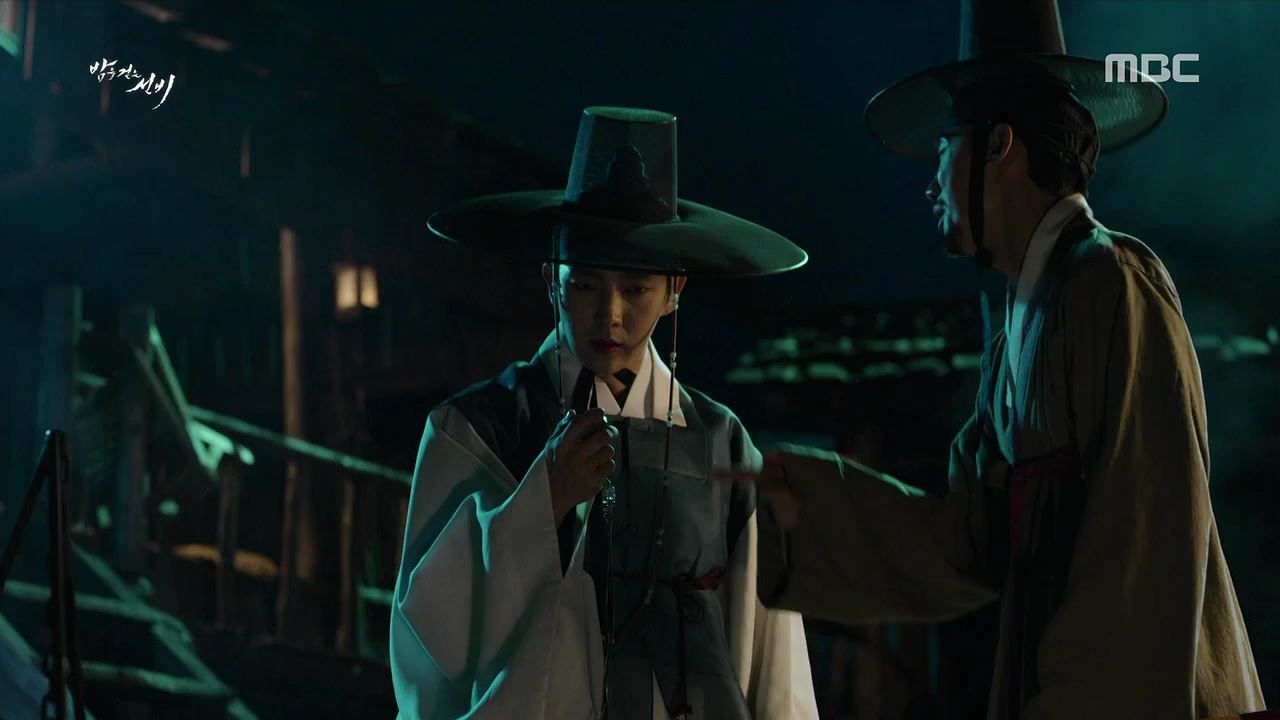 Sung Yul and Ho Jin are frantically looking for Yang Sun in the marketplace, after hearing that all the booksellers have been arrested. They have no luck finding her but Sung Yul notices the amulet he gave Yang Sun on the ground. He sends Ho Jin to get Soo Hyang to help look for Yang Sun.
Elsewhere at the magistrate's office, Gwi is doing what Gwi does best which is biting the arrested booksellers one after another and allowing them to reanimate as vampires. He goads the newly turned vampires to indulge in their blood lust and bite the other booksellers. The scene turns into a bloodbath as booksellers are bitten and turned one after another, all while Gwi sits down to watch the show.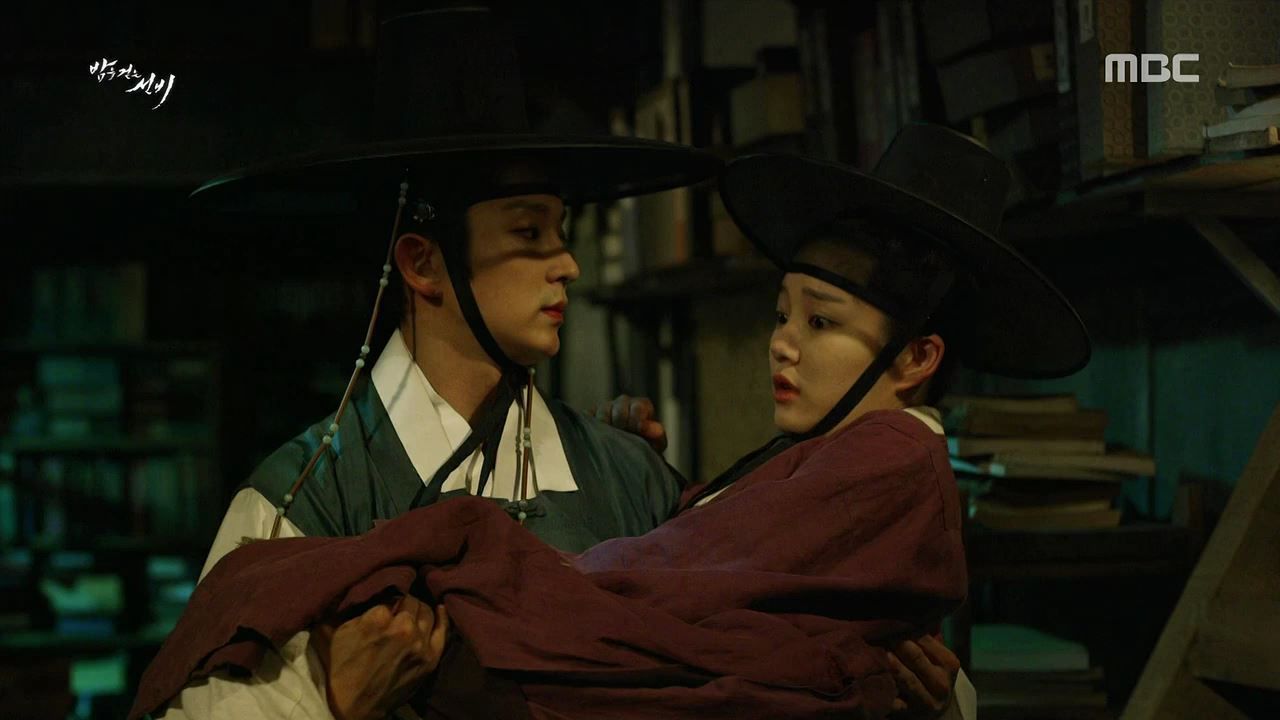 Sung Yul goes to the one-armed bookseller's back office and finds Yang Sun safely inside. He angrily demands to know what she is doing her which startles Yang Sun and she falls off the ladder. Sung Yul moves as super speed and catches her in his arms, hearing she came to look for the memoir. He isn't happy that she's back to helping him look for the memoir and hears that she is doing it because she wants to help now that she knows it's a real book and not a work of fiction. Sung Yul returns the amulet to Yang Sun, putting it around her neck while ordering her not to lose it yet again.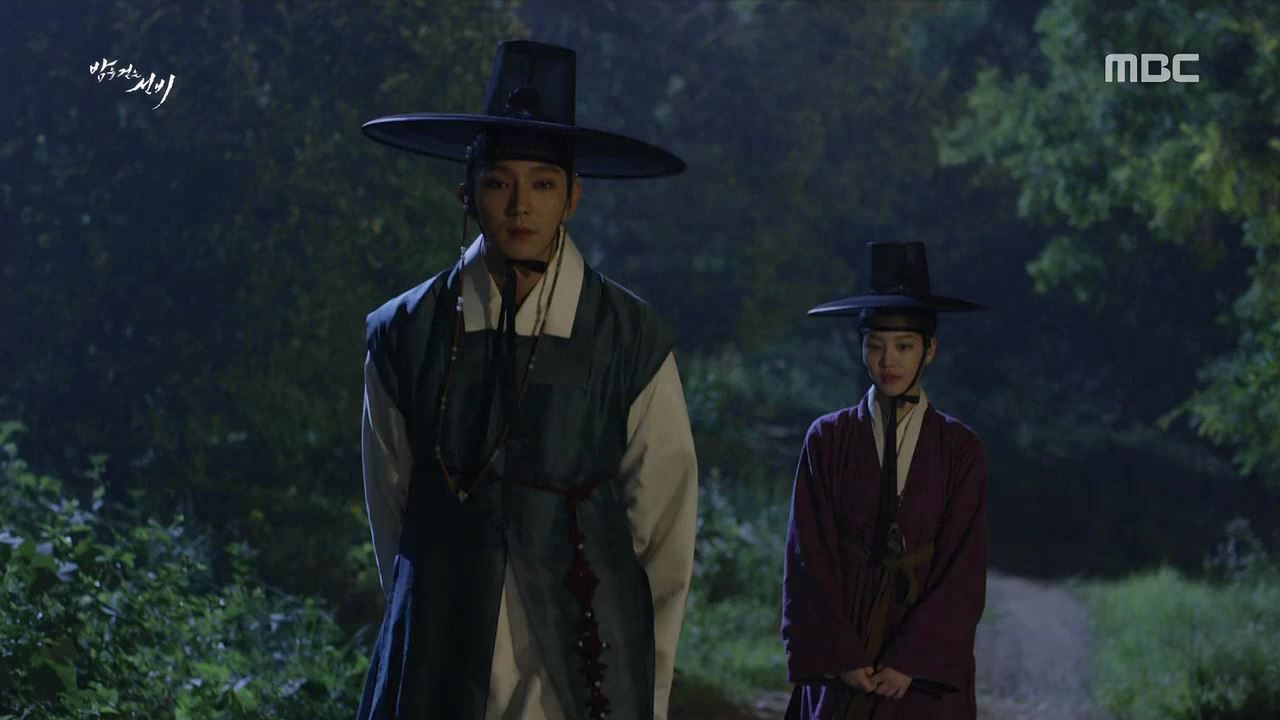 Sung Yul walks through the forest with Yang Sun a few steps behind him. He purposely slows down and Yang Sun picks up the signal so boldly speeds up until she's walking right beside him. They wordlessly walk together until Yang Sun notices Sung Yul's shoes which triggers her questions about what happened last night. She gets up her courage to ask if Sung Yul came to look for her at the wine shop last night?
Yang Sun brings up how last night felt like a dream, in which Sung Yul gave her a pair of shoes and put it on her feet personally. Yang Sun's heart starts beating rapidly while Sung Yul just stares at her, and she can't help but stare at his lips the whole time. Sung Yul notices where she's staring so Yang Sun starts stammering that it must be a dream because there is no way Sung Yul would ever do such a thing in real life. Sung Yul just keeps walking with a little smile on his face while Yang Sun follows behind chastising herself for her wild dream.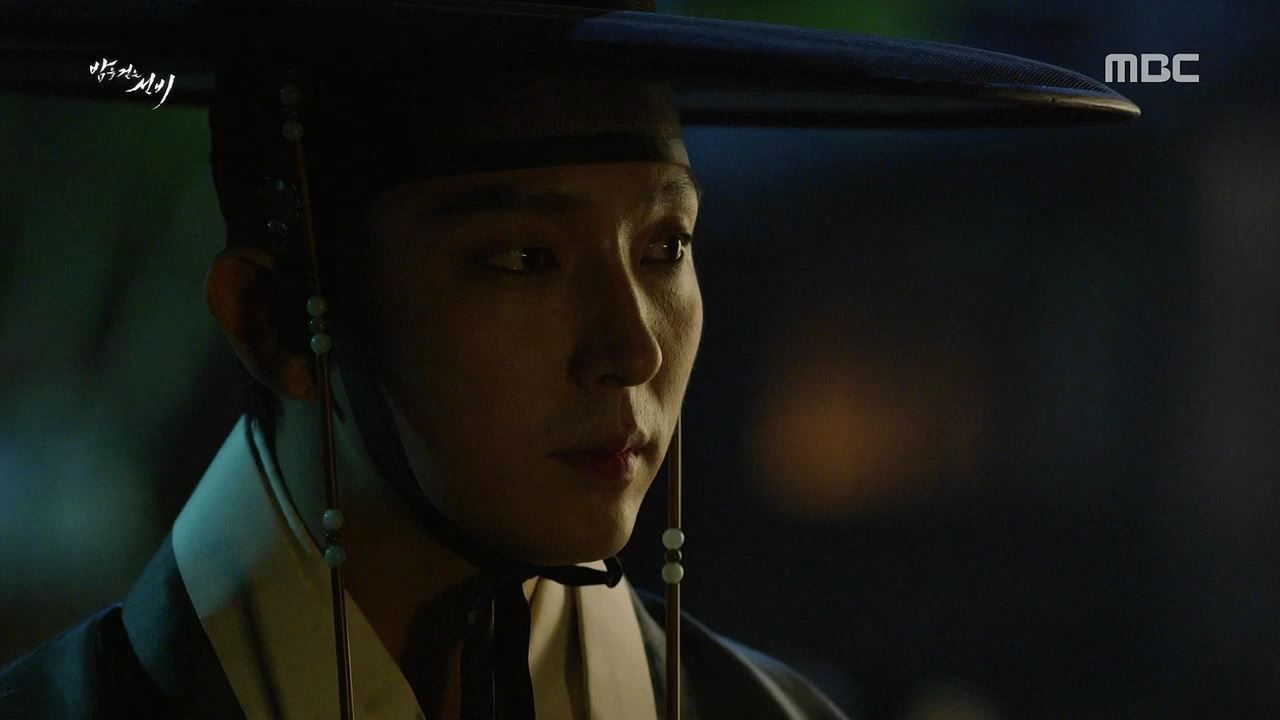 Sung Yul drops Yang Sun back home and she thanks him for everything he's done, including getting her relocated to Jeju which will also help treat her sister's leg injury. She doesn't know of she'll ever see him again and wishes him luck on finding Prince Jonghyun's memoir. Sung Yul thanks Yang Sun for all her help during this time and she's holding back tears while saying that she won't forget their short time together.
Lee Yoon is recalling the conversation with the King in which he was tasked with finding the Lecherous Scholar before the minister. Doing so will prove his right to inherit the throne, and failing he may have to relinquish his royal position. The King also wants him to destroy all of the Lecherous Scholar's writings, including where all the flyers suddenly went since the confiscated item are all missing.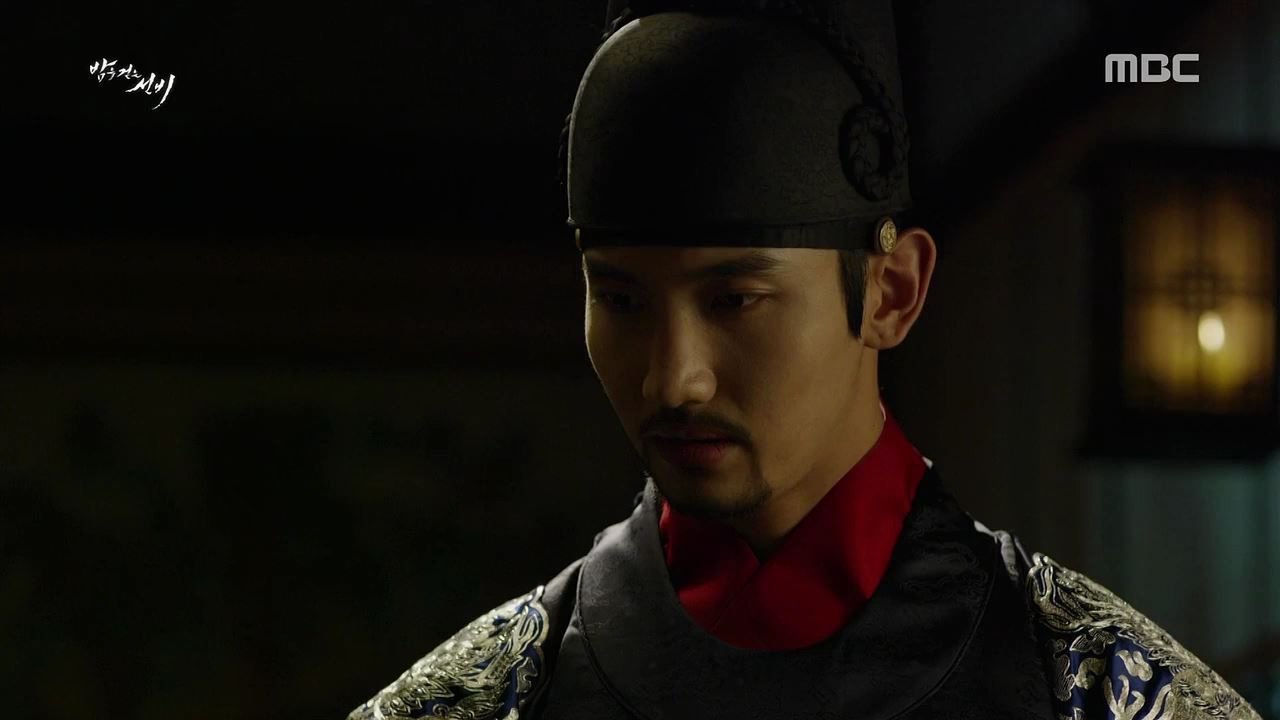 Yoon sends his friends to ask about the missing flyers and hears that it's all gone and no one saw how is disappeared. This leads Yoon to assume Gwi did it until he hears it went missing after the sun came up. Yoon then extrapolates the existence of another blood sucking being like Gwi, but one who can move in the sunlight. He asks his friend to find out Yang Sun's whereabouts.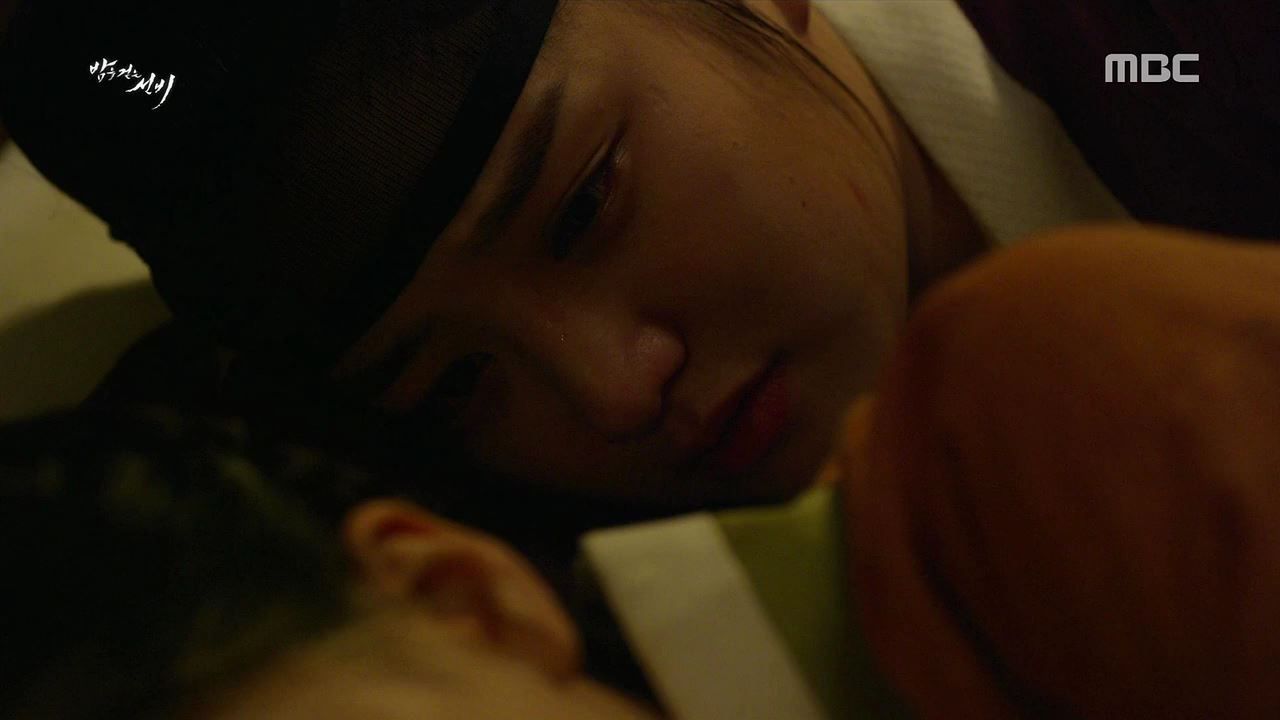 Yang Sun is packing up for the movie and finds the book about the Scholar Who Walks the Night. She flips to a page with the drawing of her and Sung Yul, leading her to get teary eyed missing him. Her little sister wakes up so Yang Sun snuggles up to her to talk about how she's said her farewells already to the little kids and will surely miss them, when it's clear Yang Sun is talking about how much she'll miss Sung Yul.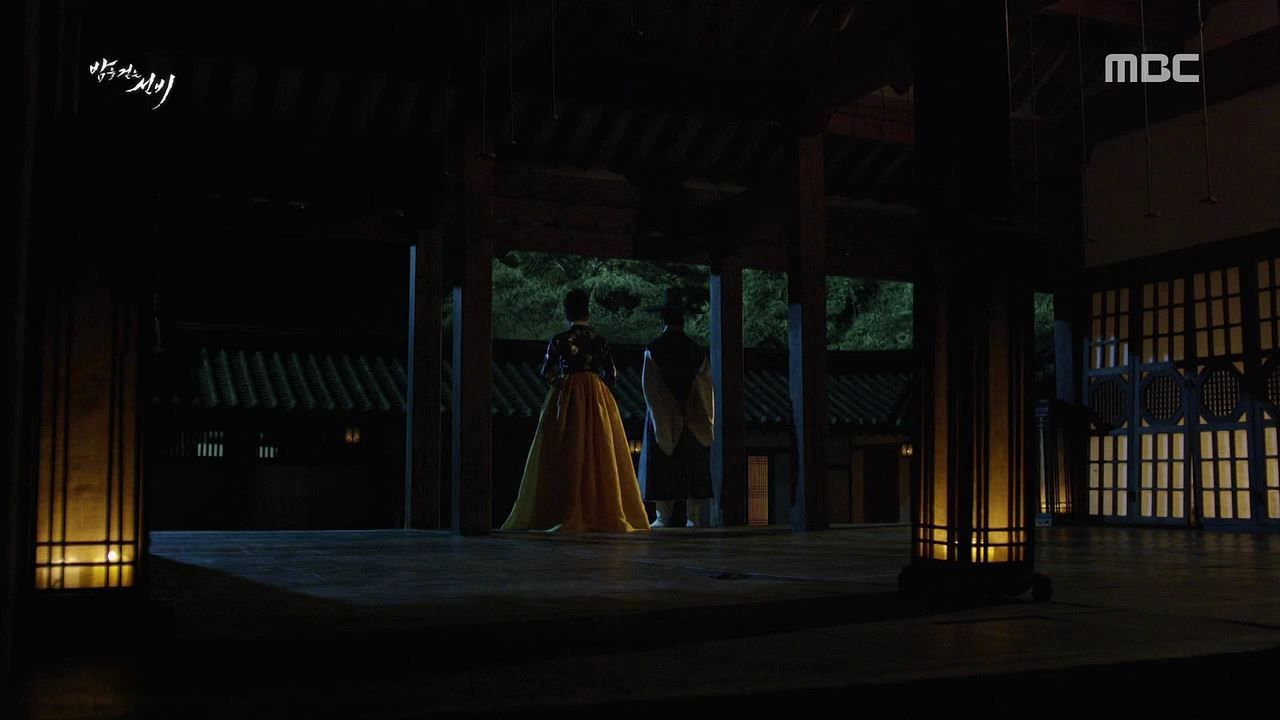 Soo Hyang finds Sung Yul outside and goes out to talk to him. He asks her to find boats leaving tomorrow for Jeju and also line up a place for her family to settle there. He dismisses Soo Hyang but she asks to stay with him for awhile longer, not as a woman but as a friend. This is the first time she's ever seen him sad like this, if he's reluctant to send Yang Sun off then they can look for a way to keep her here and safe.
Sung Yul pauses for a moment and then says that Yang Sun is beautiful to him – the way she cross-dresses as a man to earn a living to support her family, her courage and resilience in living this hard life without losing hope. When he sees Yang Sun, it reminds him of his past, when he was still a human with passion and dreams. Soo Hyang thinks to herself that Sung Yul must also be reminded of his past love. Sung Yul sighs that these are just memories to him, gone when he wakes up. He tells Soo Hyang again to have Yang Sun's departure ready by tomorrow.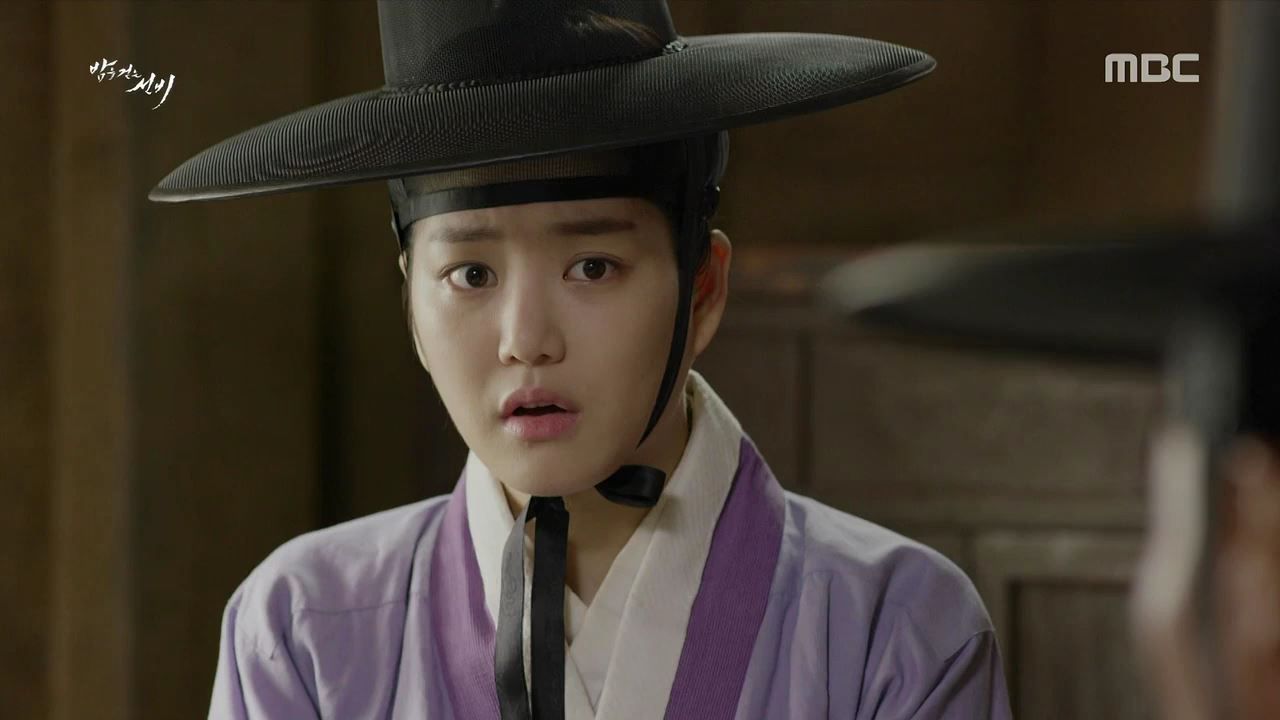 Yang Sun and her dad hear the next morning that all the booksellers have been arrested and officials are out looking for Yang Sun. Their contact to Jeju wants them to stay at his house tonight and take the boat out the following morning.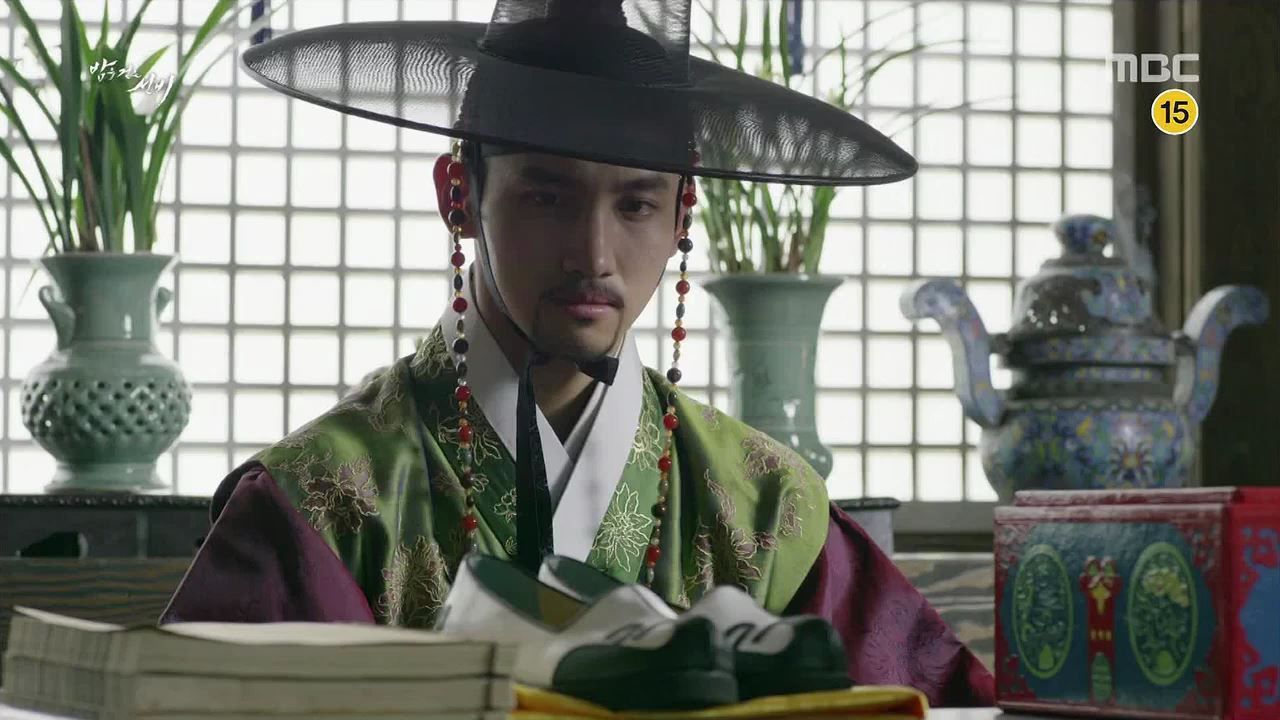 Yoon gets an update from his man about Yang Sun being safe and preparing to leave for Jeju. He orders his guard to not guard him anymore and go protect Yang Sun, to make sure that she's not arrested.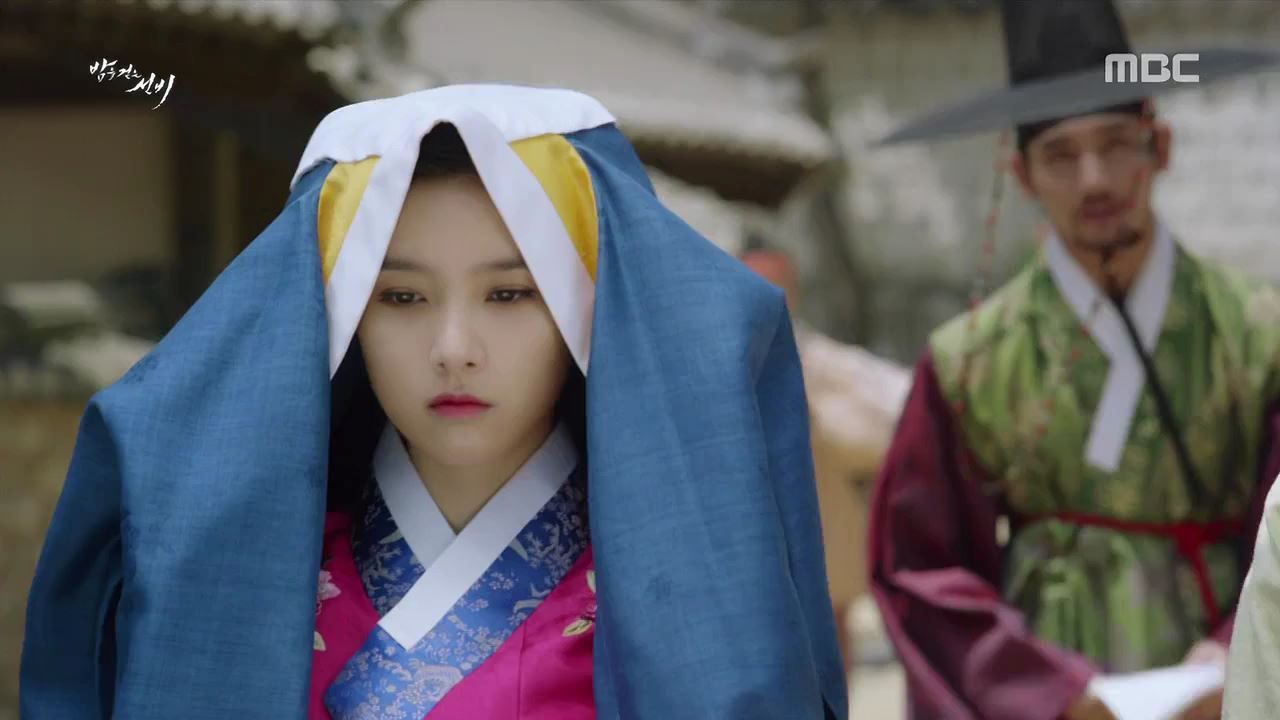 Yoon is walking through town when he passes by Hye Ryung who purposely drops her handkerchief. Yoon picks it up and returns it to Hye Ryung's waiting maid, politely nodding to her and walking off. Hye Ryung turns to stare at Yoon walk off.
Yoon heads to the magistrate's office to find officers cleaning the entire residence of blood splatter everywhere. The minister refuses to divulge what happened, claiming it is a confidential investigation. Yoon warns the minister to do a thorough investigation, lest rumors spread to the public that the booksellers were eaten by a vampire. The dead booksellers have been rounded up and dumped into a pit to have their corpses burned, with Sung Yul looking on at the carnage Gwi wrought yet again.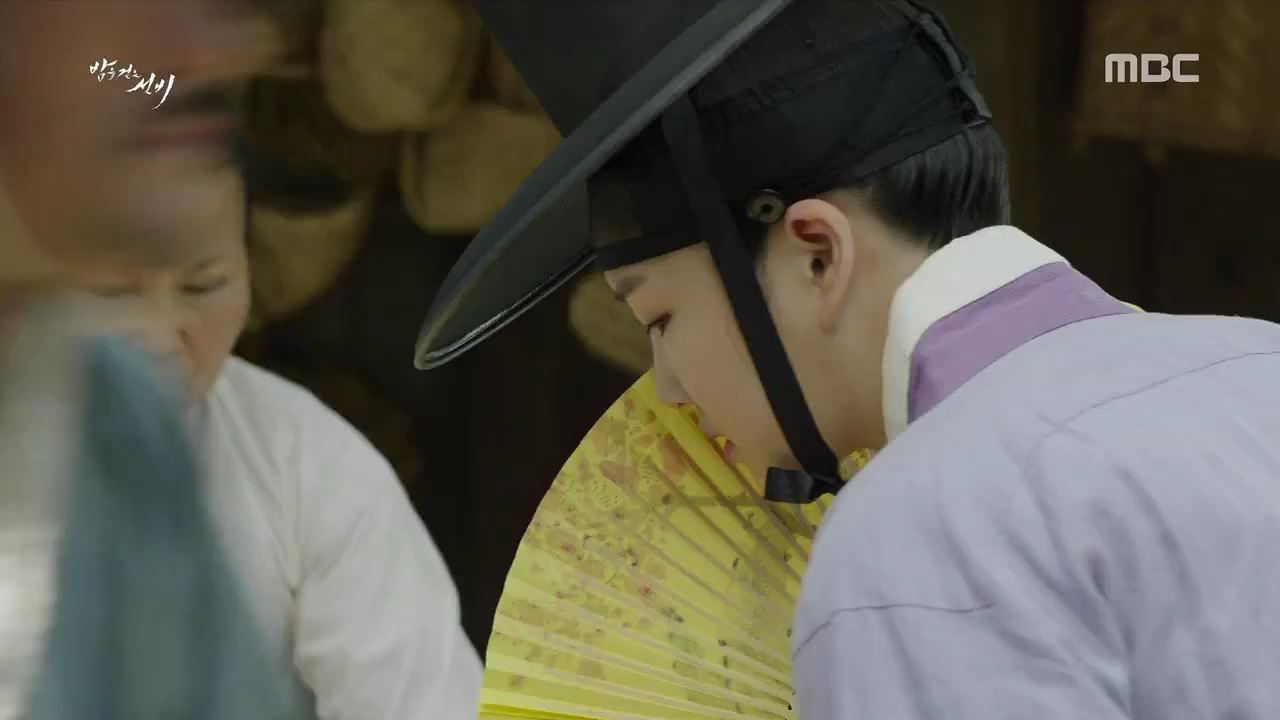 Yang Sun is running around town, hiding her face behind a little fan while dodging the officers. Turns out she's there to pick up a special present for Sung Yul, wondering whether he'll like it or not.
Sung Yul and Ho Jin watch a slave fighting match, having come to find the slaves from the Crown Prince's household who were sold there. They talk with the owner of the fight club who offers to sell them slaves from the ring. Sung Yul hands over half the price of a slave, asking only for the owner to answer his questions. Sung Yul names the specific slaves and the owner claims they banded together and ran away. Sung Yul notices books on the shelf, and after the slave owner heads back to the ring, he rifles through the books which are all dense treatises on governance.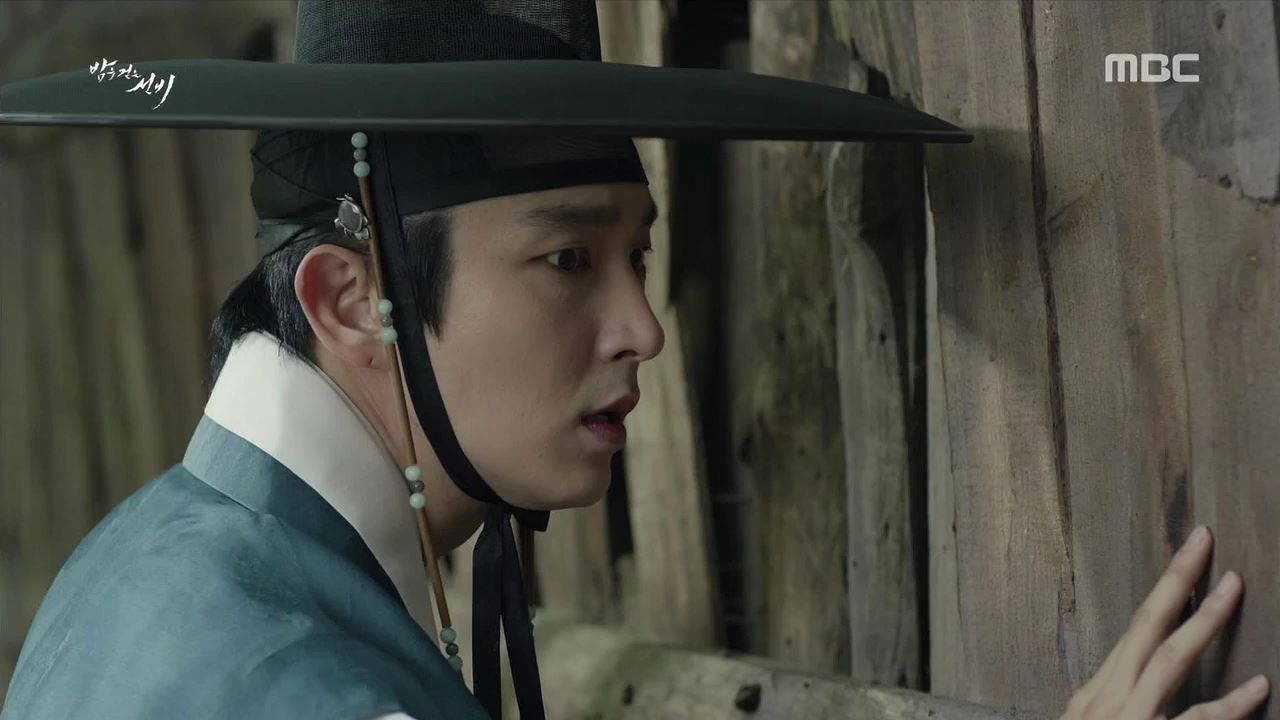 Sung Yul follows the slave owner a hut in the forest and eavesdrops on his meeting. He sees the one-armed bookseller inside, Yoon, and Yoon's friend, all discussing being on alert now that Sung Yul is asking about the slaves. Sung Yul spots copies of the flyers inside and recognizes Yoon as the royal grandson prince. Yoon's friend wants to move ahead but Yoon wants to give the bookseller more time to come around to agree to help them.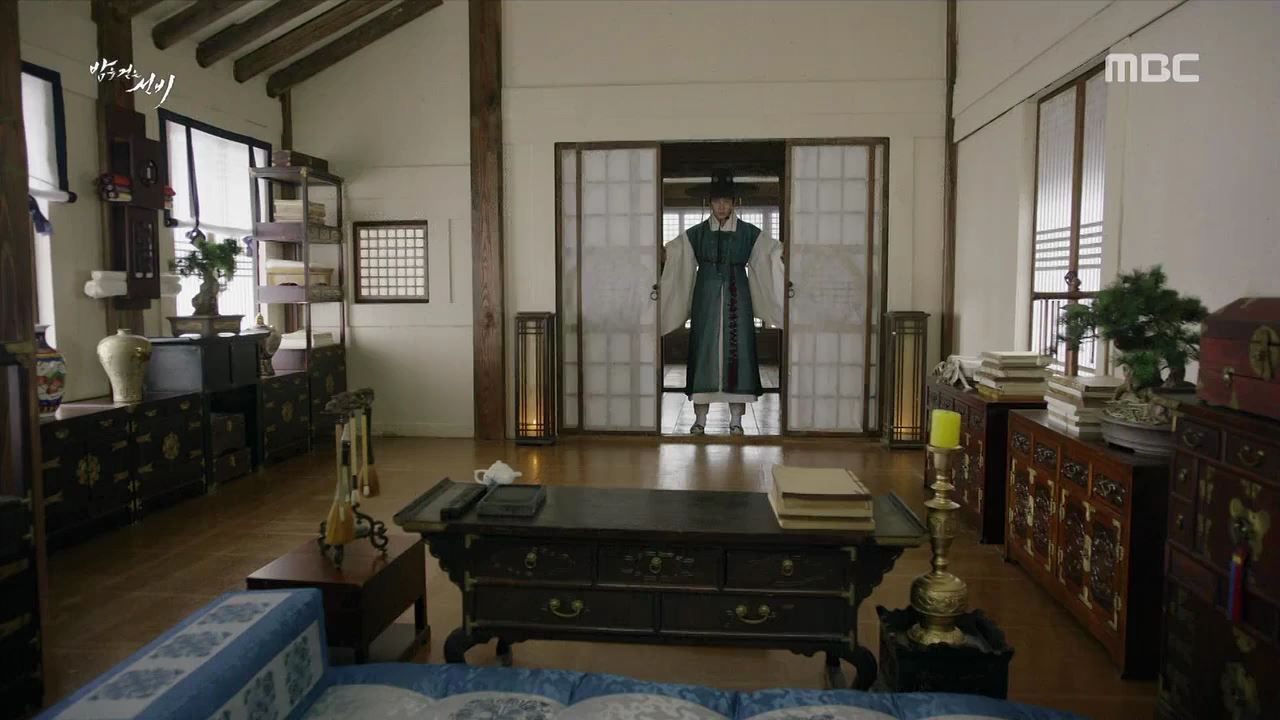 Sung Yul follows Yoon back to his residence and notices other people are keeping tabs on Yoon. He sneaks inside to look around and finds a hidden door leading to another room where Yoon does all his real work.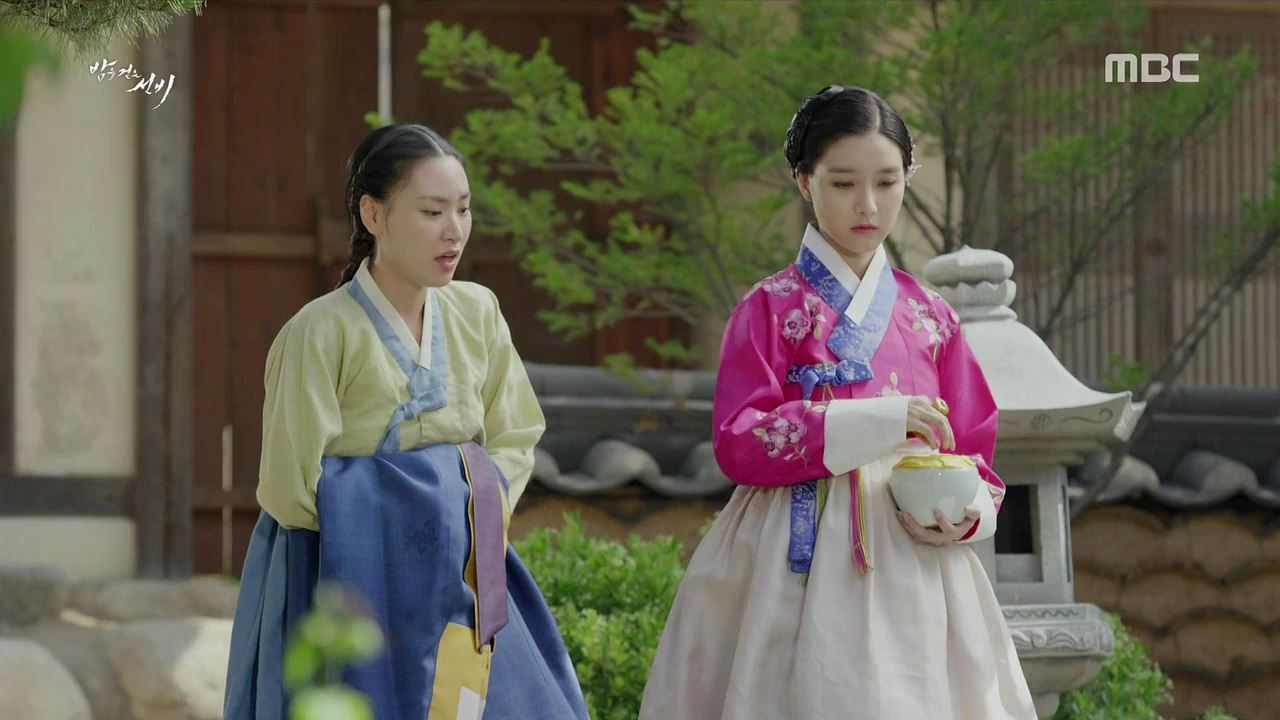 Hye Ryung is feeding the fishes and when her maid urges her to stop since she already fed the fishes. Hye Ryung tosses the entire bowl of feed into the pond, and when the maid wails that the fishes will die this way, Hye Ryung coldly says that's the point of feeding the fishes, so it would die as soon as possible. Hye Ryung yells at the maid for the fish scent upsetting her but the maid was told by her father to keep the fish in the pond.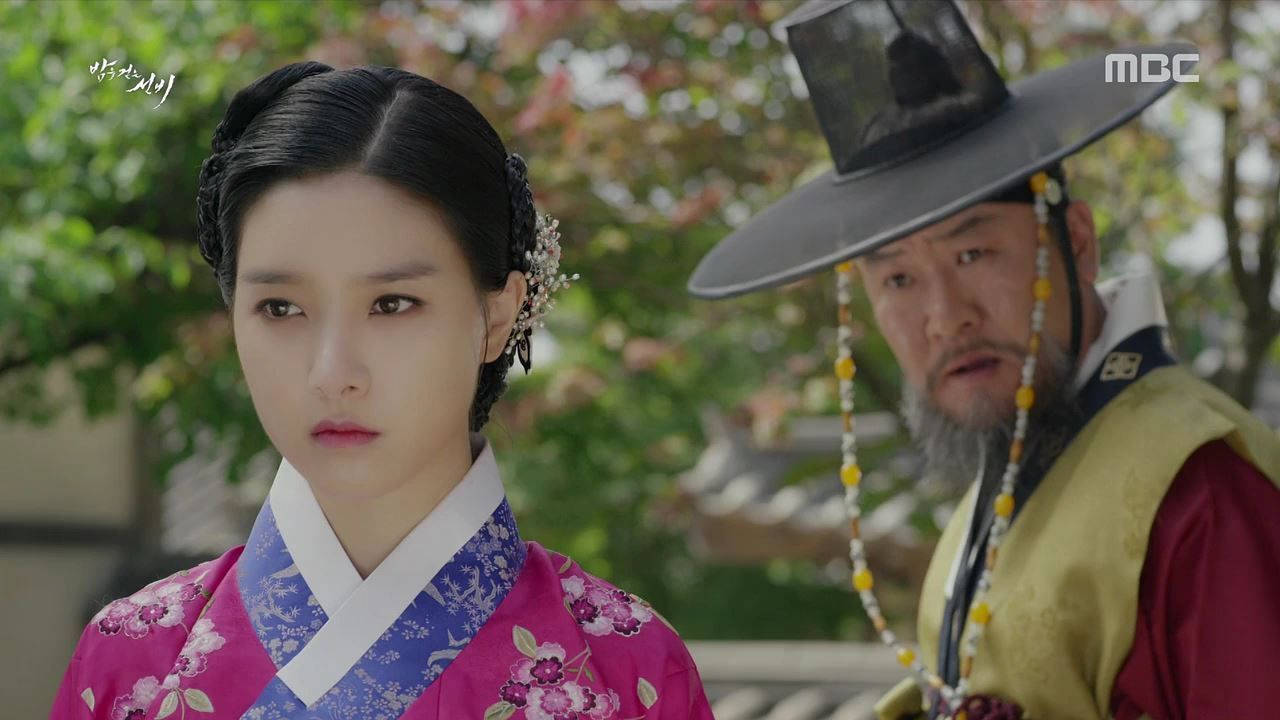 Hye Ryung's dad arrives to see all the dead fish floating in the pond. He orders the maid to clean up the dead fish before yelling at Hye Ryung for coming outside. Hye Ryung ignores her dad until he yells at her for the insolence, so she gives it right back, asking how she could see him as a father when he would sacrifice his daughter to a vampire for his own advancement. Excellent point.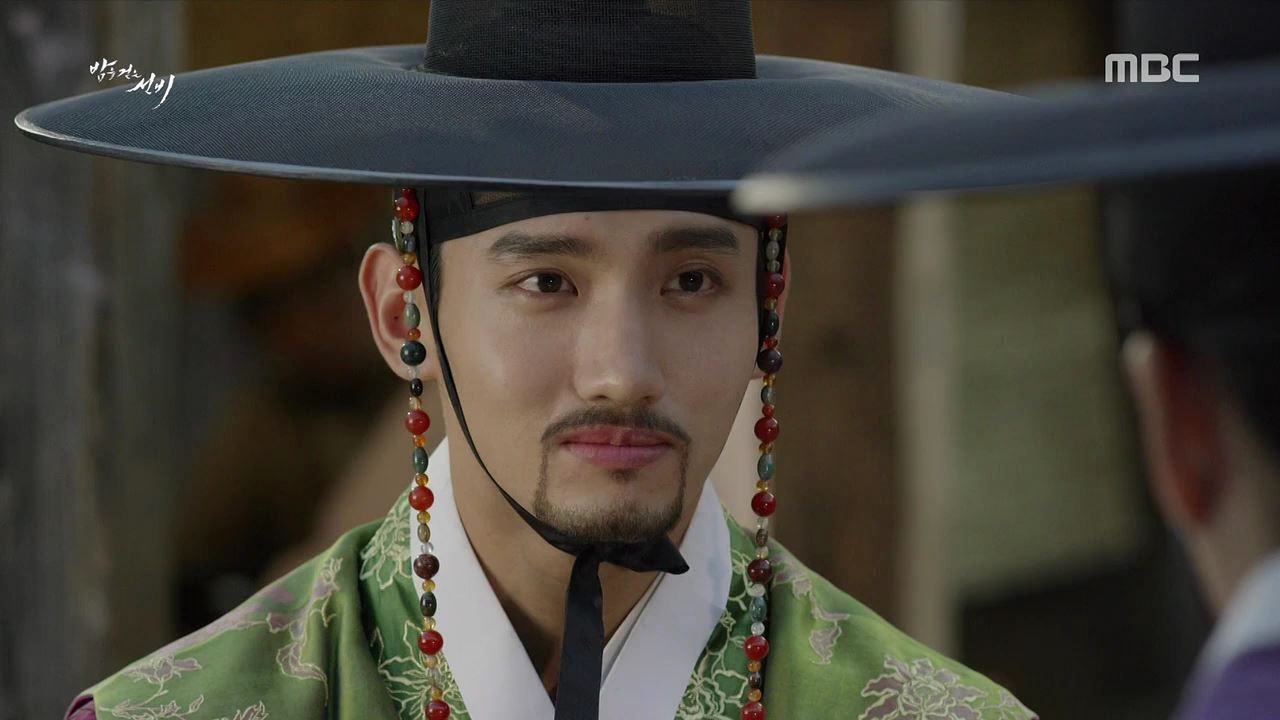 Yang Sun finds a way to say goodbye to Yoon in person, and he readily uses this excuse to avoid meeting the minister. Yoon wants Yang Sun to write him a promissory note, explaining that he will need it since she owes him so much money. Yoon dictates that Yang Sun needs to write him twice a month, thinking to himself that she needs to stay healthy and well, while telling her to come back soon. Yoon huffs at Yang Sun to sign the note but she doesn't think she can keep her promise to come back soon. Yoon is certain she'll come back soon, explaining that he will make it happen.
Sung Yul tells Soo Hyang and Ho Jin his discovery that royal grandson Yoon is the Lecherous Scholar. Soo Hyang suggests he reveal himself to Yoon so that they can work together. Sung Yul first wants to confirm whether the one-armed bookseller knows where Prince Jonghyun's memoir is.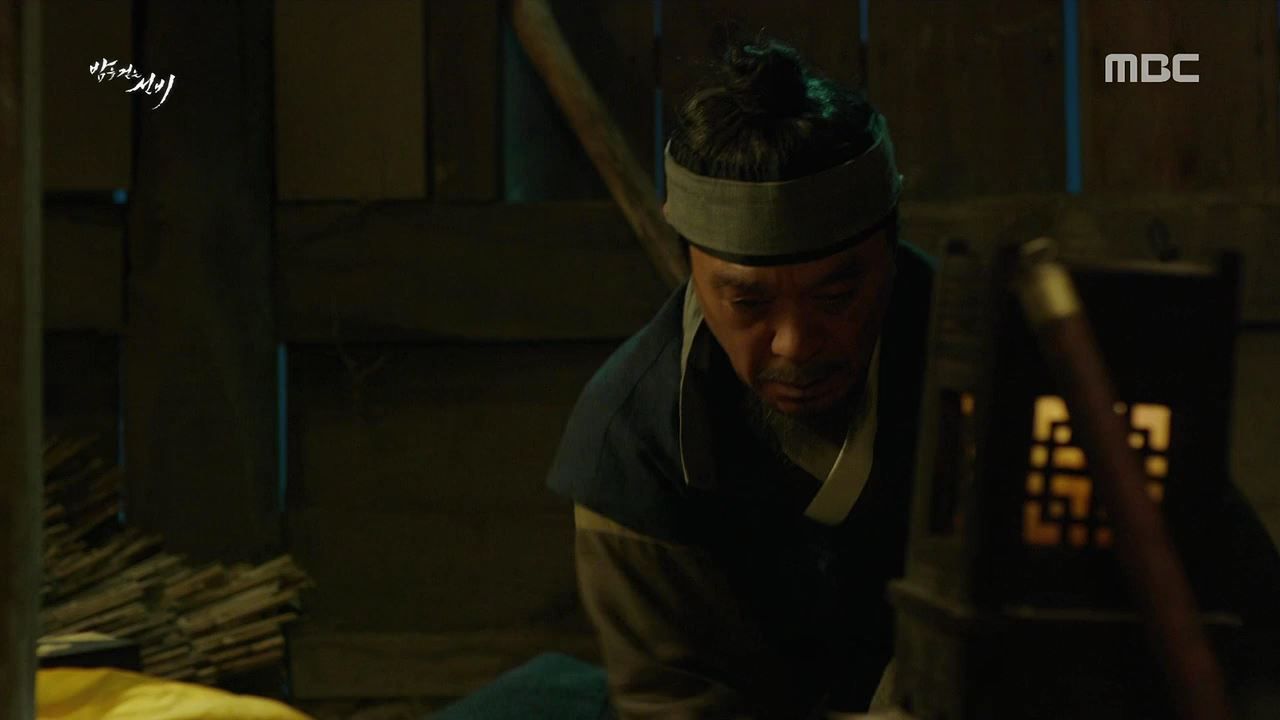 Yang Sun's adopted father goes digging under the floorboards and retrieves a buried box. Inside is Prince Jonghyun's memoir along with a laquer box. He vows to the dead Crown Prince that he will never hand over the memoir, that way Yang Sun can be safe and stay his daughter forever.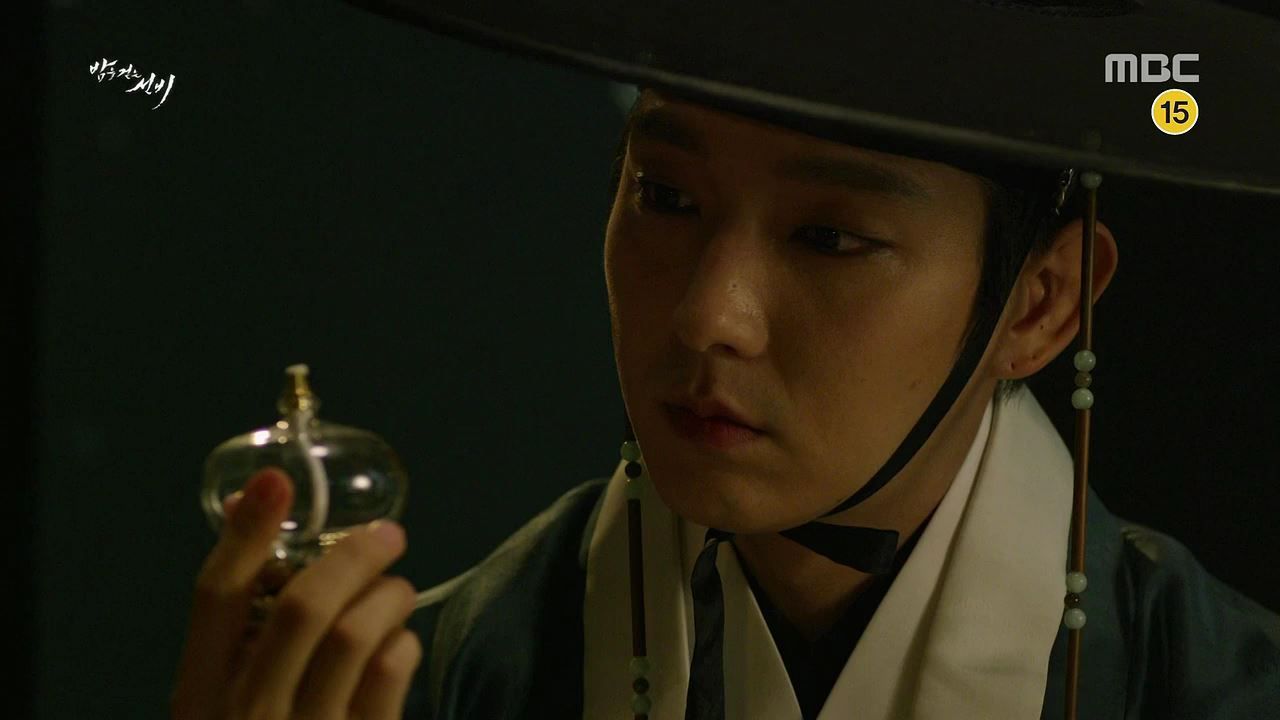 Yang Sun continues her farewell tour, this time going to Sung Yul's place to wait for him. But he's still not back late into the night so she says her farewells to his door before leaving. Sung Yul and Ho Jin notice her leaving but he doesn't stop her. Sung Yul reads Yang Sun's farewell note with the present of a lamp to help him when reading at night.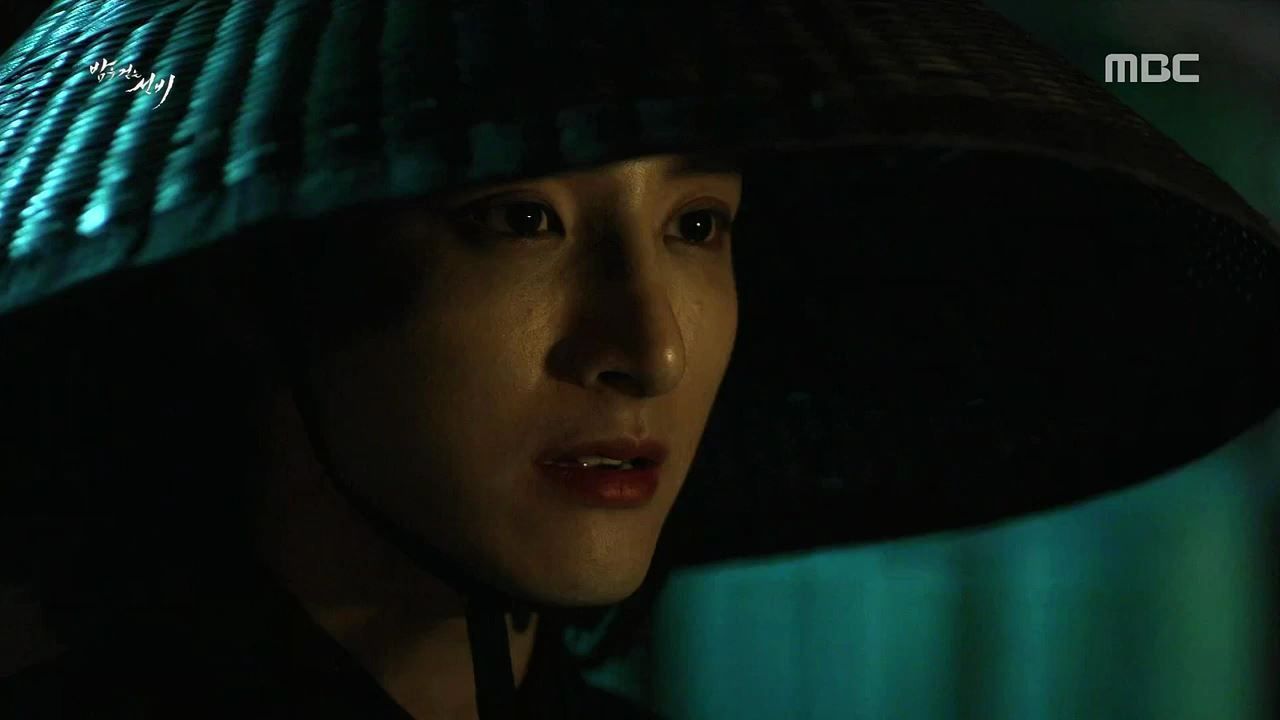 Yang Sun walks through the marketplace to head home, and at the same time Gwi is out stalking for her. Yang Sun passes by Gwi but her scent is masked by the Hawthorn amulet initially. Gwi is about to leave when he realizes Yang Sun was wearing a Hawthorn amulet and correctly guesses that Sung Yul gave it to her to mask her scent. Gwi doubles back to stalk Yang Sun who doesn't realize that she's being followed.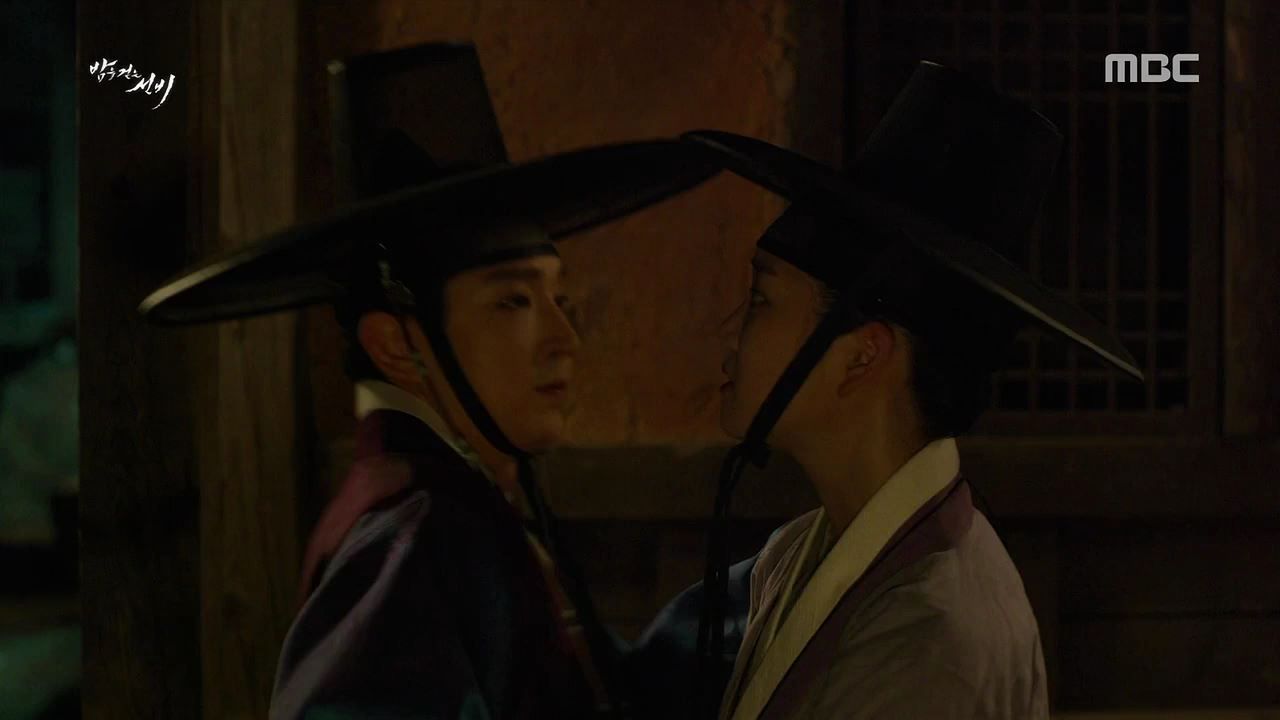 Sung Yul arrives and pulls Yang Sun to safety, successfully evading Gwi. He's not deterred in the least, and even more excited to meet the owner of the scent that can't even be fully masked with Hawthorn wood. Yang Sun is way more into remembering this moment which isn't a dream, until Sung Yul orders her to head to his place through the forest and not to come out until the sun rises.
Sung Yul exposes himself to Gwi in order to divert his attention, with Gwi happy to see Sung Yul again and a bit sad Sung Yul doesn't feel the same way after their 120 year parting. Gwi asks if Sung Yul is willing to see him because of the owner of the bag so Sung Yul tells Gwi to follow if he wants to know the answer. Gwi doesn't realize he's been diverted until he is deep in the forest with Sung Yul, at which point he wonders why the owner of the bag is so important that Sung Yul will go to such lengths to keep Gwi from that person.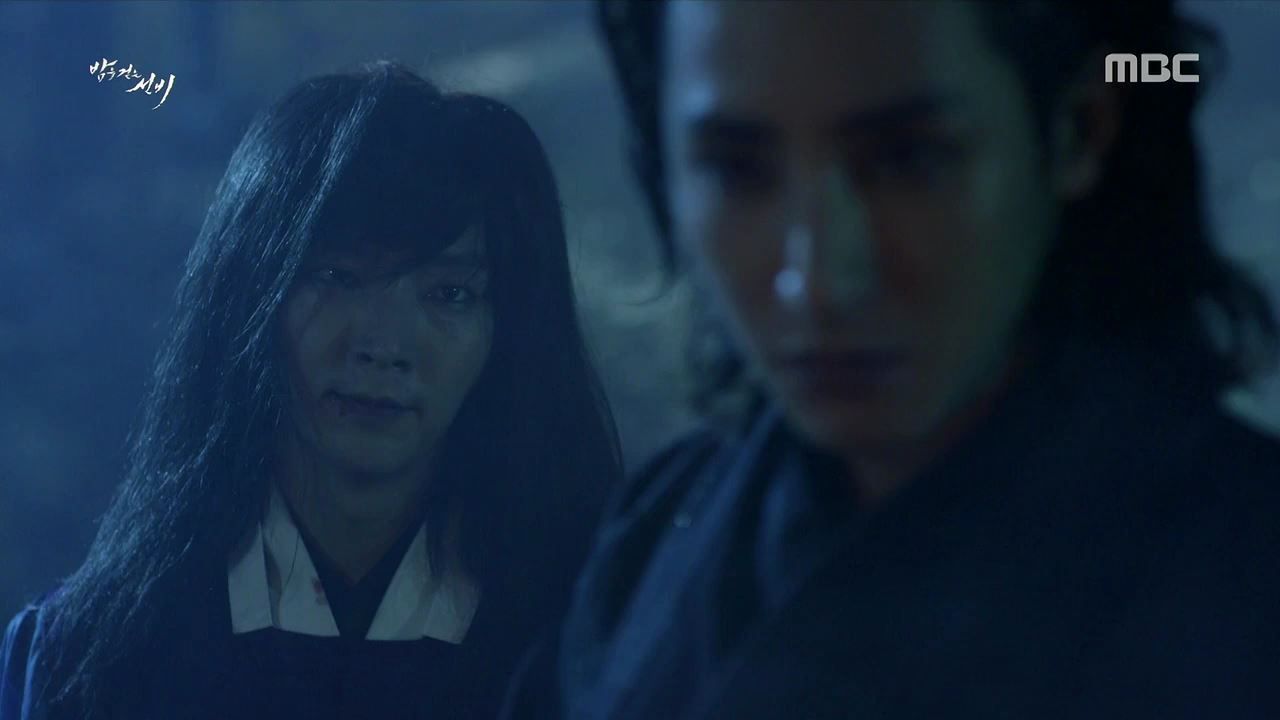 Sung Yul wonders why Gwi is here, is he so scared of the person being the Lecherous Scholar and having the secret to destroying him? Gwi isn't scared in the least and plans to find that person soon. Sung Yul unleashes his fangs and goes vampire-a-vampire with Gwi but is no match for him, with even Gwi disappointed that Sung Yul ought to have inherited the Master's power but this is all he has to show for it. Gwi can sense that Sung Yul is less powerful because he hasn't drank any human blood in a long time. Sung Yul manages to steal back Yang Sun's bag from Gwi before leading him on a chase.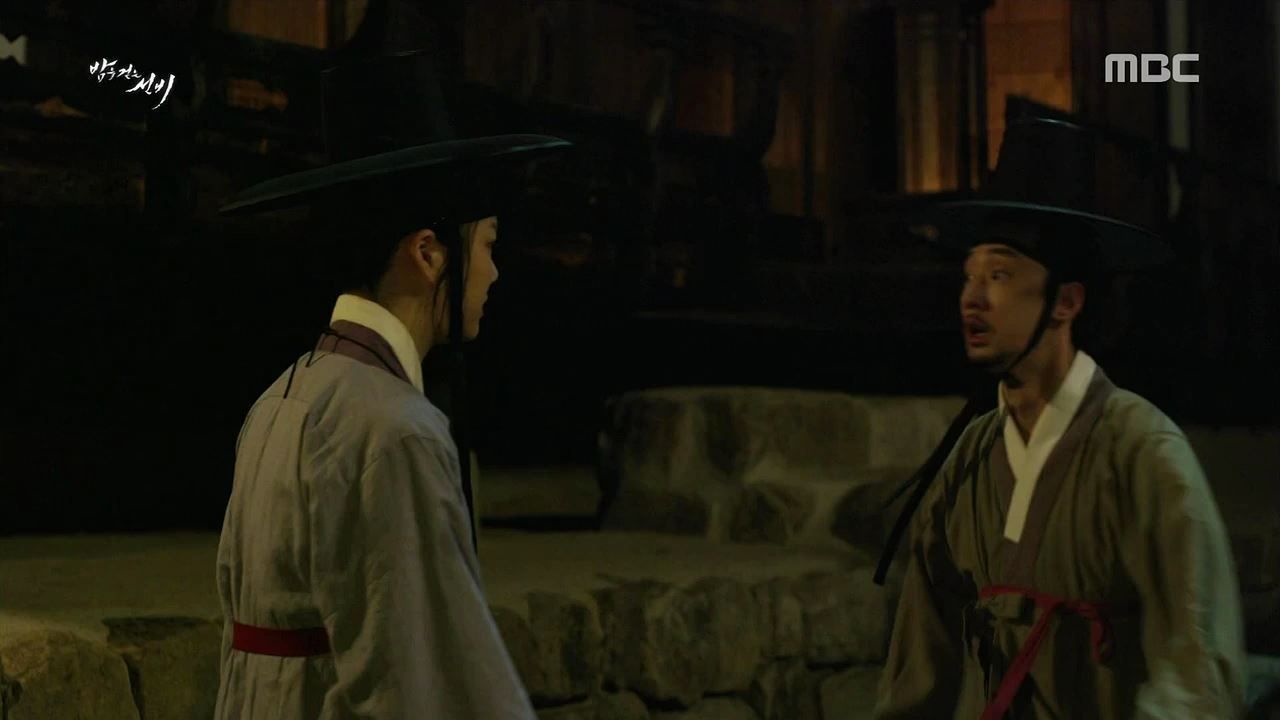 Yang Sun arrives at Sung Yul's residence and Ho Jin is frantic with worry over his master.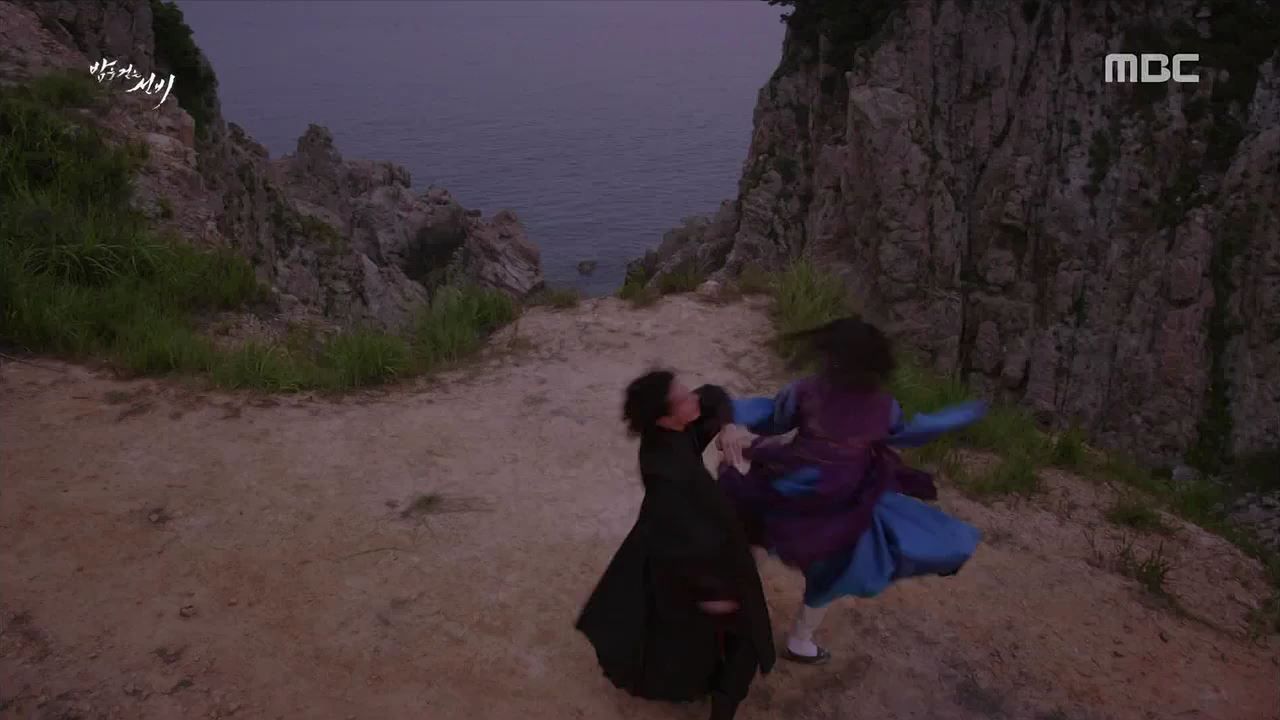 Sung Yul and Gwi take their fight to the cliffs, with Sung Yul tossing the bag into the ocean so that Gwi can no longer use it to track Yang Sun. Gwi is about to launch a full on attack when the sun rises behind Sung Yul. He pulls out his special vampire killing Hawthorn blade and stabs Gwi in the shoulder with it. Gwi is furious to have fallen into Sung Yul's trap and manages to stab him in the gut with the same knife. Gwi escapes, leaving Sung Yul severely injured.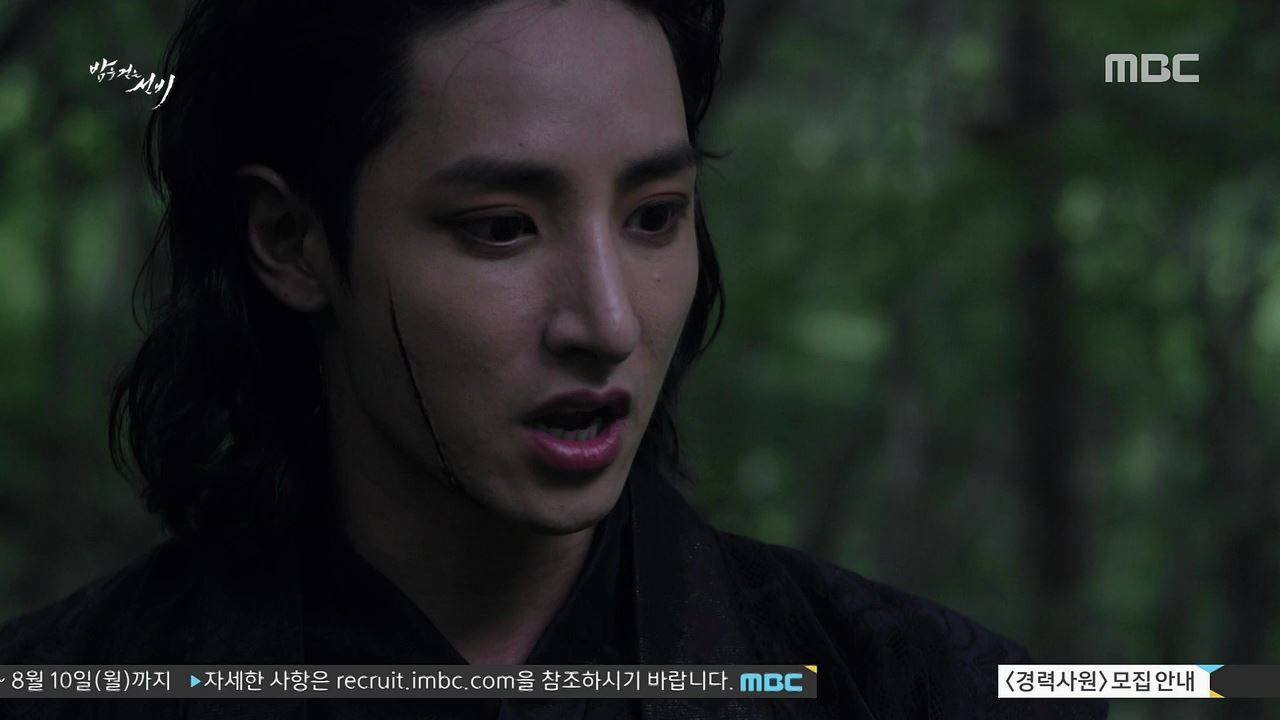 Gwi manages to run through the shaded forest but can't get any further when he is blocked by an uncovered area with sunlight filtering in. He puts his hand in the sunlight and confirms that he can't withstand the sun. But he still feels confident that Sung Yul can't survive after losing so much blood even if he got the Master's power to withstand the sunlight.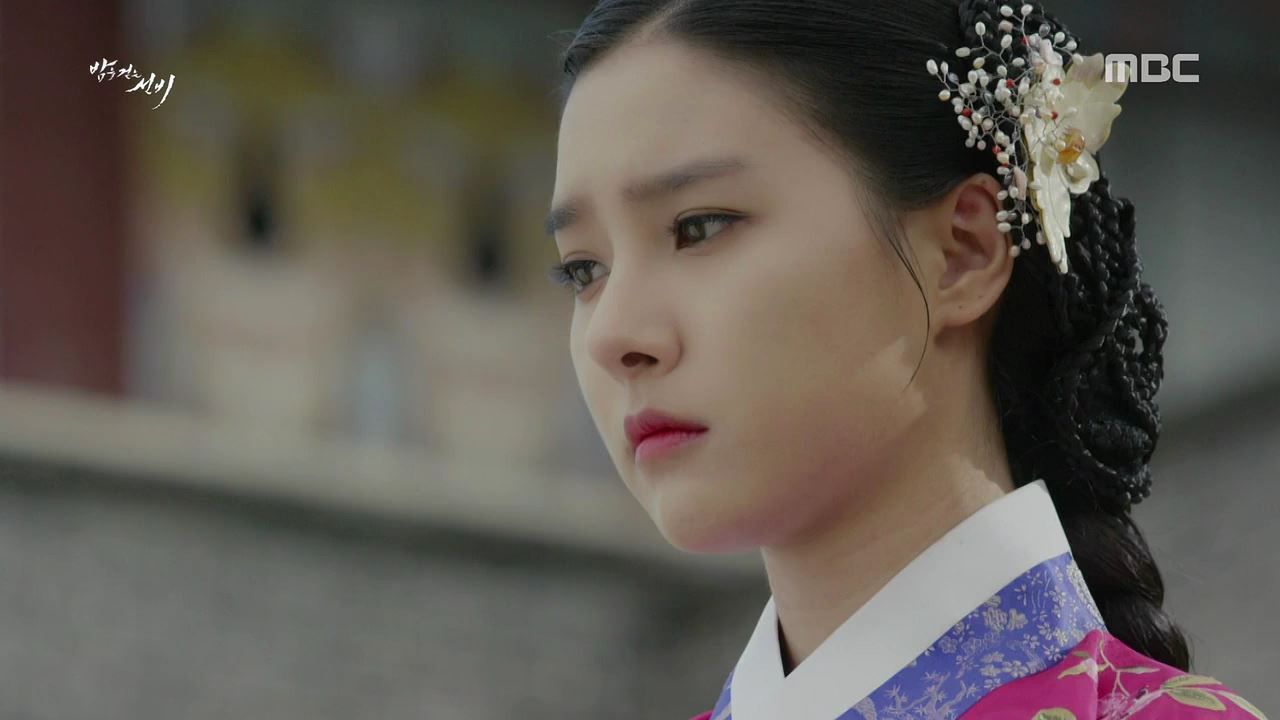 Hye Ryung leaves the palace, wondering how come Gwi is not in his lair when the sun is out.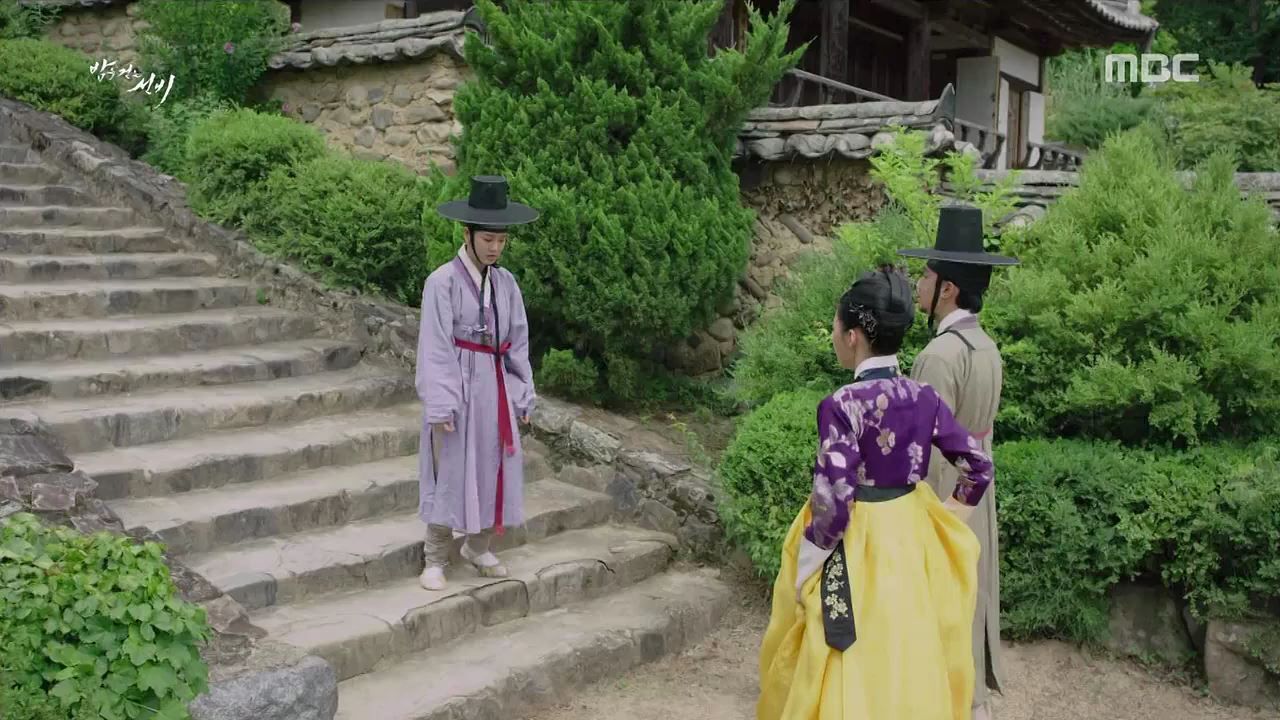 Yang Sun has been sitting outside all night, waiting for news about Sung Yul. Soo Hyang and Ho Jin return without any news, and Soo Hyang is about to slap Yang Sun when Ho Jin stops her. They want to keep looking for Sung Yul, and when Yang Sun offers to help look Ho Jin says she's helping them by doing nothing and staying here. Soo Hyang warns Yang Sun that if anything were to happen to Sung Yul, she won't let this go.
Yoon gets a report from his guard that Yang Sun and her family left for Jeju, claining that he saw them get on the boat. Yoon's friend is worried that Gwi won't stop his killing spree until he finds the Lecherous Scholar, but Yoon thinks the public will hate him even more for what's happening.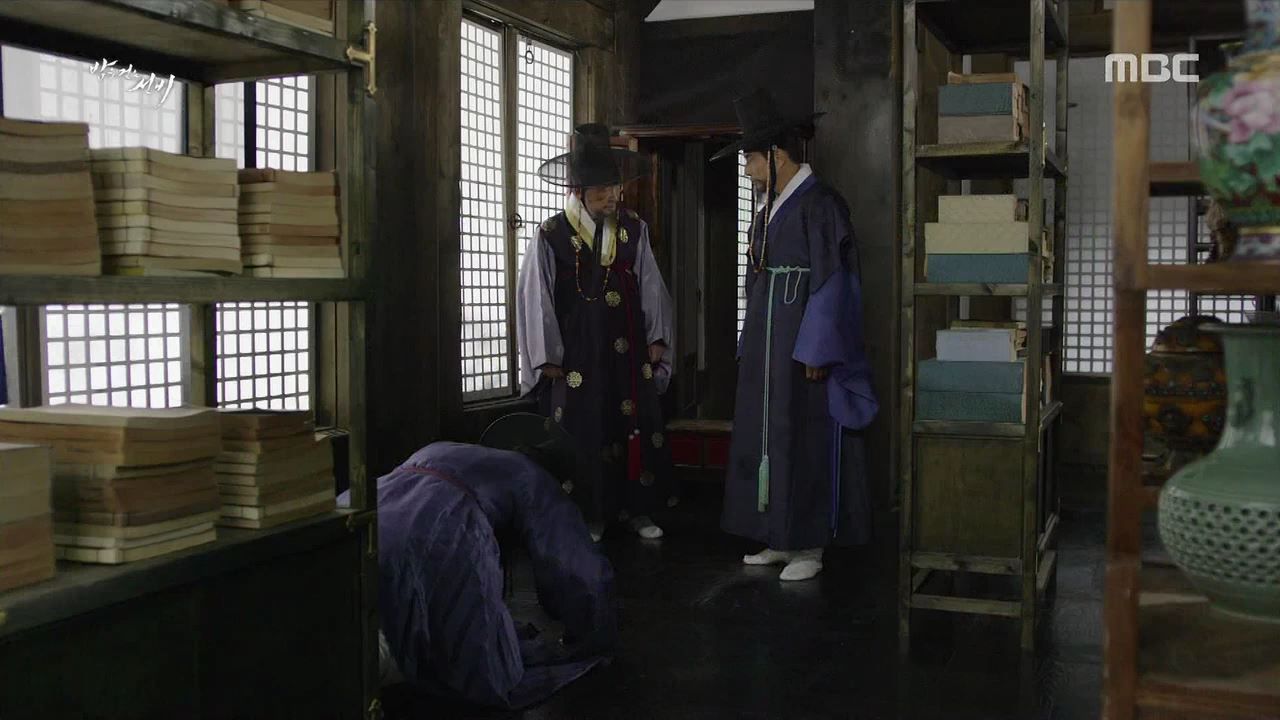 Yoon's guard has turned, reporting to the King that Yoon ordered him to personally protect this one bookseller. They believe that Yang Sun must be the Lecherous Scholar and that Yoon is working with her.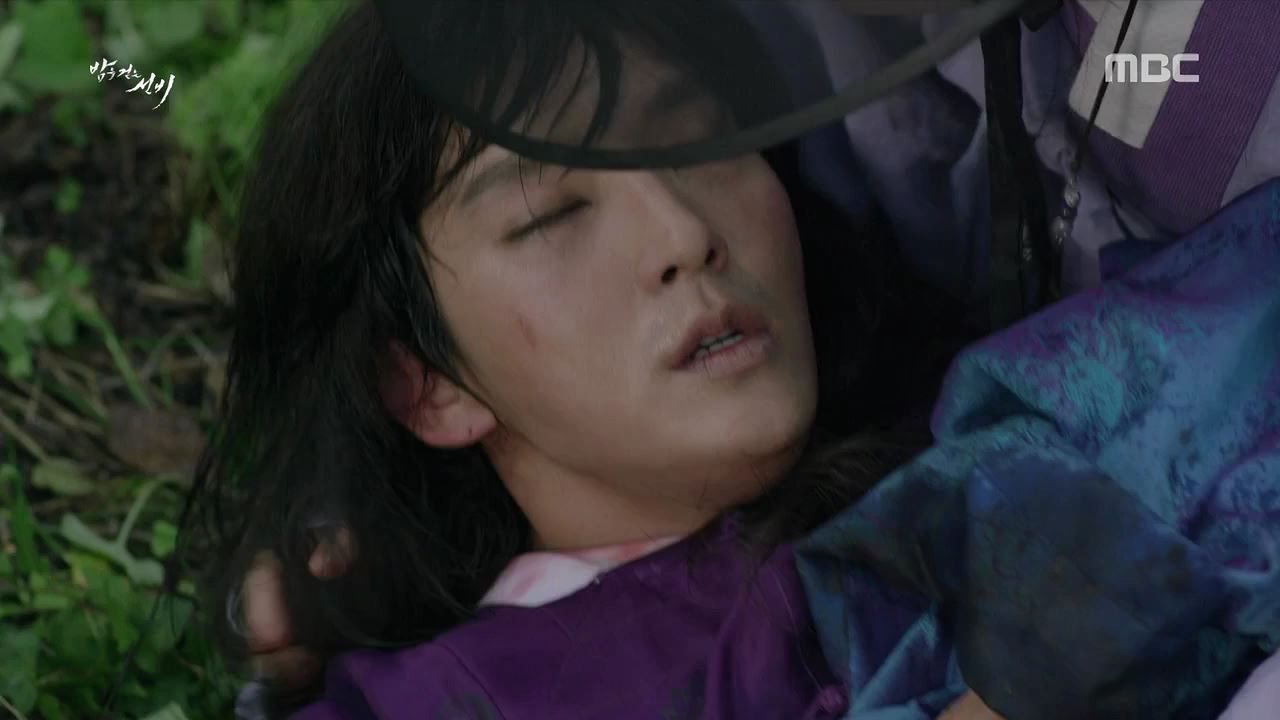 Ho Jin is frantically running around the forest looking for Sung Yul, who has managed to drag himself off the cliff and is trying to make his way back home. But he's lost a lot of blood and can barely move. Just as he's about to collapse, Yang Sun is the one who finds him, taking him to a nearby abandoned hut at his request.
Yang Sun takes Sung Yul to the hut and wants to get medical help for him but he orders her to leave now to catch her boat. Yang Sun refuses to leave Sung Yul here alone and then he passes out.
Thoughts of Mine:
I don't think there is a fundamental problem with the drama since I'm still enjoying it more or less, but it certainly has a major sore thumb in the form of Yang Sun. She's cute and perky like a puppy, and does equally cute things that is just so out of place tonally in this drama. It's like she's been zapped in here from a modern rom-com while everyone is acting out life, death, and guts galore. And in the context of the romantic pairings it becomes even more apparent that the narrative thrust of her and Sung Yul just doesn't ring strongly the way the drama is developing it. As a fan of the original manhwa, having devoured all 58 available chapters in the span of days, the romance between Sung Yul and Yang Sun per the manhwa is the stuff of soul stirring dreams. I felt my heart soaring and sobbing for them, but here I just want him to pet her and feed her a treat rather than all the kissing. She's emotionally a little kid around him, and her pouting and dream probing doesn't come off as cute as much as she's a little dense in the head. I want to like Yang Sun, and there's nothing objectionable about her, but I can't get onboard the way the writer has developed her character so far. Give the girl more agency and some ability to avoid trouble so she's not constantly in need of saving.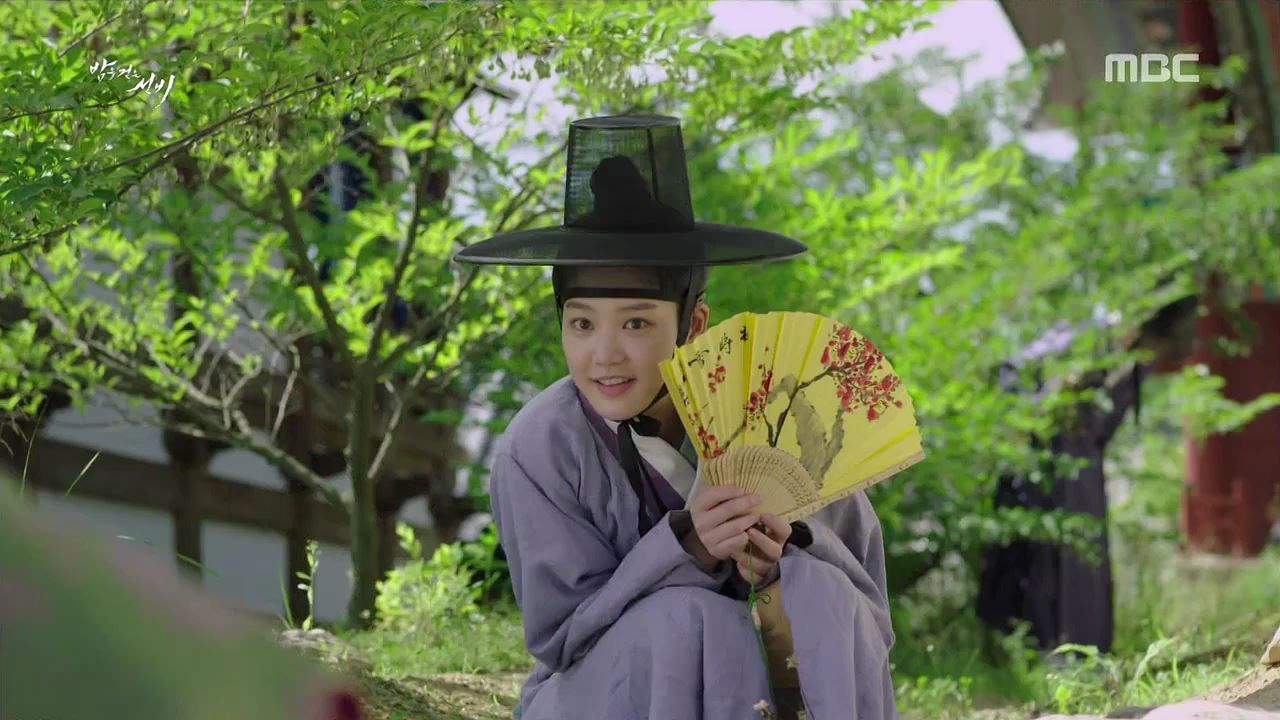 I am really getting on the Soo Hyang train, and it's a combination of finding her character awesome and also having Myung Hee doppleganger Hye Ryung doing nothing other than be a moving bitch face. I can't believe the drama had Sung Yul meet Hye Ryung and then promptly do NOTHING about it. How come Sung Yul didn't try to look for the girl who looks just like his Myung Hee? That makes no sense at all, and honestly so much action in this drama already lacks proper foundation and little sense, seemingly jumping from point to point. Sung Yul went crazy upon seeing Hye Ryung, and then after waking up from a conk on the head went back to his day job of looking for the memoir and bailing Yang Sun out of trouble. He seems to spend more of his time saving Yang Sun these days, with that memoir business priority number two, and Yoon seems to be getting there as well. All I can assume is that Yang Sun's blood is an aphrodisiac to these men, otherwise their lightning speed dedication to her is beyond me. Gwi at least is just a beast and thinks she'd make a tasty meal, and that motivation I can get behind. It's the same reason Soo Hyang engages me, she's beautiful and capable, loyal and thoughtful to Sung Yul's feelings. Too bad he doesn't reciprocate otherwise as a couple they would get more done.
Gwi is starting to lose his interesting luster now that he's just gone off the deep end. When his killing was targeted for maximum impact, it made his threat dangerous because he knew exactly how to exert his power. The killing of the booksellers doesn't make much sense and creates such a huge mess to cover up, and part of his power over the royal family is keeping his existence as their brawn from the unsuspecting public. I also don't know why he wants Hye Ryung for capturing Sung Yul, it feels like both vampires are picking such complicated methods for dealing with each other when they should just challenge each other to a showdown. But as the exciting but much too short battle at the end of this episode shows, Sung Yul as the vegetarian is clearly lacking the brute force that carnivore Gwi is pumped full off. Luckily Gwi doesn't seem that smart, as evidenced by how easily Sung Yul was able to divert his attention from zeroing in on Yang Sun. Plus Sung Yul's fighting moves are all skill and speed, which serves him well until he's in close combat, and that's how he ended up shivved with his own special knife. Thank goodness it wasn't in a critical spot but how's he going to heal without some immediately blood infusion is beyond me. Too bad Yang Sun doesn't know he's a vampire yet, if she did then she could use her own blood to try and revive him. I'm not sure how she found him other than the plot dictates that she lucks out on winning the vampire special times lottery.
Click here to watch Scholar Who Walks the Night.