Booyah! Like it not, Yongpal has pulled off the nearly impossible. Episode 5 this week broke 18% ratings nationwide AGB, and just now the ratings for episode 6 came out and hit 20.4% nationwide AGB. The last prime time drama to cross 20% nationwide AGB ratings this fast was You From Another Star by episode 4, and since then nothing has come close until now. I was totally rooting for Yongpal's continued ratings ascension, even if I find the drama entertaining but nowhere near the quality to merit the breakthrough ratings for this depressed ratings age, I'm still happy that it's done what seemed impossible which is garner double digit ratings increases from episode to episode so far.
It's also generating hilarious articles, like ones discussing Kim Tae Hee's ridiculous per episode salary, of which she's earning by laying on a bed for most of her screen time. Joo Won does all the work, Kim Tae Hee just has to look pretty and together both bring in the viewers. But my rooting for the Yongpal ratings train has come to a temporary halt thanks to the news coming out of SBS today – the network has confirmed that Yongpal will be getting a 4-episode extension, drawing the drama out from the scheduled 20-episodes to end at 24. Really SBS? You really want to milk this sucker rather than be grateful for finally doing something right, and in doing so likely guarantee that the second half of the drama will grind to a plodding halt in order to stretch out the plot to fill an additional 4-episodes? I hate it when greed rears its ugly head, sigh.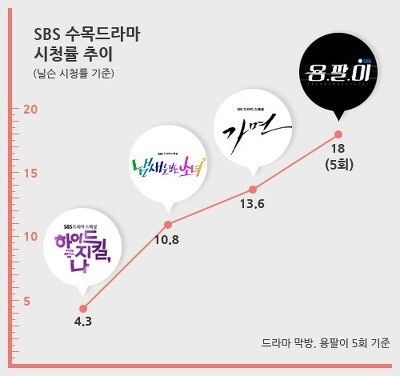 With Yongpal's extension, that means MBC's She Was Pretty will be premiering and then going up against the last 10-episodes of Yongpal, rather than just having a month overlap. KBS will also find its upcoming sageuk God of Trade: Innkeeper 2015 hitting up against the tail end of Yongpal. Bummer for the other two networks. The chart above shows how SBS has fared this year in episode 5 of its Wed-Thurs dramas, with the network enjoying a ratings bump from each successive drama aired so far in 2015. Upcoming mystery drama The Village is certainly going to have huge shoes to fill following after Yongpal.