I'm sure tons of folks will be thrilled to hear this drama news – Goodbye Mr. Black has been officially revived! I never thought it was totally dead, that makes no sense when the drama has a writing-directing team already and finished casting the main leads. Whereas when drama projects like the shelved Shin Mina rom-com Let's Have Dinner Together get put on hiatus, it's harder to revive when only one piece of the puzzle was in place.
Goodbye Mr. Black was basically a few steps from crossing the proverbial starting line when things blew up with original airing network SBS, now the drama is in the hands of rival network MBC. K-news is reporting that Goodbye Mr. Black has been picked up by MBC and will air in the Wed-Thurs time slot in early 2016. Even better news is that the originally cast leads of Lee Jin Wook, Moon Chae Won, Kim Kang Woo, and Song Jae Rim are all remaining onboard.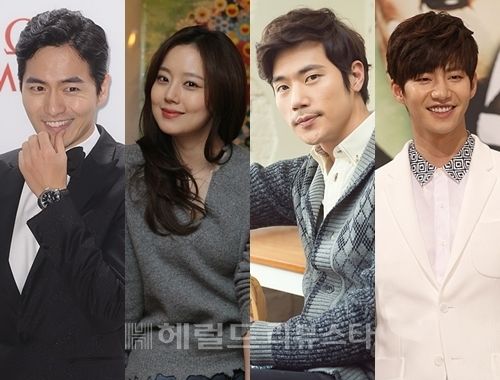 Right now MBC is airing rom-com She Was Pretty in the Wed-Thurs time slot, with the drama scheduled to wrap up its run in the first week of November. After that is the drama remake of K-movie Marrying the Mafia called Sweet Family (see the recently released script reading picture below). The drama Sweet Family has already cast Girl's Day's Mina as the young female lead (groan), daughter to Jung Woong In and Yoo Sun's mob couple. The rival mob parents are played by Jung Joon Ho and Moon Jung Hee, and it basically reads as a drama comedy about gangster parents and their kids Romeo and Juliet romance. That means Goodbye Mr. Black will likely follow Sweet Family and air in the first weeks of January 2016.