The ratings successes of Kim Eun Sook dramas have always come with a side of divisive opinion on the writing of her main characters. It's never just about liking the drama as a whole or not, with it is invariably discourse and debate over the general level of alpha male assholery of the male lead and the female empowerment or lack thereof with the female lead. I don't quibble with the validity of this discussion when it comes to Kim Eun Sook penned leads, I just hope this time the drama story is strong enough that the discussion doesn't become the only thing audiences have to talk about when it comes to Descendants of the Sun.
This time the two male leads in Song Joong Ki and Jin Goo are both playing military commanders, while the two female leads Song Hye Kyo and Kim Ji Won are both doctors. That's a lot of professional power and achievement to go around, not to mention the professions play an integral part of the story by placing everyone into a war and medical disaster zone. Song Hye Kyo looks way more plausible as a doctor than the baby-faced Kim Ji Won, who also has to shake off playing a high school student in Heirs just two years ago. I saw more spark and fire from Kim Ji Won in all the previews so far, but maybe Song Hye Kyo is going for a slow burn here like she did in That Winter, the Wind Blows.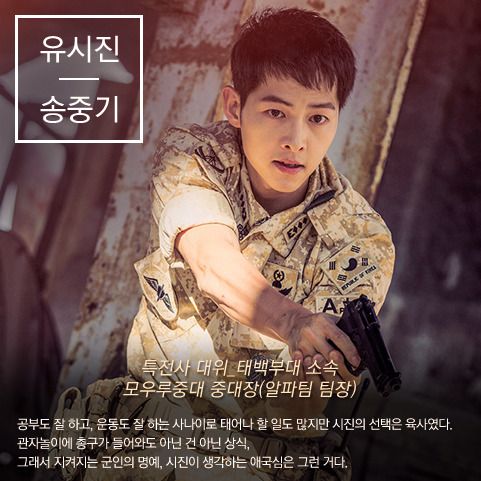 Episode 1 written preview:
When on leave, Shi Jin and Dae Young catch a motorcycle thief, and after sending him to the hospital, Shi Jin and Mo Yeon have a chance meeting. Shi Jin unexpectedly feels a flutter in his heart, but then he receives a call from the army base…….
Official MV for Yoon Mirae "Always":