There might not be a real curse on the tvN Answer Me drama franchise, but it's legit real that the followup disappointment level is high with this one. The K-media covering the press conference of Park Bo Gum's upcoming sageuk drama Moonlight Drawn by Clouds asked if he could possibly be the first AM alum to break the curse that has befallen all AM leads so far with vastly underwhelming followup dramas right after their AM turns. Obviously he can't answer that until the drama airs next week and audiences react with a yay or nay, but he is facing a tidal wave of post-AM fails that's swallowed up his own Answer Me 1988 costars as well as the leads of Answer Me 1997 and Answer Me 1994. This year alone has seen AM leads Hyeri fail with Entertainer and Ryu Jun Yeol vastly disappoint with Lucky Romance. I sure hope Park Bo Gum picked wisely and emerges the one to buck the trend.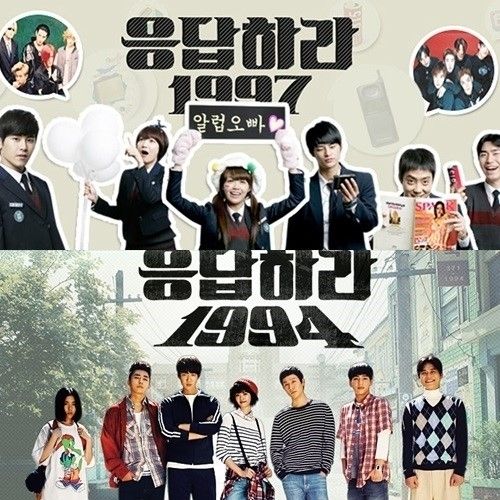 Jung Eun Ji had a supporting role in That Winter, That Wind Blows after AM1997 and it was mostly unmemorable and the drama rating flat. Seo In Guk did weekend drama The Sons and a supporting turn in The Master's Sun after and didn't factor much presence in either drama. Go Ara had the misfire You're All Surrounded and Yoo Yeon Seok the even bigger misfire Warm and Cozy. I guess only Jung Woo has avoided the curse, by dint of not doing a K-drama since AM1994, not counting a cameo appearance in AM1988.
It's easy to say that any followup drama to something as big of a ratings hit as the Answer Me dramas will comparatively seem a disappointment, but looking at the list above all the AM lead alum really did pick poor drama and/or role choices in their followup. It's going to be hard for Park Bo Gum to vault Moonlight to the top of the Mon-Tues ratings but judging from the promos and trailers he'll get lots of help from leading lady Kim Yoo Jung and maybe the doubling down of cuteness can buck the trend.