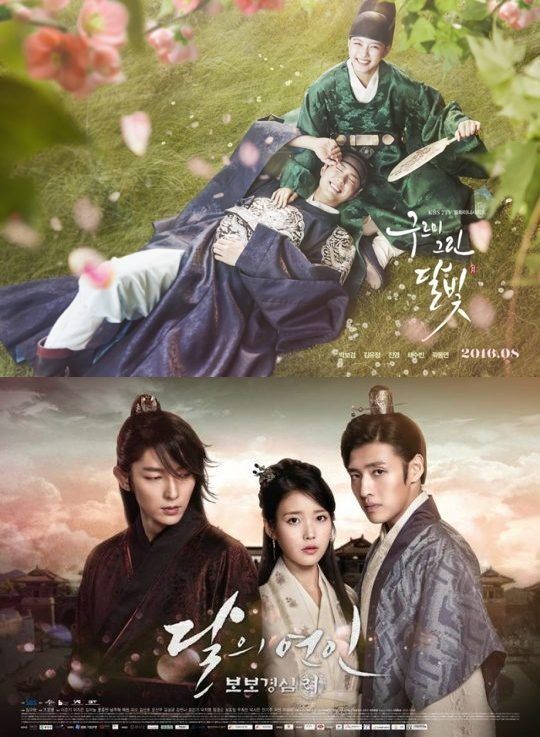 The showdown of the Mon-Tues sageuks has an out of the gate winner – congrats to KBS youth period drama Moonlight Drawn by Clouds for vaulting in the ratings for episode 3 this Monday and taking the runaway lead against premiering SBS rival Moon Lovers: Scarlet Heart: Ryeo (Bobogyungsim: Ryeo). Moonlight jumped a cool 7.5% in ratings to hit AGG 16% nationwide, while K-Bu Bu Jing Xin's first episode aired to less than half of that at 7.4%.
K-BBJX aired a second episode back-to-back with it's first episode and that episode 2 got 9.3% ratings. Long running MBC drama Monster came in with 10% ratings as it winds down its run. Moonlight's own first episode got 8.3% ratings but this week the drama managed to capitalize on good word of mouth and SBS drama Doctors ending its run last week. I'm enjoying Moonlight and am totally loving Moon Lovers so it's a win-win for me to have two solid sageuks to follow.
For those looking for stirring sageuk romance, both Moonlight and Moon Lovers are showcasing exceptional OTP chemistry between the leads right off the bat – Park Bo Gum and Kim Yoo Jung are adorable and insanely cute with the banter, whereas Lee Jun Ki is channeling the best period swooning hero swagger opposite IU's damsel trying to figure things out.