To commemorate the ten years that have passed since this gorgeous specimen of a man was last on the small screen in a K-drama, and the percolating rumors that he may just may be returning to the small screen this year, I present to you Won Bin's latest photo shoot for Elle magazine.
And for those of you curious what casting rumor I am alluding to, which I have no clue as to its possibility of coming true, but am highly certain Won Bin has in fact been asked to do it: taking over for his dearly-departed friend Park Yon Ha and co-starring with Yoon Eun Hye in Love Song.
All I can say is that this man ages like an oak casket of the finest whiskey in Scotland.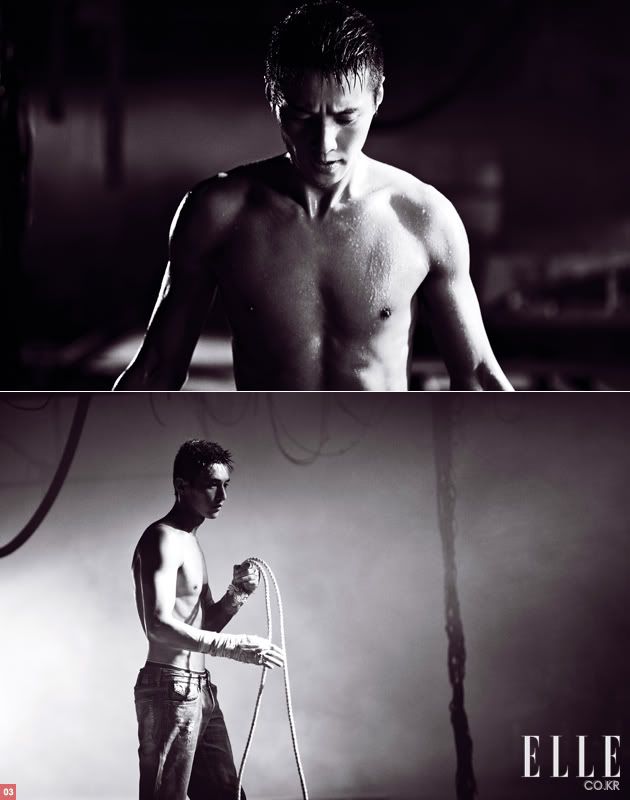 If he does Love Song, I don't think 2010 will ever be surpassed in terms of how many dramas have and will satisfy my fanservice needs (Athena, Secret Garden, and Love Song – plus Giant is currently the best drama I am watching)
However, if he doesn't do it, so be it. He's still an amazingly charismatic and eclectic actor with his project choices. He reminds me a lot of Hyun Bin actually, reluctant matinee idols both.
Hope these pictures help Won Bin fans get some eye candy without needing to watch his darker movies, such as Mother and the currently box office #1 Man From Nowhere (also titled Ah.Ju.Sshi)
If Won Bin doesn't do Love Song, I would love to see perhaps Gong Yoo reuniting with YEH. The number of top Hallyu men available to do this drama is a handful only, maybe even less than that, since a lot of guys are booked with other projects or are in the military.
Still, Won Bin is as Won Bin does. I've always got a soft spot for his dimples.