I found episode 11 of Playful Kiss (Mischievous Kiss) to be yet another good episode. Riding on the wave where episode 10 left off, it pulls the viewers back into the ebbs and flows of Ha Ni and Seung Jo's indefinable relationship. This episode had interesting plot developments, some laugh out loud moments, and the arrival of kiss #2.
It's funny how most viewers tend to mark the development of the lead couple in a drama by the amount of kissing that has taken place. I find the kissing in PK rather like inert milestones. What touches me more are the little interactions between Ha Ni and Seung Jo.
It's becoming clearer and clearer to anyone with half a brain and functional corneas that Seung Jo likes Ha Ni. I don't mean he notices her, or pays attention to her, or even tolerates her. No, it's becoming clear that he has very concrete feelings for her, but he's not ready to consider what that means or what he's going to do about it.
Unlike Ha Ni, (1) Seung Jo doesn't live or die by the person he loves, and (2) he is actively thinking about how to map out the rest of his life. As such, Seung Jo continues to do his own thing in this episode, popping up here and there to tease Ha Ni or to stake his claim.
Episode 11 Recap:
We rejoin the tableau in the apartment. Ha Ni and Seung Jo are in bed, and it's still the middle of the night. Ha Ni is not the most pleasant of bed mates – what with her flinging her arms on Seung Jo, hogging all the covers, tossing her leg over him, and throwing her entire body on Seung Jo. She eventually falls off the bed, covers included.
Seung Jo tries valiantly to sleep, and to counter all of Ha Ni's unconscious night time attacks of discomfort. But he is no match for content and sleeping Ha Ni. Chivalry points to him for NOT kicking Ha Ni off the bed. An additional bonus point for carting her back on the bed when she fell off, since there is no way in hell she woke up and crawled back into bed by herself. Seung Jo sits up with a disgruntled "everything, she really does do everything" with respect to Ha Ni's non-sexual bed Olympics.
Throughout this ordeal, Ha Ni slumbers blissfully. When she awakens the next morning, she immediately remembers where she is (at Seung Jo's apartment), what she's on (Seung Jo's bed) and who she's with (Seung Jo!). As her fingers creep across the sheets to feel for her bedmate, with the cutest little "Seung Jo-ya" chirp in her mind, she encounters empty space.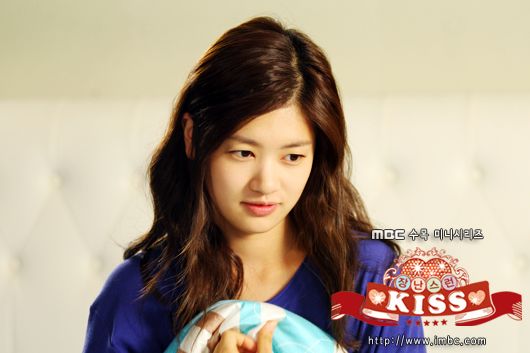 Seung Jo is awake and out of bed, reading a newspaper on the couch. He does not look well-rested in the least. She asks whether he slept well, and he tells her that he was defeated by her terrible sleeping habits. Ha Ni demurs, saying that she sleeps very ladylike. Seung Jo replies that she's gotta be kidding.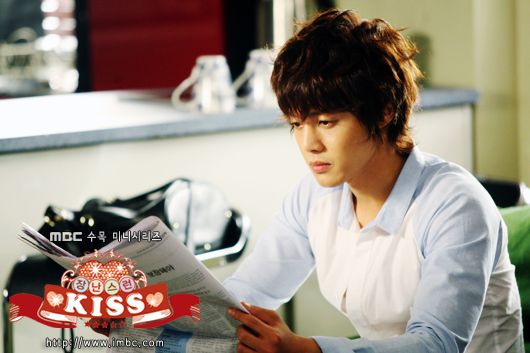 They have breakfast, of course prepared by Seung Jo, and settle into a routine I foresee for this couple for the next fifty years – Seung Jo reads a newspaper and eats, oblivious to Ha Ni, who eats and stares at him in contentment. After breakfast, Ha Ni picks out a shirt for Seung Jo, who shoots down her selection of a red and white checked shirt and grabs his preference. Ha Ni immediately turns towards Seung Jo as he prepares to change, and he has to remind her that she's staring. She turns around and misses his little grin. You sly monkey, would it kill you to let me the girl get one good look!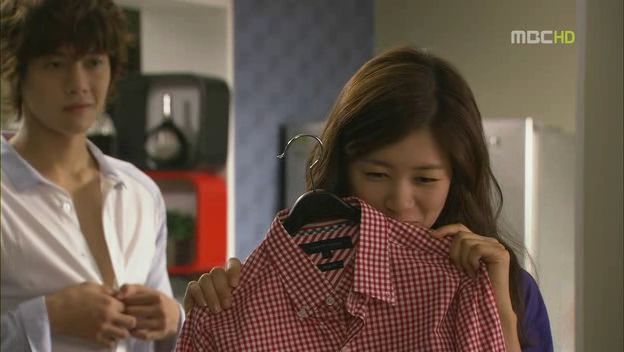 As they prepare to leave their little non-love nest, Ha Ni turns Seung Jo's shoes around, and almost made me want to slap her upside the head. Yo, girlfriend, you can stalk the guy and stare love daggers at him all you want. But you DO NOT act like his personal slave/valet/housemaid. You hear me? Have an iota of pride, will you? (Plus, I really hate the shoe turning gesture, reminds of……sobs, Dae Gil-ahhhh).
At least Seung Jo notices and stares a tad incredulously at Ha Ni for turning his shoes around. She thinks his stare means she turned the wrong shoes around so she grabs another pair for him. He tells her that she's treating this like her own home, isn't she?
They leave and go to school together, leading Ha Ni to feel like she's living together with Seung Jo. When they arrive at school, both of them find they are once again the center of all attention. A sign has been posted, replete with cute facsimiles of Seung Jo and Ha Ni snuggling, announcing that they spent a blissful night together.
The crowd reading the sign is atwitter, especially upon seeing Ha Ni and Seung Jo walk into their midst. Need anyone even ask whose handiwork this sign was? Mom has donned a disguise and is hiding in the crowd, fanning the flames of the rumor. She shouts out for Seung Jo to tell everyone all the details. If Seung Jo didn't want to play into his Mom's hands, he sorely underestimated Mom. So. Awesome.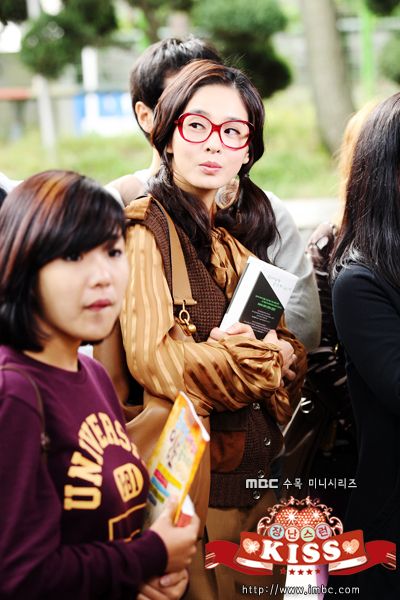 Seung Jo's eagle eye spots the perpetrator, and drags his Mom off in a huff, lecturing her to stop with this nonsense. He leaves with a trail of annoyance in his wake, but Mom is not to be deterred. She excitedly asks Ha Ni for the low down on what happened. When told by Ha Ni that nothing happened that is worth reporting, Mom is sorely disappointed at her son for not jumping Ha Ni's bones under such ideal circumstances. Mom's exact words are "what kind of man is he?" If Mom keeps this up she'll be a grandmother in 10 months.
Mom further asks Ha Ni about the chocolates, which reminds Ha Ni that she has no clue where the darn chocolates are. Joon Gu goes to see Ha Ni's beauty salon friend and leaves disappointed, still unable to find out the whereabouts of his Ha Ni. Back in the smarty class, all of Seung Jo's classmates are gossiping about him as he remains impervious to their stares. Hye Ra meets up with Seung Jo in class, and her spirits are revived upon hearing from Seung Jo that nothing happened.
Joon Gu is still feeling down about not finding Ha Ni last time. He feels further dejected when he finds Ha Ni's friend and she says that clearly Ha Ni and Seung Jo have progressed from first kiss to first night together. Joon Gu walks away demoralized. Ha Ni is studying for the upcoming exams, and clearly it's too much for her little brain to handle. She decides to focus all her studying on the English test, since that is her only class with Seung Jo. If she can't pass that exam, then she's hopeless.
Joon Gu is waiting by the tennis club, and tennis sunbae comes by. When asked why he seems so glum, Joon Gu says that he is considering letting go of his pursuit of love, because it feels like his heart is being ripped to pieces. Tennis sunbae, from one ardent admirer to another, tells him he cannot give up. Joon Gu bemoans that he has loved her for years and they haven't even gone out on a date yet. Tennis sunbae teaches Joon Gu the method Ha Ni taught him (as originated from Seung Jo) on how to express his feelings to a girl. That kiss against the wall method sure is getting a lot of use.
At home, Ha Ni studies as diligently as she can. Seung Jo finds her box of chocolates, and smiles upon reading the note and seeing the contents of the box. He takes a bit of a thing that resembles a chocolate and immediately spits it out. It is clearly an inedible disaster. He stares at it and smiles again.
Ha Ni tiredly walks into class. Seung Jo asks her why she doesn't look so well, and Ha Ni dejectedly notes that both Hye Ra and Seung Jo still look quite hale and hearty even during exam period. Hye Ra does her nice bitch routine, and saying that exams are to test one's normal learning ability and to cram for an exam is no indicator of achievement.
Hye Ra throws in an additional dig that this English exam is rumored to be extraordinarily hard. Ha Ni should just retake the course. She can be classmates with the high school student Seung Jo and Hye Ra are tutoring, who plans to attend Parang University next year. During the exam, Ha Ni stares at Seung Jo, marveling at how cute he looks solving exam problems and giddy over the opportunity to take the same exam as Seung Jo.
Ha Ni imagines Seung Jo handing her his completed exam, to bail her out of her sticky situation. Too bad it's just another of her daydreams, and Seung Jo and Hye Ra both finish and walk out with record time to spare. After the exam, Joon Gu is waiting for Ha Ni, and asks to speak to her. He tells her that he almost gave up on his love for her, but it's too difficult for him. In the middle of this ardent speech, Ha Ni falls asleep from all her efforts to study for the exam catching up to her.
Oblivious to a sleeping Ha Ni, Joon Gu tells her that he doesn't care about what happened that night between her and Seung Jo, he wants to continue to love her. At that moment, Ha Ni's friends show up to clear the air, letting Joon Gu know that nothing happened between those two. Joon Gu is ecstatic, remarking that Baek Seung Jo is indeed a gentleman. He is so excited he carries Ha Ni out of there.

Ha Ni is picking up loose balls at tennis practice when a tall handsome guy blocks her path. The first thing this guy says to her is "Oh Ha Ni, will you go out with me?" He's also an older student at Parang and a friend of tennis sunbae's. His name is Kim Ki Tae, and he tells Ha Ni that he will be attending school with her next semester. Tennis sunbae tells Ki Tae not to joke around, that Ha Ni already belongs to someone else.
Ki Tae admits that he's probably being too forward with Ha Ni, and asks her out on a weekend date so that she can get to know him better. Ki Tae leaves, but gives her one lingering look. This boy is cuuuuute. Between Joon Gu with his heart wider than the ocean, and Ki Tae with his pretty boy features and direct approach, Seung Jo has got major competition. Tennis sunbae tells Ha Ni that when he and Ki Tae started school together, all the female sunbaes were gaga over them – Ki Tae because of his good looks, tennis sunbae because of his charisma. Heh.
Her friends tell her to go for it, since this is the first time in Ha Ni's life where a man is pursuing him instead of the other way around. [What?!? Yet again, poor Joon Gu is forgotten.] They promptly tell Seung Jo about this latest development, and Seung Jo replies that it doesn't worry him and he could care less. Ha Ni tells the family, and Mom is worried that her worst nightmare has come true – another man has swooped in to snatch away the adorable prize that is her Ha Ni.
She laments Seung Jo's lack of effort. When hearing that the interloper is a male sunbae, she decrees that male sunbaes are the most dangerous things on earth. Ha Ni's dad worries that his daughter has become a consummate flirt, smiling at all the guys around her to lure them. Ha Ni shoots down that suggestion, but Mom is already on defcon 1 status.
Ki Tae finds Ha Ni at school and immediately gets right up next to her. The boy clearly has no fear of crossing any invisible boundaries. He tells Ha Ni he wants to make sure she doesn't forget his face. When asked why he likes her, Ki Tae tells Ha Ni that he paid attention to Seung Jo because here was this junior guy who is better than him at everything, so he was curious and a tad upset.
By paying attention to Seung Jo, he noticed that Ha Ni followed him everywhere. Pretty soon, Ki Tae was paying more attention to Ha Ni than to Seung Jo. He especially was moved by how Ha Ni constantly gets rejected or dismissed, but she never lets that stop her. He tells Ha Ni that she shouldn't waste her youth on Seung Jo, and should just date Ki Tae now and enjoy life together. Hye Ra sees Ki Tae with his arm around Ha Ni and excitedly assumes they are dating, and that Ha Ni has given up on Seung Jo.
Mom goes on her own stalking outing, taking pictures and making notes about Ki Tae. She rates him an 85 points on looks, finds he has an outgoing personality, and with a major in law is likely to become a lawyer or politician. Ha Ni reassures Mom that she has only eyes for Seung Jo, and that she will go reject Ki Tae sunbae promptly. Mom then tells Ha Ni not to reject the suitor, and use this opportunity to make Seung Jo jealous.
At tennis practice, Hye Ra tells Ha Ni that she should go for it with Ki Tae, who is handsome and smart, with an added barb that he must have a unique taste to like someone like Ha Ni. Seung Jo remarks that a piece of trash thrown away by one person is another person's treasure. Ouch, Seung Jo, you really are a piece of work sometimes. Ha Ni tells Seung Jo that she is actually quite popular.
In Seung Jo's estimate, she's dumb and got a silly personality. Ha Ni retorts that the guy who likes her is as smart and good looking as Seung Jo. Plus, he's got something Seung Jo doesn't have, a genuine heart and treats a woman right. Ki Tae overhears this compliment, and he tells Seung Jo to just give him Ha Ni. Seung Jo realizes the guy who likes Ha Ni is Ki Tae (whom he played tennis against during high school), and tells Ki Tae that he is welcome to Ha Ni since she doesn't belong to him.
Ha Ni agrees to go on a date with Ki Tae, who calls her princess and tells her he'll take her anywhere she wants to go. Seung Jo walks away without a backward glance, and Ha Ni resolves to go ahead and "cheat" on Seung Jo, consequences be damned.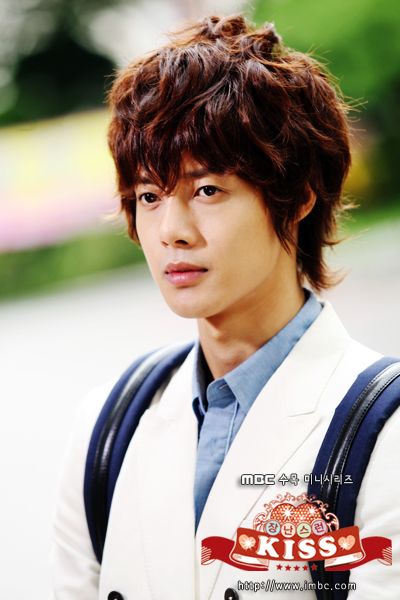 They got to the restaurant where Seung Jo is working for their date. Ha Ni shows up first and Seung Jo comes over to take her order. He assumes she is there for her usual stalking session, but she tells him she has made other plans. Ki Tae comes running over, and Seung Jo appears slightly taken aback that Ha Ni is really here on a bona fide date.
Ha Ni remembers her date with Seung Jo, the running from thugs, the boat ride. Ki Tae promises to take her more places in the future. Ki Tae puts his arm around Ha Ni and asks her what she wants to do for their date. Ha Ni attempts to move away until she sees Seung Jo coming, at which point she scoots nearer and allows Ki Tae to keep his arms around her. Seung Jo comes over and looks none too happy.
Ki Tae takes Ha Ni to the park, and he is solicitous of her. He moves her out of the way of oncoming bikes, and puts down his handkerchief before she sits. They ride a tandem bike and hang out at the park. You know who this boy reminds me of: a cross-hybrid of Seung Jo's perfect specimen exterior and smarts, combined with Joon Gu's attention and affection for Ha Ni. It's like the best of both worlds.
Ki Tae asks how long Ha Ni has liked Seung Jo. When he's told that it's been four years, his answer is beyond sincere and sensible. He tells Ha Ni that he's prepared to do the long haul as well. He doesn't expect that his presence will change things in Ha Ni's heart anytime soon. As long as Ha Ni thinks of him on occasion and hangs out with him, that's all he wants for now. Ha Ni acknowledges how different Ki Tae's personality is from Seung Jo, and is resigned to the fact that Seung Jo isn't going to show up her date.

Ha Ni is in the library, peering through the stacks at a studying Seung Jo. Ki Tae comes over and tells her to stop thinking about Seung Jo. He leans down to kiss her, when Joon Gu comes barreling into the mix. The boys get into a fight, and Seung Jo comes over to inquire as to what the fuss is all about. He tells them that they may be fighting over Ha Ni, but that is all pointless since Ha Ni likes ONLY him. He then grabs her shoulders and hugs her tight, announcing that Mom told them both to go home for dinner tonight. Ha Ni just experienced three men fighting over her, quite a feat to pull off.
As they are walking home, Ha Ni tells Seung Jo that he has such an ego, saying things like "Ha Ni likes only me." She wonders whether he ever considered that her feelings for him may change. The thought has never crossed Seung Jo's mind. Ha Ni wonders whether he wasn't just a teeny bit jealous back there, but Seung Jo deflates her balloon by saying he's seen through the jealousy trap set by Mom and Ha Ni. He's not falling for it.
The family has dinner together that night, and it feels just like old times. Everyone notices that Seung Jo's dad is not looking so well, and is told he's just been busier than usual at work. Seung Jo's dad asks him to consider his future, and tells Seung Jo that he would really like to pass the family business on to him. Seung Jo declines, and leaves. In the subsequent days, Seung Jo doesn't show up at tennis practice and quits his job at the restaurant.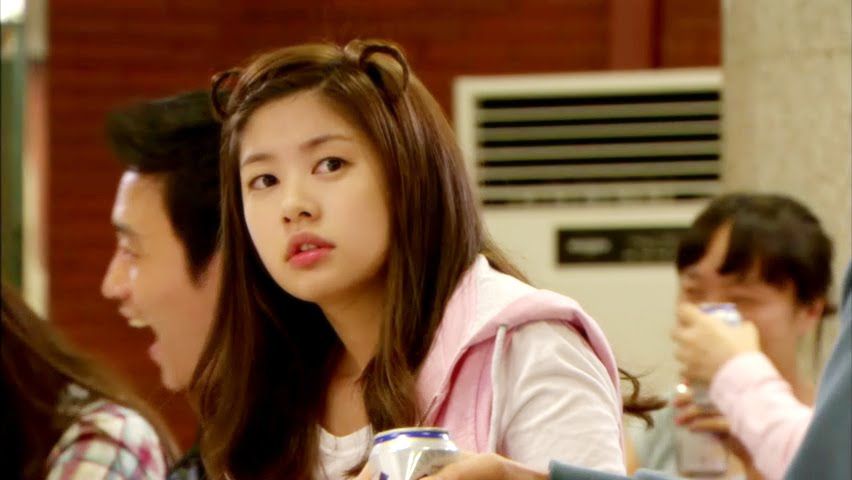 It turns out Seung Jo is working at an outdoor retreat type of resort, and tennis sunbae also works there. Of course, he might has well be a broadcast network, as Seung Jo remarks, because he tells Ha Ni and Hye Ra, who both show up. Ha Ni brings Eun Jo but the parents stay behind because of work. Tennis sunbae decides to use this opportunity to confess his feelings to Hye Ra. Good luck with that dude, hope you brought your tennis racket along.
Tennis sunbae sets up a couples competition between the resort guests. Each team has to go to seven spots designated on a map, and get a stamp from each location. The first time to get all seven stamps and returns wins. Seung Jo doesn't show up, and tennis sunbae uses a convoluted method to select the partners which pairs him with Hye Ra and Ha Ni with Eun Jo. Joon Gu is stumbling through the woods on his way to the resort.
Tennis sunbae and Hye Ra stumble around, as he pretends to not know where to find the stamps, and then promptly injures himself. Hye Ra remarks that it's impossible for her to like a guy like that. Ha Ni tries to get Eun Jo to cheer up and enjoy the game, but Eun Jo remains a too-cool-for-this-game. She falls down a small gulch and loses her knit cap. When Joon Gu sees the cap, tries to get to and tumbles into a ditch himself.
Hye Ra helps tennis sunbae back to the resort, and finds Seung Jo tidying the grounds. It's clear the surrounding area is quite treacherous, which leads Seung Jo to worry about where Ha Ni and Eun Jo are. Ha Ni and Eun Jo are, no big surprise here, lost and waiting for help. Eun Jo has come prepared with a blanket and drapes it over Ha Ni, leading her to remark on how mature he is. Just like spending time with a mini-Seung Jo.
Eun Jo suggests they try to find their way back to a spot on the map and follow the designated routes back to the resort. Ha Ni wants to wait for Seung Jo to come rescue her, and Eun Jo dispels her of that notion. Seung Jo doesn't even know where they are.
Seung Jo does come looking for them, but he finds a stranded Joon Gu and pulls him to safety. Seung Jo tells Joon Gu that Ha Ni is already safely back at the resort. Seung Jo assists Joon Gu back to the resort, and is told not to let anyone see this humbled and injured version of Joon Gu, tough guy extraordinaire. Joon Gu tells Seung Jo that he owes him one for saving him.
Ha Ni walks through the camp grounds the next morning. She sits down and Seung Jo comes over. He asks her why she doesn't know how he feels if she professes to like him so much. Then Seung Jo leans down to kiss her. The kiss cuts away to Ha Ni seemingly waking up from nodding off. She laughs at herself for thinking it was real, but she touches her lips and wonders why the feeling is still there. The camera pans over, to a shocked and affected Eun Jo, hidden behind a tree.
Thoughts of Mine:
For such a fluffy drama, PK is getting increasingly convoluted and the feelings are growing more tangled. Ha Ni alone now has two admirers plus a reluctant beau. It's really too bad we can't clone Ha Ni, because the number of awesome guy characters just increased by one, and I would now like to clone a Ha Ni for Joon Gu and a Ha Ni for Ki Tae.
Girlfriend has got some serious eye candy loving her! I love how this episode does ignite Seung Jo's jealousy again. Sadly it was all stuff we've seen before. Seung Jo shows a moment of jealousy, and then it passes because he knows Ha Ni still likes only him and the other guy is not a threat.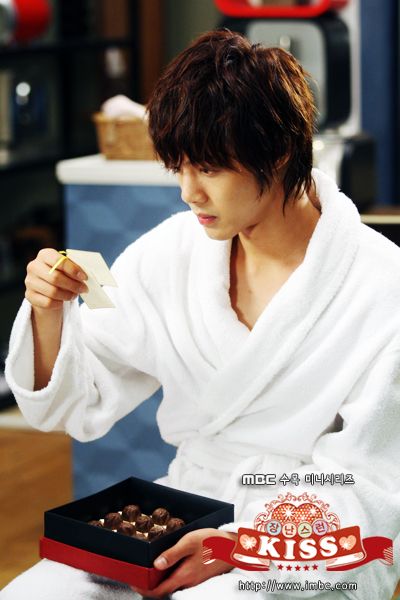 The time is coming when Seung Jo has to make a stand, to decide between keeping Ha Ni for himself or letting her go. That is the emotional heavyweight moment I am looking forward to. For now, I content myself with enjoying the continued cuteness of this drama.
Hye Ra is really one of the most enjoyable second female leads I've seen in a long long time. She is zero threat to Ha Ni, and it's like even she knows it. She never does anything to sabotage her, merely throwing out verbal jabs here and there. She also doesn't cling to Seung Jo anymore than Ha Ni does. I am enjoying Lee Shi Young's performance immensely, she's a wickedly great comedic actress, and a treat to watch torment our Ha Ni with her little cat claws that barely graze the surface.
While I enjoy every minute of PK, I do feel my impatience creeping in. I want Seung Jo to finally confront his feelings. I want Ha Ni to finally tell Joon Gu it cannot be so that he may move on. I want more from PK than it is giving me at this point. But that is just my sensibility calling out for more emotional drama that doesn't fit the essence of the story. To be fair, PK does deliver in each episode, making us smile, laugh, and rail at the screen. And it never fails to leave with me with a warm sweetness in my heart.
The title of episode 11 should be: When a snail is coveted and a genius finds that he has serious competition.
It may be my imagination, but I feel like the pace of this episode was a little off, and the cuts between scenes especially abrupt and jarring. In addition, there was a palpable lethargy in the air, which I think can be attributed to the cast being tired with the around-the-clock live shooting schedule. Both Jung So Min and Kim Hyun Joong appeared especially worn down. Both were lacking their usual spark and crispness in the performance.
All in all, this always happens when a live shoot drama hits the tail end of its filming. I am really looking forward to the next few episodes though, because Ha Ni and Seung Jo's ephemeral relationship really starts to weigh on both their emotional states, and create the mental and emotional exhaustion that these two actors can definitely pull off. Plus, more angst equals more squee-worthy moments for all of us.
And finally, the ratings are out. Today's episode garnered a 5.6%.
[Credit: screencaps from soompi.com, official MBC stills, and various online news outlets]