Athena: Goddess of War will be premiering in about T-minus twelve hours. Yes, fifteen years and countless movies later, Jung Woo Sung returns to the K-drama screen in what is likely the most expensive drama ever produced. I have low expectations that the story will be stellar, but I have high expectations that I will love it regardless. In honor of his return to the small screen, I hereby present a picspam post of Jung Woo Sung in The Good, The Bad, The Weird (with Lee Byung Hun and Song Kang Ho). TGTBTW is one of the most entertaining Korean movies I've seen in a long time, and the well-played aspects of the movie outweigh its too-ambitious aspirations.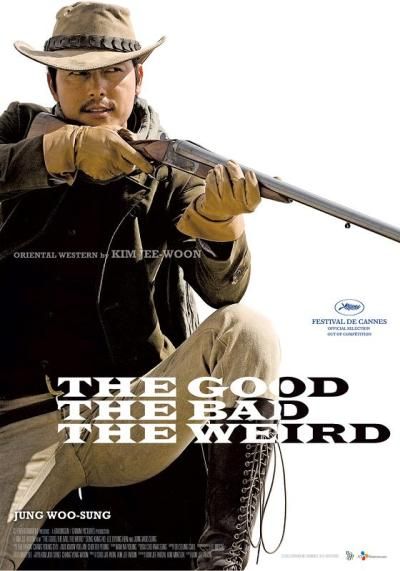 Jung Woo Sung plays a bounty hunter (the Good), who has been hired to retrieve a treasure map that will likely tip the scales of the Sino-Japanese occupation in the dawning years of World War II. Song Kang Ho (the Weird) is the bumbling thief who is currently in possession of said map. And Lee Byung Hun (the Bad), is the vainglorious psychopath hired by the Japanese to retrieve the map before the Chinese get their hands on it. What ensues is a cat-and-mouse chase across the Manchurian desert, culminating in a three-way showdown at a deserted oil refinery.
It's by no means my favorite Jung Woo Sung movie, but he was by far his most kick-ass incarnation in this movie. His outfit: the hat, the breeches, the boots, the trenchcoat, his scarf, his smirk, and of course, his rifle – all are forever iconic images in my mind when I conjure up Jung Woo Sung is awesome images.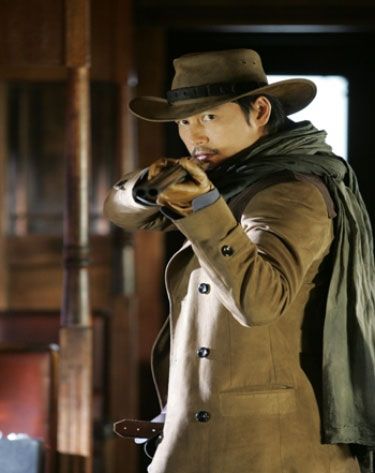 One of the coolest scenes in the entire movie – Jung Woo Sung vs the Japanese army, one horse, one rifle (set to the song "Don't Let Me Be Misunderstood"):
[youtube=http://www.youtube.com/watch?v=Vbdkn3MOBic]
The official trailer for TGTBTW:
[youtube=http://www.youtube.com/watch?v=SukNDHx4Qs8]
Jung Woo Sung is one of the few leading men in Korean movies that can do action and make it feel believable and an extension of his body language. He can also do melo-angst and make you weep when he cries those manly tears. I have an inkling that both talents will be needed in abundance in Athena.