Taiwan's GTV is on a bender this year with a slew of high profile projects, including Extravagant Challenge and Hayate the Combat Butler. The former is in pre-production, and the latter is done with filming and in post-production.
Mike He and Cyndi Wang's upcoming GTV baking and music drama Mei Le, Go also completed filming this week and joins Hayate in the post-production phase. It would have finished even earlier had Cyndi not come down with a bout of cellulitis right before the drama wrapped.
I'm really meh on Cyndi Wang, and it's only my newfounded Mike He appreciation that makes me curious about this drama, since the story sounds so inane. But I'll be the first to admit that the story for Sunny Happiness sounded just as inane, so I'm just waiting for Mei Le, Go and Cyndi Wang to both prove me wrong and make me issue another mea culpa. Mei Le, Go is the drama adaptation of a popular mainland novel called The King's Love Song.
Plot Synopsis for Mei Le, Go:
Han Yi Lie (Mike He), a famous pan-Asia musical sensation, is the judge for a popular variety program. He has a difficult personality and insists everything be done his way. He constantly lets his personal assistant, who has a crush on him, clean up his mess.
Cha Mei Le (Cyndi Wang) is a kind, courageous, and ordinary girl, who believes with hard work comes equal rewords. To help her boyfriend Han Yi Feng (Yi Le's older brother) achieve his dreams, she gives up her own dreams and opens a bakery.
Mei Le and Yi Lie accidentally make each other's acquaintance, and Mei Le's sunny and warm disposition touches Yi Lie's normally cold heart. The owner of a large franchise restaurant chain wants to buy Mei Le's bakery. Then Yi Feng's relationship with Mei Le encounters trouble. Yi Lie helps Mei Le get through the toughest time of her life.
Yi Lie's assistant tries multiple times to interfere in Mei Le and Yi Lie's relationship. The franchise restaurant owner goes from having an appreciation for Mei Le to gradually liking her. Yi Feng also has a change of heart and wants Mei Le back.
Mei Le and Yi Lie face opposition from numerous sides, but in the end, they use their true and unwavering love for each other to compose a song that becomes popular on both sides of the Strait called "The King's Love Song."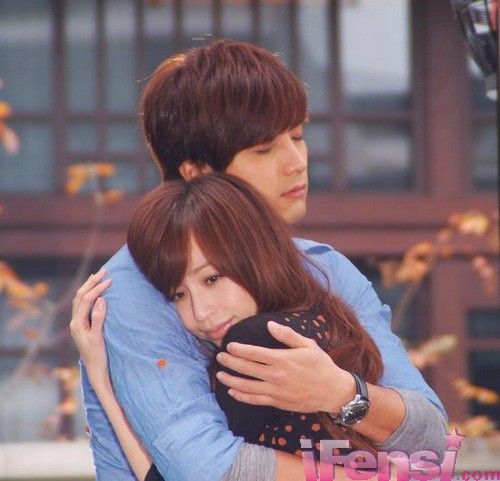 Since Hayate the Combat Butler wrapped production first, I believe Mei Le Go will air after Hayate, and will hit the airwaves likely in late Summer 2011 in Taiwan, but may air earlier in Mainland China, since it was a co-produced drama.